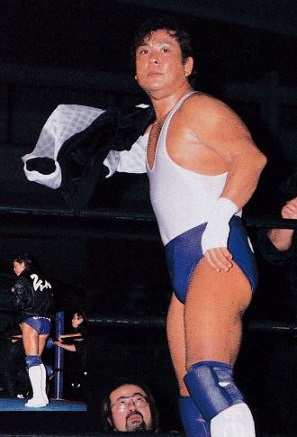 December 19, 1997 - Tokyo Komazawa Olympic Gym
Atsushi Onita vs. Masato Tanaka
When Onita entered the ring, he took off his ZEN jumper, and there stood Atsushi Onita in his "formal" attire. He was wearing a white tank top and blue short tights. No jeans, no long tights, which had been a staple of ZEN since its creation. The match format was a normal 60-minute single match.
It was not a death match, nor a street fight match, nor even a six-man tag team match. It was an ordinary singles match. When was the last time Onita stood in the ring in such a situation? I could see a certain determination in his heart. Then, I remember the words of Onita, "I will fight as the individual Atsushi Onita without ZEN."
His sudden remarks at the December 5th Korakuen event caused many ripples and questions. In fact, a rift between Onita and Gannosuke arose at once that never seemed to be bridged. Nevertheless, Onita remained an individual, perhaps because Tanaka is a special person, even if they are in different groups.
Even though the relationship has become complicated, the parent-child bond remains the same. Tanaka is the most likely to come at Onita without hesitation, which makes him a good opponent and a good pickle for Onita.
In the match, Onita showed his true colors. In the early stages of the match, they exchanged figure-four leg strikes and hand-to-hand fighting. In the middle of the match, they exchanged Thunder Fire Power Bomb strikes. This was no death match. What there was was wrestling ,a new style and head-to-head competition. This was Onita competing against the new style.
To be clear, there is a clear difference in fitness between Onita, who is still a spot fighter, and Tanaka, who fights The Gladiator on a daily basis. It was a big gamble for Onita to go into this match. However, Tanaka was surprisingly the one who was pushed back when they first faced off together.
Furthermore, Onita was subjected to Tanaka's moves. There were not too many out of the ring brawling. Moreover, the match lasted more than 20 minutes. Tanaka's stamina and the fact that they faced each other for such a long period of time are noteworthy, but Onita's attack and defense were even more tense and thrilling. This is something to be commended, but most of the audience booed and shouted harshly at Onita.
This was in spite of the fact that Onita wrestled and took his young opponent's physical strength without overpowering him and kept his concentration until the end. Frankly speaking, I think Onita's condition and the content of the match were the best since his return to the ring a year ago.
The 20 minutes in a singles match was unusual, as was the throwaway German Suplex he threw down before the finish. The decisive move was the neck hold with Onita getting the win. The booing was a different type that Gannosuke and Kanemura received earlier from the crowd.
Still, the majority of the audience gave Onita a resounding "NO." Onita was hit with a resounding boo from the crowd through out the entire match on this day. The booing on this day for Onita was a clearly different type than that Gannosuke and Kanemura received earlier on the show.
"To be honest, I wasn't on fire. I haven't been on fire since Kawasaki Stadium (September 28)... I admit it. ZEN's direction is to become a real indie! It symbolizes the first origin of FMW. That's the direction ZEN is heading in."
Onita shouted backstage after the match, but even if he clarified the direction of ZEN, the abuse of Onita would not go away in the slightest. Is Onita a necessary evil for FMW? Is he a necessary evil for the wrestling world? Onita also expressed his desire to have an electric current bomb match with Giant Baba, but this was not the first time that he had been accused by various quarters of being a "bad guy.
However, it is normal to think that he would be booed or told "no" from all directions. But. Isn't Onita's real aim to give dreams and inspiration to the current cold world of professional wrestling? Such a movement was the life of the indies. In this shitty world, how can you live with all the pretty things!
Atsushi Onita does not live by pretty words alone. He lies, antagonizes, and says outlandish things. He is not a hermit with a good conduct. He is a necessary evil, but he is also a necessary evil of the highest drug class, and he sometimes helps people who are seriously injured by drugs. Onita's "prescription" will be the key to the future of the world of medicine.
Onita commented on the current bombing: "Next April 30, New Japan will be at the Tokyo Dome (did he mean Osaka Dome on May 3?) and All Japan will be at the Tokyo Dome on May 1. Mr. Baba, why don't you have an exploding time bomb death match with me? I don't care if you guys think I'm a zillionaire. Is the war really that clean? Have you forgotten the long struggle between New Japan Pro-Wrestling and All Japan Pro-Wrestling in your generation?
I was Baba's follower in the middle of the battle between Mr. Inoki and Baba! All Japan Pro-Wrestling fans, if I get in the ring, will I get dirty? That's right. You are right. But now is the time of professional wrestling to be talking like that! I don't care what they say. I don't care if I make enemies of all wrestling fans. But in this shitty world, if you don't live passionately in the wrestling world, you can't make the people who come to see you passionate! If you don't wave your pen passionately, will the audience come? Mr. Baba, I know very well that you will say no. I think most of the fans of All Japan Pro-Wrestling are against raising Atsushi Onita and current bombing. So, what does Atsushi Onita have to do to get an explosion match with you?
Atsushi Onita: I would like to ask my mentor, Giant Baba, What can Atsushi Onita do to get a explosion match with you? The best way to keep our legacy, in the indies forever is to have that Giant Baba in a explosion match. Because he is the royal road, the true royal road, that Giant Baba, he has the capacity to swallow the evil road! Only that Giant Baba can swallow this evil way, even in the vast world of Japanese wrestling."
When Onita was talking about the exploding match against Baba, Gannosuke & Kanemura & Hido came over.
Gannosuke: Why are you talking about All Japan? What happened to your previous statement of only focusing on ZEN? Is that why you switch our match from the semi-main event so you could have the main event match?
Onita: Tanaka is the champion of the independents. What's wrong with making his match in the main event?
Of course there was no way that Mr. Gannosuke was going to accept that response.
Hayabusa & Jinsei Shinzaki vs. Mr. Gannosuke & Yukihiro Kanemura 12/19/97
Hayabusa's torso was taped during his entrance. In the early stages, usually when he would get knocked down by a tackle, he gets up and throws a drop kick, but when he stepped back to jump, but also when he got on the ropes and dance with a moonsault to bring the crowd to its feet, he didn't this time.
I didn't realize how badly injured he was, I had no idea that it was due to the accident in Kawasaki six days earlier. Although not mentioned in last week's issue, there was a near-miss in the main six-man tag team match. Hayabusa tried to cut off an Awesome bomb with an hurricanrana. But before he could turn around, the power of the Gladiator was applied. For a moment, he was worried about his neck because it looked as if he had been struck from the brain in a warped position, but it was his right rib was badly injured.
When you apply force to a disposable chopstick from above, it bends sideways and eventually breaks. It was like that. Although he has recently regained his physical condition and is able to use the moves he had lost, the tragedy of injury hits Hayabusa again. The match was ZEN's pace from start to finish. Gannosuke, who had stolen Shinzaki's costume at Korakuen, even tried to steal his rope walk.
Given that Shinzaki has recently done this move to the All Japan's Four Heavenly Kings and Hansen, it would be disgraceful if he easily allowed Gannosuke to do this. Since it's Gannosuke, he's sure to say something sarcastically like "If it was so great, why did you have such a hard time in All Japan?" That is who he is.
Shinzaki as a matter of course, makes the stop, but that is not enough for the kids (everything they do is childish) shut up, and they mock Shinzaki while sending him through a table on the outside.
While Shinzaki is rendered incapable of fighting outside, they then stick their claws into Hayabusa like hyenas. Even a body slam, a move that is used in between moves, seemed like a big, scary move to Hayabusa. Then there was Gannosuke applying a stretch plum to Hayabusa.
Hayabusa still manage to fly as he did a tope con hilo against Gannosuke outside the ring which was the highlight of the match. For the sake of Hayabusa being Hayabusa. I was struck by his professionalism, but this match was ruthless.
In the end, when Hayabusa dived from the top rope of the corner, Kanemura dove his knee inside his side and rolled him up for the three count. If Hayabusa had not been injured, there would have been no excuse. Instead, Gannosuke and Kanemura are recognized as champions. In retrospect, this was a solid process to their victory.
In this bout, Gannosuke's team clearly had the advantage as they could breathe normally. The Hayabusa target was effective because they were able to take Shinzaki out of the match.
Whether they like it or not, Hayabusa and Shinzaki are at a place where further defeats are unacceptable. Hayabusa was no longer able to even get into the position to make the cover due to the extreme pain while performing the Firebird Splash with determination. Hayabusa who suffered a pinfall loss last month with Masato Tanaka in a championship match lost by pinfall once again due to cramps and the pain that hit him. The pain was too much to bear for him. After losing the match, Hayabusa slumped over in pain and apologized to Shinzaki. He had always worshipped and expressed his agreement, but this time Shinzaki shook his head, lowering his gaze.
I've seen Hayabusa's crying expression many times before, but this is the first time i've seen the pain in his eyes. In the Real World Tag Team Tournament, after they fought against Steve Williams and Gary Albright and Shinzaki was pinned, Hayabusa came over to Shinzaki and lent his shoulder to him. On this day, Hayabusa stated the loss was entirely his responsibility. Shinzaki had no choice but to shake his head when heard the words of his friend who still felt precious while suffering.
Terry Funk vs. The Sandman vs. Bubba Ray Dudley 12/19/97
Although this is thought to be The Sandman's first time in Japan, this is in fact his third time in Japan. Both of his previous two appearances were in the 3rd W*ING in 1995. So he has not appeared at Korakuen Hall, nor has he left a lasting impression on the average fan.
Still, even back then, he was very popular at the venue and completely eclipsed Public Enemy, which was ECW's main attraction at the time. Since that was the case even in the unmarked period, it was not hard to imagine how enthusiastic the fans would be for this long-awaited visit to Japan, but even so, the entrance scene at Komazawa was just so impressive! The Sandman appeared from a completely unexpected place, and staggered his way around the large arena from there. By the time he reached the ring, four or five Budweiser bottles were thrown into his head. The joy of seeing the performances we've all come to know and love from reading pro-weekly magazines and watching cable TV shows "live"... As the title of ECW's PPV event said, this was "HARDCORE HEAVEN"!
Terry Funk also ditched his classic theme "Spinning Toe Hold" and appeared with the entrance theme he currently uses in ECW, and it was a moving sight to see the superstar of the 70's trying to present a new style as the end of the century approaches. The match was a three way dance, so it was a bit of a mess, and when Sandman pulled out a ladder, which he seemed to have been afraid to do, the match ended in a frenzy.
Sandman, who was the first to leave the ring, quickly retreated to the waiting room, but when he learned that Terry had won, he made a U-turn to the ring with Budweiser in hand. Instead of shaking hands with him, he handed it back to Terry. It was a moving sight to see the team trying to present a new style of dance, even as the end of the century is approaching. As for the match, it was a three-way dance, so it was a very shaky affair. The match ended with Sandman bringing out a ladder, which he had apparently prepared himself, and the match ended in a great uproar. Sandman, who was the first to leave the ring, quickly retreated to the waiting room, but when he learned that Terry had won, he made a U-turn to the ring with Budweiser in hand. This may have been a "greeting" for the December 21st Nagoya event, where they will form a tag team, but he must have known the temperament of the Japanese fans. Sandman is a man who knows how to get people drunk!
December 20, 1997 - Osaka Prefectural Rinkai Sports Center
Atsushi Onita & Tetsuhiro Kuroda & Hido vs. Hayabusa & Masato Tanaka & Masato Tanaka 12/20/97
Even though Gannosuke & Kanemura are showing disturbing signs, ZEN's momentum has not yet stopped. It will not be easy for FMW to get back into their own flow with ZEN having gained so much power in such a short period of time. The only thing to do is to start with what FMW can do, one thing at a time. Fortunately, FMW has a new a powerful helper in the form of Hisakatsu Oya. Gradually, FMW is beginning to get the momentum for a counterattack. Oya, the reliable helper, was given the important task of regaining the 6-man tag team belts. His partners are Hayabusa and Masato Tanaka, two of the best in the world.
If this trio cannot produce results, the future looks bleak. After all, it is better to end the year with the belts than to end the year with hope for the next year. For that reason, this match is the last chance. However, Hayabusa had injured his armpit, and there was no way the ZEN members would leave such a wrestler like Hayabusa alone. Sure enough, they grabbed Hayabusa. Oya, who had offered to fight with FMW in order to crush ZEN, was unable to do anything good at all. It was Tanaka who found the key to a counterattack. He showed no sign of the shock of his loss to Onita the day before, and as usual, he threw elbows in a straight line.
Hayabusa could not remain silent. He dances and spins with a spectacular Firebird Splash! And they finish it off with an Oya backdrop! Hayabusa takes advantage of his one chance! The trio have successfully regained the belts. However, there was no scene in the ring after the match where Hayabusa, Tanaka, and Oya were proud of their victory with the belts. Instead, there was a scene of Onita pouring water on Hayabusa, who was too damaged to stand up. When the ZEN finally ended their occupation of the ring and Hayabusa finally took the microphone, ZEN again broke into the ring in force, taking away the belts and plaques, and drawing loud "get out" chants from the crowd. Don't act like a loser.
Masato Tanaka: If they're so frustrated, why don't you challenge me?
Hisakatsu Oya: I'm not very happy with the way we won.
The FMW camp was filled with anger and frustration, not only because their lingering victory had been drowned out, but also because their presence in the ring had been drowned out as well. Regardless of the result, Oya's role as an assistant was not yet fulfilled. We hope that the day when he achieves it will not be too long in the future.
The Gladiator & Mr. Gannosuke & Yukihiro Kanemura vs. Terry Funk & The Sandman & Tommy Dreamer 12/20/97
"There is no point in following that old man!" With that said, Mr. Gannosuke quickly switched from F-M-W (Funk Masters of Wrestling) to ZEN. Since this match was the first direct confrontation with Terry since then, both fighters were very aware of each other from the start. It seemed as if Terry was going to attack one-sidedly, but surprisingly, it was Gannosuke who had the upper hand. Gannosuke mockingly put Dreamer in a spinning toe-hold, and stabbed Terry, who came in the ring angry, in the forehead with a stick attack for the first time in a long time. After 10 minutes, Terry finally began to fight back, but with the help of Kanemura, Gannosuke was soon revived. In the end, Gannosuke pinned Terry by surprise with a small package hold for a three-count.
How could I lose to such an old man? It's a different era!" Back in the locker room, Gannosuke continued to harp on the subject, but his words had more truth to them now that he had clearly shown results in the match. The times are changing was the conclusion of this match.
December 21, 1997 - Nagoya Aichi Prefectural Budokan
Atsushi Onita & The Gladiator & Tetsuhiro Kuroda & Hido & Great Fake vs. Terry Funk & The Sandman & Tommy Dreamer & Bubba Ray Dudley & D-Von Dudley 12/21/97
As soon as he entered, Great Fake spit a poisonous mist from under the ring with a pusher. This angered Sandman! If it were not for Atsushi Onita, ECW would not exist in this world...is that an outlandish argument? No, no, it's a good argument right in the middle of the strike... The impetus for ECW's turn to the extreme line (by the way, when it was first founded, the initial "E" stood for Eastern) began when Paul E. Dangerously saw a video of FMW and discovered Sabu.
In other words, Atsushi Onita was the great founder of FMW, as he tried to spread the FMW taste in its heyday in the United States. As to how Onita was able to develop the FMW style, there is no denying that his mentor, Terry Funk, had a great influence on him. To the ECW members, Onita is a living legend, even if his position in Japan is that of a liar. The match-up that I thought was never going to happen came to fruition. It turned out to be an even bigger hustle than usual, with a 10-man mayhem that was a perfect refrain of the "old" golden era of FMW.
Now Onita was ready to "get a taste of ECW," as you can see on the back of his T-shirt. If you are going to be called a liar no matter what you do, you might as well just adopt the character in the American wrestling style. If they are so open about it, it is indeed stupid to complain about it. At any rate, it is an undeniable fact that Onita, who has been treated as a "toxic substance" by his fans, though we do not know whether it is mud or poison, is finally finding some kind of meaning to his existence through his involvement with ECW.
Anyway, ZEN vs. ECW was interesting without any logic. It must have been because it was filled with the "indie-ness" of anything and everything that the New FMW has discarded. Onita, perhaps sensing a positive response, announced that he would request a meeting with Paul E. at Korakuen on December 22nd. He said, "They say they have formed a partnership with FMW, but isn't it ZEN and Atsushi Onita what ECW really needs?" If it's so bad that I'm seen as obstructing the path of the new generation, then I'm not going to stop! It would be better for Onita to take a different path. ECW is aiming to have the first current bombing match in the U.S. as the centerpiece of their PPV, and they will give priority to the relationship with Onita, who holds the patent for the format of the match.
Afterwards. Gannosuke was stopped by Onita in the dressing room. He walked out without saying a word....Is it only a matter of time before he leaves ZEN? Although some people misunderstand him, Onita's thinking has been always been pro-American from the very beginning. From Onita to ECW to ZEN... The "reincarnation" of indies across the sea... Will ECW's "supremacy of fun" rewrite the distribution of power in 1998?!?
Masato Tanaka vs. Yukihiro Kanemura 12/21/97
Debris from the trash cans and pieces of tables from the 10 man tag were still everywhere after the match, and the ring mat, was soaked with beer and water, needed to be cleaned up. The crowd was feeling a sense of emptiness, as if the excitement they had felt up until Sandman had been a lie.
"Please wait a moment for the main event," said ring announcer in a calm voice, but his words were painfully understandable. The extreme colors of ECW and ZEN's crazy style were a perfect match, and the semi-main event was a great success.
After the crowd was fully satisfied, how much could the new trump card match between Tanaka and Kanemura attract the audience's attention? Sure enough, right from the start, Kanemura was greeted with the comment, "The semi-final match was more interesting!" as an early warning to Kanemura.
It was a bit insulting, even though nothing had been done yet, but it was clear that the fans were not concentrating on this match. I had a gut feeling that this would be taken away from them unless they did something good. When Onita returned last year, the new wrestlers accepted it with confidence, saying, "We won't lose if we do it now. Winning or losing here means whether they will take the best match on the show or not.
In this sense, there was a common feeling between the two groups under the same name, even though they were divided into FMW and W*ING. They clashed violently with each other over and over again, and Tanaka and Kanemura had been aiming for Shiodome, and beyond that, the battle against Onita.
This match between Tanaka and Kanemura took place in a situation in which the absolute significance of the match was lost. This is not communicated to the viewers. The unprecedented wrestling, which is the strength of the new generation, was being developed, but there was nothing that could penetrate the audience one more step. It was clear from watching that the same was true of the two wrestlers.
Tanaka cleared up the nightmare of midsummer in Shiodome and defended his double titles after being humiliated by his rival. But he was defeated by an unseen foe. The direct confrontation was over; ZEN and ECW, elements that were not there before, had been added. Still, the indirect "take-it-or-leave-it" battle with Onita continued.
Masato Tanaka: The belts I have now are my lifeline. As long as I have them, I will not give up. Yes, I am dealing with a lot of pain right now. But a true champion is the one who overcomes it. If I can increase the value of these belts, I think I will get closer to Onita.
Until either Tanaka or Kanemura can surpass Onita, a singles match between the two should be sealed. Beyond the greatest obstacle, the greatest rivalry awaits...I hope that someday they will establish such a relationship. Never forget the frustration of what was taken away from you on this day.
December 22, 1997 - Korakuen Hall
Hayabusa & Jinsei Shinzaki & Masato Tanaka vs. Atsushi Onita & Mr. Gannosuke & Yukihiro Kanemura 12/22/97
The relationship between ZEN, Onita, Gannosuke, and Kanemura has not been repaired at all as we enter the final round of the year. It seems like a long time ago when ZEN was launched with the goal of conquering the Indies, and in fact, had a lineup that was good. The rise and fall is indeed a fact of life and death.
It was only two months ago in Sapporo that they suddenly won the six-man tag team street fight titles. Even though the two sides have not yet broken up, they are still nominally linked by the scruff of the neck. The fact that they were now a six-man tag team was a little too risky. The only saving grace was the match's rules, which adopted a Royal Rumble format and a Scramble Bunkhouse format. This way they didn't have to enter together or touch during the match. The FMW regulars appeared in the order of Hayabusa, Tanaka, and Jinsei, and ZEN appeared in the order of Kanemura, Gannosuke, and Onita. (because the doors to the cage were locked). Even so, there was still no linkage between Onita, Gannosuke, and Kanemura. The ZEN side was automatically split into two. FMW would then be quicker to go after Onita, who was acting alone. The tide, which had been shifting in one direction or the other despite the appearance of Hayabusa and the handcuffing of Shinzaki, now turned sharply in FMW's favor, and the two sides were now in the same position. And this was right after Tanaka unleashed a Thunder Fire Powerbomb to Onita.
Kanemura, who had not yet criticized Onita as explicitly as Gannosuke, instinctively tried to break the count. but Gannosuke told Kanemura, "Don't help him," and did not allow him to come to the rescue. This completely severed the relationship that had been bound together by the skin of his neck. Or perhaps it would be better to say that Gannosuke severed it.
In the end, they left Onita to die after he ate Hayabusa's Super Moonsault Press. Hayabusa's feat of the Onita fall was only a tool for the two sides to break up. After the match, Gannosuke and Kanemura went at Onita as if to vent their pent-up anger. This was all a deliberate act of conviction to withdrawal from ZEN.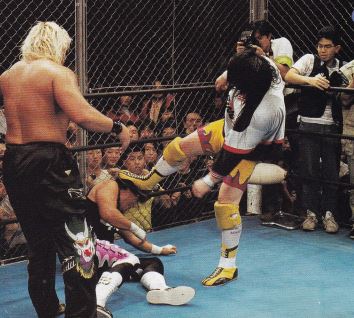 Onita was left to his own devices. Finally, he was handcuffed. He was in a desperate situation. At that moment, Nakagawa came to the ring through the crowd. Nakagawa knocked down Gannosuke and Kanemura with a chair and rescued Onita.
Nakagawa had resigned from FMW and has returned. After his return, he had been searching for his future direction, and this action seemed to be the answer. This action seems to be an answer to that question.
He said, "Really, can you destroy FMW? You like...you like FMW, don't you? What's wrong with liking it!"
Onita, who had maintained a strong stance in the ring in response to Nakagawa's questioning, finally revealed his true feelings in the locker room. "No matter what I deny in my life, no matter how much I am told, I will love FMW. The reason Onita could not become evil like Gannosuke and Kanemura was because he had love for FMW deep in his heart. This also caused a rift between them.
Gladiator, Nakagawa, Kuroda, and Hosaka agree with Onita. ZEN will continue to exist as ZEN, but it will take on a different hue. Meanwhile, Gannosuke, Kanemura, and Hido declared a complete break with ZEN.
Atsushi Onita: ZEN is not free, it is a bondage. There is no way to conquer Independents. It's full of falsehoods. What is ZEN? We're going to be evil and we're going to be the good guys. That is ZEN.
If there is such a gap in thinking, this division may have been inevitable. Gannosuke and his group will continue to follow the same methods and principles as before. From now on, they will operate under the name "Team Evil."
With this, the FMW mats of 1998 will once again be an era of rivalry between the four forces of FMW Regular Army, New ZEN, Team Evil, and Fuyuki Army. While the other three forces are recognizable by their personalities and colors, the only one that remains to be seen is the New ZEN, whose future is sure to be revealed at the unveiling of their new flag on January 7th.
Terry Funk & Tommy Dreamer vs. The Dudley Boys vs. The Gladiator & Hido 12/22/97
ECW's "genius" producer Paul E. Dangerously has great confidence in the fun factor of the 3-way dance style he has invented. He says, "I decide whether an idea is interesting or boring. For a time since the establishment of his organization, he has been the symbol of the hardcore movement, but recently he has been in the background. The only time he appears in the ring is to report on big plans such as pay-per-views or to greet the public. The last round of the group tour, also known as the ECW tour within FMW for hardcore enthusiasts, was held at Korakuen Hall.
ECW had already excited the audience with idea matches at the three previous shows, but at Korakuen, the mecca of the movement where the most hardcore fans gather in Japan, they came up with a "3-way dance tag team match version". A tag-team version of the 3-way match, which is usually performed by three wrestlers, was a big brawl involving six wrestlers, which should be interesting.
Paul E.'s speech before the match was a clear indication of this. As I mentioned earlier, Paul E. is a confident man. He had been behind the scenes, but since he went out of his way to appear, one would expect him to be very confident. He gave the most fearless greeting, "The world I have created is interesting. It was the final round, so it was only natural that he should also greet the audience. If you thought that was a good idea, you've lost the Paul E. challenge. He's been duking it out with these wrestling heads for three years with the maniacs who flock to the ECW Arena.
It was up to each and every fan who came to Korakuen to decide whether they would enjoy the Christmas present from Philadelphia or be left on the edge of their seat. Don't lose! The teams for the event were The Gladiator and Hido from ZEN, The Dudley Boys of Bubba Ray and D-Von from ECW, and Terry Funk and Tommy Dreamer from ECW. This lineup will be centered around the "Living Legends" and the "He is Hardcore" aesthetic that they have inherited from their way of life.
While Gladiator and Hido and the Dudleys were already waiting in the ring, Terry's group entered with a new version of the theme song. Escorting them both at the front of the line was Beulah McGillicutty. Beulah had just arrived in Japan the day before just for this event. The audience was already cheering loudly for the unexpected bonus track. Terry and Dreamer followed behind her. This is the ECW version of the new Funk family. Beulah's little wrestling spirit finally brought the three of them together in Japan.
First up was a contest of strength between Gladiator and Bubba, with tackles and powerbombs one another. Gladiator's excitement was evident: as an FMW gaijin, he did not want to lose to ECW. The fans, realizing this, cheered for Gladiator's team as representatives of Japan. However, the Dudley's caught the Hido with the Dudley Death Drop, and they were the first to leave the ring. Terry was on full display at this point. He gets hit and gets right back up. In the ring, Terry would become isolated and is tormented by the Dudleys. But then Dreamer comes back alive. He reverses it with a double punch and they do a stereo spinning toe hold together. Terry, Dreamer, and Beulah were left alone in the ring after the 3-way dance ended with Terry's victory. "We'll be back soon". as he waved bye-bye to the audience, Terry disappeared into the locker room.
Sabu vs. The Sandman 12/22/97

Sabu came to Japan and steadily raised his own status. However, in contrast to his rising status, no matter where he went, no one really accepted his unique world, and he was forced to restrain his own style. As a result, Sabu no longer was working in Japan.
It was then that Sabu's original home ring in the "Land of the Rising Sun" in FMW opened its doors. Although ECW, Sabu's home ring, had left FMW three years earlier, it was like a home away from home for Sabu, a place where he could draw more out of himself than anywhere else. Naturally, he applied to go back to FMW, but the answer was no because of his past, but he continued to appeal for a return to his old stomping grounds, and eventually, FMW was moved by Sabu's enthusiasm, as he would say he would accept "no pay." Sabu would just receive the joy of "being back in the FMW."
He was still in a state of shock after sustaining an injury to the left cheek of his mouth, but he appeared in the ring in good spirits with taping his mouth. He also brought his manager Bill Alfonso with him to Japan for the first time, who showed his enthusiasm. He was eager to repay his old friend with his best fight at any cost, and his enthusiasm was palpable. Although Sabu failed to jump onto the ropes many times and made many technical mistakes in the match, his fight was very energetic. Needless to say, the fact that he no longer had to fight with care was connected to the revival of his Arabian killing moves.
Since his opponent The Sandman was also an ECW wrestler, Sabu showed off his daring attacks one after another. At the end, he got the three count with a diving guillotine drop across the ladder, and returned to victory. Sabu is back in a FMW mat! Was it a good match? No, but one thing is for sure. FMW is the only Japanese mat where Sabu can show off his true personality!
Onita and Paul E. meet to make exploding time bomb match a reality in ECW. Prior to the show, Onita and Paul E. Dangerously met. Paul E. agreed to Onita's request to have an exploding time bomb match in the U.S. The following is an exchange is between the two.
Onita: I have no intention of interfering with the ECW-FMW alliance. However, you said publicly in your press conference with FMW that you would be able to do the exploding time bomb match in the U.S. Is that true? Is that true?"
Paul E.: "Yes! Yes!
Onita: I went to New York to see Vince. He told me he could do it.
Paul E.: Vince has no intention of bringing the exploding ring match to the to the U.S. from the beginning, and neither does Eric Bischoff of WCW. If you want to bring it to the U.S., ECW will do it for you. We can do it. We will responsibly import directly to the US. We need you to believe in it.
Both men shook hands firmly.
Onita: Ok, if we can do it in America. Then lets go to America!