The Fuyuki Army Promotion ran at Korakuen Hall on February 12, 2004 just one day after WMF ran their show in the same building. They announced a crowd of 1500 which is the 6th straight WMF/Fuyuki show to claim that, which pretty much means the same old FMW fans are coming, no fans are leaving, but no new fans are coming in either. The show will air on Samurai TV on February 22nd and his schedule for three hours.
Tetsuhiro Kuroda & Mr. Gannosuke & DDT's Sanshiro Takagi defeated the returning Kintaro Kanemura who had just gotten out of the hospital two days earlier with TAKA Michinoku & Daisuke Sekimoto with a Captain Falls Match.
It was built as a match with 5 different promotions (Fuyuki Army, WMF, K-Dojo, Big Japan, DDT) involved. Takagi and TAKA started the match with Gannosuke tagging in and attacking TAKA before Sekimoto would tag in. Gannosuke and Sekimoto would trade chops with Gannosuke winning before doing all of his Riki Choshu signature spots. Gannosuke and Sekimoto would tag in Kuroda and Kanemura with Kanemura going right at Kanemura. Takagi who feuded with Kanemura in 2002 in DDT would put Kanemura on his shoulders with Kuroda bouncing Kanemura's head into the ropes. Kuroda would then hit a Shining Wizard as well as Technan Buster on Kanemura before finishing him off with a lariat. Kanemura would congratulate Kuroda after the match and bring in all the fans around the ring to come into the ring as they would do the TNR Dance to end the show.

Tetsuhiro Kuroda will now face Shinya Hashimoto at the next Korakuen Hall show on March 19, 2004 at Korakuen Hall. Considering Kuroda lost to Wataru Sakata back in December, I don't think the credibility of Kuroda lasting 10 minutes with Hashimoto is expected by any fans coming to the show.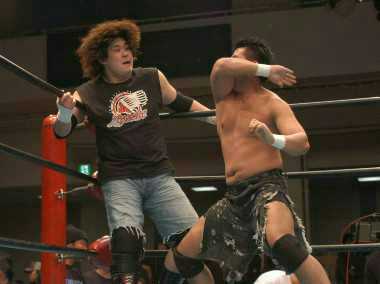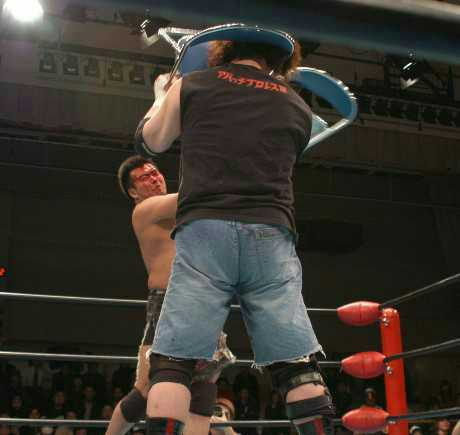 The Apache Army team of Mammoth Sasaki & Hido would take on Big Japan's Ryuji Ito & K-Dojo's MIYAWAKI in a Barbwire Board Scramble Bunkhouse Street Fight. Hido would cut MIYAWAKI open with the barbwire bat brought in by Hido, but as Mammoth would put a chair over MIYAWAKI's bloody head, MIYAWAKI would quickly counter and then place the chair over Mammoth's head and grab the chair Mammoth was about to use to hit a Mammoth Home Run on Sasaki himself. Mammoth would eventually come back by powerbombing Ryuji Ito through the barbwire board and Hido would finish Ito off with a Piledriver right onto the barbwire baseball bat as Hido would get the pinfall after that.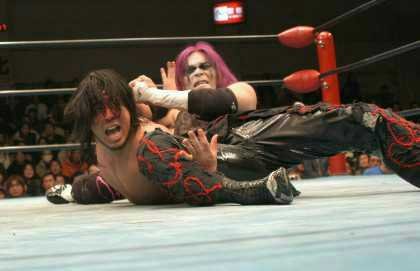 The GOEMON/Onryo vs. Takashi Sasaki/GENTARO feud would continue as GOEMON & Onryo would team with MIKAMI and Sasaki and GENTARO would team with Tanomusaku Toba. GOEMON would begin cutting GENTARO open with his fork while applying a camel clutch on him before Sasaki would make the save. MIKAMI would come in against Toba and begin hitting Toba with the 619 between the ropes and then a Swanton Bomb off the top rope. Sasaki would be tagged in as MIKAMI would come in he would accidentally dropkick GOEMON instead of Sasaki. Onryo and GENTARO would be tagged in eventually as Onryo would get GENTARO in the 66 Lock and attempt to make him tap just like he did the day before for the WMF Jr. Heavyweight Title, but as soon as GENTARO would manage to grab the rope to break the move, Onryo would quickly roll him up for a cradle and get the pinfall victory for the second time in two days against GENTARO for the win.
Chocoball Mukai's 3rd trial match would turn into a tag match as he would team with Masao Orihara and put on Orihara's eye makeup across his face to take on the team of Shinjuku Shark and K-Dojo's Kengo Mashimo. Chocoball would take a beating by Shark and Mashimo for a majority of the match, but Chocoball would kick out of every pinfall attempt including a Shinjuku Shark Moonsault before Mukai would manage to get Shark into a supplex. Orihara would help Chocoball out as he would supplex Mashimo off the middle turnbuckle as Chocoball would make the cover and get the pinfall over Mashimo. Orihara & Mukai would celebrate after the match as Mukai would get his first victory for his 3rd trial match.