Mike Alfonso was born on January 24, 1965 in Tampa, Florida. Mike grew up in Florida being a big fan of the CWF promotion. He was a big fan of Terry Funk and Jack Brisco while growing up. He played high school football but when he went to the University of South Florida he ended up getting into construction work because the college did not have a football team. Both Mike and his cousin Horace decided to get into the wrestling business on December 25, 1987 and began to be trained by Steve Keirn after seeing an advertisement for his wrestling. Mike Alfonso made his debut as Mike Awesome for the PWF promotion on February 26, 1989 teaming with Wayne Sawyer losing to the Star Riders. Mike Awesome and Steve Keirn together traveled to Memphis to wrestle for Jerry Lawler's CWA promotion. He challenged Jerry Lawler for the promotions main title but never came away with the belt.

Mike was then contacted by FMW to go to Japan after Al Greene who was originally was suppose to be The Gladiator decided to go to WCW instead. Mike accepted the offer and made his debut for FMW on September 20, 1990. Onita loved The Gladiator and how impressive Mike was and decided to bring him in multiple times for 1991 and became one of the top heels of the promotion. He originally joined Mr. Pogo and Victor Quinones' Puerto Rican Army to feud with Atsushi Onita and the rest of FMW team in many main event barbed wire streets that went all over the building. After Mr. Pogo left FMW in 1991 then The Gladiator would soon join up with the next brand new top heel stable in The Sheik Army that consisted of The Sheik, The Gladiator, Tiger Jeet Singh, Tiger Jeet Singh, Jr. (Tiger Ali Singh), Horace Boulder, Big Titan and Damian. The Gladiator made his Kawasaki Stadium debut on September 23, 1991 teaming with Big Titan to defeat Ricky Fuji and Sambo Asako after Titan knocked out Ricky Fuji.

While going from city to city in Japan on the heel bus Damian would bring in many tapes of Lucha Libre matches to watch on the bus while traveling. Mike would see many of the spectacular moves that the Lucha stars were doing and felt he even at 6'6 could do those same moves using the top rope. The Gladiator began to adapt new moves that set him apart from any other big man in the business for the next 8 years as he was one of the few big men that could come off from the top turnbuckle. After Atsushi Onita defeated The Sheik on January 18, 1993 for The Sheik's old United States Heavyweight Championship title The Sheik and Sabu turned babyface and began teaming with Atsushi Onita. The Gladiator, Big Titan, and Horace Boulder did not stay with The Sheik after that and the three formed a group with Ricky Fuji, Dr. Luther, and Hannibal Lector called "Team Canada".

Team Canada remained the top heel stable for most of 1993 as The Gladiator would team with Big Titan and Ricky Fuji to defeat Tarzan Goto, Katsuji Ueda, and The Great Punk on May 5, 1993 at Kawasaki Stadium in a Barbed wire Street Fight after Ricky would pin Punk. Mr. Pogo would eventually return to FMW in 1993 and take over leadership of the group. The Gladiator and Big Titan would suffer their first loss at a Stadium show on August 22, 1993 at the Osaka Hyago Nishnomiya Stadium after Mr. Gannosuke and Sambo Asako would defeat them after Gannosuke would score the upset pinfall over The Gladiator. Mike would become very good friends with Sabu while touring with him in FMW and after Sabu would begin working for the ECW promotion in the Fall of 1993 between FMW tours he would help get Mike booked for some shows. Mike Awesome made his debut for ECW at the ECW Arena on December 26, 1993 for the Holiday Hell '93 show where he defeated Randy Starr. He would also make a big impact for the February 5, 1994 ECW Arena show called "The Night the Line was Crossed" after facing J.T. Smith. Awesome would end up doing a suicide dive over the top rope sending the back of J.T. Smith's neck into the guard rail in a gruesome spot. Mike would ended up being quickly rolled up by Smith afterwards, but Mike would not be done attacking J.T. after the match and setting him up for an Awesome Splash that would end up breaking the top rope during the dive.
Mike would continue touring for FMW through 1994 and would team with Ricky Fuji and The Big Titan on May 5, 1994 at Kawasaki Stadium against WAR's team of Hiromichi Fuyuki, Jado, and Gedo. A miscommunication between The Gladiator and Big Titan during the match would see a shoving match between the two with Ricky trying to play peacemaker. The Gladiator would have none of it and end up pinning Gedo before walking away from his team mates. The Gladiator would end up leaving Team Canada along with Mr. Pogo to form a new heel group along with Goro Tsurumi, Hisakatsu Oya, and Hideki Hosaka. The group would eventually become known as W*ING after Mitsuhiro Matsunaga and Yukihiro Kanemura would join the group. The W*ING group would continue to feud with Atsushi Onita and FMW until Atsushi Onita's Retirement on May 5, 1995 at Kawasaki Stadium. Mike would end teaming with Horace Boulder to lose to Katsutoshi Niiyama and Masato Tanaka after Niiyama would pin Boulder in a match that would see all four men all over the stadium in front of over 58,000 fans. Later in the show, Mr. Pogo would separate himself from the W*ING group and with The Gladiator, Horace Boulder, Ricky Fuji, and Hisakatsu Oya form the "Lethal Weapon" group.

After Onita's retirement, the FMW promotion would no longer focus on Death Matches and with Hayabusa as the new ace of the promotion would focus on wrestling ability. Since Mr. Pogo who had always been the number one heel during his time in FMW could not be that type of wrestler that would fit Hayabusa's style it was decided that The Gladiator would become the number one heel in the promotion after almost five years with the company. Hayabusa and The Gladiator had planned out many of their matches while Hayabusa stayed at Mike's house in Tampa earlier in the year knowing they would be the two top guys after Onita's retirement. Awesome and Hayabusa ended bringing out the very best in each others matches as they would both battle for the FMW Brass Knuckles Title in the FMW Grand Slam Tournament. The Gladiator would end up winning the Grand Slam Tournament for the FMW Brass Knuckles Title against Hayabusa in the finals on September 26, 1995. The Gladiator was now finally held a promotions top title for the first time in his career. But due to his highflying style for a man his size, he would end up suffering knee problems and be needed to taken some time off. The Gladiator's partner Hisakatsu Oya would end up defending The Gladiator's title on February 23, 1996 but would end up losing it for him as Super Leather was now the FMW Brass Knuckles Champion. The Gladiator would have his shot to win back his title on March 15, 1996 at the Sapporo Nakajima Sports Center but the knee injury would still be too much to overcome as Super Leather would focus on it the entire match and successfully defend his title. The Gladiator would team up with Horace Boulder and Hisakatsu Oya to face the team of Super Leather and The Headhunters for the newly created FMW 6 Man Street Fight Tag Team Titles on May 5, 1996 at Kawasaki City that would see Super Leather scoring the pinfall over Horace Boulder for the titles.

The Gladiator would end up coming back strong at the end of the month and defeating Super Leather on May 27, 1996 at the Fukouka Hakata Star Lanes for the FMW Brass Knuckles Title by defeating Super Leather with a Kamikaze Awesome Bomb. The Gladiator and Horace Boulder would end up leaving Lethal Weapon after attacking Ricky Fuji in a tag team match with him. Later that month he would join up with Terry Funk and his new Funk Masters of Wrestling stable that consisted of mostly foreigners. He would team up with Terry Funk to defeat the team of Hayabusa and Masato Tanaka on September 24, 1996 after The Gladiator would pin Masato Tanaka with an Awesome Bomb.

The Gladiator would then put up his Brass Knuckles Title on the line for W*ING Kanemura's newly formed Independent Heavyweight Title on December 11, 1996 with the winner becoming the first ever FMW Double Titles Champion. The Gladiator would end up finishing Kanemura off with an Awesome Bomb and walking out of the show the holder of the top two titles in FMW. Atsushi Onita would end up coming out of retirement on the show that would eventually set up The Gladiator teaming with Terry Funk and Cactus Jack against Onita, W*ING Kanemura, and Masato Tanaka on April 29, 1997 at the Yokohama Arena with Kanemura getting some revenge on The Gladiator by pinning him on the show.

Although having already defended both his titles against him earlier in the year, Masato Tanaka would earn another shot at The Gladiator's Double Titles on September 28, 1997 at Kawasaki Stadium. It would turn out to be the best Stadium match of The Gladiator's FMW career as he would end up being picked up and Awesome Bomb'd himself by Tanaka outside the ring through a table. Tanaka would then finish The Gladiator off with a Tornado DDT to finally defeat The Gladiator and walk away with The Gladiator's Double Titles pretty much ending The Gladiator's two year run as a top guy in the company. The Funk Masters of Wrestling would soon come to an end and The Gladiator would join up with Atsushi Onita's newly formed heel group ZEN. Although The Gladiator was no longer a focal man in a group like he had been like for so many other groups, and not only that but the group would turn face just three months after its creation of being the top heel group in the promotion.

He would enter into an eight man single elimination tournament for the FMW Double Titles and would reach the finals after defeating Hisakatsu Oya and Yukihiro Kanemura but would end up losing to Hayabusa in the finals of the tournament on March 17, 1998.

The Gladiator's last big show FMW match would take place on April 30, 1998 at the Yokohama Bunka Gym teaming with Tetsuhiro Kuroda against the top heel group members of Super Leather and Horace Boulder with Boulder getting the victory over Kuroda on the show. He would then make his Tokyo Dome debut teaming up with fellow ZEN partners Tetsuhiro Kuroda and Hideki Hosaka against Akira Taue, Takao Omori, and Masao Inoue on May 1, 1998 with Taue getting the pinfall victory over Hosaka. ZEN would end up disbanding later that week and The Gladiator would proclaim himself a free agent. He would wrestle singles matches against the likes of Yukihiro Kanemura, Jado, Ricky Fuji, and Super Leather. He would begin to be used in FMW's new talent exchange with ECW. He would wrestle in between tours of FMW for ECW but this time outside of just the ECW Arena and actually have a set feud with Masato Tanaka.

Mike Awesome would make his American Pay Per View debut on August 2, 1998 against Masato Tanaka for the Heatwave '98 show in Dayton, Ohio. They would end up using many of the spots they had used the year prior for their Kawasaki Stadium match including Tanaka throwing Awesome outside over the top rope through the table before defeating Awesome in the best match of a very good show.

Although his stock in America had just gone up, he was about to suffer a huge blow to his career. He ended up wrestling his last FMW match on August 26, 1998 defeating Super Leather but injuring his knee seriously. He would take off the rest of the tour and return to America. He would still try and tough it out for his booked ECW Arena match on September 19, 1998 against Balls Mahoney but his knee would go out once again and Awesome could no longer go anymore. He would tell Balls to pin him right away and Awesome now had no choice but to get reconstructive surgery and would be out for the next year.

During the year off, Awesome would decide not to return to FMW feeling it was a much different company now with Kodo Fuyuki in charge than the promotion he had originally believe he would stay loyal to in Atsushi Onita's FMW. The Gladiator would return Japan but this time for the All Japan in August 1999 and would face off against Kenta Kobashi on September 4, 1999 at Budokan Hall with Kobashi getting the win in one of Mike's favorite matches of his career.

Mike would not stay in All Japan long as he would eventually get persuaded by ECW owner Paul Heyman to return to ECW and would be promised the ECW Heavyweight Title and about the same money he was making during his last run with FMW while getting to stay in America.

Mike Awesome would end up appearing at ECW's Anarchy Rulz '99 show in Villa Park, Illnois and making himself apart of a Taz vs. Masato Tanaka match for the ECW Heavyweight Title on September 19, 1999. Taz would call out for Awesome to be apart of the match with Awesome accepting. Both Awesome and Tanaka together would make short work of Taz and eliminate him from the match. Awesome and Tanaka would then end up having a similar match as the year before in ECW but this time Mike Awesome getting the victory over Tanaka and becoming the ECW Heavyweight Champion.

Mike Awesome would go on to defend the title against the likes of New Jack, Too Cold Scorpio, Vic Grimes, Tracy Smothers, and Justin Credible before knocked off by Tanaka would get another shot and take away his title on December 17, 1999 in Nashville. Awesome would come back a week later on December 23, 1999 in White Plains, New York and defeat Tanaka with a sit out Awesome Bomb off the top turnbuckle to recapture the ECW title. Awesome would go on to team with Raven to win the ECW Tag Team Titles from Masato Tanaka and Tommy Dreamer on March 4, 2000 at the ECW Arena. They would end up losing them a week later on March 12, 2000 in Danbury, CT. at the Living Dangerously 2000 show in a 3 Way Dance with Tanaka pinning Awesome to eliminate his team before the team of Justin Credible and Lance Storm would win the tag titles after Storm pinned Dreamer.

Mike would only end up making it a month later with the company before getting frustrated that the money he was promised by Heyman was not coming through and looked for a deal from WCW that he ended up getting. Awesome was actually scheduled through ECW to return to FMW as Masato Tanaka's partner as a member of ECW Japan against the team of H and Mr. Gannosuke on May 5, 2000 at the Komazawa Olympic Gym but after Awesome would leave ECW for WCW that match would never take place. Awesome would return to WCW for the first time in ten years after doing TV taping matches in Atlanta back in 1990 as The Pro. He would attack Kevin Nash in his first appearance on April 10, 2000 while still ECW Champion. He would be forced by WCW to return to ECW one last time on April 13, 2000 in Indianapolis with police security protecting him before losing the ECW title quickly for the last time to the WWF's Tazz before quickly getting up and walking out through the crowd. He would manage to defeat Masato Tanaka once again on November 2, 1999 in Buffalo after delivering a sit out Awesome Bomb through the table on Tanaka

Mike Awesome would make his WCW Pay Per View debut in Chicago, Illinois for the Spring Stampede 2000 show on April 16, 2000 originally scheduled to face the late Bam Bam Bigelow, the match would eventually turn into Awesome facing Ernest Miller and scoring the pinfall victory. He would end up defeating Hulk Hogan on a Nitro in one of the biggest victories of his career. Awesome would then end being given back to back horrible gimmicks shortly after as he would become The Fat Chick Thrilla and then That 70's Guy. Both gimmicks would be dropped soon enough. He would enter in a one night tournament for the WCW United States title on July 18, 2000 where he would defeat Kanyon and The Great Muta before losing to Lance Storm in the finals. Awesome would eventually join Lance Storm's Team Canada as it was the second time Awesome had been apart of a Team Canada in his career. He would stay with WCW until it would be bought out by WWF in March 2001. He would make his WWF debut in June 2001 winning the WWF Hardcore Title at Madison Square Garden in New York from Rhyno. He would make his WWF Pay Per View debut teaming up with Lance Storm to lose to Edge and Christian at the Invasion Pay Per View on July 22, 2001 in Cleveland, Ohio.

Awesome like many of the former WCW wrestlers would not get off on the right foot in WWF. WWF did not allow his type of style to be shown and he was quickly demoted to the syndicated show Jakked. He would end up suffering another knee injury that would require surgery in October 2001. He would make his return to WWF but in a losing role on the show Velocity where he would lose to the likes of Yoshihiro Tajiri and Shoichi Funaki before being released in the Fall of 2002 by WWF.

He would return to All Japan for the first time in over three years for the All Japan Real World Tournament as Mike Awesome in November 2002 teaming with PJ Friedman although the team would only manage two points and finish in second to last place.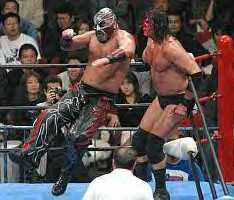 He would return in January 2003 as The Gladiator in All Japan and would get a shot at the All Japan Triple Crown on January 13, 2003 at the Osaka Prefectural Gym losing to the Great Muta after being hit with a a Moonsault. He would then enter into the All Japan Championship Carnival that would only be a single elimination tournament. He would end up losing to the late John Tenta on March 22, 2003 in the first round. He would form a group with The Giant Kimala, Jimmy Yang, and the late Gigantes. He would also compete for local promotion MLW and would face Masato Tanaka once again on May 9, 2003 in Orlando. He would end up wrestling his last match in All Japan on June 13, 2003 at the Aichi Prefectural Gym teaming with Gigantis and Jimmy Yang to defeat Keiji Muto, Arashi, and Tomoaki Honma after Gigantis would pin Honma. A week later he would win the MLW Heavyweight Champion defeating All Japan's Satoshi Kojima on June 20, 2003 in Fort Lauderdale, Florida before losing it later in the night to Steve Corino.

He would participate for HUSTLE-2 on March 7, 2004 at the Yokohama Arena teaming up with Sabu and Justin Credible as a group of former ECW Heavyweight Champions against a group of former FMW Heavyweight Champions in Masato Tanaka, Kintaro Kanemura, and Tetsuhiro Kuroda with the former FMW team getting the win after Tanaka would nail the rolling elbow on Credible for the win. He would then return for HUSTLE-3 on May 8, 2004 at the Yokohama Arena teaming with Kintaro Kanemura and Sabu against Masato Tanaka, Tetsuhiro Kuroda, and Tomoaki Honma in a Weapons Death Match and would get the victory after delivering a Kamikaze Awesome Bomb to Honma for the win.
The Gladiator would make his debut for Pro Wrestling NOAH on November 13, 2004 teaming with Scorpio defeating the team of Takeshi Rikio and Mohammed Yone after Scorpio would pin Yone. The Gladiator would get his big rematch against Kenta Kobashi for the GHC Heavyweight Championship on December 4, 2004 at the Yokohama Bunka Gym. The match would be given over 28 minutes, but the match would also prove that Awesome's knees just could not hold up anymore and the match would come nowhere close to a quality of match the two had five years earlier but with the same result as Kobashi would end putting away The Gladiator to defend the GHC title with a moonsault. The Gladiator would wrestle in his last NOAH matchon March 5, 2005 at Budokan Hall teaming with Bison Smith and Ace Steel defeating Akira Taue, Yoshinari Ogawara, and Go Shiosaki with Steel pinning Shiosaki. It would not only be his last match in NOAH but also Japan as well as the last time as The Gladiator.

He would then be asked to take part in WWE's ECW One Night Stand and take on his most famous opponent Masato Tanaka on June 12, 2005 in Manhattan, New York for the ECW One Night Stand Pay Per View in what turn out to be his last match against Tanaka as well as his last televised match. Mike Awesome and Masato Tanaka would once again end up having the best match on a very good show as Awesome would eventually put away Tanaka throwing him over the top rope once again through the table and then diving over the top rope to the outside on Tanaka. Awesome would injure his knee on the dive and the match would be forced to end with Awesome getting the pin over Tanaka outside the ring. It would be Mike Awesome's final shining moment of his pro wrestling career with the crowd going crazy one last time for his moves.

Mike Awesome would announce in 2006 that he was retiring from pro wrestling and would be selling real estate and spend time with his family in Florida. He would turn down an offer to appear again at WWE's ECW One Night Stand in June 2006 due to his knee not being able in the condition to have a match with. Mike Alfonso would be found dead on February 17, 2007 at his Tampa home after committing suicide by hanging himself. He was 42.
Mike Awesome vs. Masato Tanaka feud
FMW 8/25/95
Tokyo Korakuen Hall
2150 Fans

FMW Brass Knuckles Championship Tournament Match: The Gladiator d. Masato Tanaka (10:52)
FMW 2/18/97
Tokyo Korakuen Hall
2150 Fans
FMW Double Titles Championship Match: The Gladiator d. Masato Tanaka (15:25) to Defend the FMW Brass Knuckles Heavyweight Title for the 2nd Time, and FMW Independent Heavyweight Title for the 1st Time.

FMW 9/28/97
Kawasaki Stadium
50012 Fans

FMW Double Titles Championship Match: Masato Tanaka d. The Gladiator (15:18) to become the NEW FMW Double Titles Champion.

ECW 7/3/98
Elmhurst Queens, New York
1000 Fans

Masato Tanaka d. Mike Awesome

ECW 8/2/98 "Heatwave '98"
Daytona, Ohio Hara Arena
4376 Fans

Masato Tanaka d. Mike Awesome (11:49)
ECW 8/8/98
Philadelphia, Pennsylvania ECW Arena
1400 Fans

Masato Tanaka d. Mike Awesome

ECW 9/19/99 "Anarchy Rulz '99"
Villa Park, Illnois Odeum
6000 Fans

ECW Heavyweight Championship Match: Mike Awesome d. Masato Tanaka & Taz in a Three Way Dance to become the NEW ECW Heavyweight Champion.
Masato Tanaka & Mike Awesome pinned Taz (2:01)
Mike Awesome pinned Masato Tanaka (13:48)

ECW 11/7/99 "November to Remember '99"
Buffalo, New York Bert Flickinger Center
3000 Fans

ECW Heavyweight Championship Match: Mike Awesome d. Masato Tanaka to Defend the Title

ECW 12/17/99
Nashville, Tennessee
2500 Fans

ECW Heavyweight Championship Match: Masato Tanaka d. Mike Awesome to become the NEW ECW Heavyweight Champion.

ECW 12/23/99
White Plains, New York

ECW Heavyweight Championship Match: Mike Awesome d. Masato Tanaka to become the NEW ECW Heavyweight Champion.
ECW 3/4/00
Asbury Park, New Jersey

ECW Heavyweight Championship Match: Mike Awesome vs. Masato Tanaka went to a No Contest (8:54)

MLW 5/9/03
Orlando, Florida Tabu Night Club

Mike Awesome d. Masato Tanaka via DQ
Zero-One 2/29/04
Tokyo Sumo Hall
6500 Fans

NWA United National Championship Match: Masato Tanaka d. The Gladiator (11:44) to Defend the Title.

WWE 6/12/05 "ECW One Night Stand"
Manhattan, New York Hammerstein Ballroom
2500 Fans

Mike Awesome d. Masato Tanaka (9:51)
The Gladiator vs. Hayabusa feud
FMW 7/30/95
Tokyo South Owasa Multipurpose Plaza
2500 Fans

The Gladiator d. Hayabusa (10:13)

FMW 9/5/95
Sapporo Nakajima Sports Center
4850 Fans

FMW Grand Slam Brass Knuckles Championship Round Robin Tournament Match: Hayabusa (7) d. The Gladiator (8) (14:18)

FMW 9/26/95
Tokyo Korakuen Hall
2150 Fans (Sold Out)

FMW Grand Slam Brass Knuckles Championship Tournament Finals Match: The Gladiator d. Hayabusa (23:38) to become the NEW FMW Brass Knuckles Champion.
FMW 3/17/98
Tokyo Korakuen Hall
2150 Fans (Sold Out)

FMW Number One Contendership for the Double Titles Championship Tournament Finals Match: Hayabusa d. The Gladiator (14:09)
Mike Awesome's Title History

FMW Brass Knuckles Tag Team Titles w/ Big Titan

Defeated: Atsushi Onita & Katsutoshi Niiyama 1/18/94 Saitama
Lost to: Mr. Pogo & Hisakatsu Oya 4/21/94 Aomori

FMW Brass Knuckles Tag Team Titles w/ Mr. Pogo

Defeated: Atsushi Onita & Mr. Gannosuke 10/28/94 Tokyo
Lost to: Atsushi Onita & Mr. Gannosuke Tokyo

FMW Brass Knuckles Heavyweight Title

Defeated: Hayabusa 9/26/95 Tokyo
Lost to: Hisakatsu Oya lost to Super Leather 2/23/96 Tokyo

FMW Brass Knuckles Heavyweight Title

Defeated: Super Leather 5/27/96 Fukuoka
Lost to: Masato Tanaka 9/28/97 Kawasaki

FMW Independent Heavyweight Title

Defeated: W*ING Kanemura 12/11/96 Tokyo
Lost to: Masato Tanaka 9/28/97 Kawasaki

FMW 6 Man Street Fight Tag Team Titles w/ Mr. Gannosuke & Hisakatsu Oya

Defeated: Kodo Fuyuki & Jado & Gedo 8/5/97 Sapporo
Lost to: Hayabusa & Masato Tanaka & Koji Nakagawa 8/31/97 Tokyo

ECW Heavyweight Title

Defeated: Taz 9/19/99 Villa Park, IL
Lost to: Masato Tanaka 12/17/99 Nashville, TN

ECW Heavyweight Title

Defeated: Masato Tanaka 12/23/99 White Plains, NY.
Lost to: Tazz 4/13/99 Indianpolis, IN

ECW Tag Team Titles w/ Raven

Defeated: Masato Tanaka & Tommy Dreamer 3/4/00 Philadelphia, PA.
Lost to: Lance Storm & Justin Credible 3/12/00 Danbury, CT

WWF Hardcore Championship

Defeated: Rhyno 6/25/01 New York, NY
Lost to: Jeff Hardy 7/10/01 Birmingham, AL

MLW Heavyweight Championship

Defeated: Satoshi Kojima 6/20/03 Fort Lauderdale, FL
Lost to: Steve Corino 6/20/03 Fort Lauderdale, FL