Masaji Goto would be born on August 16, 1963 in Shimada City, Shizuoka.

Goto as a child loved professional wrestling and wanted to be a professional wrestler, but his parents told him that pro-wrestling would not bring much honor, and that he needed to go to a honorable sport like sumo wrestling.

Goto would listen to his parents and after graduating from Jr. High School at the age of 15 he would join the Kokonoe Sumo stable in March 1979. He would compete in the Tokyo competition in May 1979 in the lower division matches where he would rank # 32 after going 5-2 that month. He would follow that up by entering into the Nagoya competition in July 1979 for the lower division matches where he would rank # 95 after going 2-5 in his matches.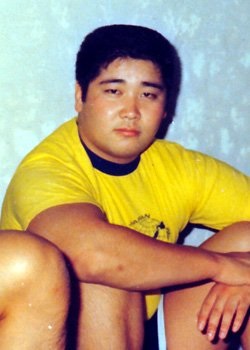 He would be scheduled to compete in Tokyo again in September 1979, but would end up sitting out due to injury and then then the Kokonoe Stable would end up going under in November 1979 and Goto would end up retiring from sumo afterwards.
Goto would then try out for the profession that he had a passion for and that was professional wrestling. Goto would end up making the All Japan Pro-Wrestling Dojo in 1980 where he would live in the Dojo. He would live with the likes of Mitsuharu Misawa, Shiro Koshinaka, Hiromichi Fuyuki, and eventually Toshiaki Kawada as all of them would be trained by Jumbo Tsuruta daily.
Masaji Goto would make his debut on February 19, 1981 at the Tokyo Ryozen Town Citizen Gym where he would take on Shiro Koshinaka and lose after submitting to a crab hold.
Goto would lose to the likes of Hiromichi Fuyuki, Mitsuo Momota, and Mr. Hayashi for the next eight months until finally defeating Mitsuharu Misawa on October 17, 1981 to get his first victory.
Goto would never be thought of as someone with a high upside and as a result for years he would only trading wins over equals like Hiromichi Fuyuki and Mitsuharu Misawa or defeating the younger Toshiaki Kawada after he made his debut in October 1982.
Atsushi Onita would end up coming back to All Japan in May 1982 after wrestling in North America and Europe with the plan for him to become the top Jr. Heavyweight in All Japan going forward. Onita would stop by the All Japan Dojo and begin training with his teacher Jumbo Tsuruta along with the younger wrestlers like Goto following his return to All Japan.
A friendship would form between Onita and Goto during this time as Onita would begin to teat Goto like a younger brother to him. Masaji Goto would eventually earn the name "Tarzan Goto" and debut it on September 30, 1983 at Korakuen Hall by defeating Toshiaki Kawada.
One of Goto's biggest matches for himself personally would take place on August 23, 1983 at the Shizuoka Shimada Station North Exit Square as Goto would be wrestling in his hometown for the first time. Goto's parents and sister as Yoko as well as other friends would attend the show and Goto defeat Hiromichi Fuyuki with a Flying Body Press. Goto would admit he was more nervous for this return home then he was his debut match and would state he felt like he was back home for this event.
Although Goto was still not being pushed more than being a opening match wrestler and having made his debut in February 1981 he would end up winning the Tokyo Sports Newcomer of the Year for 1983 award.
One of the few times that Goto would be booked outside an opening match would be on May 31, 1985 at the Matsudo Sports Park Gym in Chiba as he and Takashi Ishikawa would get destroyed by The Road Warriors in just 85 seconds after Hawk would hit Goto with the Doomsday Device for the win.
All Japan would then decide that they would want both Tarzan Goto and Akio Sato go on a excursion to the United States to gain valuable experience with the plan being that they would return after several years and possibly be more seasoned and then a push could be in order if they had shown growth. Goto's last match match as a member of All Japan would take on November 2, 1985 as he would lose to Shinichi Nakano at Korakuen Hall.
Tarzan Goto and Akio Sato would first go to Central States Wrestling in Kansas City, Kansas where they would enter into the NWA Central States Tag Team Tournament on November 21, 1985 and first defeat the team of Gary Jackson and Mike George before losing to the Midnight Express team of Bobby Eaton and Dennis Condrey in the semi-finals.

This is where Goto would eventually end up meeting New Japan wrestler who was also on excursion in Tetsuo Sekigawa who was wrestling under the name Mr. Pogo as they would form a Japanese heel tag team and lose several times to The Soul Patrol team of Butch Reed and Rufus R. Jones in May 1986.
Goto would be struggling while living in Kansas City as he would end up living in one room apartment with no car as he would end up having to take Akio Sato's car to get somewhere he needed to go. as on February 7, 1986 in Des Moines, Iowa a mixed match would be booked with Goto teaming up with female wrestler Athena as they would take on a male wrestler who would be teaming up with female wrestler Despina Montages. The two would end up falling in love and getting married before starting a family which would end up with them having three boys together.
The decision to go to leave Kansas City would be made in the Spring of 1986 as Goto would eventually be jobbed out of the territory before he and Sato would end up going to Jerry Jarrett's CWA promotion in Memphis. Goto and Sato would make their debut on June 16, 1986 at the Mid South Coliseum in Memphis, Tennessee and they would be built as the CWA International Tag Team Titles upon coming in the promotion as they would by defeat the team of Pat Tanaka and Liberty in their first match.

The following month on July 14, 1986 they would win the tag titles after they had been previously held up after a match against Jeff Jarrett and Pat Tanaka as would defeat Jarrett and Tanaka at the Mid South Coliseum to become the two time champions. They would flip the belts back and forth several times between Jarrett and Tanaka, Jarrett and Paul Diamond, and Tanaka and Diamond until they would drop them to Jimmy Snuka and JT Southern for the final time on March 2, 1987.
Goto would continue on in Memphis until a week later March 9, 1987 when he and Sato would team up against Paul Diamond and JT Southern with the loser of the fall leaving town as Goto would end up taking the loss and be finished with Memphis after eight months in the territory.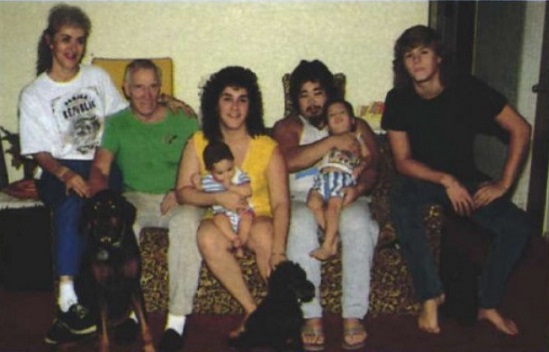 Goto would then move on to the PWF promotion in Florida in June 1989 as he would begin to go by a Vietnamese gimmick under the name of name of Ho Chi Winh a play off the name Ho Chi Minh who was the President of Vietnam from 1945 to 1969.

The reason for the move to Florida is that was where Despina's family was so they would be able to help out take care of the kids while they both worked. The issue though is that Florida did not provide enough bookings to Goto to support a wife and children so he would end up needing to also begin working a Chinese Restaurant as a cook.
Goto while in PWF would end up getting the chance to defeat a rookie by the name of Mike Awesome July 9, 1989 in Orlando before losing to PWF Florida Champion Steve Keirn on July 30, 1989 in a Steel Cage Match. Goto would continue working for PWF until September 1989, but he was making so little money while doing so and was at a point with a wife and kids that he could no longer just move to another state to go to another territory so Goto was at peace on just being a cook going forward.
Just a couple of weeks later though Goto would end up getting a call from a former friend in Atsushi Onita. Onita would call Goto and ask him if he knew who this was with Goto guessing it was Jumbo Tsuruta. Onita would inform him of who was it was with Goto having no idea how Onita was able to get his number in Florida.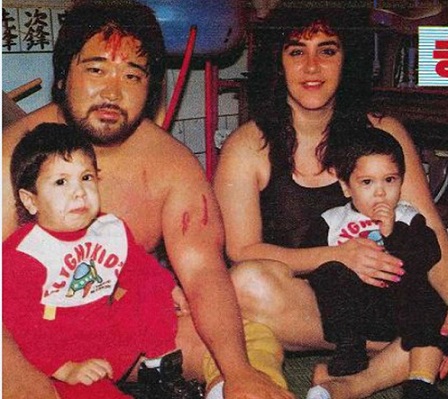 Onita would inform Goto that he was starting up a new promotion called FMW and that he wanted him to join him to become the number two babyface along side him. Goto would let him know he would think about it and get back to him with a response in a week. Goto at this point was under the mindset that he was an American with an American wife and American children at this point but this Onita promotion is not going to make it anyway and he felt like he wanted to have one last match in Japan before going back to America.
Goto would agree to work one of the two shows that FMW had booked in October 1989 with him agreeing to the second show on October 10, 1989. Goto though would change his mind while returning back to Japan. He decides that he should not take this job half heartedly and decides that he is going to join FMW full time until it closes down.
Goto would appear at the first FMW show on October 6, 1989 at ringside for Onita's loss to Masashi Aoyagi. After the show, Goto would feel that he needed to talk to Giant Baba first and get permission before wrestling for another promotion since he technically never left All Japan. All Japan had lost contact with Goto while he was in America and just figured he had retired from pro-wrestling to start a family with his wife and kids and that's why they never had tried to contacting him about coming back to them.
Onita and Goto would end up meeting with Giant Baba and during the meeting Onita would end up going to the bathroom with Baba beginning to talk to Goto about his kids, which would make Goto just smile with such glee as when Onita would come back to the bathroom with Giant Baba telling Goto that he will always be apart of All Japan Pro-Wrestling as that was Baba's way of saying he had his blessing of going to FMW.
Onita would end up assigning Tarzan Goto as the head trainer for the FMW Dojo as he would end up purchasing a house close by to be able to come by and every day he was not on tour and help train both the men and women wrestlers.
Tarzan Goto's FMW debut match would be at the second FMW show on October 10, 1989 as he would defeat Florida wrestler Billy Mack in a Hair vs. Hair Match.
Goto would then team up with Atsushi Onita in the very first Japanese Barbed wire Death Match against Masashi Aoyagi students Mitsuhiro Matsunaga and Jerry Blayman who would later go by Jerry Flynn in WCW.

FMW not having ever done a barbed wire match would end up purchasing as sharp as possible barbed wire with Onita cutting his arm very deep before the Onita and Goto team would end up winning the match and making sure FMW would never purchase that sharp of barbed wire again.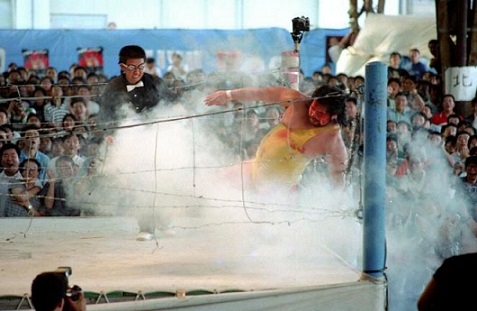 FMW would begin to plan for their biggest show to date and thus would turn Tarzan Goto heel by having him team up with Mr. Pogo to setup the very first No Ropes Exploding Barbed wire Death Match on August 4, 1990 at the Shiodome Railway.

The explosions would not be what they would eventually be but Goto going into the exploding barbed wire would get him on the cover of both Pro-Wrestling Weekly and Weekly Gong as well as win the Tokyo Sports Match of the Year for 1990. Onita would end up winning the match and Goto would turn back to face to team with him.
That face turn would not last long though as Mr. Pogo would end up leaving FMW in May 1991 and the planned Onita vs. Pogo match for the biggest FMW show ever booked for Kawasaki Stadium would have to be changed to Onita vs. Goto once again.
Goto's heel turn this time would consist of going too far in a barbed wire match against Sambo Asako on June 21, 1991 in Sapporo where he would cut Asako's arm really deep to where he would need to go to the hospital to get it stitched up.
It would lead to Tarzan Goto once again teaming with the heel side before going up against Atsushi Onita on September 23, 1991 at Kawasaki Stadium in a Exploding Barbed wire Cage Death Match that would draw over 33,000 fans before Onita would once again defeat Goto and once again Goto would turn face again.
Goto would eventually end up winning the WWA Martial Arts Title from Big Titan on January 30, 1992 in Osaka but it would just be a transition title run as he would end up losing it to Leon Spinks on March 25, 1992 at Korakuen Hall for Onita to defeat Spinks two months later.
Goto would continue his position as the number two face in the promotion as well as the trainer and the person to make sure everybody knew what they needed to do when it came to traveling while on tour as Goto adopted a very strict overseeing position due to how he was brought up in the All Japan Dojo.
Issues began later in 1992 between Onita and Goto as Shoji Nakamaki a well known baseball writer wanted to become a professional wrestler. Nakamaki would bring name value to FMW and wanted to be a wrestler. Onita would decide to let Nakamaki join the FMW Dojo as he would start from the bottom like everybody and be trained daily by Goto.
Nakamaki would then announce that he wanted to retire from pro-wrestling and a retirement match would be setup for him to lose quickly to Sabu on September 19, 1992 at the Yokohama Stadium. Nakamaki then afterwards would change his mind and decide he wanted to come back if he was promised a bigger push up the card than what he deserved. Onita would end up agreeing to this and announce that Nakamaki would be his tag team partner for the upcoming Tag Team Tournament.
This would upset Goto that Onita had given in to this guy and now someone that had only been wrestling a couple of months would not be in a main event position. To make matters worse, Nakamaki would decide to quit anyway and leave FMW for a better position in W*ING and leave FMW high and dry with the tag team tournament coming.
Onita would then begin to work with Genichiro Tenryu's WAR promotion which would lead to Onita and Goto teaming up on March 2, 1994 at the Ryogoku Sumo Hall where they would defeat Tenryu and his partner Ashura Haru with Onita pinning Tenryu to setup the main event of the upcoming Kawasaki Stadium match between Onita and Tenryu. This match because of the heat would end up winning Tokyo Sports Match of the Year for 1994 which would be the second Match of the Year that Onita and Goto had both won in the last five years.
Issues would come back up between Onita and Goto though because of this WAR relationship. WAR would reach out to Goto about working the March 26, 1995 Ryogoku Sumo Hall show with the plan being that Tenryu would defeat Goto. Goto would end up earning more money for this loss than any other one night he would make with FMW. Onita would hear about this though and absolutely refuse to allow Goto to work this show.
Onita was building up his upcoming retirement show on May 5, 1995 at Kawasaki Stadium with the main event being Onita vs. Goto for the biggest FMW show of all time. Onita would not want Goto to job clean in a singles to Tenryu just a little over a month away from their big match. Onita would not tell this to Goto though and instead would say that Goto couldn't compete on the show because FMW was running a house show that day.
Goto would become very upset knowing that he would have made more money doing the WAR show than he would even the Kawasaki Stadium show with Onita. This would fracture the Onita and Goto relationship to the point where they would no longer be talking.
Then the final blow in their relationship would take place on April 20, 1995 when Onita would hold a locker room meeting to announce that Tarzan Goto would no longer be having any outside duties in FMW besides wrestling without telling Goto beforehand about this meeting while he told all the other wrestlers. This would upset his student Mr. Gannosuke as Gannosuke would go straight to Goto what had happened in the meeting.
A meeting the next day would take place between Goto, Gannosuke, and future FMW President Shoichi Arai who would have been the one making the decision to no longer have Goto be doing anything extra as FMW after the Onita retirement show. During the several hour meeting Gannosuke would have enough and announce he was just going to quit wrestling because of how Goto was being treated.
Goto would tell Gannosuke that if he quit, so would he. Akihito Ichihara another student of Goto would also agree and the three would end up no showing the April 21, 1995 Korakuen Hall show and hold a press conference that the three would be leaving FMW immediately. FMW would end up having to find a replacement for Goto two weeks before the biggest show in company history.
Goto and Gannosuke would both decide after quitting FMW that they were not actually going to quit wrestling in general like they originally had thought as IWA Japan upon hearing the news that they had quit would end up offering the three a contract to work as an outsider team called the Real FMW. The trio would appear at the IWA Japan Korakuen Hall show on May 1, 1995 with Mr. Gannosuke first rushing in the ring and going after IWA Japan's Shoji Nakamaki for how he left FMW followed by Goto and Ichihara coming in the ring and attacking him as well. Former All Japan rival Kodo Fuyuki would be in the crowd and throw popcorn at Goto with Goto and Fuyuki brawling in the crowd to setup a feud between the Real FMW group and Fuyuki's Fuyuki-gun group.
Tarzan Goto would then have his first Kawasaki Stadium singles match since the Onita match in 1991 when he would challenge Dan Severn for his NWA Heavyweight Title on August 20, 1995 at the IWA Japan Kawasaki Dream show in a bloody brawl with both of them hitting each other as hard as they could with chair shots until Severn would eventually manage to put Goto to sleep to retain his title.
The marriage between Goto and Despina Montages would begin to crack during this time as well. Despina was willing to move the family with Goto to Japan for him to wrestle in FMW now was facing the challenges of living in Japan for several years while raising three boys and her husband was gone so much. Despina's last appearance in wrestling would be on January 2, 1996 at Korakuen Hall as Tiger Jeet Singh would attack Despina with his saber with Goto having to carry her out of the building. Goto would also agree to go back to America in July 1996 so Despina could see her family.
Goto would take a booking with ECW through their working relationship with IWA Japan at the time and defeat Axl Rotten on July 13, 1996 at the ECW Arena in Philadelphia, Pennsylvania for their Heatwave 1996 show. The issues with Goto and Despina's marriage would end up being too much though as the two would end up divorcing and Despina would end up moving back home to America with the three boys. Goto would stay in Japan and never end up seeing them again and would lose contact with them as well.
Issues with Goto and Mr. Gannosuke would also begin as IWA Japan would be in financial strain at the end of 1996 and would no longer be able to afford what they were paying the Real FMW guys after October 1996. A new promotion based off the defunct Tokyo Pro promotion called FFF would be announced with Goto and Gannosuke agreeing to join the promotion. The FFF promotion would end up closing down though before ever holding their first show. Gannosuke at this point would ask Goto if he could just go back to FMW with Goto giving him the okay to return to the promotion after two years.
Goto would begin working Big Japan and WAR going into 1997 including finally getting his singles match with Tenryu at the WAR July 6, 1997 Ryogoku Sumo Hall show with Tenryu getting the win.

Goto also would start up his own promotion called Shin FMW and pretty much just begin to work the smaller independents like the downsized IWA Japan, SPWF, Samurai Project, and Wrestle Yume Factory and eventually Nightmare. Goto would be asked to come back to FMW for their May 5, 1999 Yokohama Bunka Gym show where he would main event and challenge for the FMW Double Titles on the show. Goto would pass on jobbing to his old rival Kodo Fuyuki though and would not end up ever coming back to FMW.

Goto would then open up his own Dojo in late 1999 and beginning running small independent shows in 2000 with Goto calling the promotion "Tarzan Goto-Ippa". Sometimes he would end up bringing in big names for the bigger shows including Satoshi Kojima and Abdullah the Butcher.
Goto would also return back to All Japan for their 30th Anniversary show on October 27, 2002 at Budokan Hall in Tokyo as he would team up with Tomoaki Honma and lose to the team of Terry Funk and Abdullah the Butcher with Abdullah pinning Honma which would also end up being Goto's final All Japan match spanning 21 years since his first match with the promotion.

Tarzan Goto and Mr. Gannosuke would once again begin working together as Goto and Gannosuke would team up on August 28, 2005 for Goto's promotion followed by teaming up again on September 9, 2005 for Gannosuke's WMF promotion.

Goto would then open up his own restaurant called the Tokyo Asakusa Indies Arena Fight Club in 2006 where he could run his small Tarzan Goto-Ippa shows at the restaurant. The most notable feud during this time would be between Goto and Mr. Pogo as there would be two matches with the stipulation being the losing team would result in either Goto or Pogo having to wear a maid outfit and serve the other wrestler drinks. The two shows would see them trade victories with Goto and Pogo each one time having to dawn the maid outfit and serve the other wrestler drinks with both of them throwing the drink in the other wrestlers face.
The Onita and Goto relationship would also be fixed after time due to seeing money with working with one another. The first would be the feud between the two as Tarzan Goto would appear at the Onita Pro show on January 5, 2001 and challenge Onita with Goto and Shoji Nakamaki teaming up on February 17, 2001 to defeat Onita and his partner Ichiro Yaguchi in a No Ropes Barbed wire Death Match. They would have two more matches in April 2001 and June 2001 against each other with Onita's team beating Goto's team although Goto was at a point in his career where he was never going to do another job again.
They would then work together again in 2009 this time Goto would appear at an Onita show and ask to team with Onita for his new Shin FMW promotion with Onita agreeing ending their 14 year feud as the two would team up on December 24, 2009 with Onita and Goto defeating Mr. Pogo and Leatherface in a Street Fight. They would team one more time on May 5, 2010 in Shin-FMW before Onita would end up announcing his retirement and would leave the business for 6 months which would be the final time that Onita and Goto would be seen together in public.

Goto would continue to promote this Shin FMW promotion eventually changing it to the name Super FMW in June 2010. Years earlier Goto would be working at his restaurant when Reina Ayukawa would walk in and ask Goto to train her. Goto would agree and train Ayukawa with her becoming competent enough in the ring to have a match. Ayukawa with the help of enka singer Akane Chiyomi financially supporting it would start up her own promotion called Dynamite Vamp which would be the first wrestling promotion based on transgender wrestlers with Ayukawa becoming the first transgender champion in Japan by winning the promotions title.
Dynamite Vamp would be a key figure in help financially support Goto's Super FMW promotion as their workers as well as the very small independent promotion Shitamachi Pro which would would help fill out the undercards of the promotion to get them work and experience for cheap. The draw of the each show would be one or two former FMW wrestlers on it including Atsushi Onita, Super Leather, Hisakatsu Oya, Ricky Fuji, Kintaro Kanemura, Shark Tsuchiya, and Mr. Pogo.
The undercard match would be absolutely dreadful though and although the main events would always be fun street fights with brawling all over the building, every show would end up doing less and less than the previous one until the Shin-Kiba 1st Ring the building they were running their shows at would almost become completely empty, and the promotion would have to downsize to the point where it would just be Goto along with the Shitamachi Pro and Dynamite Vamp wrestlers wrestling in 100 seat buildings.
Super FMW would continue on in these small buildings, but the lack of people attending the shows would continue and eventually Goto himself would leave Super FMW as the shows would get so small that they would either have to run even smaller than 100 seat buildings or they would promote shows out in fields due to the decline in attendance and loss of money.
Goto would go back to just working as a cook once again as Akane Chiyomi and Ayukawa would end up starting up their own karaoke restaurant called "Super FMW Snack Akane" in Sumida, Tokyo in 2012.
Goto one day in 2013 would end up going into a ramen restaurant and having his eye caught by a woman named Yoshie working at her families restaurant. Goto would end up going into the shop so much to see her that she would eventually begin asking him to help her run the place. They would eventually get married on December 17, 2016 with Goto now becoming a step father to 31 and 27 year old daughters.
Goto would end up leaving the Super FMW Snack Akane to work at Yoshie's restaurant "Taro Ramen" in Oshiage, Tokyo and although Goto had years of experience working at restaurant he still did not feel like he had anywhere close the skills that his wife or mother in law had after 5 years of working at the restaurant.
Goto and Yoshie would end up appearing on a Game show that would air on National Television called "Welcome Newlyweds!" on July 16, 2017 with Goto and Yoshie trying to win a European Vacation although they would not end up winning the prize at the end of the show.
Super FMW would end up running one final show on December 9, 2018 at the Shin-Kiba 1st Ring. Goto would team up with Reina Ayukawa as the two would take on two Shitamachi Pro wrestlers Great Sata and a masked wrestler known as "Taro Ramen" based on the restaurant Goto was now working at in a Caribbean Barbed wire Thumbtacks Death Match with Goto dropping Ayukawa's body on Taro Ramen for the win. Goto and Ayukawa would celebrate when enka singer Akane Chiyomi who was sponsoring the show would come into the ring and look to attack Goto with a chair for leaving her restaurant. Goto would stop her but Ayukawa would take exception to Goto for this and try and help Chiyomi with Goto throwing Ayukawa down as a result. Ayukawa would then get revenge on Goto by blowing a fireball at Goto that would come nowhere near him but Goto would sell it as if it had burned his face.
The plan would be to run another Super FMW show at Shin-Kiba 1st Ring on November 10, 2019 but due to the lack of ticket sales they would decide to push the show back to March 29, 2020 instead. COVID would end up appearing during that time and there would be a rule about fans no longer being allowed to attend wrestling shows during that period and it would be announced the Super FMW show would be postponed although it would never end up happening.
Tarzan Goto would appear to the public one final time in January 2022 as Nikkan Gendai would end up doing an online article about his marriage to Yoshie and Goto working for her ramen shop. The article would not talk about the fact that Tarzan Goto was dealing with liver cancer during this time though.
It would not come out to the public that Goto was struggling with the cancer and had been dealing with the sickness for awhile although still working every night while dealing with it. It was believed that Goto's heavy drinking through out the years would have caused the cancer although typically only 7% of people with liver cancer actually get it from excessive drinking.
Masaji "Tarzan" Goto would end up passing away on May 29, 2022 at 6:50 PM Japanese Time. Ichiro Yaguchi and Miwa Sato would hold a Christian funeral at Masaji and Yoshie's ramen restaurant on May 30th. Later that day Tarzan Goto's long time student Mr. Gannosuke would make the announcement to the public on Twitter about Goto passing away.
The following day on May 31, 2022 at Korakuen Hall there would be a memorial show for Goto's teacher Jumbo Tsuruta with Atsushi Onita in a match. Following their match a picture of Tarzan Goto would show on the screen with all the wrestlers taking a moment of silence in memory of Goto with Onita beginning to burst out crying for the passing of Goto who was a younger brother to him and the man he chose to help start FMW.
The official funeral for Goto would take place on June 5, 2022 at the Koshiwayahato Heart Hall in Hikifune in Tokyo. Over 150 friends, family, and wrestlers would attend the funeral with a 10 bell gong taking place at the end before Goto's "Riding High" theme song would begin to play as Atsushi Onita, Ricky Fuji, Ichiro Yaguchi, Masato Tanaka, and Battle Ranger Z among others would bring out his coffin to the hearst for Goto to finally be laid to rest. Goto's wife Yoshie would state at the funeral that Goto had been sick for some time, but that he wanted to make it to his 60th Birthday and return to the ring one final time in August 2023.
Goto's legacy will live on for many years. He helped trained many wrestlers including Hayabusa, Masato Tanaka, Mr. Gannosuke, Tetsuhiro Kuroda, Koji Nakagawa, and Guts Ishijima among others. He will probably be best known for his matches with Atsushi Onita including the first No Ropes Exploding Barbed wire Death Match, the first Fire Death Match, and the first Exploding Cage Death Match at Kawasaki Stadium. He was able to create a second career though where he was mostly known for running very small independent shows where it would be complete chaos and would end up creating a small cult following for him and his shows. Tarzan Goto will always be remembered by so many that knew him as a strict father figure that might have frustrated the wrestlers for hard he could be on them, but deep down they knew he was doing it to make them not only a better wrestler, but also a better person to bring great pride just like how he was taught in All Japan when starting up.
I wanted to share my personal experience with Tarzan Goto. I never got the chance to meet him and like Mr. Pogo the only time I got to see him wrestle live was when I attended the Super FMW show on June 26, 2010 at Shin-Kiba in what was probably the worst undercard I have ever seen live, but made up by the fact that the main event with Goto was very entertaining as they brawled all over the building.
It would be four years after that when Goto's ex wife Despina Montages would contact me about trying to get in touch with Tarzan Goto. She wanted to get in touch with Goto as he had not talked to his sons in many years after the divorce that saw his ex-wife and sons move back to America while he stayed in Japan. I tried reaching out to wrestlers that had worked with Goto in recent years, but none of them stated they actually had Goto's number or possibly just didn't want to get involve in family stuff.
Eventually Montages would get in touch with Pro-Wrestling Weekly writer Jimmy Suzuki who would give her the number to Super FMW Snack Akane restaurant with Goto picking up and Despina asking for Goto to talk to his sons as she would let them know that he was now a grandfather which Goto would begin to cry upon hearing the news.
Goto would end up speaking to all his sons eventually over the next couple of years, but after his passing I would be the one to give Despina the news with her letting me know that she would be let her sons know about their father. Masaji Goto would only be 58 years old at the time of his passing.
Tarzan Goto's Career Title History

CWA International Tag Team Championship w/ Akio Sato
Awarded titles on June 16, 1986
Vacated Titles in July 1986

CWA International Tag Team Championship w/ Akio Sato
Defeated: Jeff Jarrett & Pat Tanaka 7/14/86
Lost to: Jeff Jarrett & Pat Tanaka 8/25/86

CWA International Tag Team Championship w/ Akio Sato
Defeated: Jeff Jarrett & Pat Tanaka 9/1/86
Lost to: Jeff Jarrett & Paul Diamond 11/3/86

CWA International Tag Team Championship w/ Akio Sato
Defeated: Jeff Jarrett & Paul Diamond 11/15/86
Lost to: Pat Tanaka & Paul Diamond 12/15/86

CWA International Tag Team Championship w/ Akio Sato
Defeated: Pat Tanaka & Paul Diamond 2/5/87
Lost to: Jimmy Snuka & JT Southern 3/2/87

WWA Brass Knuckles Tag Team Championship w/ Atsushi Onita
Defeated: Grigory Verichev & Koba Krutanize 12/9/91
Lost to: Sabu & Horace Boulder 5/7/92

WWA Martial Arts Heavyweight Championship
Defeated: Big Titan 1/30/92
Lost to: Leon Spinks 3/25/92

WWA Martial Arts Tag Team Championship w/ Grigori Verichev
Defeated: Sabu & Horace Boulder 5/25/92
Vacated Titles on 9/19/92
IWA Heavyweight Championship
Defeated: Leatherface 8/15/95
Vacated on 10/26/96
IWA Tag Team Championship w/ Mr. Gannosuke
Defeated: Cactus Jack & Tracy Smothers 10/1/95
Vacated on 10/26/96
NWA Tag Team Championship w/ Mr. Gannosuke
Defeated: Cactus Jack & Tiger Jeet Singh 12/9/95
Vacated on 8/20/96
IWA Heavyweight Championship
Defeated: Doug Gilbert 4/13/99
Vacated on 8/20/99

Wrestle Brain Cup 6 Man Tag Team Championship w/ Ricky Fuji & The Great Punk
Defeated: Masayoshi Motegi & Hirofumi Miura & Masked Taro 10/25/03
Lost to: Hido & Masked Taro & Shigeo Kato 12/21/03

American Heavyweight Championship
Defeated: Lee Gak WHO? 1/16/05
Vacated on 2/6/05