Eiji Ezaki passed away on March 3, 2016 in the early morning a little after Midnight that night. Masato Kawamura who owns the KUSHI-ZARU restaurant in Hayabusa's home town of Kamata, Ota in Tokyo was scheduled to meet with Hayabusa that night to go over details about Hayabusa's March 7th concert at his restaurant. Hayabusa never showed up that night. Kawamura closed down for the night at 2 am and after not being able to get a hold of him on the phone that night he decided to go over to Hayabusa's place and check on him. Kawamura went inside Hayabusa's apartment and found Hayabusa laying in his bed having passed away for over 24 hours by that point. Kawamura called for the ambulance to come where they officially declared Eiji Ezaki dead at the age of 47.

Ezaki's body was sent to his home town of Kumamoto at the request to his mother. They held a private funeral and wake with just family and friends as Mr. Gannosuke and Mammoth Sasaki were the only wrestlers to attend the funeral. There his mother, younger brother, and two daughters as well as other close personal friends said goodbye to Eiji Ezaki on March 8, 2016. It was announced that there will be some time of ceremony to celebrate Ezaki's life to the public next month.
Eiji Ezaki leaves his two daughters 18 year old Ayane and 15 year old Shie. He also leaves his mother as well as his younger brother. Ezaki has recently lost his father over the last couple of years. Ezaki lived by himself following his divorce to his wife in June 2004. He stated in a interview in 2005 that he felt he was a burden to his wife and the mother of his children after his accident with him always being around and needing help. Other issues due to his lifestyle as a wrestler also came into play and the stress was too much for the relationship that ended after 8 years even though he stilled loved her. Ezaki moved out into an apartment and lived by himself. Although he no longer was able to see them every day he still was able to see them grow up. They were just just 4 and 2 when he was paralyzed on October 22, 2001. They were still his pride and joy and the loves of his life. He was also able to find a long term girlfriend that he was with for several years. Things really were okay for Ezaki despite the every day struggle he had while being paralyzed and living alone. He always made sure to look at the positives in life because of everything he had gone through.
Mr. Gannosuke's first comment about Hayabusa's passing on March 4th was actually a comment about not wanting to look like an idiot in the ring then the last word of the tweet just being Eiji....

Mr. Gannosuke's second comment on March 4th: Babyface and heel. There was a relationship of trust with a thick friendship underlying that was unfolded with conflict in FMW. We were together every day when we were 18 in Kumamoto. After 50 people tried out for the FMW Dojo only Eiji and I were able to pass the introductory test and join the FMW Dojo. Every day was a painful practice and we encouraged each other and were able to debut 25 years ago.

Mr. Gannosuke comment on March 6th: I came to Kyushu and was with him until the last farewell. He looked asleep with a peaceful face.

Mr. Gannosuke comment on March 8th: Today, I was able to send Eiji off safely. Until we meet again. Goodbye.
Mammoth Sasaki on March 4th: I can not believe Hayabusa has died. I can not remember much of the day today (after finding out the news). I went and met with his family today in Kumamoto. There are no words that I can say right now. I pray for his soul and give a heartfelt thanks to him.

Mammoth Sasaki on March 6th: After the FREEDOMS show in Yokohama, I went back to Kumamoto to Hayabusa's family. The moment I saw his face for the first time there was an explosion of tears to my face. We were able to convey the feeling of gratitude and left a message for the people that were not able to attend. Ezaki's calm face as if he was sleeping. I have a feeling he has been saved a little. I helped put the coffin in the car. Now comes to my mind more and more memories of Mr. Ezaki and there is a lonely feeling beyond description. I wanted to drink together and tell stupid stories when we got old. He was a mentor to me. I wish him a thanks to his soul from the bottom of my heart.
Masato Tanaka: I called him a brother. Ezaki was a friend. I was referred to as the second generation ace in FMW but I could not be more of anything than Hayabusa. We talked just last week. I pray for his soul.

Miss Mongol: Mr. Ezaki, I am sorry. It is not reality that you are not in this world. I need time to organize my heart. I am sorry. A painful surprise.

Sabu: I was in Japan a few days ago. I got to see Hayabusa and gave him a kiss on the cheek. Melissa asked why. I said I don't know? Now I know.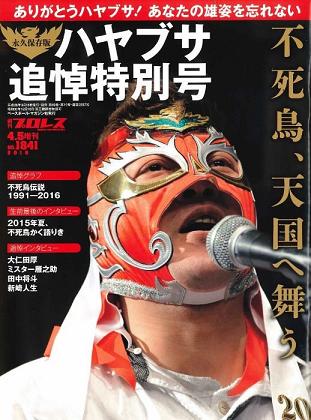 Pro-Wrestling Weekly the most popular Japanese wrestling magazine released their weekly issue with Hayabusa on the cover. There is a section dedicated to Hayabusa's career in it. It is the 12th time that Hayabusa has made the cover of the magazine. I was lucky enough to order this and I should be receiving it next week. The magazine announced that they will also be releasing a Hayabusa magazine completely dedicated to him that will be released on March 16th.
New Japan would be the first promotion to honor Hayabusa on March 4, 2016 at Korakuen Hall just hours after the story of Hayabusa had broke. All the New Japan wresters on the show including Jushin Thunder Liger who was the first Japanese wrestler to face off against Eiji Ezaki as Hayabusa at the Super J Cup in 1994 would surround the ring as a 10 gong salute taking place while the video screen would show a picture of Hayabusa.
Dragon Kid held Hayabusa's picture to the ring on March 5, 2016 in Osaka for the 10 gong salute. Hayabusa's picture remained at the commentator's table for the whole show. Dragon Kid who had been very close with Hayabusa after his victory would grab Hayabusa's picture and hold it up high in the ring to celebrate his friend.
New Japan would be the first promotion to honor Hayabusa on March 4, 2016 just after news would come out of Hayabusa's passing. Jushin Liger would not be able to give any words prior to his match because of his shock. The Great Sasuke came to the ring on March 5, 2016 in Hirosaki for the Michinoku Pro show and a 10 bell salute was given to him while he stood in the ring. Ricky Fuji came to the ring with a picture of Hayabusa on March 6, 2016 at the Chiba Blue Field where a 10 bell salute was given to him in his memory for Kaientai Dojo.
The ZERO1 show on March 6, 2016 at Korakuen Hall started with Masato Tanaka, Tetsuhiro Kuroda, Mineo Fujita, and Yuko Miyamoto coming to the ring with a picture of Hayabusa as a 10 gong salute would be given in honor of Hayabusa.
Pro-Wrestling NOAH held a 10 gong salute in memory of Hayabusa on March 5, 2016 in Kochi. They would have a picture of Hayabusa placed on a table and allow fans to bring flowers and place them on the table in memory of Hayabusa.
Keiji Muto who spent time in 2000 with Hayabusa while in the United States would come to the ring to start the Wrestle-1 show on March 6, 2016 in Miyagi with a picture of Hayabusa as there would be a 10 gong salute in honor of Hayabusa.
Hayabusa's scheduled concerts for March 6th and March 7th would end up being events honoring him. The first on March 6th at UOYA in Ota, Tokyo would have a get together with all of the regulars that would attend Hayabusa's monthly concert. They would all exchange stories about Hayabusa with one another and then begin singing Hayabusa's songs all together in his memory. The next day on March 7th at the KUSHI-ZARU they would place a picture of Hayabusa in his usual chair that he would sit in every month and place a microphone next to it as this was the 90th event in the small Yakitori restaurant. Tatsuka Nakazawa and Masahiko would play their guitars while having Hayabusa's CD play the songs as if he was there singing his songs like usual. Masahiko and Nakazawa after the show would hold up his picture and then place it back in the chair and allow his fans to place flowers, a shot of Jim Beam, and his mask on the chair to honor the memory of their friend.
Super Fireworks honored Hayabusa on March 11, 2016 in Tokorozawa as Atsushi Onita, Megumi Kudo, Masato Tanaka, and Hideki Hosaka all came to the ring with Kudo holding a picture of Hayabusa in memory as they had a 10 gong salute to a man that they all had known for over 20 years.
Super Battle FMW would also place a picture of Hayabusa on a table on March 12, 2016 in Saitama as fans would be allow to bring flowers and drinks in celebration of Hayabusa's life. Toshihiro Yamada who was the FMW ring announcer in the mid 90's would agree to return as a ring announcer for the show after hearing about Hayabusa's death and would lead a 10 bell salute to start the show. Ray would also appear and perform one of Hayabusa's songs along with Tatsuka Nakazawa and Sana Sakura who were regular for Hayabusa's concerts in memory of one of her friends and singing partners.
DJ Namijin would hold his event on March 13, 2016 at his Head Rock Cafe that a Hayabusa concert had been originally booked for. Ricky Fuji would end up show in Hayabusa's place and would interact and tell Hayabusa stories with all the fans in memory of a man they cared about greatly.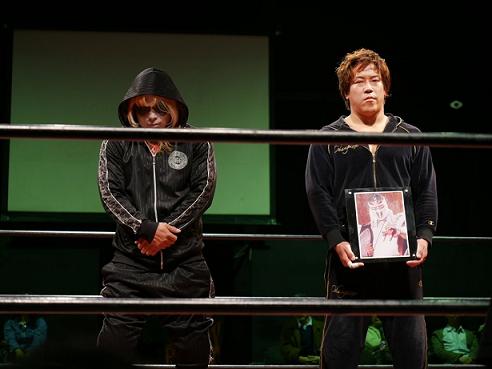 Onryo and Yuko Miyamoto would come out at the beginning of the 666 promotion on March 20, 2016 at the Tokyo Shin-Kiba 1st Ring with Miyamoto holding a picture of Hayabusa as a tell bell salute would given in honor of Hayabusa. Onryo who worked with Hayabusa from 2000-2004 had just seen him back on November 15th for Genichiro Tenryu's retirement show. Yuko Miyamoto helped Hayabusa adjust to living back at his home in 2003 after moving out of the hospital after 15 months.
Ricky Fuji and Fugofugo Yumeiji came out at the beginning of the Underground Wrestling promotion show on March 20, 2016 in Shinjuku, Tokyo to honor Hayabusa. Ricky who had known Ezaki for 25 years held a picture of Hayabusa to honor him and Yumeiji brough Hayabusa's mask to the ring to honor him during the 10 gong salute in memory of Eiji Ezaki.
Michinoku Pro would hold another tribute on March 20, 2016 in Yahaba, Iwate as Jinsei Shinzaki who was Eiji Ezaki's best friend would get to attend this. The Great Sasuke and Jinsei Shinzaki would lead the rest of the Michinoku Pro roster to the ring for a 10 bell salute in memory of Hayabusa. The picture would be placed a table in the entry hall of before going into the gym where drinks and flowers would be placed out of respect for Hayabusa.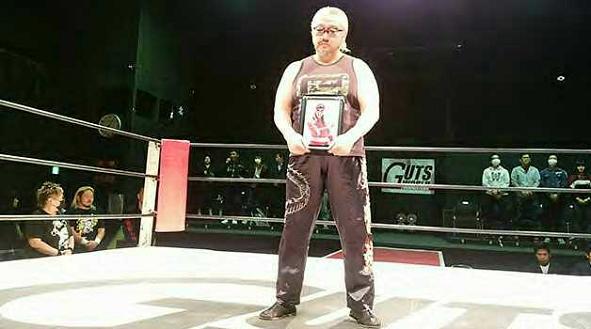 Mr. Gannosuke would get to honor his friend of over 25 years to the public for the first time by entering the ring on March 22, 2016 at the Tokyo Shin-Kiba 1st Ring for the Guts World promotion while holding a picture of Hayabusa to honor him during a 10 bell salute. Gannosuke would also dedicate his match and used the Falcon Arrow in tribute during the match. Gannosuke shouted after winning the match "This is for you Eiji!" and to close the show did Hayabusa's signature closing of the show line of "Let's have some fun!" before Hayabusa's theme began to play to end the show.
Big Japan would hold a show on March 24, 2016 in Hayabusa's home town of Kumamoto. The roster would surround the ring as Yuko Miyamoto would come to the ring with a drawn picture of Hayabusa as they would pay respect to Hayabusa by having a 10 gong salute in his honor to star the show.
This has been a hard 10 days and I know it will be awhile before it gets easier. I know as time goes by the story of Hayabusa passing will be an after thought to most. It already is to a lot of people that covered it the day it happened. He was a wrestler that they liked in the 90's and a reason to talk about a WCW Nintendo 64 game or a symbol of video tape trading back then. They moved on from him after FMW stopped being popular in 1999 which is expected and totally understandable.

But I am someone that once I care about you I will always care about you. I started caring about FMW and Hayabusa 18 years ago. I started watching FMW video tapes in November 1997 before I had ever even seen a ECW show. I bought an FMW custom tape for the Atsushi Onita vs. Mr. Pogo Exploding Cage Death Match on August 22, 1993 and on that tape was Hayabusa vs. Sabu from August 28, 1994 which was the first Hayabusa match I saw. I kept trading FMW videos for the next into 1998 by getting FMW's Story of the F Stage 1 and then the FMW White Love and FMW April 30, 1998 commercial tapes before beginning to follow what was currently happening in FMW on September 3, 1998. FMW started their Entertainment Pro-Wrestling era on August 21, 1998. Not a good time if you wanted to be popular on the internet back then to love FMW. But I did not care what anyone said about the product because I knew what I was watching was still enjoyable and it was mostly because of Eiji Ezaki.

I started this website in November 1998 as I was buying everything I could find of Hayabusa and FMW and started a tape page listing every video I had of FMW with the match listings. Bill Simmons actually created an FMW message board for me on AOL around this time so that I can write all about FMW on there but he closed everything AOL related shortly soon after. So I started an actual website to write everything I could about FMW in February 1999 which included the tape listings, any FMW result I could find, and Hayabusa's Biography.

The Hayabusa Biography will always be my pride and joy. I have spent so many countless hours writing and rewriting it. It's the staple of this website. Sometimes I think it's more popular than this website itself and that is okay with me. It allows me to look up information and learn more about someone that really I care about. It has been 17 years since I first started it and even after his passing I am still learning more and more about him.

I wish I could find anything in Japanese wrestling today that made me love what I was watching like Hayabusa did for me. He could have great matches, he was doing highflying moves that were never done before back then, he could have Death Matches that were not typical hardcore matches, but still took so much punishment to his body for FMW including getting so cut up that he would need 67 stitches after one match and then follow that a year later needing 110 stitches. He also was great at following Atsushi Onita at bringing the emotion in to what he did. The emotion is what I love about wrestling. Great wrestling matches are awesome, but the emotion is what is needed to create that attachment and that is where Hayabusa hooked me in.

FMW was not popular in 2000-2001. The crowd total had began slowly dropping as the pro-wrestling boom in the 1990's in Japan was ending. Then Hayabusa needed double elbow reconstructive surgery due to the years of highflying moves which is why he originally wanted to become H to eliminate the injuries that came with flying. Looking back FMW should have ended after Hayabusa needed 6 months off. Shoichi Arai spent a lot of borrowed money he could not pay back to keep FMW going without Hayabusa. Hayabusa eventually came back after 6 months and there were some shows there were a success under him as a result but there were some shows that were not a success also. The internet around this time hated FMW. I use to have a Message Board for this website and had to take it down because somebody put a virus on it because of their dislike for FMW.
But I still loved watching everything Hayabusa related. I remember on October 20, 2001 thinking about how excited I was about the Hayabusa vs. Mammoth Sasaki match because I really did not know if they were going to have Mammoth go over and be pushed as the young heel to create some new blood in the main event scene. I was a senior in high school back then and had to stay after school to take a state test on Monday, October 22, 2001 so I was one the later ones to find out the news. I got home and went to the FMW website and saw Hayabusa vs. Mammoth Sasaki went to a No Contest at 13 minutes, 20 seconds which I thought that was a weird result for a main event match for Korakuen Hall to not go over 15 minutes. I then translated the reason which stated Hayabusa had suffered a head injury and knew that was not a good sign that they ended the match based on that. I then looked at a message board and saw the subject title Hayabusa paralyzed and could not believe there was already a diagnosis and then I saw the picture of Hayabusa landing on his head and knew it was bad. Real bad. I got the video in about two weeks later and saw the accident for the first time and how Mammoth Sasaki did not see the injury happen and started moving his head around afterwards before referee Marty Asano would finally end the match. I knew after seeing that Hayabusa was always going to be paralyzed and it just killed a part of me loving wrestling that I will never get back.

Things would get even worse. Hayabusa would contract germs in his heart and would begin fighting to stay alive. Thankfully he was able to have open heart surgery to continue to be alive. Mr. Gannosuke would then suffer a bad leg injury on January 6, 2002 and I just remember sitting there thinking about how FMW was not going to be around much longer. FMW closed a month later on February 15, 2002.

The bright spot of 2002 for me was finally seeing a picture of Hayabusa for the first time in 9 months on July 3, 2002 when he along with Mr. Gannosuke and Jinsei Shinzaki held a press conference to announce WMF. He was able to show that he could stand at their first show and then take a few steps at their first Korakuen Hall show. But there were financial issues with WMF and he left the company in 2004.

Hayabusa would then become a professional singer and along with GOEMON and his guitarist Masahiko would form Project Hayabusa. I tried covering his concerts but they were so small and there was not really much detail I could add without actually attending them to really write about. I would try to fit any Hayabusa news I could on this site about him every chance I could.

Then in June 2007, I saw an advertisement online for George Mayfield who I had known for almost 10 years at that point and collected many of his videos of his trips to Tokyo was about to return to Japan and one of the special guests that he was going to meet was Hayabusa. I originally thought it is too bad I can't go to that as I just never thought about actually going to Japan. But then I thought why can't I go? It was during a break of my last year of college and it was important to me no matter the cost to actually get to meet Hayabusa after all these years so I signed up for the trip.

George had gotten a group of about 10 people to come for this trip. Our first day there we met Hayabusa at the Tokyo Dome City Sizzler. I was awe struck. Fumi Saito was brought in to help translate but really he wasn't needed. Hayabusa could speak English pretty well and you could just have a normal conversation if you just spoke in broken English. Even though most of the guys on the group talked about how much they liked Hayabusa when Scott Steiner randomly walked by they pretty much all walked off to go talk to him instead. I sat next to Hayabusa and just asked every question I could think of. It was such a thrill to just sit there and hear him answer every question I could. George then had him autograph over a 100 items which I felt really bad about as it really was a lot for Hayabusa to do but I was able to make him laugh telling him that this was more physically exhausting than his one hour match with Kodo Fuyuki. We ended up taking pictures outside around the Tokyo Dome City area which is the picture of me and him on the front page of this site.

I went back to Tokyo by myself the following three years following that but besides seeing Hayabusa randomly coming out to Dick Togo's Japanese Retirement show at Korakuen Hall on June 30, 2011 while attending that show I did not come across Hayabusa.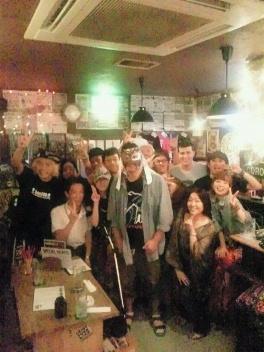 Then while planning my trip in 2012, I saw that Hayabusa would be holding a concert in Tokyo on June 24, 2012 while I would be there and knew I had to go. I reserved one seat to DJ Namijin's Head Rock Cafe. I arrived there early and saw that Hayabusa was already there. Based on a conversation I had with him back in 2008 about his days in Florida and him saying he had never seen any of the footage I presented him a DVD of his matches from Florida. I really stood out to him after that. He did not remember from meeting him in 2008 although he remembered the get together with the group. He began talking to me and asking me questions about where I was from and how long I was in Japan for. His concert then began and between songs he would tell stories to the crowd in Japan. During one of the stories he started talking about me and the distance I had made to attend the show even though I could not understand most of what he was saying, Ricky Fuji shouted "he is talking about you, Bret!" then before his last song, Ricky told me that I would be able to understand this song. I got my iPhone out and began recording Hayabusa sing Stand by Me by John Lennon in English and posted it to YouTube which can be found at http://www.youtube.com/watch?v=wVyDAK11ijQ

Following the concert, we sat down and watched Hayabusa DVD's for hours. I got to sit by Hayabusa and I know he could tell I was nervous to be around him. I asked him every question that I could think of that I had not previously asked in 2008 and some I asked again to see if there would be a different answer this time which there would be. I really got to learn about him that night. His loyalty was always to FMW and he never would have left. He wanted to be the star of a promotion and that is why he would have never gone to New Japan even after FMW ended.
He told me about how he had experienced the same feeling of being paralyzed once before and it was after a match with Masato Tanaka on May 5, 2000 where he landed directly on his head following the move. The feeling was able to come right back though unlike a year later. Not too long after that match aired on the TV that we were watching and everyone along watching made a loud groaning noise from how painful looking while Hayabusa just smiled and had a "yep!" expression on his face. I sat there for hours with him until it was almost closing time and I had to make the last train. Before I left, I shook his hand and told him how much I admire him a person for everything he has gone through and there were numerous people across the world that really appreciated everything he did for our entertainment. He thanked me for the nice words. That night is my favorite night while in Tokyo among all my trips.
I went back to Tokyo in June 2013 with the main attraction being Megumi Kudo's Happy Share With event that included Hayabusa and Masato Tanaka. Hayabusa sang his songs and there would be giveaway in between. It was a very fun event, but there was around 50 people in attendance so there really was no interaction with them after the event.
Two days later without any planning I saw that Hayabusa was holding a concert at the KUSHI-ZARU in Tokyo and decided to just go that night and attend forgetting to even reserve a seat for the event. Luckily since I was one of the first people there and being a foreigner the owner let me attend for the very full small bar show. Hayabusa did his songs and then asked the bartender to go ask me if I wanted to go sit by him and Masahiko his guitarist up front. He remembered me from the previous year and we talked about wrestling but also talked about personal stuff with one another. I told him how I was a Special Education Teacher and worked with mentally handicapped children which he really appreciated. We talked about each others girlfriends. How his girlfriend hated wrestling and did not care about his past as a wrestler. I talked him about mine and showed him a picture of her which he stated that she "had nice tits". For that one night we were friends.

I ended up having to leave as it was getting late and the last train was about to come. I said goodbye to him for the last time.

Sadly, I have been unable to make it to Tokyo the past two years due to a price increase in airline tickets and other things happening over the last two years I have been planning on returning this Summer though. On March 3rd I was thinking that for sure a Hayabusa concert would take place in Tokyo while I was there.

Then I woke up early in the morning on March 4, 2016 to my Twitter blowing up. I looked and saw they were all Hayabusa related posts directed towards me. I knew that was a bad sign. I have known for years after Christopher Reeves sudden death that any day could be his last. But it still broke my heart when I read all the tweets through out the night about Hayabusa's passing. I lost myself for a moment after finding out. It hurt really bad. It still does.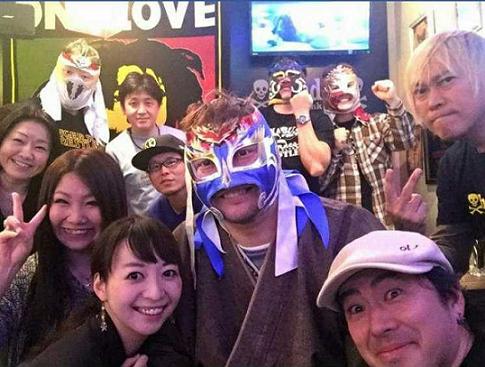 I know his friends like Sana Sakura and Fumi Taguchi who were performing at his concerts all the time are still hurting. I know there are fans across the world hurting over his loss.

Losing someone special to you no matter how close you actually are to them will always hurt. Eiji Ezaki despite all that he was dealt with his last 14 years on this earth learned to take his depression and look at the positive side of things. He has stated that he would not change anything about the accident because it allowed him to look at the world in a completely different way than he previously had.

When this hurt finally subdues I know I will look at everything positive that Eiji Ezaki brought to my life. Everything he did that made me like him as a wrestler and as a person. I will always think about him and smile. I will never forget him for the rest of my life. I know he is in heaven right now. I know he is somewhere right now shouting his favorite catch phrase "Lets have some fun!" and that eventually the Phoenix will rise again.