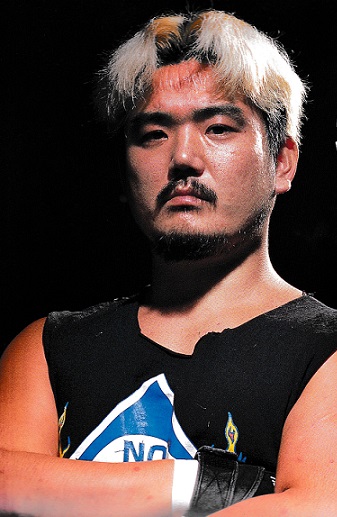 Hideo Takayama was born on October 19, 1969 in Osaka City, Osaka. Takayama grew up as a huge professional and sumo wrestling fan. He joined the sumo club while he was in high school and was rather successful in it.

Takayama wanted to be a professional wrestler though so at the age of 20 in 1990 with $200 dollars in his pocket, he knew he would have to move to Tokyo to be able to join a professional wrestling organization. He arrived to Tokyo with having no clue on how to actually join a promotion though. He ran out of his money rather fast due to being hungry and wanting to eat every day and had no place to stay. He ended up living in the Ueno Park for three weeks, and would end up sleeping on park benches until he would manage to borrow enough money from a friend to be able to live in a small apartment.
Takayama found part time jobs to work for several years but after so long he realized it had been over two years since he came to Tokyo with the dream of becoming a professional wrestler and had done nothing to accomplish that goal. Takayama watched all wrestling promotions including original W*ING but did not think much of the promotion. It wasn't until W*ING restarted with Mickey Ibragai fully in charge in December 1991 that the promotion started to interest him.
Takayama attended a W*ING Korakuen Hall show on February 9, 1992 where he saw in person Mitsuhiro Matsunaga dive off the balcony of Korakuen Hall. Takayama originally had thought Matsunaga had fallen off the balcony during the match, but when he found out that Matsunaga had actually dove off it, it made W*ING stand out above all the other promotions to him. Takayama then the attended the following months Korakuen Hall show for W*ING on March 8, 1992 where Mr. Pogo would blow fire at Mitsuhiro Matsunaga's head and Takayama knew that W*ING had his heart and that it was the promotion he wanted to join and become apart of.
Takayama saw in Pro-Wrestling Weekly that W*ING were holding introductory tests in May 1992 to join W*ING. Takayama along with five other people including Hiroyoshi Kotsubo who would go on to become Tsubo Genjin would also try out with him. Takayama would get notified a month later that he passed the test and could join the promotion. The problem was though that W*ING did not have a dojo and asked for him to wait. Takayama waited five more months until November 1992 when W*ING began working with Oriental Pro and Oriental Pro had opened their own dojo and were allowing the W*ING students to live there and train with Ryuma Go.
W*ING would also have Takayama get a job while living and training in the Oriental Pro Dojo where he would work on cleaning out septic tanks where he would end up having to deal with cleaning up other peoples feces every day up into four months after his professional debut in June 1993.
Takayama would appear in the ring for the first time for a joint W*ING, Michinoku Pro, and Oriental Pro show on January 20, 1993 at Korakuen Hall with Oriental Pro wrestler Masahiko Takasugi defeating Takayama in just three minutes in a exhibition match. Takayama's actual debut would come just two weeks later after The Winger would defeat Takayama in four minutes on February 5, 1993 for a W*ING Korakuen Hall show.
The following month Takayama would team up with Yukihiro Kanemura for the first time on March 19, 1993 with Takayama taking the loss with Kanemura who he would team off and on for the following twenty years. Takayama would mostly spend time losing undercard matches to Ryo Miyake through out 1993 before losing to Gedo on September 30, 1993.
The next W*ING show on October 19, 1993 at Korakuen Hall it would be Jado and Gedo taking on Yukihiro Kanemura and Shoji Nakamaki in a Falls Count Anywhere Scramble Bunkhouse Death Match. Afterwards, Jado and Gedo would announce that Takayama would be joining their group as they felt he was the best young wrestler that W*ING had and now he was with them.

Takayama would dye his hair blonde for the first time because of his love for Ric Flair and get the first push of his career including finally beating Ryo Miyake on October 23, 1993 before teaming up with Jado and Gedo for the first time on October 24, 1993 while losing to the team of Yukihiro Kanemura, Shoji Nakamaki, and Nobutaka Araya in a Scramble Bunkhouse Death Match with Takayama showing that his role would be to become the fall guy for Jado and Gedo in six man tag matches.

Takayama would also be by Jado and Gedo's side on October 31, 1993 as they would defeat Yukihiro Kanemura and Shoji Nakamaki with Jado powerbombing Kanemura into the fire which would severely burn his back to the point where Kanemura would have to be out of action for several months as W*ING continued its decline.

Jado and Gedo would quickly become very fond of Takayama and begin referring to him as their brother which they had referred to each other for years. Jado and Gedo would decide that since Takayama was now their brother that he should adopt a name similar to their as Takayama would take out the 'e' in his fist name and simply just become Hido so that all three would have matching "do" to their ring name.
W*ING would continue its decline going into 1994. There would be two Korakuen Hall shows for February 1994 with Jado, Gedo, and Hido teaming up for the last time on February 11, 1994 and lose to Shoji Nakamaki, Nobutaka Araya, and Ryo Miyake in a Bunkhouse Death Match with Araya pinning Hido in what would be Jado and Gedo's last match with the company.
Yukihiro Kanemura would make his return to the ring from his burnt back from three and half months earlier, but with no Jado and Gedo around any longer to his get revenge on them, he instead would taken against Hido in in the main event of Korakuen Hall on February 15, 1994 with Kanemura getting the win over Hido in a Loser Leaves the promotion match.
Hido would see the writing on the wall that W*ING would not be around much longer and had taken an offer from Goro Tsurumi to join his small IWA Kakutoshijuku promotion with Hido joining it for a couple of months before getting an offer from Jado and Gedo to join them in Genichiro Tenryu's WAR promotion.
Tenryu was not that high on Jado and Gedo though, so he would especially not be high on Hido. It would be decided that Hido would wear a mask and go by the name Yaiba as well team with others that had done sumo in the past in Arashi and Asuhara Hara on June 1, 1994 which would be the same tour that Jado and Gedo would be paired with Hiromichi Fuyuki for the first time.
The Yaiba gimmick would not even last the entire month as he would go back to his real name Hideo Takayama on June 30, 1994 and team with Hiroshi Itakura and Ichiro Yaguchi losing to Hiromichi Fuyuki, Jado, and Gedo where Takayama would be left bloodied before submitting to Fuyuki. Takayama would do one more shots with WAR for the next couple of months before being done with the company for good.
Another name from his W*ING past though in Yukihiro Kanemura would end up getting him a job with FMW as Kanemura had recently joined the promotion and with W*ING with having closed down they would want all the available W*ING wrestlers to join them as the group as Takayama would return back to his Hido name and mostly be used as the heel fall guy for the W*ING team against the FMW team.
This would continue into May 5, 1995 at Kawasaki Stadium after Atsushi Onita would retire. Mr. Pogo would turn on Yukihiro Kanemura and join the new top heel group of the promotion Lethal Weapon although W*ING would still be on the opposite end of the top face faction of the promotion which would be the FMW group lead by the new ace of the promotion Hayabusa.
This would continue up until September 26, 1995 when the FMW team of Masato Tanaka, Koji Nakagawa, and Tetsuhiro Kuroda would defeat the W*ING team of Kanemura, Hido, and Hideki Hosaka when Tanaka would pin Hido and FMW and W*ING would agree to work together to go up against Lethal Weapon with all them of embracing besides Hido who would already be in the back. Hido would appear later on the show after Horace Boulder would defeat Mitsuhiro Matsunaga and both Hido and Super Leather would attack W*ING leader Matsunaga and join with the heel group Lethal Weapon.
Hido would be with Lethal Weapon for two months until November 26, 1995 when W*ING would reunite with Hido and Super Leather re-joining Matsunaga, Kanemura, and Hosaka in attacking Hayabusa and the FMW team following their match with W*ING declaring themselves united once again as the group would be returning back to being heels and Lethal Weapon would form an alliance with FMW to go up against W*ING.
The W*ING group as the top heel group would only last for a couple of months as Mr. Pogo would then form his own heel group with Victor Quinones called the Puerto Rican Army as they would face off against FMW. W*ING would also lose its leader Mitsuhiro Matsunaga after the May 5, 1996 Kawasaki Stadium show due to his frustration of the stress of dealing with the promotion.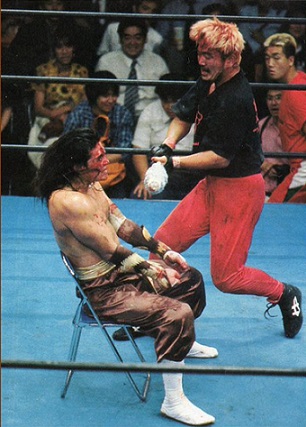 This would leave just Yukihiro Kanemura, Hido, and Hideki Hosaka as the only members of W*ING. W*ING would also begin promoting their own shows with FMW's help to allow an outlet for the old W*ING fans to return and cheer on the wrestlers they loved three and four years ago. Yukihiro Kanemura would be scheduled to take on Hayabusa in the main event would end up being hospitalized due to burns from an exploding barbed wire match and would end up having to miss the rest of September. This would lead to Hido getting to main event Korakuen Hall for the first time in a singles match since his last match in W*ING on September 11, 1996 as Hido would take on Hayabusa in a Street Fight. Hido would end up unmasking and bloodying up Hayabusa to the W*ING fans delight before Hayabusa would embrace the boo's from the W*ING fan base at him and while unmask and bloodied he would begin using a barbed wire bat in the match to cut before defeating Hido.
Around this time period Hido would also begin to secretly date top FMW women's star Megumi Kudo. Although it wasn't the best kept secret between the FMW locker room, it was not allowed to get out to the public due to FMW having a rule of no dating between male and female wrestlers let alone a heel wrestler dating the top women's wrestler. Megumi Kudo would end up retiring from FMW in April 1997 and their relationship would continue secretly.
The W*ING group would eventually come to an end on September 28, 1997 at Kawasaki Stadium after Atsushi Onita would return to defeat Yukihiro Kanemura in a Exploding Cage Death Match with the stipulation being that if he won than the W*ING group would disband. Onita would see the emotion from the W*ING wrestlers following their group's end and would respect their heart and see more from them than the younger FMW wrestlers and would end up forming his own heel group with the former W*ING wrestlers in ZEN.
Mr. Gannosuke would also end up joining the ZEN group and begin forming a team with Yukihiro Kanemura with Hido by their side. Gannosuke and Kanemura apart of ZEN would begin to get tired of Atsushi Onita's dictatorship as leader and after just three months since the creation of ZEN as top heels, the group of Gannosuke, Kanemura, and Hido would turn on Onita following a loss to the FMW team on December 22, 1997 and leave ZEN causing ZEN to turn face while this new group of three would instantly become the top heels of the promotion.
Hiromichi Fuyuki now going by Kodo Fuyuki, Jado, and Gedo who also did not like Onita would join together with Gannosuke, Kanemura, and Hido to form the group Team No Respect on January 7, 1998. Team No Respect would become the top heel going forward in the promotion.
While Hido would be apart of this new heel group, he would also propose to Megumi Kudo and the two would finally go public of their relationship. They would end up getting married on July 12, 1998 at the Gyoen Chapel in Shibuya, Tokyo with 200 people attending including Mr. Gannosuke, Yukihiro Kanemura, Kodo Fuyuki, Jado, Hayabusa, Hisakatsu Oya, Ricky Fuji, and Atsushi Onita.
Team No Respect would continue to be the top heel group of the promotion through out 1998 but align itself with Hayabusa's FMW team for a couple of months before returning back to form as the top heel group in the promotion against FMW and Hayabusa on May 5, 1999 as Kodo Fuyuki would become the booker of the promotion and the focus on Entertainment Pro-Wrestling would be the new focus of the promotion going forward.
The first sign of the Entertainment style of matches would be on June 15, 1999 at Korakuen Hall with Hayabusa, Masato Tanaka, and Tetsuhiro Kuroda defeating Mr. Gannosuke, Yukihiro Kanemura, and Hido with Kuroda pinning Hido which would lead to Kodo Fuyuki having to eat dog food, which he would put in his mouth before spitting it out at Hayabusa with both teams fighting all over the ring and throwing dry dog food at one another.
Around this time period, a neck injury that Hido originally suffered back in November 1996 that had kept him out for four months would begin to bother him again. This would result in Hido adapting a martial arts gimmick to where he would have easier style of matches and not have to bump as much. It would lead to Hido taking on Willie Williams a well known karate fighter in Japan from his time in RINGS in a Different Style Match on November 23, 1999 for FMW's big Yokohama Arena show. Williams would defeat Hido but endorse him afterwards for the fight as Hido had earned his respect for doing so well against a karate master.

Hido fully embracing the karate gimmick would change his ring name to Willie Takayama in honor of Williams and break away from Team No Respect. He would get his first singles title shot of his career as he would challenge Tetsuhiro Kuroda on February 25, 2000 at Korakuen Hall before losing.
Hido would continue the Willie Takayama gimmick until May 28, 2000 at Korakuen Hall when he would announce that he would be taking a sabbatical excursion from FMW for the next year and that he would return back in one year back as Hido. Hido would first go to Puerto Rico but rarely get booked. It would not be until he would head to the United States that he would begin to get booked more regularly.
He would begin working for Mad Man Pondo's IWA Mid South promotion with Hido and Pondo forming a friendship with Hido eventually becoming one of Pondo's groomsmen at his wedding. Hido would work with IWA Mid South from May 2001 to July 2001 before losing to Necro Butcher on July 18, 2001 in a Loser Leaves IWA Mid South match.
Hido would return to Japan but because of FMW's financial strain and Hido wanting to continue to work death matches anyway, instead of re-joining FMW like the original plan, he would instead begin working for Big Japan regularly as Hido would defeat Big Japan wrestler Shadow WX in a Barbed wire Board Death Match on December 2, 2001 for Big Japan's big Yokohama Arena show. Hido would also form a team with Jun Kasai and The Winger called Red Mamushi with the three of them forming a personal friendship to make things enjoyable despite the fact that Big Japan like FMW was having financial issues as well during this time period.
FMW would never end up recovering from their financial issues and be force to declare bankruptcy on February 15, 2002. This would result in three different FMW off shoot promotions being formed right away.
The first one would be Atsushi Onita starting up his Onita FMW promotion with the first show taking place on May 4, 2002 at Korakuen Hall. Hido would be booked for the show to take on Mitsuhiro Matsunaga, the man that originally made him want to join W*ING in the first place. The two would have a barefoot thumbtacks scorpion death match with Matsunaga putting Hido up on his shoulders for a back breaker while stepping on the thumbtacks with his bare feet. The amount of pressure of Hido's weight pulling down on Matsunaga with his feet stepping on the thumbtacks would force Matsunaga to submit giving Hido the biggest singles win of his career.
The next promotion that would be created based on FMW closing would be Kodo Fuyuki's WEW promotion with Hido joining it full time on June 30, 2002 at Korakuen Hall by defeating Biomonster DNA and then afterwards with Kodo Fuyuki coming to the ring wanting Hido to re-align with him, Hido instead would end up kicking Fuyuki low as it would seem like Hido would be a babyface in the new promotion.
That babyface run would not last long though as on September 14, 2002 at the Differ Ariake, Hido would team up with Tetsuhiro Kuroda and TAKA Michinoku against Kintaro Kanemura, Dick Togo, and Masao Orihara which would see Hido turn on Kuroda during the match, allowing Kanemura to get the pinfall over Kuroda as Hido would once again be back as a heel and on the same side as Kanemura and Fuyuki.
Kodo Fuyuki would end up passing away on March 19, 2003 and Hido would join the other WEW wrestlers in battling ZERO-ONE who Fuyuki had declare war prior to his death. The WEW group would eventually add another former FMW wrestler to their group in Mr. Gannosuke as they would rename the group to be known as the Apache Army in the war with ZERO-ONE.
Hido would begin working against outside wrestlers as he would take on Shinjiro Otani in a Scramble Bunkhouse Death Match on September 22, 2003 at Korakuen Hall in a loss, he would take on Sabu on October 24, 2003 at Korakuen Hall in a loss, and then brawl all over Korakuen Hall before losing to John Zandig in a loss on December 5, 2003.
Hido would also begin working for the third off shoot promotion following FMW's closure in Mr. Gannosuke's WMF promotion. Hido would manage to defeat WMF's top wrestler Mammoth Sasaki on October 19, 2003 in a Caribbean Barbed wire Board Ladder Death Match after Gannosuke would interfere and help give Hido the win. This would lead to Gannosuke and Hido teaming up on November 20, 2003 at Korakuen Hall with Mammoth Sasaki teaming up with Genichiro Tenryu revising his Big Hayabusa gimmick with Mammoth getting his revenge by getting the pin over Hido in the match.
The Apache Army's war with ZERO-ONE would be coming to a close as their new target would be Riki Choshu's World Japan starting at the May 5, 2004 Kawasaki Stadium show. The main event would see Kintaro Kanemura and Hido team up to defeat Riki Choshu and Tomohiro Ishii with Kanemura getting the win over Hido. Hido later in the year would go on to have another big match as he would challenge Ryuji Ito on December 18, 2004 at the Yokohama for the Big Japan Death Match Heavyweight Title in a Fluorescent Light Tube Contraption Death Match with Ito getting the win with a Dragon Splash to retain the title.

The Apache Army vs. Riki Choshu feud would continue into 2005 when Choshu would end up defeating Kanemura on January 5, 2005 at Korakuen Hall with the stipulation being that if Choshu would win he would gain leadership of the Apache Army. This would cause Hido to go berserk and attack Kanemura for allowing their rival Choshu to gain control of the faction. Hido would announce that he would want nothing to do with a group lead by Choshu and that he was starting his own group called the Real Apache Army with all the other members of the original group leaving Kanemura to be aligned with Choshu himself. This would also lead to Kanemura and Hido going to separate factions in Big Japan as well with Kanemura joining with Ryuji Ito and the other faces in Big Japan to feud with Hido, Jun Kasai, and Takashi Sasaki.

Kanemura and Hido would continue their rivalry leading to a Lumberjack Death Match on June 5, 2005 at Korakuen Hall with Kanemura picking up the win over Hido but Hido right away would begin attacking Kanemura with the rest of his Real Apache Army group laying out Kanemura with the babyface lumberjacks running in the ring to make the save for Kanemura.
The Kanemura and Hido feud would come to an end on August 5, 2005 after Kanemura would suffer a knee injury and would be out for two months, it would be Hido that would ask Kanemura on crutches to come to the ring and offer a reconciliation between the two with Kanemura accepting the Apache Army reuniting as a whole again.
The entire Apache Army would be whole on October 6, 2005 at Korakuen Hall after Kanemura, Tetsuhiro Kuroda, and Hido would defeat Riki Choshu, Daisuke Sekimoto, and Takashi Uwano with Hido getting the win over Uwano in what would be the end of the Apache Army vs. Riki Choshu with the Apache Army setting their sights on an even bigger group to feud with.
Hido would appear at the Tokyo Dome for the first and only time on January 4, 2006 as he would team up with Kintaro Kanemura and Masato Tanaka to feud with the CTU group of New Japan which consisted of Jushin Thunder Liger and his former partners Jado and Gedo when Kanemura getting the win over Jado to embarrass the CTU and begin the rivalry.
This would eventually lead to Hido taking on Jushin Thunder Liger on April 14, 2006 for an Apache Army show with the crowd passionately behind Hido who would end up quickly losing to Liger but Hido afterwards would begin to lay out Liger and begin cutting his hair which would cause Jado and Gedo to hit the ring and eventually setup a six man main event with Kanemura, Kuroda, and Hido defeating Liger, Jado, and Gedo with Kanemura pinning Gedo.
The friendship between Kanemura and Hido would not last much longer though as Takashi Sasaki had broken away from the Apache Army and formed his own heel group and on June 4, 2006 in a singles match between Sasaki and Kanemura it would be Hido that would turn on Kanemura and help Sasaki get the win over him.
Hido breaking away from the Apache Army would not matter to Jushin Liger though who would not go forget about Hido cutting his hair as another singles match would be made between him and Hido, this time on July 30, 2006 at Korakuen Hall with Liger revising his maskless Kishin Liger gimmick and although Hido would bloody Liger and staple his forehead it would be Liger that would end up putting Hido away with a Brainbuster on a stack of chairs for the win.
Hido would continue teaming with the heel Takashi Sasaki for the rest of 2006 until years of drinking would effect his liver that he would need to take time off. Everyone that was around Hido would be influenced by him to become a heavier drinker because of how much he loved him and how much it helped take the stress off his life for the time being. All the years of heavy drinking though would give Hido liver disease and he would have to step away from wrestling for a year and get a job outside of wrestling to help support himself and Megumi Kudo.
Hido would make his first appearance in over a year after disappearing on December 30, 2007 at Korakuen Hall when he would hit the ring and help Takashi Sasaki who was now a babyface along with Mammoth Sasaki to defeat Togi Makabe and Tomohiro Ishii after nailing them with a barbed wire bat shot. Hido would celebrate with Kanemura and the other faces at the end of the show, although he would not be ready to return to the ring just yet.
The Apache Army office would completely change less than two months later though after Kintaro Kanemura would find himself in a sexual harassment scandal that would force him out of the Apache Army promotion with the promotion having to re-start in June 2008 with Takashi Sasaki in charge of the promotion and group.
Hido would return to the ring after 18 months out on June 30, 2008 working for Tomohiko Hashimoto's MAKEHEN promotion which he would work once a month for before doing one Apache Army promotion show under Takashi Sasaki as he would team up with Jun Kasai and The Winger to defeat the FMW Legends Army team of Mr. Gannosuke, Tetsuhiro Kuroda, and Koji Nakagawa on August 22, 2008.
Hido would go on to work for some Atsushi Onita promoted FMW reunion Barbed wire Street Fights including one with Megumi Kudo as the referee on November 22, 2008. Hido would then also team up with Mr. Gannosuke one last time as they would defeat Masato Tanaka and Munenori Sawa on November 28, 2008 at Korakuen Hall.
Kanemura and Hido would team up once again for Mickey Ibaragi's new W*ING promotion on May 29, 2009 in Shin-Kiba as they would take on Mr. Pogo and Magnitude Kishiwada with Kanemura and Hido trying to choke out Pogo with a chain tied over his neck, but Pogo would manage to shoot a fireball at them to break away and eventually Pogo would wrap the chain around Kanemura and choke him out to give Pogo the win.
Hido would then appear for the FREEDOMS promotion on August 27, 2012 at Korakuen Hall as he would team up with Jaki Numazawa and Kenji Fukimoto and lose in a Scramble Bunkhouse Death Match to Takashi Sasaki, Kamui, and The Winger as Kasai would book the show and want his long time friend to make some extra money.
Hido's last three matches of his career would be ZERO-ONE trying to profit on FMW nostalgia. The first would be on February 3, 2013 at Korakuen Hall with an FMW vs. W*ING match as Atsushi Onita, Masato Tanaka, and Sabu would Kintaro Kanemura, Hido, and Leatherface with Sabu pinning Hido with an Arabian Press. There would then be an FMW Reunion match on February 8, 2013 at the Osaka Prefectural Gym with old FMW wrestlers and gimmicks teaming up and facing off against one another.
Hido's final match of his career would take place for ZERO1 on May 4, 2013 at Korakuen Hall as it would be another FMW vs. W*ING match with Atsushi Onita, Tetsuhiro Kuroda, and Ricky Fuji defeating Kintaro Kanemura, Hido, and Hideki Hosaka with Onita piledriving Hido through a table before Onita would pin Hosaka with a Thunder Fire Powerbomb.
That would be it as Hido's liver disease was giving him too many issues to continue wrestling and he would go back to working full time. The disease would begin to get worse though. Hido would begin to need hospitalization regularly and he would completely shy away from the public at all.
Kintaro Kanemura would originally book him to appear in a Battle Royal on the show to have everyone from his past get a pay day as well as be there for his retirement ceremony as Hido was a big part of his career. Hido would end up not appearing on the show. Kanemura would try to give Hido a call but Hido would not answer him back and the two would not speak again for years if ever again before his passing.
Hido would make his first public appearance of any kind and first in over 6 years and what end up being his final one as well on June 18, 2019 when he would visit Mitsuhiro Matsunaga at his Mr. Danger Steakhouse in Tokyo. Hido would tell Matsunaga that he had gone from 230 pounds to 158 pounds as it seemed like Hido's liver disease had resulted in Cirrhosis of the liver. His wife Megumi Kudo had also ended up disappearing completely from the public in 2017 although it seems like she took that year to help care for Hido as his health continued to decline over the years.
Hido and Mitsuhiro Matsunaga would stay in touch over the next two years while Hido would continue to battle his illness before eventually passing away on October 17, 2021 at his home. Megumi Kudo would make the decision to hold the funeral for family with Mitsuhiro Matsunaga being the only wrestler that would publicly say they were invited and attend the funeral on October 20, 2021. Megumi Kudo would then announce to the public on October 21, 2021 about her husband of 23 years passing away although like the last several years of Hido's life the exact information would be kept private. There will be a ceremony on October 30, 2021 for ZERO1 near the Tokyo Tower with Megumi Kudo attending to pay public respects to her husband Hido.
I always tend to write about my personal interactions with any FMW wrestler that passes away. Sadly, Hido is one of the very few core FMW guys that I never got to see in person or ever interact with online. I do pray for his soul though, and that he is up there in heaven with the other fellow FMW family members that have lost their life over the years.
Hido's Career Title History

FMW Brass Knuckles Tag Team Championship w/ W*ING Kanemura
Defeated: The Headhunters 4/25/97
Lost to: Mr. Gannosuke & Hisakatsu Oya 8/21/97

FMW 6 Man Street Fight Tag Team Championship w/ Atsushi Onita & Tetsuhiro Kuroda
Defeated: Hayabusa & Masato Tanaka & Koji Nakagawa 10/14/97
Lost to: Hayabusa & Masato Tanaka & Hisakatsu Oya 12/20/97

FMW Brass Knuckles Tag Team Championship w/ Kodo Fuyuki
Defeated: Mr. Gannosuke & Yukihiro Kanemura 3/29/98
Lost to: Hayabusa & Masato Tanaka 4/17/98

FMW 6 Man Street Fight Tag Team Championship w/ Kodo Fuyuki & Yukihiro Kanemura
Defeated: Atsushi Onita & Koji Nakagawa & Tetsuhiro Kuroda 5/5/98
Vacated Titles in 5/98

IWA Mid-South Heavyweight Championship
Defeated: Trent Baker 7/14/01
Vacated on 7/18/01

Wrestle Brain Cup 6 Man Tag Team Championship w/ Super Uchu Power & Shigeo Kato
Defeated: Shinigami & Ichiro Yaguchi & Masked Taro 3/22/03
Vacated Titles in 10/03

WEW Hardcore Tag Team Championship w/ YOSHIYA
Defeated: Ryuji Ito & Daisaku Shimoda 4/29/03
Vacated Titles on 5/5/03

BJW Tag Team Championship w/ Ryuji Ito
Defeatd: Abdullah Kobayashi & Daikokubo Benkei 12/19/03
Lost to: Men's Teioh & Mr. Big Japan 12/23/03

Wrestle Brain Cup 6 Man Tag Team Championship w/ Masked Taro & Shigeo Kato
Defeated: Tarzan Goto & Ricky Fuji & Great Punk 12/21/03
Vacated Titles in 4/04

WMG Tag Team Championship w/ Kintaro Kanemura
Defeated: Kendo Kashin & Tomohiro Ishii 8/19/04
Vacated in 1/05

WMG Tag Team Championship w/ Tetsuhiro Kuroda
Defeated: Kintaro Kanemura & Tomohiro Ishii 4/16/05
Vacated in 1/06

WEW Tag Team Championship w/ Takashi Sasaki
Defeated: Tetsuhiro Kuroda & Jun Kasai 8/6/06
Lost to: Jun Kasai & Tomoaki Honma 9/24/06