Entering Tokyo Dome City
I arrived to Tokyo, Japan for the second time on June 24, 2009. The last time I went in January 2008 I had gone with George Mayfield and many other wrestling fans. This time it would be a trip i'd be doing on my own. I had booked to stay at the Hotel Grand Palace which although still walking distance to Tokyo Dome City, it was a much farther walk than I had expected. The first night was spent getting familiar with the area once and again as I walked by the Tokyo Dome and back to the hotel I had stayed at last in the Asian Youth Center YMCA Hotel.
Korakuen Hall
Book store next to Korakuen Hall
The second day on June 25, 2009 I walked back around Tokyo Dome City to the book store right by Korakuen Hall. They had tons of magazines of Mitsuharu Misawa's life and career. All the magazines were gone within a couple of days. They also had a book on Vince McMahon as well as Mr. Pogo's new autobiography. I ended up buying bleacher seats to the HUSTLE June 25, 2009 Korakuen Hall show that day while over in the area.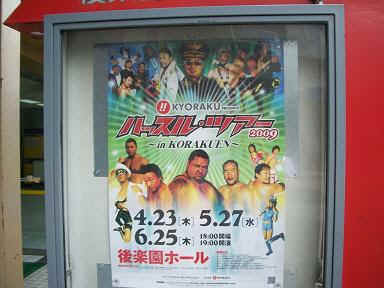 HUSTLE 6/25/09 Korakuen Hall show
I got there about 15 minutes before they were suppose to start letting people in Korakuen Hall and they ended up being about 15 minutes late so I stayed in line down the stairs of Korakuen Hall for 30 minutes which was ungodly hot and waited with many other fans. The show started with about 20 minutes of skits before the first match with Shiro Koshinaka coming out and talking to the crowd.
Monster HG vs. RG
The show was really a two match show. Before the match, they showed a skit where an HG had been kidnapped by the Monster Army where he was taken to an evil scientist who gave HG a shot, turning him into Monster HG and joining the Monster Army. During the match between Monster HG and RG, RG grabbed a letter he had wrote and began begging HG to remember how they use to be good friends. A video package then played of how HG had befriended RG and the two had become best friends and team mates and how RG had been there for HG. This began to drive HG mad as the memories began to come back to him. HG attacked RG but RG quickly pinned HG afterwards. HG then left the ring screaming to setup later in the show.
Toshiaki Kawada vs. Magnum Tokyo
There was a 10 bell salute for Mitsuharu Misawa and Ted Tanabe right before intermission with all the wrestlers coming to the ring to give their respect. The main event of the show was Toshiaki Kawada against Magnum Tokyo which was a really good match with Kawada and Tokyo laying the chops to one another. Tokyo Magnum would eventually end up getting the pinfall with the Zetsuen at 25 minutes, 32 seconds.
HUSTLE Army listening to Nobuhiko Takada announcement his retirement for July 26th.
Afterwards, the HUSTLE Army of Tajiri, Tenryu, Koshinaka, and KG would come out to celebrate with Tokyo. But at the top of the rafters would appear Nobuhiko Takada, Arma and Geddon (Tomko and Rene Dupree), Kawada, and Yoji Anjo with Takada declaring his retirement from wrestling on July 26th at Sumo Hall in a match against Tokyo Magnum. Monster HG would end up coming back to the ring and ripping off the mask to show that he was no longer a monster and put back on his original Razor Ramon HG hat and goggles and the Hustle Army did the Hustle Army song and dance to end the show.
Outside Tokyo Shin-Kiba 1st Ring on June 26, 2009.
Mr. Gannosuke & BAHU and Ricky Fuji & Tetsuhiro Kuroda before the show.
The next day I traveled on the subway for the first time by myself as the last year I had someone help me when going to Shin-Kiba and Ariake. This time I was going to Shin-Kiba once again to go to the Apache Army June 26, 2009 show. I came about an hour before show time and bought tickets for the show. They use a map of the area and cross out the seats once a ticket had been bought. Granted i'm guessing the only way to have bought tickets in advance were to have bought them after last months show, but an hour before show time I was the second person there and only the 9th person to buy a ticket for the show. There ended up being around 100 people when it was all said in done. While waiting outside for the show, Mr. Gannosuke would randomly walk by and go backstage. Gannosuke would then end up coming back out and passing out flyers for his upcoming September 5, 2009 show at the Shin-Kiba 1st Ring. With my hair looking all messed up, I ended up going to Gannosuke and getting my picture taken with him. Other wrestlers were outside by their booths selling merchandise. I ended up buying the Apache Army April 17, 2009 DVD and the Apache Army May 22, 2009 DVD as well as Ricky Fuji's One Wild Night show DVD from March 20, 2004 which has a one hour match between Ricky Fuji and Men's Teioh from Ricky Fuji himself. I ended up taking a picture of Ricky Fuji and Tetsuhiro Kuroda.
Yuko Miyamoto vs. Kamui
Two of my current favorite wrestlers started the Apache Army June 26th show with a simple match with Miyamoto getting Kamui to submit to the figure four. Brahman Shu and Brahman Kei ran to the ring afterwards and attacked Kamui with Naoshi Sano making the save and a tag team match being made. The problem was that it was pretty much the Brahman Brothers doing double teams move on Kamui the entire time as Sano was barely in the ring before Brahman Shu finished off Kamui with the Zombie Kick.
The Winger & Ricky Fuji & Koji Nakagawa vs. Yoshihito Sasaki & Munenori Sawa & Keita Yano
Ricky Fuji and Yoshihito Sasaki were probably the only over wrestlers in this match. Koji Nakagawa has aged badly and looks frail and is balding and I have been one of the few Nakagawa fans throughout his career, so it pains for me to say he is definitely not the same anymore. Winger ended up rolling up Sawa for the win after the referee had refused to count Yano's pinfall over Ricky due to him not being the legal man.
Jun Kasai & Takashi Sasaki vs. GENTARO & Masashi Takeda
Although the main event was listed as an "Apache Style Match", it was pretty much a standard tag team match other than GENTARO and Kasai brawling in the crowd and GENTARO doing a dive off the bleacher seats onto Kasai. GENTARO would end up getting the pinfall victory with a Backdrop Hold. After the match, Kasai and Sasaki would hug and embrace and as it would look like they were going to speak to the crowd with some fans expecting Kanemura to return, the show just ended with Kasai and Sasaki raising each others hands and leaving.
Kamui and The Winger after the show.
The end of the show was definitely the highlight for me. Ricky Fuji with an FMW towel over his shoulders asked me if I enjoyed the show and I got to talk to him for a little while. I brought up about Chris Jericho's stories about him in his book about him having the biggest fanny pack in wrestling that included him carrying around a monkey wrench in it with Ricky laughing and validating the story. Ricky then talked about Jericho was a good friend because Ricky is into Canada as Jericho was into Japan. I asked Ricky what his favorite Ricky Fuji match was and he stated "all of them" but then told me his favorite match in general would be a Shawn Michaels vs. Bret Hart match or any Shawn Michaels match in general. I then went over and got a picture of Kamui who was standing by himself by the door and then The Winger who was very friendly and tried speaking a little bit of english. I asked Winger a question I get asked all the time, which is was he Dragon Winger in FMW in which he replied "no" and Ricky following that up by saying that was a different guy.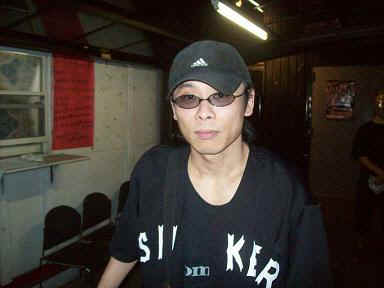 Takashi Sasaki and Koji Nakagawa after the show.
I then got a picture of Takashi Sasaki and Jun Kasai with them both signing the Apache Army 5/22 DVD that has them both on the cover. I then talked with Ricky Fuji a little bit about FMW before Koji Nakagawa came by to take off with Ricky. Ricky told Nakagawa that I was a big FMW fan with Nakagawa's not looking like he cared at all and I asked him if I could take a picture of him with his emotion looking the same for the picture. I then went over to Gannosuke still selling tickets for his 9/5/09 show and brought up his Retirement from wrestling, and when he did not understand the word "retirement" and told me in Japanese pretty much that his english was very bad, I shook his hand and after hanging out an hour had ended finally decided to leave as that hour ended up being the highlight of the trip.
Outside the Shinjuku Sports Land Arcade where they had a crane game to win Oreo's and Ritz's.
The next day I ended up going to the Shinjuku district of Tokyo. After going to tons of different stores as its a major commercial area, I went into the Shinjuku Sports Land Arcade. There were tons of different crane games including ones where you could win Oreo's and Ritz crackers. There was the new Mario Kart Arcade 2 game as well as the All Japan Giant Gram 2000 game.
All Japan Giant Gram 2000 Arcade Game.
I ended up picking Kenta Kobashi and went up against Johnny Smith in the game. I ended up lasting 28 minutes, 17 seconds in front of a crowd of 2322 before Johnny Smith finally put away Kobashi mercifully.
DDT Korakuen Hall June 28, 2009 show.
The next day was the first day I had been to Tokyo that it rained. It poured for hours that day. Everybody has umbrellas with them when entering the building one entire side was curtained off.
Danshoku Dino making out with a fan next to me and then proclaiming his leg sleeper to be the deadliest move to Rion Mizuki and Antonio Honda.
Danshoku Dino's match was definitely one of the more interesting matches I saw. Dino made out with a fan right next to me when coming to the ring. He then grabbed the mic and proclaimed his new leg sleeper was the deadliest move there is. To show how deadly it was, Rion Mizuki ended up letting him put it on him. He ended up being knocked out almost the entire match as all the other wrestlers tried to pin Mizuki to win the Omori Dream title. After being knocked out a majority of the match, Mizuki would manage to come to, but Dino would end up putting it back on him to get the victory. Michael Nakazawa would quickly cradle Dino for the pinfall to win the Iron Man title right after the match and Dino and Nakazawa would begin fighting all over the building for the rest of the show. They would end up interfering in Yoshiaki Yago's match and every time one would attempt to hit one another with a weapon they picked up, they would end up accidentally hitting Yago. Yago would end up getting dragged off to the back with them fighting but would come back minutes later showing off that he won the Iron Man Heavy Metal title while in the back. Yago would end up showing up on the big screen after the show with his title when the blowup doll YOSHIHIKO would jump out at him and deliver a hurricanrana on him to score the victory over Yago and the Iron Man Heavy Metal title to end the show.
Jun Kasai vs. MIKAMI
The match between Jun Kasai and MIKAMI would be a short and disappointing match. MIKAMI would end up scoring the victory after nailing a 450 Splash on Kasai for the win. The two would talk afterwards and form an alliance with one another walking to the back together.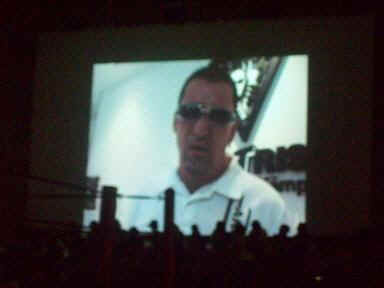 Masahiro Chono showing up on the screen to announce a match with Poison Sawa JULIE for the DDT August 23rd Sumo Hall show.
Poison Sawada JULIE would announce his mystery tag team partner to be Tatsutoshi Goto against Hikaru Sato & Tomomitsu Matsunaga. JULIE would end up getting the win with the Cattle Mutilation. Masahiro Chono would then end up appearing on the big screen and announcing a match between himself and JULIE for the upcoming August 23, 2009 Sumo Hall show. JULIE seemed to be very pleased about this match.
The Italian Four Horsemen
KUDO, Masa Takanashi & Hoshitango ended up defeating Francis Togo, PIZA Michinoku & Sasaki & Gabbana after KUDO nailed a Double Kneedrop on Sasaki for the win.
Sanshiro Takagi vs. Munenori Sawa
The main event of the DDT 6/28/09 show of Takagi vs. Sawa was definitely one of the most interesting matches from all the shows. Sawa who was a replacement for Kota Ibushi who had an infected throat was the most over wrestler from all four shows. The crowd definitely had a more emotional investment in Sawa winning than anyone else. They were chanting his name throughout the match and went crazy when Takagi bled hardway from the back of the ear and Sawa began smearing all of Takagi's blood on his face before laying him out with hard kicks. The crowd really wanted Sawa to win and when Takagi finally put Sawa away, the crowd was definitely disappointed with the girl sitting next to me putting her head down in disappointed after Sawa's loss. A good show overall.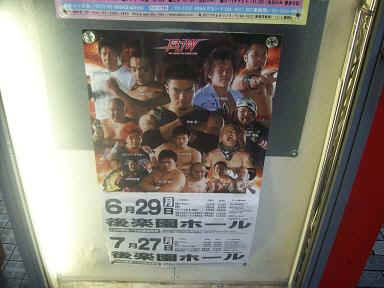 Big Japan June 29, 2009 Korakuen Hall show.
My last night in Tokyo saw me go to the Big Japan show. I was excited to get to see Onryo and Mineo Fujita live for the first time as well as see a Fluorescent Light Tubes Death Match live for the first time. It was definitely the best live show.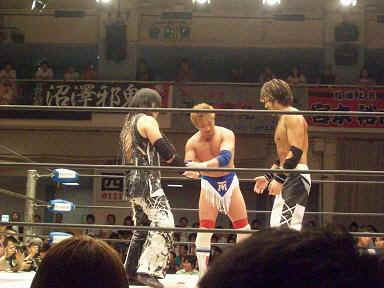 Men's Teioh & Onryo & Mineo Fujita vs. Shinobu & Tsutomu Oosugi & Hercules Senga
Shinobu, Oosugi, and Senga all came to the ring with Onryo face paint on. It led to some good comedy with Shinobu, Oosugi, and Senga trying to convince Teioh and Fujita that they were really their team mate one by one. Although Teioh and Fujita didn't fall for any of their opponents being their team mate, they attacked Onryo as well just in case he was one of them. Just as Onryo was going to the top for a moonsault, Fujita beat him to it and delivered a Swanton Bomb onto Shinobu for the pinfall. The crowd laughed as Onryo stayed on the top rope after his thunder had been stolen by Fujita and just delivered the moonsault by himself onto the ring.
Yuko Miyamoto & Ryuji Ito & Takashi Sasaki vs. Shadow WX & Abdullah Kobayashi & Kankuro Hoshino
This match turned out to be a lot of fun as well. A problem with getting seats on the floor at Korakuen Hall is that they are pushed so close together your shoulders are up against the two people sitting next to you. The match shortly went into the crowd with wrestlers throwing one another into the chairs around ringside. After the fighting was over and the chairs were put back up, everybody wasn't so tightly bunched up together anymore for the rest of the show thankfully. Barbed wire boards were set up with just about all the wrestlers going into. Yuko Miyamoto ended up getting the pinfall victory over Hoshino using the Fire Thunder for the win in a very good match.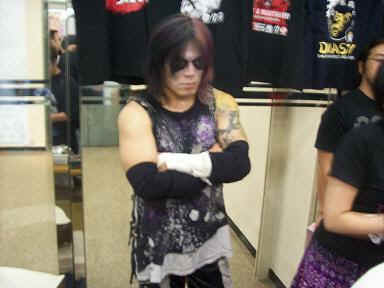 Onryo and Abdullah Kobayashi during intermission.
During intermission, all the wrestlers gathered around their booths to try and sell stuff. Katsumasa Inoue was also around and was very nice and thanked me for coming. Onryo was over on the 666 side selling t-shirts and towels and did not change his expression the entire time. I also went over to Kobayashi and got a picture with him while the blood was still drying from his earlier match.
Yuko Miyamoto and Mineo Fujita & Shinobu during intermission.
I got a picture of Yuko Miyamoto who was by Onryo over at the 666 side as well as Mineo Fujita who was over by the Men's Club side. I asked Fujita for a picture and he got Shinobu in the shot as well. I then told him I was a WMF fan. He just smiled as you could tell he didn't understand what I said. I then slowly said WMF fan which he atleast understood the WMF part. He then said something to Shinobu about WMF and Shinobu began speaking to me about WMF in Japanese. I'm guessing he was telling me WMF was over, but no idea what he exactly he was saying. I shook both Miyamoto and Fujita's hands for the picture.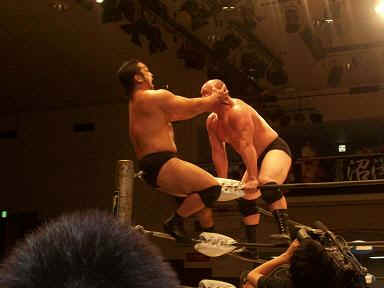 Daisuke Sekimoto vs. Yuji Okabayashi
The next match saw a much different style than the previous match as Daisuke Sekimoto took on rookie Yuji Okabayashi. Okabayashi definitely seemed to have more promise than any other of the recent rookies in Big Japan show. He almost mirrored Sekimoto in everything besides hair. Okabayashi was the second most over wrestler only besides Sawa at the DDT show than all the other wrestlers I watched wrestle. The chant was chanting his name, and really wanted Okabayashi to win although there wasn't as much passion as there for Sawa the day before. But the fans popped really loud for each of Okabayashi's moves and got very loud for the near pinfalls. Sekimoto ended up pinning Okabayashi with a German Supplex in a really good match. The crowd ended up chanting Sekimoto's name at the end, but you can tell Okabayashi is going to be a star at the pace he is on the for the promotion.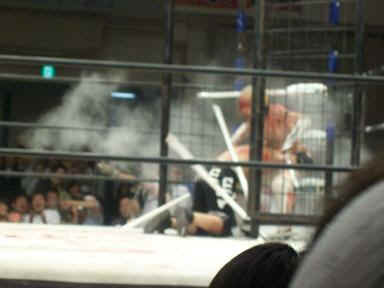 Jun Kasai & Jaki Numazawa vs. Masashi Takeda & Isami Kodaka
I went to WrestleMania this past year so I got to see Shawn Michaels vs. Undertaker live. This was definitely my favorite match to watch live this year. Although I am sure its like this for every Big Japan Death Match at Korakuen Hall every month, the atmosphere during the match is insane. The crowd is so loud for each spot with all four wrestlers battling all over the building. All four wrestlers were bleeding and the crowd and each got hit with tons of fluorescent light tubes to the head. The biggest spots of the match were Takada spearing Numazawa through the cage that had light tubes set up in it and Takeda and Kodaka supplexing Kasai off the top of the cage onto the glass covered ring. Takeda ended up hitting a German Supplex on Numazawa on the glass covered ring for the pinfall victory. All four men embraced after the match. This was definitely one of the most fun matches to see live.
Jun Kasai and Men's Teioh after the show.
Walking to the back area after the show, I spotted The Great Kojika walking by himself as he was probably the only wrestling personality not hounded by the fans afterwards. Nothing is like Korakuen Hall after a show. Its crowded and everyone is shoving and pushing one another to either try and get out or to take pictures of the wrestlers. I got a pictures of Onryo posing, Men's Teioh, Jun Kasai all bloodied after his match, and asked Takashi Sasaki about the Apache Army future. All four shows were very enjoyable that I attended, but I definitely would pick the Big Japan show as my favorite of the four.
Fight Cafe Colosso
After the show I went down the street to Fight Cafe Colosso which is known for its big screen TV that plays Samurai TV on it.
Pictures of wrestlers that have been to the restaurant and a picture of Orlando Jordan, Rey Mysterio, JBL, and The Undertaker from 2004.
Like Ribera's there are pictures hanging of all the wrestlers that have been there. Pictures of Hayabusa, Jinsei Shinzaki, Kintaro Kanemura, Kodo Fuyuki, TAKA Michinoku, Dick Togo, CIMA, Randy Orton, Test, Kensuke Sasaki, Yoshiaki Yago, Vader, and The Great Sasuke were on the wall. As well of a picture of Undertaker, Rey Mysterio, Orlando Jordan, and JBL together.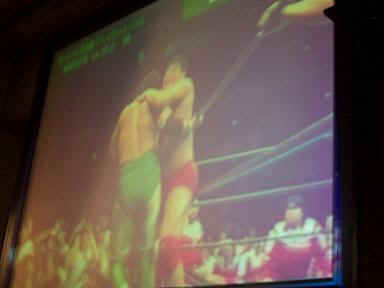 Big screen TV playing Samurai TV's broadcast of Mitsuharu Misawa vs. Akira Taue from April 2, 1995 and the original WEW World Title hanging up.
Samurai TV was playing old Misawa classics as his matches with Akira Taue from April 2, 1995, Kenta Kobashi from October 21, 1997, and Johnny Ace from early 1998 while I ate. There was also the original WEW World Title hanging near the wall. The man running the restaurant told me Kodo Fuyuki had given him the belt as a present in 2000 after FMW had changed the design the title belt.
This was another incredible trip to Japan. I have no idea if I will ever go again, but it was definitely another amazing experience. One of the best weeks of my life just like the last time I went.
Click here for more pictures from the trip
Click here for the 2008 Japan Diary