Kintaro Kanemura promoted his retirement show on December 27, 2016 at Tokyo's Korakuen Hall drawing an announced 1350 fans for the show which would be considered a success even though the North side of the building was blocked off. The main event had Kintaro Kanemura's final match which he had planned over a year ago as he teamed with long time friends Masato Tanaka and Tetsuhiro Kuroda against the team of Daisuke Sekimoto, Kohei Sato, and Yuji Hino. Hino was actually a replacement for Shingo Takagi who had originally been planned for the match but had to cancel after Dragon Gate booked a show in Kobe the same day and booked him on it.
"Come out and Play" played as Kintaro Kanemura, Masato Tanaka, and Tetsuhiro Kuroda came out from the crowd to begin the TNR Brief Brother Dance. Kanemura with his WEW Heavyweight Championship, Tanaka, and Kuroda made their way to the ring and danced in the ring as an entrance for the final time. Kanemura played one last trick as everyone would expect his name to be the last name introduced by the ring announcer but everyone would be thrown off as Masato Tanaka would be introduced first, then Kanemura to the surprise of everyone, and finally Tetsuhiro Kuroda to the amusement of the crowd with Shinjuku Shark sitting at ringside finding it hilarious.
Kanemura would start off with Daisuke Sekimoto who even though the two have been great friends for years he has not faced him in a match since leaving Big Japan in 2008. The start of the match was a call back to their Tokyo Dome match back on May 2, 2002 in New Japan where Kanemura defeated the young Sekimoto. Sekimoto this time much was much stronger as the two chopped each others chest while Big Japan President Eiji Tosaka watched on as this would also be the first time he would be present for a Kanemura match since Kanemura's exit of Big Japan. Sekimoto would tag in Yuji Hino and deliver a Brainbuster to Kanemura. Kanemura whose body has been breaking down over the last couple of years due to so much punishment was willing to take high impact moves for the first time in awhile. Kuroda would come in and help out Kanemura as they would shoulder block Hino down and then kiss each other over Hino's body one last time. Hino would get back up and chop Kanemura hard across the chest and then deliver his own standing Bakku YAMA Senton on to Kanemura. Tanaka and Kuroda would come in and help out Kanemura by taking the match to the outside and setting up tables where Kanemura and Tanaka would deliver dueling table dives sending Sato and Hino through the tables. Kuroda would take Hino into the crowd where he would deliver a running lariat through the crowd. Sekimoto would grab a piece of the broken table and bring Kanemura back in the ring and smash a piece of the table over Kanemura's head. Kanemura would make a come back and would grab the piece of table and smash Sekimoto over the head with the table piece.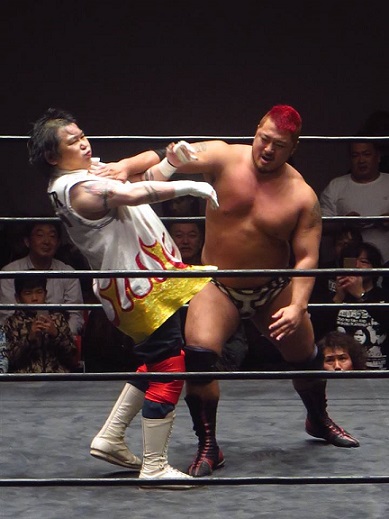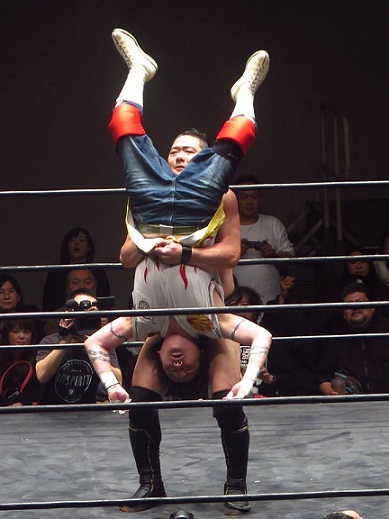 Kanemura would tag out to Tanaka as Tanaka and Sekimoto would charge at one another with lariats with neither one falling to the ground. They would tag out to Kohei Sato and Tetsuhiro Kuroda with Sato bringing Kuroda to the the turnbuckle to superplex him but Kuroda would counter by grabbing Sato's head and jumping off the turnbuckle to send Sato's neck across the rope and then coming back in the ring to lariat him. Kuroda would tag to Tanaka who would deliver the Super Fly Frog Splash to Sato and would then clothesline Sekimoto. Kuroda and Hino would face off with Hino chopping Kuroda's chest hard. Tanaka and Kanemura would go after Hino would then grab both of them and suplex both Kanemura and Tanaka at the same time. Sekimoto would then come in and smash Kanemura with a lariat with Sato following that with a Piledriver to Kanemura and then Hino would come off the top rope with his own Frog Splash. Sekimoto would then smell that Kanemura was done and come at him with another lariat and then finally finish Kanemura off at 15 minutes, 41 seconds with a German Suplex for the win.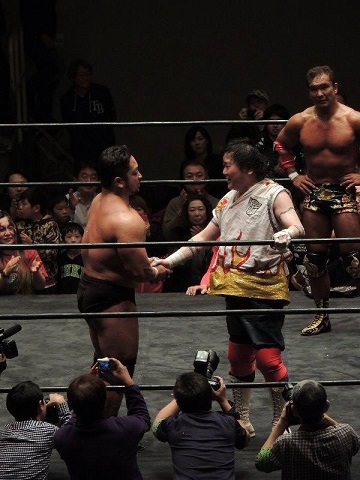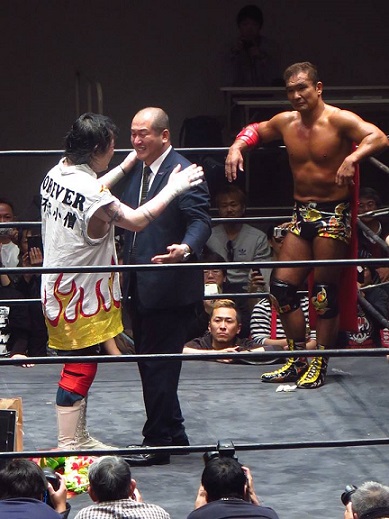 Referee Goro Anoeza who had refereed the match would be the first to present Kanemura with a present with a Transformer figure which is one of Kanemura's favorite toys. Kanemura would respond out loud "I have this already!" Ikuto Hidaka who traveled with Kanemura in the United States in ECW back in 1999 would come to the ring and present Kanemura with a souvenir of their times in ECW. Ryuji Yamakawa would be next who first feuded with Kanemura back in Big Japan and FMW over the WEW Hardcore Title back in 2000 before forming a tag team and winning the WEW Hardcore Tag Team Titles before Ryuji Yamakawa would suffer a bad head bump in a match. Kanemura and Yamakawa would embrace with Yamakawa presenting Kanemura with a memorabilia present. Mitsuhiro Matsunaga would come out next to shake his W*ING brothers hand out of respect for his 26 year long career. Yoji Anjo would also come out to shake Kanemura's hand. Riki Choshu's theme would then begin to play as everyone would get up thinking that Choshu was about to come out but it would just end up being RG to the disappointment of everyone including Kanemura who would laugh it off. Atsushi Onita would be the final guest to show up. Onita who was originally scheduled for the show but had to call off the show just hours before hand because of his fractured lower pelvis he suffered four days earlier would come to the ring with a cain. He would be helped up in to the ring and hug Kanemura. Onita would tell Kanemura that they have had their issues in the past but it really was a pleasure all this time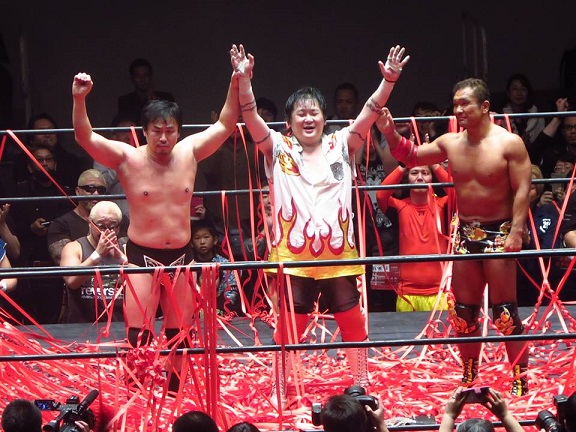 Kanemura would then stand in the middle ring as the bell would ring 10 times in memory of his 26 year career starting back on December 20, 1990 for the Pioneer Senshei promotion. Streamers would be thrown in the ring and Tanaka and Kuroda who had stayed in the ring would do one last TNR Brief Brother Dance to Come out and Play by the Offspring as Mr. Gannosuke, Shinjuku Shark, Raijin Yaguchi, and Kohei Sato would watch on from ringside and dance along with the song one final time. Kodo Fuyuki's "Shoot It '95" theme would then begin to play as Kanemura would hold up his WEW World Heavyweight Title among all the streamers and then place it down as a sign of vacating the title and most likely the retirement of the 17 year old belt. Kanemura would hug Tanaka and Kuroda before heading to the back as the show would seem to be coming to a close as Hayabusa's "Fight with Dream" theme would then begin to play as a sign to Hayabusa who would have attended the show. Kanemura backstage would be smiling and just state that he is suppose to be a manager in the future and that life is full right now.
The semi-main event of the show would be a 10 Man FMW Tag Team Match although some of the participants were not exactly FMW wrestlers although all had competed at least once in the promotion. Mr. Gannosuke would team with NOSAWA Rongai who was officially an FMW wrestler the final two months of the promotion, Onryo, Gosaku Goshogawara, and Yuki Miyazaki who would randomly do shows in FMW as a NEO wrestler as they would take on the team of TAKA Michinoku who was never a full time FMW wrestler but did tour with the promotion regularly in 1996, Ricky Fuji, GOEMON, Minoru Tanaka who did a couple of shows as a member of Battlarts, and TAJIRI who only did two shows ever for FMW in December 1999. Gannosuke would end up picking up the win after picking up GOEMON and delivering a Thunder Fire on him at 11 minutes, 21 seconds to finish him for the win.
The 19 Person Battle Royal would get switched around a little bit after Atsushi Onita not being able to compete on the show. Raijin Yaguchi would end up being taken out of the Street Fight and placed in the Battle Royal along with A-Team's Toshiaki Terao, Yosuke Enemoto, Takumi Sakurai, former W*ING wrestler Masayoshi Motegi, Hayate, Jiro Hachimitsu who would be dressed up as Kanemura for the match, Masato Shibata, Kazunori Yoshida, Cobra Kid, Kyoko Kimura who will also be retiring next month at Korakuen Hall as well, Nobutaka Moribe, Kotaro Nasu, DDT's DJ Nira, Miss Mongol, Yuiga, Keiichi Sato, Shinjuku Shark, and the former HUSTLE wrestler RG. It would come down to Shark and RG with RG grabbing the mic and beginning to sing to Shark before Shark would manage to toss him out off the ring at 12 minutes, 12 seconds for the win in what might be his retirement match with how inactive he has been through out the years following his motorcycle accident in 2011.
Yoshihiro Takayama would end up taking the place of Atsushi Onita in a Street Fight Death Match as he would team up with Hideki Hosaka, Raiden, and Keisuke Okuda as they would take on the Osaka Pro team with several of the wrestlers originally scheduled for the Battle Royal being moved to this match as Magnitude Kishiwada, Kuga, The Bodyguard, and Buffalo would team up with Takayama getting the win at 11 minutes, 56 seconds with a Running Kneelift victory over Buffalo.
Kintaro Kanemura who made his peace with Takashi Sasaki and GENTARO back on December 12th at Shin-Kiba 1st Ring and allowed them to have a FREEDOMS Offer Match for the show. Mammoth Sasaki who was a really good friend to Kanemura back in the Apache Army days before Kanemura's split with the Apache Army which eventually lead to the creation of FREEDOMS teamed up with Takashi Sasaki and Toru Sugiura as they took on Jun Kasai who had originally hated Kanemura but has left his hatred for him go over time along with GENTARO and Kenji Fukimoto. Kasai would bring Sugiura into the crowd and place him over a table where he would deliver a dive off the entrance way in the crowd to the loud chants of Kasai. Mammoth and Takashi would end up delivering Double Mammoth Home Runs to Kasai and Fukimoto and Sugiura would end up hitting the Swift Driver on GENTARO for the win at 12 minutes, 19 seconds in what was described as the best match on the show. The FREEDOMS wrestlers would have to leave following the match and would not be able to attend the retirement as there was a end of year party already scheduled for that night close by in Chiyoda, Tokyo which is within walking distance of Korakuen Hall.
In a High Fly Style Match the team of Hi69, Makoto Oishi, and Shiori Asahi would take on the team of ZERO1's Yusaku Obata who Kanemura was a mentor to for years before Obata would go full time with ZERO1 due to the financial issues that the Apache Army promotion was always dealing with along with Saburo Inematsu and Madoka with Hi69 getting the win over Madoka at 7 minutes, 51 seconds with a Snuka Splash. Hi69 afterwards would thank Kanemura for helping him get his break in the business back around 2002.
The opening match saw Shinjiro Otani and Kazushi Miyamoto take on the Indy team of Naoshi Sano and Shota who will be out of action soon following a knee surgery. Otani who feuded with Kanemura back in 2003 in ZERO1 along with Miyamoto who also feuded with him back in 2003 in All Japan ended up getting the win at 9 minutes, 24 seconds after Otani would finish off Sano with a Liger Bomb.
Super Battle FMW returned to Korakuen Hall for the 5th and final time in 2016 on November 24, 2016 drawing an announced 900 fans which means less than that even for the show which is the lowest the promotion has done for the building although this show was similar to the previous show in September as there was not much of a selling point as there had been for the previous shows. The main event saw the vacant FMW 6 Man Street Fight Tag Team Titles become the FMW 8 Man Street Fight Tag Team Titles after the Tiger Army illegally requested the match at a press conference prior to the show with them using the FMW 6 Man Street Fight Tag Team Titles as well as the big gold belt World Heavyweight Title used in WCW and WWE as the 4th belt.
The Tiger Army team of Great Tiger, Tiger Mask El Masukardo # 3, Black Tiger # 5, and Black Tiger # 7 who was NOSAWA Rongai under the mask defeated the FMW team of Atsushi Onita, Raijin Yaguchi, Hideki Hosaka, and Hi69 after Onita would smash NOSAWA over the head with a table but then try to spray mist in one of the Tiger's eyes with them moving out of the way and accidentally getting Yaguchi in the face instead and that would be followed up with the Great Tiger hitting a Diving Headbutt on Hi69 to get the pinfall at 14 minutes, 29 seconds for the Tiger Army win. Onita would hold his post match celebration in the ring afterwards with Shark Tsuchiya joining them with Onita talking to the crowd about Tsuchiya before they would all chant 1,2,3 Fire! to the crowd to end the show.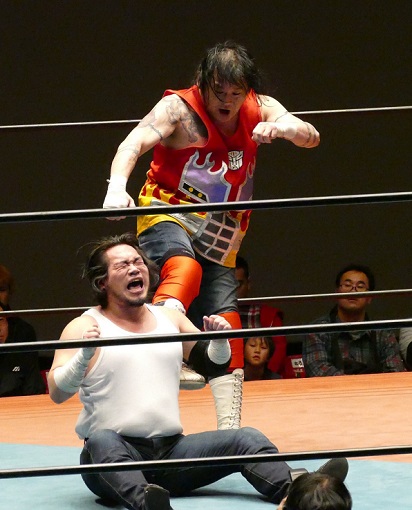 Kintaro Kanemura teamed up with Tomohiko Hashimoto for his final Korakuen Hall match with Super Battle FMW as they would take on Masato Tanaka and Ken Oka in a Hardcore Match for the semi-main event of the show. Kanemura would state before hand that he would want the match to represent yester year with his eternal rival Masato Tanaka. Kanemura who is struggling to move around at this point due to all that he has put his body through was able to jump off the turnbuckle and send Tanaka through a table on the outside. Kanemura would also mix it up with Oka who would dive off the top turnbuckle and deliver a drop kick to Kanemura with Tanaka following it up but delivering a Tornado DDT to Kanemura. Hashimoto would come in but would not fair much better as he would end up getting hit with the Sliding D and get pinned by Tanaka at 12 minutes, 56 seconds for the win. Kanemura would congratulate Tanaka and hug Hashimoto afterwards.
In what will probably be the end of nine month FMW vs. UWF feud in the promotion a squash match took place like expected with Tatsuo Nakano defeating Gosaku Goshogawara at 3 minutes, 32 seconds after putting him away with a Choke Sleeper.
The women's match on the show had Dump Matsumoto and Miss Mongol team up to defeat Tomoko Watanabe and Miss Koharu with Matsumoto originally put Koharu away in just 16 seconds with a Body Press. Because of the quick end to the match it was restarted and this time it would take 4 minutes, 22 seconds before Mongol would deliver the Cambaya C on Koharu to get the win.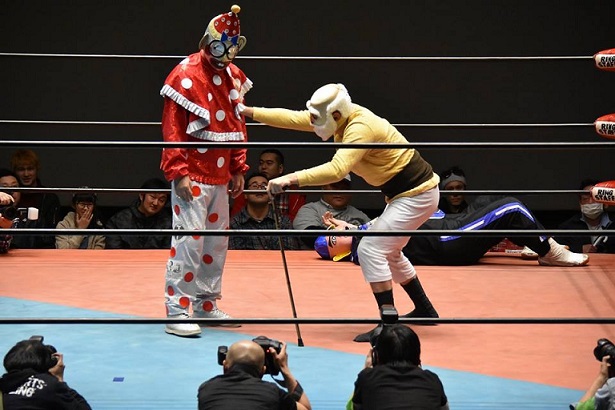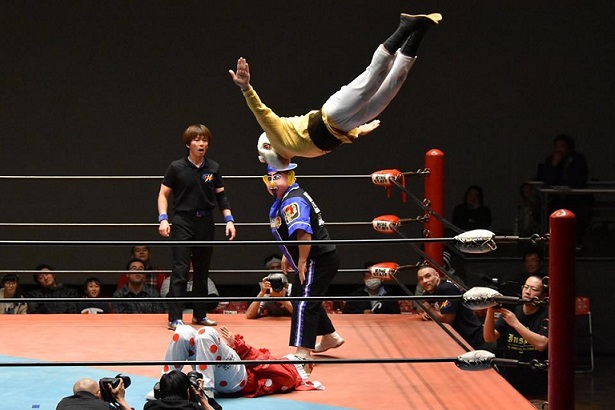 In the comedy match on the show the team of Gabbai Ji-chan and Kikutaro defeated Ricky Fuji and Kuishinbo Kamen as the match symbolized the end for now of the Ebessan vs. Kamen feud that started over a decade ago in Osaka Pro. Gabbai would end up scoring the pinfall over Kamen at 11 minutes, 7 seconds after delivering the Gabbaiton Bomb. This would be the last match for Kikutaro with the promotion as he has moved to the United States to live out his dream.
Four of the women that have been appearing on Fire Pro shows appeared to get some work in as Natsumi Manki and Tam Nakano defeated Asami Hirosato and Saori Anzai when Manki pinned Anzai at 10 minutes, 20 seconds after getting the win with the Backrush.
Pandita would open the show by winning a 9 Man Battle Royal at 8 minutes, 59 seconds. Naoshi Sano would end up being the first one eliminated and Leatherface, Wild Seven, Minoru Tanaka, Raiden, Shocker # 1, Masashiro Sase, and finally Katsunari Toi would be eliminated for the Pandita win.
Yoshiyuki Yamakon who had been the owner of Super Battle FMW since August 2015 came to the ring with Ray in her full costume. Yamakon announced that he would be retiring as owner of the promotion and that Hideki Takahashi who started the promotion would be taking it back as owner. He announced that the promotion would be putting a freeze on Korakuen Hall shows in the mean time and this would be the last day that Diamond Japan would be sponsoring the promotion. Yamakon specifically thanked Atsushi Onita, Hideki Hosaka, Miss Mongol and then thanked the fans before giving the mic to Ray. Ray stated that when she stands in this ring she wants to fight but her illness has not healed yet and she still needs to be treated more and that she was doing her best to be able to wrestle again and asked that the fans continue to watch.
Super Battle FMW opened the show holding Shark Tsuchiya's held her retirement ceremony with Tsuchiya's old Mad Dog Military partners Crusher Maedomari, Miwa Sato, Bad Nurse Nakamura, Killer Iwami, and Miss Mongol attending. Others from Tsuchiya's past included Eagle Sawai, Mizuki Endo, Michiko Nagashima, Carol Midori, Megumi Yabushita, and Aya Koyama all attending the ceremony. Chigusa Nagayo who feuded with Shark Tsuchiya back in the Summer of 1995 which included them facing off in a singles match on May 5, 1996 at Kawasaki Stadium with Nagayo getting the win over Tsuchiya via referee stoppage came to the ring and challenged Tsuchiya to a fight stating they never settled their differences. Tsuchiya pulled out her trade mark barbed wire bamboo stick and hit Nagayo with it in the stomach as GAEA's referee Tommy who was outside the ring made the three count for Tsuchiya and raised her hand in victory. Tsuchiya and Nagayo hugged afterwards with Nagayo stating their feud was now over. Tsuchiya then went to the center of the ring for her retirement ceremony as the bell would ring 10 times in memory of her career. Tsuchiya then took the mic to say her goodbye but before that she would ask the fans to boo her instead as she stated she will always be a heel with the crowd obliging with Tsuchiya later would state hearing the boo's were more nostalgic for her than cheers would have been. Masato Tanaka, W*ING Kanemura, Ricky Fuji, and Gosaku Goshogawara also attended the ceremony.
Super Battle FMW returned to Korakuen Hall for the first time in three months and the lack of shows over those last three months as well as not much of a main event draw ended up effecting the attendance to drop from an announced crowd of 1,600 fans to 1,000 fans for this show which means the show really did much less than that even.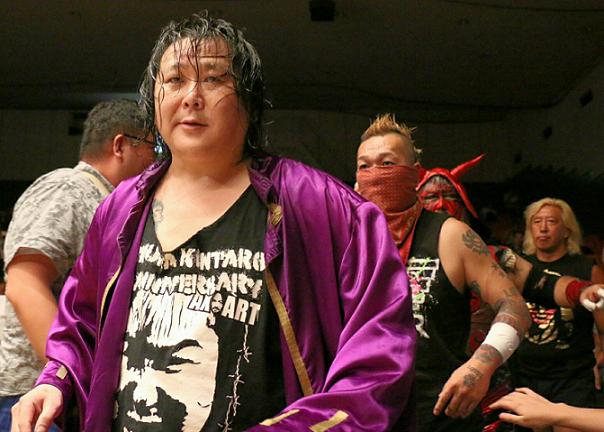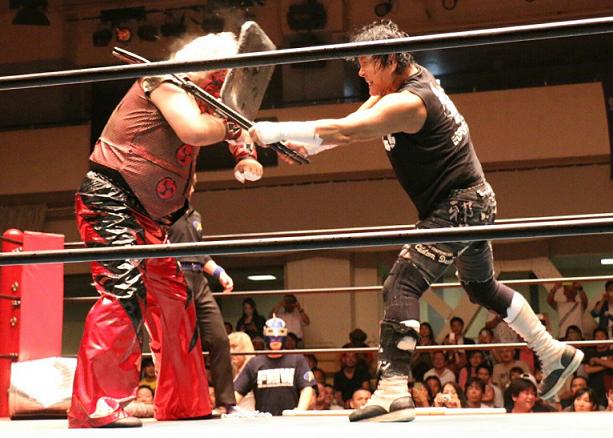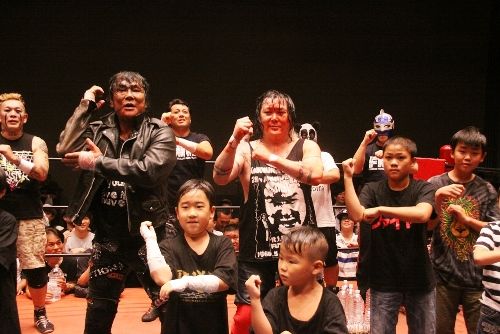 The main event of the show was promoted as W*ING Kanemura's last ever Death Match as he teamed with fellow W*ING Monster Army members Yoshihiro Takayama, Raijin Yaguchi, and NOSAWA Rongai as they defeated Atsushi Onita, Hideki Hosaka, Ricky Fuji, and Gosaku Goshogawara in a Scramble Bunkhouse Street Fight Barbed wire Board Death Match in Tokyo with Kanemura picking up the win over Goshogawara after Onita accidentally spit red mist in Goshogawara's face and then Kanemura tossed Onita out of the ring and smashed a chair over Goshogawara's head to get the pin at 13 minutes, 56 seconds over Goshogawara. Kanemura stated he had finally bested Onita after all this time although he been a part of the winning team over Onita plenty of times despite never getting an actual pinfall over Onita. Onita and Kanemura embraced afterwards and Onita did the TNR Dance along with everyone else for the first time to end the show.
Tatsuo Nakano and Mitsuya Nagai defeated Tomohiko Hashimoto and Kotaro Nasu continued the FMW vs. UWF rivalry as Nakano made Nasu tap out at 11 minutes, 26 seconds to a Single Leg Crab. Nakano and Nagai challenged Onita to a match for the next Korakuen Hall show on November 24th although if that ends up being the main event and top draw than that show will end up doing even worst than this as this feud did not survive the two month hiatus and there is no point to the feud without Masakatsu Funaki at this point.
Koji Kanemoto and Minoru Tanaka who look to become regulars with the promotion defeated KAI who has also become a regular with the promotion as he teamed with Hi69 with Tanaka making Hi69 tap out at 11 minutes, 46 seconds with a Legbar.
The Women's Match had Miss Mongol and Aoi Ishibashi teaming up to defeat Kagetsu and Miss Koharu after Mongol used her Kanbaya C to get the win at 13 minutes, 44 seconds over Koharu for the win.

Commissioner Kaoru Iizumi came out to the ring with Ray between matches. Iizumi announced that she had stage 4 breast cancer and was able to surprise everyone and is now healthy and feels Ray will surprise everyone as well. Ray stated that she missed being in the ring and she plans on wrestling and wants the fans to just a little while longer for her to recover.
Naoshi Sano and Gabbai-jichan defeated Kikutaro who will be leaving Japan to live in America next month and Pandita and Gabbai-jichan got the win with the Gabbaiton Bomb at 12 minutes, 8 seconds over Pandita.
The opening match saw Masahiro Sase, Raiden, and Leatherface defeat the team of Wild Seven, and Shocker # 1 and # 2 when Sase used a Diving Body Press to get the pinfall at 9 minutes, 54 seconds to beat Shocker # 2.
This promotion caught some nostalgia lightning in a bottle at the end of last year that went into the first half of this year but they are returning back to looking like a low rent independent promotion that has no direction.
Super Battle FMW held their "June Blood" show on June 21, 2016 at Korakuen Hall announcing a crowd of 1600 although there was probably closer to 1200 in the building. The theme of the show was that four of the five matches would be No Rope Barbed wire Death Matches as it was the first time that this FMW was using the No Rope Barbed wire gimmick that FMW was so well known for.
The main event of the show was Atsushi Onita, Raijin Yaguchi, NOSAWA Rongai, and Ricky Fuji who was subbing for Hideki Hosaka following a broken jaw days earler as they would take on the UWF team of Masakatsu Funaki, Yoshihiro Takayama, Mitsuya Nagai, and Takuma Sano in the No Ropes Barbed wire Death Match. Onita and Funaki would go right at each other to start the match. The teams would begin brawling around ringside with Ricky getting dropped over the barbed wire and then thrown in to the crowd. Onita and Funaki would make it back in the ring and spar up with Funaki kicking at Onita's leg and taking him down and Funaki placing him in a leg lock. The entire UWF team would come in to the ring and place Onita in a double arm lock and leg lock with Nagai placing his legs over Onita's neck with Ricky managing to make the save. Takayama would bring in the guitar and just and would attempt to smash it over NOSAWA's head but Onita would make the save but Takayama would kick him low and smash the guitar over Onita's head instead. Funaki would pick up NOSAWA in the air when Onita would make it back up and spit red mist in Funaki's face and then smash a chair over Funaki's head. Onita and Yaguchi would then set up a barbed wire board across chairs and suplex Takayama through the barbed wire board. Onita would then spit mist in Sano's face and smash a chair over his head and then place Sano in the Chicken Wing with the referee calling for the bell at 14 minutes, 48 seconds for the FMW win. Tatsuo Nakano would hit the ring and begin attacking Onita with the rest of the UWF joining in before the FMW team would manage to fight them off. Onita would get on the mic and then challenge Funaki to a Super Fireworks Title Death Match on July 24th in Osaka. Onita would then bring children in the ring and for over 15 minutes have the fans chant and scream with him as he would go around throw water everywhere.
Atsushi Onita and the FMW team entrance can be found at https://youtu.be/32n36TPuU0o the ending sequence of the match can be found https://youtu.be/qv2FZNU7uf4 and Onita's post match celebration can be found at https://youtu.be/gI3HgTGa3U0
The semi-main event of the show would be the FMW team of Masato Tanaka and Buffalo against the UWF team of Tatsuo Nakano and Alexander Otsuka in a No Ropes Barbed wire Death Match. Otsuka would place Tanaka in his helicopter spin around the ring and throw Tanaka down with Tanaka exiting out of the ring afterwards. Buffalo would then grab some barbed wire and run at Otsuka knocking him down with it. Buffalo would then run after Nakano with the barbed wire but Nakano would duck and begin kicking Buffalo and knocking him down. Nakano would then place Buffalo in a Single Crab on the Barbed wire getting Buffalo to tap out at 7 minutes, 26 seconds for the UWF win. The finishing sequence can be found at https://youtu.be/TevRhhfldR8
The UWF team of Yoshiaki Fujiwara, Takaku Fuke, and Daisuke Ikeda would defeat the FMW team of Katsuji Ueda, Tomohiko Hashimoto, and Kazuhiko Matsuzaki with Fujiwara who was incredibly over the crowd placing Matsuzaki in the Wakigatame to get him to submit at 7 minutes, 3 seconds for the UWF win.
Dump Matsumoto would face off against Miss Mongol in the first No Ropes Barbed wire Death Match of the show. If Mongol were to lose then she would then the Mongol team of her and Miss Koharu would have to disband. Matsumoto would destroy Mongol throughout the match. Miss Koharu would end up jumping in and making the save for Mongol. Koharu would then grab a metal trash can but would end up accidentally hitting Mongol over it. Mongol would then attack Koharu for the mistake. Matsumoto would continue to abuse Mongol when Mongol out of no where would roll up Matsumoto up for the pinfall with a Small Package to get the win at 6 minutes, 12 seconds.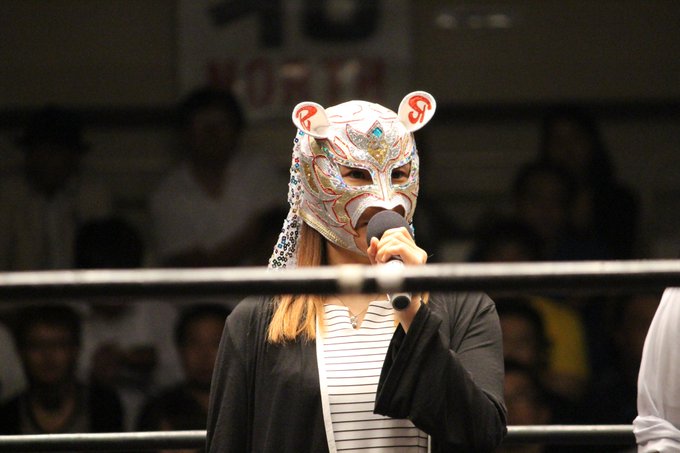 Ray would come out in a new mask to announce that Super Battle FMW will be promoting a Ray AID show on August 7, 2016 at the Tokyo Itabashi Green Hall. She would leave and the next 20 plus minutes would be spent on taking down the ropes and setting up the Barbed wire for the rest of the show.
The team of W*ING Kanemura, Katsunari Toi, Wild Seven and Raiden defeated the team of Gosaku Goshogawara, Pandita, Naoshi Sano and Shocker # 1 in the opening match of the show with Kanemura being the only one to be over with the crowd before Kanemura would finish off Shocker # 1 with the Kinnoji Flash Death Valley Bomb 12 minutes, 52 seconds for the pinfall and Kanemura would rush as fast as he could out of the ring just seconds after getting the win.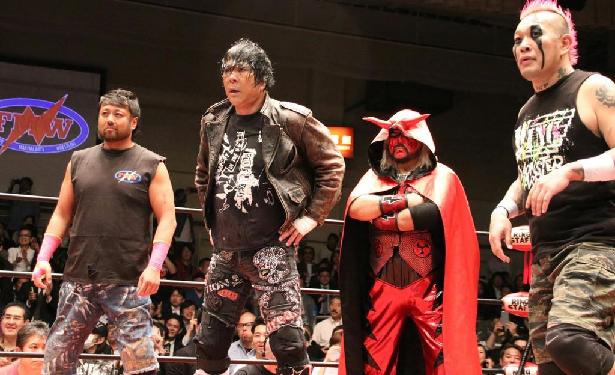 Super Battle FMW returned to Korakuen Hall on April 27, 2016 drawing an announced sell out crowd of 1800 fans for the show. This is the third straight sell out show that the promotion has announced as they have established a very good nostalgic market in Tokyo.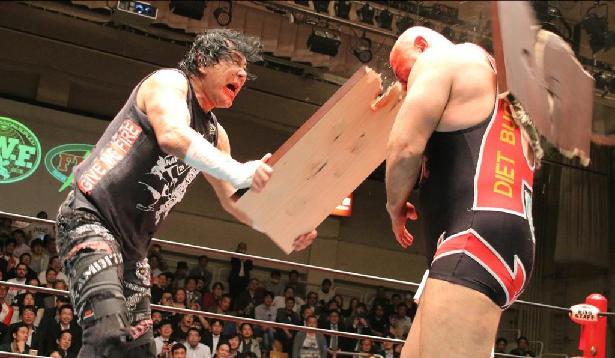 The main event would be the FMW and W*ING Monster Army together as Atsushi Onita, Raijin Yaguchi, Hideki Hosaka and NOSAWA Rongai to take on the UWF team of Masakatsu Funaki, Yoshihiro Takayama, Alexander Otsuka, Takaku Fuke in a Barbed wire Board Death Match. Onita and Funaki would go right at it with each other to start the match. Onita would throw Funaki in to the chairs i the crowd. Onita and Funaki would then make it back in the ring and as Onita would go to hit Funaki with a chair he would be met by a fury of hard kicks by Funaki. Funaki would then place Onita in a leg lock with the FMW team making the save for Onita. Onita would eventually get paired up with Fuke who would he would end up sending through a table with a piledriver. Takayama would send NOSAWA in to the barbed wire board but as Takayama would charge at him Onita would pull NOSAWA away and Takayama would rush right into the barbed wire board. Takayama would then end up slamming Onita into the other barbed wire board and then placing him in a chin lock while Onita lay in the barbed wire before NOSAWA would make the save. Funaki would then pick up NOSAWA but Onita would spit the red mist in Funaki's face blinding him and then Onita would grab Fuke and deliver the Thunder Fire Powerbomb to get the win over him at 13 minutes, 35 seconds for the FMW win. Funaki would not be done with Onita as he would grab Onita after the match and place him in a choke and then a leg lock as the rest of the FMW team would try to get him to break it. Onita would then do his signature speech to end the show with tons of fans at ringside screaming and chanting along with him to end the show.
The Hayabusa Memorial Match would end up getting scrapped and the wrestlers announced for the match would be placed elsewhere on the card. Ricky Fuji would end up getting put in with Masato Tanaka and Katsuji Ueda as they would take on the UWF team of Yoshiaki Fujiwara, Takuma Sano, and Mitsuya Nagai. The 67 year old Fujiwara would square off against the 70 year old Ueda during the match and the 50 year old Ricky would square off against the 51 year old Sano who the two faced off against one another back on May 5, 1999 in FMW. Fujiwara would eventually end up getting Ueda in a leg lock and making Ueda submit at 12 minutes, 18 seconds for the UWF win.
Megumi Kudo, Combat Toyoda, Crusher Maedomari, Miwa Sato, Yukie Nabeno, and Rie Nakamura would come out to the old FMW theme song as Kudo would read from a letter saying goodbye to Hayabusa. Super Battle FMW President Hideki Takahashi would come out with a picture of Hayabusa. The bell would ring as Kudo and Nakamura would begin to break down during it. Toshihiro Yamada would then announce Hayabusa's name one last time as streamers would get thrown in the ring and Hayabusa's music would begin to play at Korakuen Hall for most likely the last time.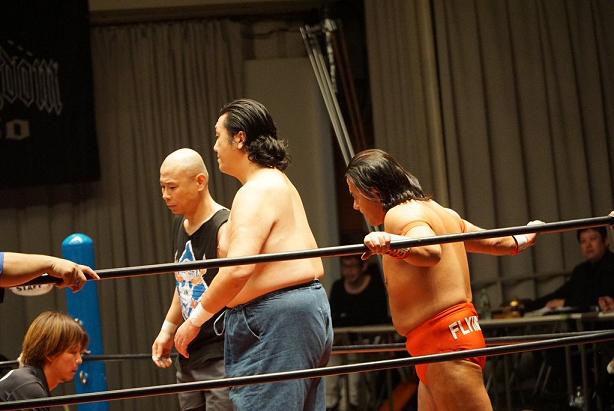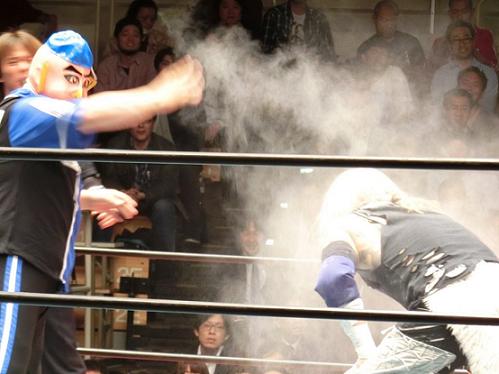 Koji Nakagawa, Gosaku Goshogawara, Flying Kid Ichihara, and Kikutaro would be placed from the Hayabusa Memorial Match and team together to face off against the W*ING Monster Army team of W*ING Kanemura, Tomohiko Hashimoto, Buffalo, and Onryo. Kikutaro would face off against Onryo with Onryo getting his dust all in the way of Kikutaro. Kanemura would face off against Ichihara for the first time in years and Buffalo would eventually put away Gosaku at 10 minutes, 7 seconds with a Lariat for the W*ING Monster Army win.
Miss Mongol and Miss Koharu would face off against Dump Matsumoto and ZAP T with both Matsumoto and ZAP getting out of control during the match and the referee would end up DQ'ing both Matsumoto and ZAP T at 7 minutes, 21 seconds for the Mongol and Koharu win.
The opening match would be a Battle Royal of Katsunari Toi, Raiden, Wild Seven, Pandita, Naoshi Sano, Kisarazu Clown, Leatherdace, Kotaru Nasu, Kenichiro Arai, KENSO, and KAI would get added at the last minute after also originally scheduled for the Hayabusa Memorial Match. Pandita would end up getting the win at 9 minutes, 46 seconds after pinning both Nasu and KENSO for the last eliminations. The female singing group would then enter the ring and do a routine dance of theirs and then pose with Pandita.
Ray would come out at the start of the show to the ring and announce to the crowd her goal of returning to the ring on May 5, 2017 at Kawasaki Stadium. She would state it was originally Hayabusa's dream to return on this date and she will now take over that goal in Hayabusa's memory.
Super Battle FMW would return to Korakuen Hall on February 26, 2016 and draw close to the same amount of people that they had show up for their first Korakuen Hall show on December 22, 2015. They would announce a sell out crowd of 1800 fans for the show which is the same number that they announced for the first show. Onita and Hideki Takahashi had agreed to NOSAWA Rongai's request that if the show did not sell out that Super Battle FMW would close down. Although there were empty seats and this show was not exactly a sell out, this show would be a financial success again and they would be able to keep the promotion going without losing any credibility.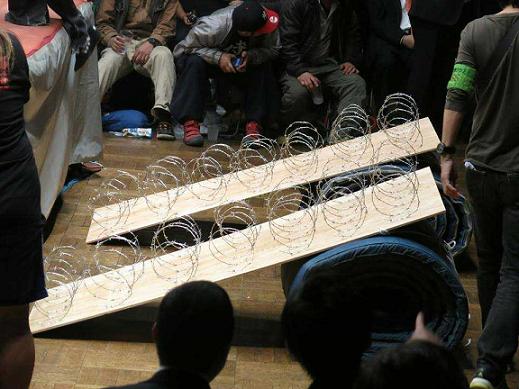 Atsushi Onita, Hideki Hosaka, and their mystery partner ZERO1's Sean Guinness would defeat the W*ING Monster Army team of Raijin Yaguchi, NOSAWA Rongai, and Sabu for the FMW 6 Man Street Fight Tag Team Titles in a Barbed wire Board Double Hell Street Fight Weapons Death Match where the barbed wire boards would be laid up against rolled up mats. Onita and Sabu would go at it right away to symbolize 25 years of them facing off against one another. Onita would set up a table and deliver a Piledriver to Sabu through it. Onita and NOSAWA would begin to brawl outside into the crowd where Onita would piledrive NOSAWA through it although Onita would end up accidentally suffering a huge cut from the breaking of the table. Sabu would set up Hosaka's head on a table in the ring and deliver an Ariabian Facebuster to send Hosaka through the table. NOSAWA would end up smashing a guitar over Onita's head but Onita would come back and begin smashing NOSAWA's head over and over with a piece of a table and then deliver a Thunder Fire Powerbomb with NOSAWA actually kicking out of it. Onita would then grab the board and smash Yaguchi over the head with the piece of the broken table and then hit him with a lariat to get the win at 18 minutes, 21 seconds to win the FMW 6 Man Street Fight Tag Team Titles. Yoshihiro Takayama and Mitsuya Nagai would then rush the ring and then begin attacking Onita and setting up a FMW vs. UWF match for the next Korakuen Hall show on April 27, 2016. Onita, Hosaka, and Guinness would end up celebrating their title victory after Takayama and Nagai would leave the ring with the rest of the FMW wrestlers.
Masato Tanaka would team up with Kotaro Suzuki in the semi-main event to defeat the team of Tomohiko Hashimoto and Buffalo when Tanaka would defeat Buffalo at 14 minutes, 13 seconds with the Sliding D.
Ray would come to the ring in her full attire. She would would tell the crowd that she would fight the brain cancer that she has been diagnosed with and she vowed to return to the ring.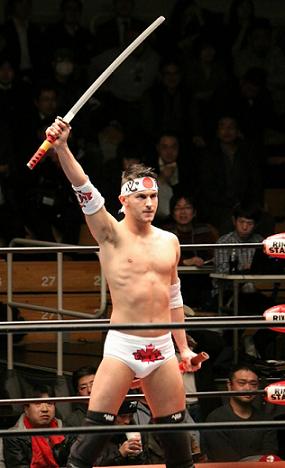 Ricky Fuji would team up with Shiro Koshinaka and The Last Samurai as they would defeat the team of Yoshihiro Takayama, W*ING Kanemura, and Kotaro Nasu when Koshinaka would finish off Nasu at 11 minutes, 18 seconds with a Samurai Powerbomb for the win.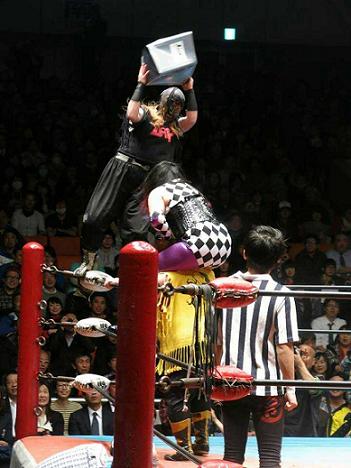 Dump Matsumoto and ZAP T would team up to defeat Miss Mongol and Miss Koharu in a Stretcher Match as Matsumoto and ZAP would destroy Mongol including smashing her head over with a metal object before Matsumoto and ZAP T would place Mongol on the stretcher at 12 minutes, 11 seconds for the win as Mongol would be stretchers off. Dump Matsumoto would then grab the mic and state that she wanted a singles match against Atsushi Onita.
The Great Nita and Naoshi Sano would team up to take on Brahman Shu and Kei who would be making their Super Battle FMW debut. The Brahman Brothers would set up for their spot of placing their opponent in the corner and then getting the bowling ball out. Great Nita would come in to make the save for Sano and then Sano would place the brief case across both Brahman Brothers in the corner as Nita would toss the bowling ball at the suit case. The Brahman Brothers would come back and set Sano in the corner with the suit case and Nita would join them by tossing the bowling ball in the suit case against Sano's crotch as Nita would scream Strike! with both of them before they would begin realizing they were facing off against each other. Sano would hold on to Shu when Nita would end shoot more mist out but Shu would move out of the way and Nita would end up accidentally spraying Sano in the face allowing Kei to roll up Sano with No One's Perfect at 6 minutes, 57 seconds.
The Tsuyoshi Kikuchi 28th Anniversary Battle Royal started with everyone going after Leatherface to eliminate him quickly. Kikutaro, Katsunari Toi, Pandita, Wild Seven, Kisarazu Clown, Shota, Raiden, and Mr. Buddhaman would then proceed to be eliminated. Kikuchi would end up last eliminating the mini Pretty Ota at 9 minutes, 26 seconds with the Fireball Born to win the Battle Royal.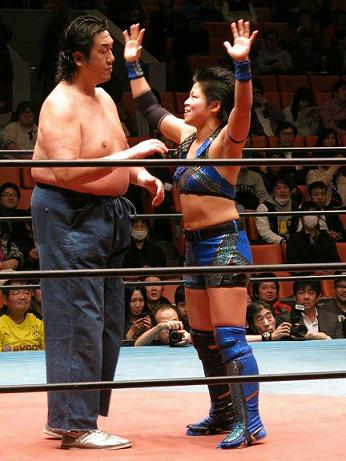 The opening match saw KENSO and Aki Shizuku defeat the team of Gosaku Goshogawara and Kagetsu when KENSO would get the win at 10 minutes, 20 seconds after scoring the pinfall over Gosaku.
Fight with Dream II would begin to play and Hayabusa would appear to the Korakuen Hall crowd at 5,240 days since his career ending injury in that same building back on October 22, 2001. Hayabusa would stand up and thank the fans for attending the show before delivering his catch phrase of Lets have some Fun! to start the show.

This show would mark exactly 25 years to the day that Eiji Ezaki would appear at Korakuen Hall as a professional wrestler for the first time as he and Masashi Honda would help setup the ring for FMW for the first time on February 26, 1991. This would sadly turn out to be Hayabusa's last appearance at Korakuen Hall and at a wrestling event.