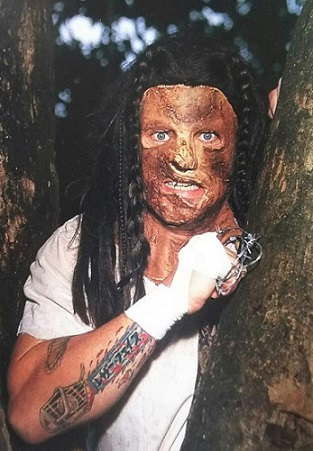 Mike Kirchner was born on September 7, 1957 in Chicago, Illinois. He lived there until he was 12 years ago when his dad who worked in sales began to move the family around a lot for work over the next couple of years.

The Kirchner Family moved to Florida, then New Jersey, then to Minnesota. Kirchner after graduating high school enlisted in the United States Army where become a paratrooper in the 82nd Airborne Division.

Kirchner served four years before returning back to his family in Minnesota in 1980. While in Minnesota he would end up meeting Hulk Hogan at the gym that he was working out at in 1981. Kirchner who was a wrestling fan looking to get into the business asked Hogan who was new to the AWA about joining the business and he recommended joining Verne Gagne's camp.

Kirchner would enlist in Gagne's camp with Brad Rheingans overseeing the work outs. Gagne did not see anything in Kirchner and had Rheingans work him out to death in hopes of getting him to quit. After three months, he would be successful as Kirchner saw the writing on the wall and knew he would be injured before he would ever become a wrestler in the AWA.

Kirchner would quit the Gagne Camp, but Rheingans would come up to him afterwards and tell him he had potential and to not quit wrestling, it just wasn't going to work out in the AWA.

Kirchner moved to Florida and would continue to train along side his friend Rusty Brooks in 1982. Through Brooks he along with other wrestlers in Florida were contacted by Joe Mascera who wanted job guys to come up to Poughskeepie, New York to work WWF television tapings in November 1984.

Kirchner went up and changed his ring name to RT Reynolds where he would lose to the likes of Blackjack Mulligan, Jimmy Snuka, Ricky Steamboat, Barry Windham, Mike Rotundo, and Tito Santana.

He ended up meeting with Vince McMahon in the Spring of 1985 with McMahon suggesting that RT Reynolds become a masked wrestler going forward. Kirchner would dawn a mask in the ring for the first time in in May 1985 and be known as The Axe although he would continue to job for the next two months.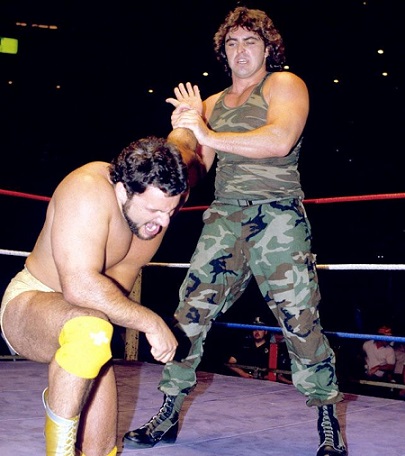 Kirchner would then get a call from Hulk Hogan that the office wanted to become a full time wrestler for the WWF following Sgt. Slaughter leaving the WWF. McMahon this time wanted to push Kirchner with a military patriot gimmick like Slaughter had been successful with before leaving and came up with the name Corporal Kirchner.
They would begin to shoot promos of him jumping out of a plane with his paratrooper experience from his time in the Army. This would lead to the biggest match of his career at the time where he would defeat Nicolai Volkoff in a Flag Match on April 7, 1986 in Rosemont, Illinois at WrestleMania 2.

Kirchner would continue to feud with Volkoff mostly in Boot Camp matches at house shows before the decision was made that he was not getting over to what they were hoping for and he would begin to job a lot more against like of Paul Orndorff, Harley Race, and Jake Roberts starting in August 1986.

Kirchner would continue his role as a mostly a jobber into July 1987 with his last match being a Battle Royal in Rosemont, Illinois before it would come out that he failed a drug test resulting in a suspension. Kirchner had developed a wrestlers life style over the year on the road, as he was frequently partying, doing steroids, snorting cocaine, and sleeping with multiple women in every town which lead not only lead to the six week suspension but a divorce from his first wife.

Following the suspension, Kirchner would decide he was done with the WWF and instead go up to the Calgary Stampede promotion in September 1987 where he would continue the Corporal Kirchner gimmick. He would feud with the likes of Gerry Morrow and Makhan Singh. His last match would be against Hashif Khan on December 8, 1987 before getting into a bar fight that would lead to his arrest and him leaving the territory.

He would then get in contact with Billy Jack Haynes who had just left WWF and started up his own Portland promotion in 1988 to go opposite of Don Owen's long time promotion. Kirchner would manage to get clean while in Portland, but the Haynes' promotion barely ran any shows so he would quit after not getting enough work. Kirchner would work independent shows in Florida through out the rest of 1988 into 1989 before talking with Barry O who had just come off a tour in Japan. O would give Kirchner the number to call a booking agent for New Japan looking to get work there.
Kirchner would come in under his real name Mike Kirchner and make his debut for New Japan on June 16, 1989 at Korakuen Hall defeating Black Cat. New Japan only planned on Kirchner being a typical gaijan wrestler to help put over their talent as he would end up losing to Tatsumi Fujinami, Masahiro Chono, and Shinya Hashimoto. Kirchner's last match for New Japan would be at Korakuen Hall on March 23, 1990 as he would lose to Koji Kitao.

Kirchner would return back to Florida and work for the UWF promotion in April 1991 in Florida before hearing from a old friend that he had trained with back in 1982 in Ricky Santana. Santana wanted Kirchner to work for Carlos Colon's WWC promotion but because of Bruiser Brody's murder there years earlier, Kirchner refused. Santana would then bring up him going back to Japan and working for a new promotion called W*ING that Santana had been working for with Kirchner agreeing.

W*ING owner Kiyoshi "Mickey" Ibaragi was looking for more horror movie gimmicks for the promotion due to the success of Jason the Terrible's gimmick. Kirchner a fan of the Texas Chainsaw Massacre movie would create the Leatherface gimmick and come up with the mask and attire based off of it.
Leatherface would make his debut in W*ING on July 17, 1992 teaming up with the heel Mr. Pogo as they would defeat Mitsuhiro Matsunaga and Jason the Terrible in a Scramble Bunkhouse Death Match. The Leatherface gimmick would be a huge success as he would run to the ring with a chainsaw chasing fans away much like The Sheik and Tiger Jeet Singh had done years before.
Leatherface would end up losing to Jason the Terrible on August 2, 1992 in a Coffin Death Match at the Chiba Funabashi Auto Racing Ground for W*ING's biggest show ever. The Leatherface gimmick has gotten so over though that the lost would not matter as he instead would begin a feud with the top babyface in the promotion Mitsuhiro Matsunaga.
This would lead to the first Spiked Nail Death Match in Japan since Antonio Inoki took on Umanosuke Ueda on February 8, 1978 with this match taking place on December 20, 1992 in Saitama, and unlike the Inoki vs. Ueda match, this match would see Matsunaga fall into the spike nails for the Leatherface win over the top star in the promotion.
They would come back and have a rematch on May 5, 1993 at the Odawara Old Municipal Baseball Stadium in another Spiked Nails Death Match, although this time Matsunaga would get his revenge by knocking Leatherface into the spiked nails with Leatherface needing to be placed on a ring mat and carried off to the bus as Matsunaga would celebrate his victory with the other W*ING babyfaces.
W*ING would still feel like there was life left in the Matsunaga and Leatherface feud as they were planning on having another match at the end of the tour on June 18, 1993 at Korakuen Hall in a Lights Out Death Match where they would fight all over the building with the lights off in the building. The first match on the tour would also be at Korakuen Hall on June 10, 1993 in a War Games Cage match with Leatherface, Freddy Krueger, and Bart Sawyer defeating Mitsuhiro Matsunaga, Yukihiro Kanemura, and Shoji Nakamaki after Sawyer had dived off the cage and pinned Nakamaki for the heel win. This would end up being Leatherface's last night with W*ING though.

Kirchner and Canadian Tiger Mike Lozansky would end up going out after the show to party in Roppongi, Tokyo. Lozansky would end up hitting on a woman at a club that night with the woman's boyfriend taking exception to it. Kirchner and Lozansky would leave the club, but the woman's boyfriend would follow them outside at 4 am with Lozansky jawing back at him. This would lead to Kirchner finishing the argument by punching the man and knocking him out cold. Kirchner would lay the knocked out man's body up against a building as they would walk off, but police would get notified right away about the incident and it would not be hard to identify Kirchner at 4:00 am and he would be arrested for assault.

Kirchner would stand trial with the only W*ING wrestler Mitsuhiro Matsunaga attending the trial hearing with Kirshner being convicted to four months in a Tokyo detention center. While in detention center, Kirchner would not allowed to speak, he would not have a bed to sleep on, and would only eat fish and rice while there causing him to lose 30 pounds during the four month sentence.
Eventually, his lawyer would knock down a $50,000 fine enforced to him, to a $10,000 fine with Matsunaga helping him out by selling his spiked nail tooth brush to a wrestling shop to get the $10,000 dollars to pay the fine, and Kirchner would be banned from entering Japan for one year.

Freddy Krueger would take Leatherface's spot for the Lights Out Match against Matsunaga on June 18th and then eventually W*ING would bring in Canadian wrestler Rick Patterson to become the New Leatherface as they felt the gimmick was too hot to lose it at a time where W*ING was beginning to really struggle financially as they would lose both Mr. Pogo and Mitsuhiro Matsunaga within two months of losing Kirchner.

Kirchner would return back to his home in Florida where he would work as a bouncer in Florida at a night club until his one year ban was up. During that year, W*ING would end up closing down and Victor Quinones who had worked with W*ING and been taking care of all the foreign wrestlers financially due to W*ING's lack of funds at the end would end up finding a wealthy restaurant owner in Tatsukuni Asano to start up a new company called IWA Japan with all the W*ING wrestlers transferring over the new promotion.
Quinones would call Kirchner and get him booked for IWA Japan in December 1994. The plan would be for Kirchner to team up with Rick Patterson and form a Leatherface tag team. Kirchner liked Patterson but was not a big fan of him taking over the gimmick that he created, but he became very upset after finding out on his first tour that he was suppose to do the job in tag team match after just five shows where the Leatherfaces would lose to Shoji Nakamaki and Hiroshi Ono in a Barbed wire Board Spiked Nail Death Match. Kirchner would become irate at Asano for wanting him to job after just one tour back in a tag match instead of Patterson and the two would begin shouting at one another with it eventually being agreed that Patterson would do the job with Kirchner still upset over proceeding and taking out his frustration on his opponents Shoji Nakamaki and Hiroshi Ono with Kirchner being stiffed on them during the match. Kirchner would be done with IWA Japan after that.

This would lead to Leatherface's old rival Mitsuhiro Matsunaga now working for FMW to call him and want to bring him into FMW to feud with him. Paper work and politics would end up setting this back to after Atsushi Onita would retire on May 5, 1995 with a new FMW being formed under Shoichi Arai with his focus on Hayabusa becoming the top star and wanting to change the direction of what the old FMW was under Onita wanting to make it a traditional Strong Style promotion like New Japan. Hayabusa would be okay Kirchner joining FMW, but he would not want him to be Leatherface as that gimmick was a symbol of death matches that he was wanting FMW to get away from. Matsunaga would passionately fight how stupid it would be bring Leatherface in and not have him be Leatherface with Shoichi Arai eventually siding with Matsunaga and allowing Kirchner to bring back the Leatherface gimmick although because Rick Patterson was still Leatherface in IWA Japan at the time, a name change would be needed and Kirchner going forward would become known as Super Leather.

Super Leather would make his FMW debut on June 22, 1995 at Korakuen Hall teaming up with Mitsuhiro Matsunaga in Hakata as they would end up losing to Mr. Pogo and Horace Boulder after Pogo would KO Matsunaga.
Super Leather would then be entered into the Grand Slam Tournament a 8 man round robin tournament to see who would become the new FMW Brass Knuckles Heavyweight Champion. This would lead to a third Spiked Nails Death Match between Leather and Matsunaga on September 5, 1995 in Sapporo with them using a different manufacture for the spiked nails this time that would result in the spiked nails being much more sharp and dangerous than the the first two. Matsunaga would not make Leather aware that the nails they were using could lead to severe damage if fallen on them incorrectly, and Matsunaga would end up taking the dangerous fall as safe as he possibly could to avoid any serious damage.

Super Leather would also score a singles victory over Hayabusa on September 18, 1995 in the tournament leading to a match with The Gladiator on September 24, 1995 in Tokyo with the winner advancing to the finals of the tournament with The Gladiator finishing Super Leather with a Kamikaze Awesome Bomb for the win.

Two days later on September 26, 1995 at Korakuen Hall, instead of competing in the finals of the tournament, Super Leather and Hido would end up turning on Matsunaga's W*ING group and joining up with the top heel faction Ricky Fuji's Lethal Weapon group to feud with both FMW and W*ING. This would only last two months until the W*ING team would turn heel and Super Leather and Hido would leave Lethal Weapon to rejoin up with Matsunaga's W*ING faction.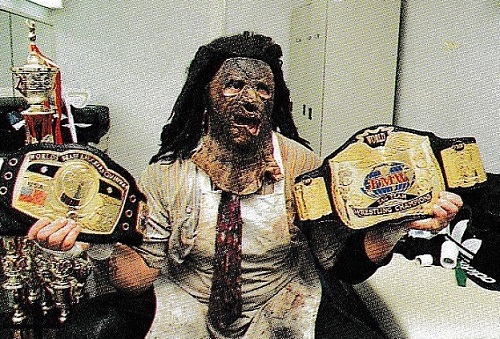 Super Leather would team up with former W*ING rival Jason the Terrible and they would end up defeating Hisakatsu Oya and Horace Boulder on January 5, 1996 to win the FMW Brass Knuckles Tag Team Titles. Leather's fortune would continue as The Gladiator would end up suffering a knee issue and have to vacate the FMW Brass Knuckles Title. This would lead to Super Leather defeating Hisakatsu Oya for the FMW Brass Knuckles Heavyweight Title on February 23, 1996 at Korakuen Hall for Mike Kirchner's first ever promotion's top title.

Super Leather would even successfully defend the FMW Brass Knuckles Title after defeating The Gladiator on March 15, 1996 in Sapporo as Leather would work on The Gladiator's injured knee before successfully defeating him. Super Leather would then once again turn on the W*ING faction after The Headhunters would defeat Super Leather and Jason the Terrible for the FMW Brass Knuckles Tag Team Titles with The Headhunters manager Victor Quinones convincing Super Leather to re-join up with him and become a member of the Puerto Rican Army with Super Leather turning on Jason the Terrible following the title loss.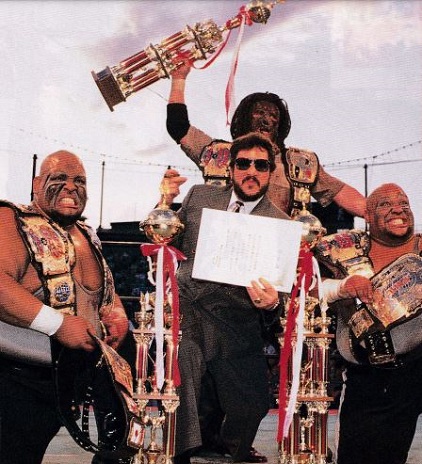 The feud between Super Leather and The Gladiator would continue to May 5, 1996 at Kawasaki Stadium as the team of Super Leather and The Headhunters would defeat The Gladiator, Horace Boulder, and Hisakatsu Oya to become the first ever FMW 6 Man Street Fight Tag Team Champions.
The huge push that Super Leather had been getting since his arrival would come to a crashing halt though as on May 27, 1996 in Fukuoka, The Gladiator would put away Super Leather with a Kamikaze Awesome Bomb to win back the FMW Brass Knuckles Heavyweight Title. The following month on June 28, 1996 at Korakuen Hall, the FMW team of Masato Tanaka, Koji Nakagawa, and Tetsuhiro Kuroda would win the FMW 6 Man Street Fight Tag Team Titles from Super Leather and The Headhunters.
Even though they had been feuding for months, the friendship between The Gladiator and Super Leather along with Horace Boulder would be getting stronger as they would all be known as the Three Mikes. Kirchner would also find love again and would end up marrying Floriadian Tina Duke with Mike eventually changing his last name to Michael Penzel.
Then on September 24, 1996 at Korakuen Hall, Super Leather and fellow Puerto Rican Army members The Headhunters would end up joining up with Terry Funk, The Gladiator, Horace Boulder and Hisakatsu Oya and create the group Funk Masters of Wrestling to go up against both FMW and W*ING although Super Leather's declined push would continue as he would lose to Jinsei Shinzaki making his FMW debut on April 29, 1997 at the Yokohama Arena.

The Funk Masters of Wrestling would continue until September 28, 1997 when Terry Funk would wrestle his last full time match with FMW at the same time that Atsushi Onita after ending the W*ING group would form his heel ZEN group with them. This would lead to The Gladiator turning on Super Leather during a tag team match on October 21, 1997 at Korakuen Hall with The Gladiator joining Onita's ZEN group.

This would lead to Super Leather aligning up with Kodo Fuyuki's outside group Fuyuki-gun until they would join up with Mr. Gannosuke, Yukihiro Kanemura, and Hido who would break from ZEN and form their own heel group Team No Respect. Super Leather's last meaningful win in FMW would be on March 13, 1998 in Sapporo when Team No Respect would help Super Leather defeat Jinsei Shinzaki after distracting him and causing him to be out of the ring for twenty seconds to give Super Leather the count out win.

The romance between Super Leather and Team No Respect would not last long though after Leather would lose to The Gladiator three consecutive times, they would tell Leather that he would face off against fellow Team No Respect member Hido and if he lost, he would be fired from the group. This would lead to several Team No Respect members attacking Super Leather and helping Hido defeat him to get him fired from the group.
Super Leather with no other faction to go to would end up turning face and joining Hayabusa's FMW group although Hayabusa's request for Super Leather to take his mask off would come back as Super Leather would go mask less while being a face for the FMW team.
The maskless face run of Super Leather would continue to keep Leather in the undercard though until he would turn on his partners Ricky Fuji and Flying Kid Ichihara following a match on December 13, 1998 at Korakuen Hall, with Super Leather bringing back the mask and joining up with Mr. Gannosuke who had recently broken away from Team No Respect but stayed heel.

Mr. Gannosuke's faction would grow to include Hisakatsu Oya and Super Leather until for the first couple couple of months of 1999 until Gannosuke himself would re-join Team No Respect and Hisakatsu Oya and Hideki Hosaka would join Hayabusa's FMW team once again leaving Super Leather without a group.

Super Leather would find himself forming a team with Sabu as they would challenge for the FMW Brass Knuckles Tag Team Titles against Team No Respect's Koji Nakagawa and Gedo on June 15, 1999 at Korakuen Hall with Sabu and Super Leather fighting against one another leading to Gedo to pin Super Leather.

In between tours in Japan, after years of asking Paul Heyman to get him booked for ECW, Super Leather would work his one and only ECW match on July 9, 1999 against the rookie Rhino in Florida with Super Leather defeating him and then having Spike Dudley come out and lay Leather out with an Acid Drop apart of his Giant Killer gimmick.

Super Leather would then team up with Armageddon and compete for the new WEW 6 Man Tag Team Titles apart of the July 1999 tour that would eventually see them get eliminated with Hayabusa hitting a Fire Bird Splash and pinning Super Leather to eliminate their team on July 31, 1999 at Korakuen Hall. Super Leather would then work his last tour with FMW teaming up with Chris Youngblood as Super Leather's last match in FMW would end up taking place on September 3, 1999 as they would lose to Jado and Gedo with Gedo pinning Leather.

Years of injuries had taken its toll on Super Leather, and FMW was at a point where it was not worth paying to fly him in anymore and Super Leather would officially leave FMW after four years. FMW would eventually bring back another man and call him Leatherface in late 2001 to their last show on February 4, 2002 but that had nothing to do with Penzel.
Penzel would find a job as a truck driver and the professional wrestling business would become a distant memory until October 15, 2006 when WWE.com would announce that Cpl. Kirchner had passed away thinking that his real name was Thomas Spear who had passed away. This had caused much confusion including Mike's mother to call him to make sure he was still alive. Penzel and his mother contacted WWE to let him know he was still alive.
This would get people talking about Penzel again and he would end up getting booked by the Insane Clown Posse for their JCW promotion. Former FMW and W*ING wrestler Kintaro Kanemura would also ask for Super Leather to return to Japan for the first time in nearly 9 years for the first show of his XWF promotion that was starting up on August 6, 2008 at Korakuen Hall with Super Leather accepting.

This would cause issues between Mitsuhiro Matsunaga and Kintaro Kanemura that went back to their FMW days as Matsunaga would hear about Leather joining Kanemura's XWF promotion and ask for Leather to not quit his job and think about becoming a full time wrestler for Kanemura's promotion as Kanemura's promotion was ran by a shady individual and would not last. Kanemura would be very upset upon hearing this from Matsunaga thinking his new promotion would manage to run Korakuen Hall every two months.
Super Leather would return to team up with Raven and Tracey Smothers as they would take on the team of Kintaro Kanemura, Masato Tanaka, and Tetsuhiro Kuroda in a Spectators Throw the Chairs in the Ring after 10 minutes with the ring being filled with chairs before Kanemura would pin Smothers. Matsunaga would be right to question the promotion as the building would be near empty for the show, and XWF would not end up running again for 9 more months and by then it had downsized to just small buildings and were not going to pay to fly in any foreign wrestlers again.
Super Leather's last match in Japan and last match of his career would take place on January 26, 2010 at the Shin-Kiba 1st Ring for Tarzan Goto's Shin-FMW promotion. Goto who was trying to revive the FMW name would have a Lethal Weapon vs. W*ING match with Goto teaming up with Hisakatsu Oya and Ricky Fuji to take on Mr. Pogo, Super Leather, and The Winger in a Street Fight. A fake Leatherface which had appeared the month prior would come to the ring to get the fans booing thinking that it would be another Leatherface instead when they were promised the real one, only for the real Super Leather to appear in the middle of the match as fans would once again being throwing chairs in the ring before Goto would put away The Winger.
Super Leather would then get booked for both original W*ING owner Mickey Ibaragi's new Shin W*ING promotion on April 30, 2010 and Goto's Shin FMW promotion on May 5, 2010 at Shin-Kiba.

But issues would occur because it had turned out that the Tarzan Goto Shin-FMW promoter had not gotten a proper visa for him to arrive. A rival promoter had found out about Super Leather getting by in January and contacted immigration to let them be aware of Penzel's arrival as he would not be coming with the proper visa to work in Japan. This would result in Penzel being put in a detention center at the Narita Airport for a few days before having to be sent back to the US. Due to trying to get by without a proper work visa and stemming back from his 1993 arrest, Penzel would be put on a "not allowed to fly outside the U.S." list which would include even Canada as he would be turned away years later trying to get into that country. This would officially end Penzel ever being allowed to wrestle in Japan again and officially end his career.

Super Leather not showing up would also end up putting a end to the W*ING name as a promotion. The scheduled Kanemura vs. Super Leather match would be turned into Kanemura vs. Super Crazy. Super Crazy being in All Japan and having just won the Jr. Heavyweight Tag Team Tournament, it was asked by All Japan that he not job to Kanemura since they were doing the promotion a favor anyway. Kanemura would end up pinning Super Crazy regardless with the promotion citing a screw up. All Japan would not believe them though and contact the Yakuza who would end up getting the Shin-W*ING promotion shut down as video would never allowed to be shown, and Mickey Ibaragi would never be allowed to promote a wrestling show again, and Super Crazy would end up being fired from All Japan after the tour feeling he had been in on the double cross by not kicking out.
An FMW reunion celebrating Hayabusa's 2nd year anniversary of his passing would take place in March 2018. A video would appear of Super Leather where he would announce that he would be returning to Japan to appear for Kintaro Kanemura's ING promotion that would be starting up in July 2018. It is unknown how anyone thought that he would manage to appear, but Super Leather would not be on the debut show in July 2018 and much like Kanemura's XWF promotion the promotion would fizzle out after one one and not end up running again so to see if they could ever get Super Leather to appear once again would never get answered.
Other than that, Mike Penzel would end up stepping away from the professional wrestling business after that live part time in North Dakota to work on fracking oil. He would also live in North Carolina where he and his wife Tina would end up taking in three of their four grandchildren to live with them and raise them.
Mike Penzel's life would sadly come to an end on December 22, 2021 when he would end up suffering a heart attack in their home in North Carolina. His wife Tina would try her best to save him, but the heart attack would quickly end his life as Mike Penzel would pass away at 64 years old.
I got the chance to meet Mike one time at the 2018 Wrestle Con in New Orleans, Louisiana. He had appeared as both Corporal Kirchner and Super Leather that day. I got to meet him while he was under his Super Leather gimmick. He couldn't comprehend in the small amount of time how I knew what I knew about FMW, or that I knew his friend Emu who he had hung out with in the 1990's when he was in Tokyo, as she was the person that helped me translate Shoichi Arai's book back in 2014. We got to take a picture together with him insisting that I hold his chainsaw which made for a very cool picture. He will be missed by so many of his friends, family, and fans.
Super Leather's Career Title History

FMW Brass Knuckles Tag Team Championship w/ Jason the Terrible
Defeated: Hisakatsu Oya & Horace Boulder 1/5/96
Lost to: The Headhunters 3/30/96

FMW Brass Knuckles Heavyweight Championship
Defeated: Hisakatsu Oya 2/23/96
Lost to: The Gladiator 5/27/96

FMW 6 Man Street Fight Tag Team Championship w/ The Headhunters
Defeated: The Gladiator & Hisakatsu Oya & Horace Boulder 5/5/96
Lost to: Masato Tanaka & Koji Nakagawa & Tetsuhiro Kuroda 6/28/96