Michinoku Pro 3/16/93 "Debut Show" Handheld
Leopard Negro v Akihiro Yonekawa
TAKA Michinoku v Terry Boy
Battle Royal
Kendo & Blackman & El Sagrado v Super Delfin & Rocky Santana & Mongolian Yuga
The Great Sasuke & Gran Hamada v El Signo & El Rudo
1 Hours 30 Minutes, Excellent Handheld VQ
Michinoku Pro How About It? Commercial DVD/MP4
Highlights of Super Delfin & Rocky Santana v Blackman & El Sagrado 3/17/93
Highlights of The Great Sasuke & Kendo v El Signo & El Rudo 3/17/93
Jinsei Shinzaiki & Damian v Predator & Yone Genjin 12/10/93
Highlights of Sabu v Terry Boy 12/11/93
Highlights of Gran Naniwa v Damian 12/11/93
TAKA Michinoku v Yone Genjin 2/4/94
Highlights of TAKA Michinoku v Monkey Magic 3/4/94
The Great Sasuke & Terry Boy & Shiryu v Jinsei Shinzaki & Gran Naniwa & Yone Genjin 3/4/94
Wellington Wilkins Jr. v Yone Genjin 4/29/94
Highlights of SATO & Shiryu & Kendo v Super Delfin & Gran Naniwa & Rams 4/30/94
TAKA Michinoku v Jado 7/30/94
Highlights of The Great Sasuke & Ultimo Dragon v Jinsei Shinzaki & Gedo 7/30/94
Jinsei Shinzaki v Terry Boy 9/15/94
The Great Sasuke v Shinjiro Otani 9/29/94
2 Hours 30 Minutes, Master Video, Excellent VQ, DVD Case with Original Cover Art for Sale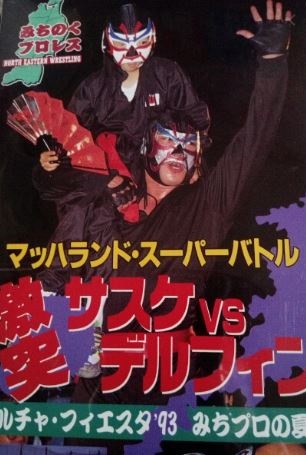 Michinoku Pro 7/24/93 Commercial DVD/MP4
Gran Naniwa v Shiryu
Wellington Wilkins Jr v Naohiro Hoshikawa
Jinsei Shinzaki v Terry Boy
Shigekazu Tajiri v Akihiro Yonekawa
TAKA Michinoku v SATO
Super Delfin v The Great Sasuke *UWA Jr. Heavyweight Title Match*
1 Hour 30 Minutes, Master Video, Excellent VQ, DVD Case with Original Cover Art for Sale
Michinoku Pro The Great Sasuke v Jinsei Shinzaki 1993-1994 Commercial DVD/MP4
Jinsei Shinzaki v Masato Yakushiji & Akihiro Yonekawa 8/24/93
The Great Sasuke v Super Delfin 8/24/93
Atsushi Onita & The Great Sasuke v Mr. Pogo & Jinsei Shinzaki 9/28/93
Atsushi Onita & Tarzan Goto & The Great Sasuke v Mr. Pogo & Jinsei Shinzaki & Masaru Toi 12/11/93
The Great Sasuke v Jinsei Shinzaki 3/31/94
The Great Sasuke v Jinsei Shinzaki 4/29/94
1 Hour 50 Minutes, Master Video, Excellent VQ, DVD Case with Original Cover Art for Sale
Michinoku Pro Lucha Paradise October 1993 Commercial DVD/MP4
The Great Sasuke & SATO & Oriental v Super Delfin & Super Boy & Turako 10/16/93
Masato Yakushiji v Leopard Negro 10/19/93
Jinsei Shinzaki & Super Boy & Turako & Akihiro Yonekawa v TAKA Michinoku & SATO & Shiryu & Jiraya 10/21/93
Naohiro Hoshikawa v Wellington Wilkins 10/21/93
Akihiro Yonekawa v Wellington Wilkins 10/23/93
Super Delfin & Gran Naniwa v SATO & Shiryu 10/22/93
The Great Sasuke v Gran Naniwa 10/21/93
2 Hours, Excellent VQ, Master Video, DVD Case with Original Cover Art for Sale
Michinoku Pro 12/11/93 Commercial DVD/MP4
Wellington Wilkins v Naohiro Hoshikawa
Kazumichi Nakajima v Yone Genjin
TAKA Michinoku & Shiryu v Crazy Boy & Super Boy
Sabu v Terry Boy
Ricky Fuji v Jerry Lynn
Damian v Gran Naniwa
Super Delfin & The Predator v Sato & Battle Ranger
Atsushi Onita & Tarzan Goto & The Great Sasuke v Mr. Pogo & Jinsei Shinzaki & Masaru Toi
1 Hour 40 Minutes, Excellent VQ
Michinoku Pro 4/29/94 GAOARA Champs Forum
Terry Boy & TAKA Michinoku v The Monkey Magic & Rayo de Negro
The Great Sassuke v Jinsei Shinzaki
1 Hour, Excellent VQ
Michinoku Pro Jinsei Shinzaki Escaping from the Law Commercial DVD/MP4
The Great Sasuke v Jinsei Shinzaki 4/29/94
1 Hour, Excellent VQ, Master Video, Excellent VQ, DVD Case with Original Cover Art for Sale
Michinoku Pro 7/30/94 Reunion Commercial DVD/MP4
Hanzo Nakajima & Masato Yakushiji v Terry Boy & Shiryu
Kaoru v Chapparita Asari
Jado v TAKA Michinoku
Super Delfin & Gran Naniwa & Super Boy v Sato & Kendo & Piloto Suicida
The Great Sasuke & Ultimo Dragon v Jinsei Shinzaki & Gedo
1 Hours 40 Minutes, Excellent VQ, Master Video, Excellent VQ, DVD Case with Original Cover Art for Sale
Michinoku Pro 10/30/94 Commercial DVD/MP4
Masato Yakushiji v Shark Machine
Naohiro Hoshikawa v Hanzo Nakajima
Jinsei Shinzki & TAKA Michinoku & Gran Naniwa v Terry Boy & Sato & Shiryu
Super Delfin v El Pantera
Atsushi Onita v The Great Sasuke *No Ropes Exploding Barbed wire Double Hell Exploding Ring Death Match*
1 Hour 30 Minutes, Excellent VQ, Master Video, Excellent VQ, DVD Case with Original Cover Art for Sale
Michinoku Pro The Great Sasuke Best Bouts DVD/MP4
The Great Sasuke v Dos Caras 6/4/93
The Great Sasuke v Super Delfin 8/24/93
The Great Sasuke v Atsushi Onita *No Ropes Exploding Barbed wire Exploding Ring Double Hell Death Match* 10/30/94
1 Hour 30 Minutes, Excellent VQ, Master Video, DVD Case with Original Cover Art for Sale
Michinoku Pro Mask Tournament League July-August 1995 Volume 1 Commercial DVD/MP4
Super Delfin v King's Cross 7/27/95
The Great Sasuke v Gran Naniwa 7/27/95
Highlights of The Convict v Mongolian Yuga 7/28/95
Highlights of King's Cross v Mogolian Yuya 7/29/95
Highlights of Gran Sheik v Gran Naniwa 7/29/95
Highlights of The Convict v Sultan Gargola 7/30/95
Highlights of Super Delfin v Bandit 7/30/95
Highlights of The Convict v Gran Naniwa 7/31/95
Highlights of King's Cross v Bandit 8/1/95
Highlights of Super Delfin v Gran Sheik 8/1/95
Highlights of King's Cross v Gran Naniwa 8/2/95
Highlights of The Great Sasuke v Bandit 8/2/95
Highlights of Mongolian v Gran Naniwa 8/3/95
Highlights of Gran Sheik v Sultan Gargola 8/4/95
Highlights of Mongolian Yuyga v Sultan Gargola 8/5/95
Highlights of The Great Sasuke v King's Cross 8/5/95
Highlights of King's Cross v Sultan Gargola 8/6/95
Highlights of Gran Naniwa v Sultan Gargola 8/8/95
Highlights of Gran Sheik v King's Cross 8/9/95
Highlights of Bandit v Sultan Gargola 8/10/95
Highlights of Bandit v Mongolian Yuga 8/11/95
Highlights of Super Delfin v King's Cross 8/11/95
Highlights of Dos Caras v Gran Sheik 8/12/95
The Great Sasuke v Super Delfin 8/12/95
The Great Sasuke v The Convict 8/13/95
Super Delfin v Gran Naniwa 8/13/95
2 Hours 30 Minutes, Excellent VQ, Master Video, DVD Case with Original Cover Art for Sale
Michinoku Pro Mask Tournament League August 1995 Volume 2 Commercial DVD/MP4
Highlights of The Convict v King's Cross 8/14/95
Highlights of Dos Caras v Sultan Gargola 8/14/95
Highlights of The Bandit v Gran Sheik 8/15/95
Highlights of Dos Caras v The Convict 8/15/95
Highlights of Dos Caras v The Bandit 8/17/95
Highlights of The Great Sasuke v Gran Sheik 8/18/95
Dos Caras v Super Delfin 8/18/95
Highlights of Mongolian Yuga v Gran Sheik 8/20/95
Highlights of Dos Caras v King's Cross 8/20/95
Highlights of Gran Naniwa v The Bandit 8/22/95
Highlights of Dos Caras v Mongolian Yuga 8/22/95
Highlights of Super Delfin v The Convict 8/23/95
The Great Sasuke v Dos Caras 8/23/95
Highlights of Dos Caras v Gran Naniwa 8/24/95
Super Delfin v Mongolian Yuga 8/24/95
Gran Naniwa v Sultan Gargola *Mask Match* 8/25/95
The Great Sasuke v Dos Caras 8/25/95
2 Hours 30 Minutes, Excellent VQ, Master Video, DVD Case with Original Cover Art for Sale
Michinoku Pro How Is It? II Commercial DVD/MP4
TAKA Michinoku v Tiger Mask IV 11/23/95
TAKA Michinoku v Tiger Mask IV 12/11/95
TAKA Michinoku & Shoichi Funaki v Tiger Mask & Naohiro Hoshikawa 12/14/95
TAKA Michinou v Tiger Mask IV 12/17/95
The Great Sasuke & Kendo & Mima Shimoda v Super Delfin & Gran Naniwa & Sakie Hasegawa 12/17/95
Sato & Terry Boy v Naohiro Hoshikawa & Masato Yakushiji 1/10/96
The Great Sasuke & Great Zebra v Mr. Pogo & Gran Naniwa 1/10/96
2 Hours 40 Minutes, Excellent VQ, Master Video, DVD Case with Original Cover Art for Sale
Michinoku Pro Lucha Paradise July 1996 Commercial DVD/MP4
The Great Sasuke & Tiger Mask in Mexico
The Great Sasuke & Tiger Mask & Atlantis v Negro Casas & Dr. Wagner Jr. & El Satanico 7/6/96
The Great Sasuke v Rey Buccanero 7/5/96
The Great Sasuke v Bestia Salvaje 7/5/96
The Great Sasuke v El Hijo del Santo 7/5/96
Tiger Mask & El Vampiro & Lizamark v El Satanico & Violencia & Black Warrior 7/7/96
Negro Casas v The Great Sasuke *NWA Welterweight Title Match* 7/7/96
1 Hour 30 Minutes, Excellent VQ
Michinoku Pro 10/10/96 These Days Ryogoku Sumo Hall Commercial DVD/MP4
Johnny Saint v Naohiro Hoshikawa
Wellington Wilkins v Lenny Lane
Yuki Ishikawa & Alexander Otsuka v Daisuke Ikeda & Satoshi Yoneyama
The Great Sasuke & Satoru Sayama & Mil Mascaras v Dynamite Kid & Kuniaki Kobayashi & Dos Caras
Super Delfin & Gran Hamada & Tiger Mask & Gran Naniwa & Masato Yakushiji v TAKA Michinoku & Dick Togo & Shoichi Funaki & Men's Teioh & Shiryu
Hayabusa v Jinsei Shinzaki
2 Hours 30 Minutes, Excellent VQ, Master Video, DVD Case with Original Cover Art for Sale
Michinoku Pro 3/16/97 & 5/3/97 GAORA Champs Forum DVD/MP4
Vampiro & La Pantera v Perro Ruso & Sutukura 3/16/97
Jinsei Shinzaki v Shiryu 3/16/97
The Great Sasuke & Super Delfin & Gran Hamada & Gran Naniwa & Masato Yakushiji v TAKA Michinoku & Men's Teioh & Dick Togo & Shoichi Funaki & Masayoshi Motegi 3/16/97
Flying Kid Ichihara & Solar I v Masato Yakushiji & Yone Genjin 5/3/97
Jinsei Shinzaki v Bobby Blaze 5/3/97
Hayabusa & Tiger Mask IV & Gran Naniwa v TAKA Michinoku & Super Boy & Shoichi Funaki 5/3/97
2 Hours, Excellent VQ
Michinoku Pro 10/10/97 Ryogoku Sumo Hall Commercial DVD/MP4
Yone Genjin v The Magic Man
Chris Candido & The Convict v Gran Hamada & Tiger Mask IV
Satoru Sayama v El Satanico
The Undertaker v Hakushi
Super Delfin & Naohiro Hoshikawa & Masato Yakushiji v Dick Togo & Men's Teioh & Shoichi Funaki
The Great Sasuke v TAKA Michinoku
2 Hours 10 Minutes, Master Video, Excellent VQ, DVD Case with Original Cover Art for Sale
Michinoku Pro 10/10/97 Ryogoku Sumo Hall GAORA Champs Forum DVD/MP4
Satoru Sayama v El Satanico
The Undertaker v Hakushi
Super Delfin & Naohiro Hoshikawa & Masato Yakushiji v Dick Togo & Men's Teioh & Shoichi Funaki
The Great Sasuke v TAKA Michinoku
2 Hours, Excellent VQ
Michinoku Pro December 1997-January 1998 GAORA Champs Forum DVD/MP4
TAKA Michinoku v Shoichi Funaki *FMW Independent Jr. Heavyweight Title Match* 12/18/97
The Great Sasuke & Super Delfin v Dick Togo & Men's Teioh 12/18/97
Jinsei Shinzaki v The Magic Man 1/14/98
The Great Sasuke & Tiger Mask IV & Masato Yakuishiji v Super Delfin & Gran Naniwa & Yone Genjin 1/14/98
Jinsei Shinzaki v Yone Genjin 1/16/98
The Great Sasuke & Tiger Mask IV & Gran Hamada v Dick Togo & Shoichi Funaki & Super Boy 1/16/98
2 Hours, Excellent VQ
Michinoku Pro 2/28/98 & 3/1/98 GAORA TV DVD/MP4
Men's Teioh & Shoichi Funaki & Gran Hamada v Super Delfin & Tiger Mask & Gran Naniwa 2/28/98
Hayabusa & Jinsei Shinzaki v Mr. Gannosuke & Yukihiro Kanemura 2/28/98
Men's Teioh & Shoichi Funaki & Yoshihiro Taijiri v Gran Hamada & Masato Yakushiji & Naohiro Hoshikawa 3/1/98
Hayabusa & Super Delfin v Tiger Mask & Gran Naniwa 3/1/98
Magnum Tokyo v Tony Rivera 12/6/97
Shiryu & Kendo & Tsubasa v Black Warrior & Violencia & Rey Buccanero 12/6/97
Ultimo Dragon v Dr. Wagner *NWA Middleweight Title Match* 12/6/97
2 Hours, Excellent VQ
Michinoku Pro Farewell to KDX 1998 Commercial DVD/MP4
Super Delfin v Men's Teioh *Super Welterweight Title Match* 1/16/98
Jinsei Shinzaki & Shoichi Funaki v Super Delfin & Men's Teioh 3/10/98
1 Hour 10 Minutes, Master Video, Excellent VQ, DVD Case with Original Cover Art for Sale
Michinoku Pro 7/18/98 Samurai TV DVD/MP4
Shiima Nobunaga & Judo Suwa & Sumo Fujii v Naohiro Hoshikawa & Minoru Fujita & Masaru Seno
Gran Hamada v Convict I
Sasuke the Great & Masked Tiger v Tiger Mask & Mohammed Yone
Jinsei Shinzaki v Magic Man
The Great Sasuke & Masato Yakushiji v Super Delfin & Yone Genjin
1 Hour 30 Minutes, Excellent VQ
Michinoku Pro 8/16/98 & 8/23/98 Samurai TV DVD/MP4
The Great Sasuke & Yuki Ishikawa v Sasuke the Great & Masked Tiger 8/16/98
NG Hammer v The Convict 8/23/98
The Great Sasuke & Super Delfin 8/23/98
Masaru Seno v Minoru Fujita 8/16/98
Jinsei Shinzaki v The Magic Man 8/16/98
Hayabusa v Naohiro Hoshikawa 8/16/98
Jinsei Shinzaki v Yone Genjin 8/23/98
Naohiro Hoshikawa & Masato Yakushiji v Gran Naniwa & Masaru Seno 8/23/98
1 Hour 30 Minutes, Excellent VQ
Michinoku Pro 4/27/99 Samurai TV DVD/MP4
Survival Tobita v Origin Ape Man Virgon
Royal Rumble
Beef Wellington v Chad Collyer
Chaparrita ASARI v Saya Endo
Magnum Tokyo & Ricky Fuji v Kenichiro Arai & Yasushi Kanda
The Great Sasuke v Jinsei Shinzaki
1 Hour 30 Minutes, Excellent VQ
Michinoku Pro July 1999 GAORA DVD/MP4
The Great Sasuke v Dirt Bike Kid 7/17/99
Tiger Mask IV v Gran Naniwa 7/17/99
Curry Man & Black Warrior & Chapinger v Gran Hamada & White Bear & Dokko Chan 7/17/99
TAKA Michinoku & Minoru Fujita v Shiima Nobunaga & Sumo Fuji 7/17/99
Shiima Nobunaga v Minoru Fujita 7/25/99
TAKA Michinoku v Sumo Fuji 7/25/99
2 Hours, Excellent VQ
Michinoku Pro 10/19/99 Samurai TV DVD/MP4
Gran Hamada & Men's Teioh v Curry Man & Judo Suwa
Shiima Nobunaga v Minoru Fujita
Jinsei Shinzaki & Magnum Tokyo v Yoshikazu Taru & Sumo Fuji
The Great Sasuke v Tiger Mask
The Great Sasuke & Masaaki Mochizuki v Tiger Mask & Magnum Tokyo 10/23/99
2 Hours, Excellent VQ, HD Re-Broadcast
Michinoku Pro 12/21/99 Samurai TV DVD/MP4
Tiger Mask IV v Kazuya Yuasa
Chapparita Asarai & Hiromi Yagi v Yoshiko Tamura & Tanny Mouse
CIMA & Curry Man & Super Boy v Minoru Fujita & Shiryu II & Jodie Fleisch
Jinsei Shinzaki & Gran Hamada v Magnum Toyo & Masaai Mochizuki
The Great Sasuke & Sasuke Diner & Sasuke Tiger v Sasuke the Great & Fake Naniwa & Masked Tiger II
1 Hour 30 Minutes, Excellent VQ
Michinoku Pro The Great Sasuke Special 10 Years Commercial DVD/MP4
Clips of a blurred out Masa Michinoku in Hamada's UWF 1990
Clips of The Great Sasuke in Mexico and Hamada's UWF 1992
Clips of The Great Sasuke & Gran Hamada v El Signo & El Rudo 3/16/93
Clips of The Great Sasuke v Super Delfin 7/24/93
Clips of The Great Sasuke v Jinsei Shinzaki 8/24/93
Clips of Atsushi Onita & Tarzan Goto & The Great Sasuke v Mr. Pogo & Jinsei Shinzaki & Masaru Toi *No Ropes Barbed wire Death Match* 12/26/93
Clips of The Great Sasuke & Shiryu & SATO v Jinsei Shinzaki & Super Delfin & Gran Naniwa 2/4/94
Clips of The Great Sasuke v Chris Benoit 4/16/94
Clips of The Great Sasuke v Jinsei Shinzaki 4/29/94
Clips of The Great Sasuke & Ultimo Dragon v Jinsei Shinzaki & Gedo 7/30/94
Clips of Atsushi Onita v The Great Sasuke *No Ropes Exploding Barbed wire Death Match* 10/30/94
Clips of The Great Sasuke v Dos Caras 8/25/95
Clips of The Great Sasuke & Giant Zebra v Mr. Pogo & Gran Naniwa 1/10/96
Clips of The Great Sasuke v Jushin Thunder Liger 4/29/96
Clips of The Great Sasuke v Ultimo Dragon 8/5/96
Clips of The Great Sasuke & Mil Mascaras & Tiger Mask IV v Dynamite Kid & Dos Caras & Kuniaki Kobayashi 10/10/96
Clips of The Great Sasuke v TAKA Michinoku 10/10/97
Clips of The Great Sasuke & Super Delfin v Dick Togo & Super Boy 11/9/97
Clips of The Great Sasuke & Gran Hamada & Tiger Mask IV v Dick Togo & Shoichi Funaki & Super Boy 1/18/98
Clips of SASUKE & Sasuke The Great & Shiima Nobunaga & Judo Suwa & Sumo Fuji v Gran Hamada & Gran Naniwa & Super Delfin & Tiger Mask IV & Masato Yakushiji 11/1/98
Clips of SASUKE v Bob Backlund 11/23/98
Clips of SASUKE & Sasuke The Great & Takeshi Ono v Gran Hamada & Great Sasuke Tyga & Tiger Mask IV 1/13/99
Clips of The Great Sasuke v Magnum Tokyo 2/7/99
Clips of The Great Sasuke v Jinsei Shinzaki 4/27/99
Clips of The Great Sasuke v Tiger Mask IV 8/21/99
1 Hour 30 Minutes, Master Video, Excellent VQ, DVD Case with Original Cover Art for Sale
Michinoku Pro 4/1/00 "Super J-Cup Part 1" Commercial DVD/MP4
CIMA v Ricky Marvin
Ricky Fuji v Sasuke the Great
Naoki Sano v Judo Suwa
Men's Teioh v Katsumi Usuda
Curry Man v Onryo
Gran Hamada v Shinya Makabe
The Great Sasuke v Kaz Hayashi
Jushin Thunder Liger v Tiger Mask IV
1 Hour 30 Minutes, Master Video, Excellent VQ, DVD Case with Original Cover Art for Sale
Michinoku Pro 4/9/00 "Super J-Cup Part 2" Commercial DVD/MP4
CIMA v Onryo
Ricky Fuji v Gran Hamada
The Great Sasuke v Naoki Sano
Jushin Thunder Liger v Men's Teioh
CIMA v Naoki Sano
Jushin Thunder v Gran Hamada
Tiger Mask IV & Minoru Tanaka & Masaaki Mochizuki & Shinya Makabe & Ricky Marvin v Kendo Kashin & El Samurai & Judo Suwa & Super Boy & Chabinger
Jushin Thunder Liger v CIMA *Super J-Cup Tournament Finals Match*
1 Hour 30 Minutes, Master Video, Excellent VQ, DVD Case with Original Cover Art for Sale, same as Part 1
Michinoku Pro 7/15/00 Samurai TV DVD/MP4
Hiroyoshi Kotsubo v Kazuya Yuasa
Genki Misae v Saya Genjin
Gran Hamada & Naoyuki Taira v Judo Suwa & The Convict
Gran Apache & Psicosis & El Maniaco v Tiger Mask & Genki Horigchi & Oscar Sevilla & Jody Fleisch
The Great Sasuke v Onryo *NWA Middleweight Title Match*
Tiger Mask v Psicosis *British Jr. Heavyweight Title Match* 7/27/00
The Great Sasuke & Tiger Mask & Gran Hamada v Psicosis & Histeria & El Maniaco 7/28/00
2 Hours, Excellent VQ
Michinoku Pro 7/21/00 Samurai TV DVD/MP4
The Great Sasuke & Tiger Mask & Sasuke Diner v Onryo & Shingami & Shigeru Kato
Sasuke the Great & Masked Tiger & Gran Naniwa v Ikuto Hidaka & Junji.com & Katsumi Usuda
CIMA & Sumo Fuji & Judo Suwa v Sanshiro Takagi & Exciting Yoshida & Showa
The Great Sasuke & Tiger Mask & Sasuke Diner v Sasuke the Great & Masked Tiger & Grana Naniwa
Tsubo Genjin v Stalker Ichikawa
The Great Sasuke & Tiger Mask & Sasuke Diner v CIMA & Judo Suwa & Sumo Fuji
2 Hours, Excellent VQ
Michinoku Pro 8/20/00 Samurai TV DVD/MP4
Highlights of Gran Naniwa v Minoru Fujita 8/13/00
Highlights of Hayabusa & The Great Sasuke & Ricky Marvin v Fuerza Guerrera & Gladiator & Rocky Santana 8/19/00
Gran Naniwa v Kazuya Yuasa
Minoru Fujita v Jody Fleisch
Gran Hamada v Tsubo Genjin
Hiromi Yagi v Chapparita Asari
Tiger Mask & Kendo & Ricky Marvin v Rocky Santana & Gladiator & Ball Rei
The Great Sasuke v Fuerza Guerrera *NWA Middleweight Title Match*
2 Hours, Excellent VQ
Michinoku Pro 3/10/01 Samurai TV DVD/MP4
Daisuke Sekimoto v Chinnen Hokkai
Ryuji Ito v Kazuya Yuasa
Men's Teioh & Shiryu II v Hideki Nishida & Fujin
Jinsei Shinzaki v Tsubo Genjin
Tiger Mask IV v Masaaki Mochizuki *British Commonwealth Jr. Heavyweight Title Match*
The Great Sasuke & Gran Hamada & Dick Togo v Sasuke the Great & Pentagon & Apache
2 Hours, Excellent VQ
Michinoku Pro 6/17/01 Samurai TV DVD/MP4
Chinnen Hokkai v Yasu Urano
K.Y. Wakamatsu v Tsubo Genjin
Gedo & Pentagon Black & Chad Collyer v Tiger Mask IV & Hideki Nishida & Mr. Cacao
Gran Hamada & Ayako Hama v Masao Orihara & Etsuko Mita
Jinsei Shinzaki v Mohammed Yone
Hayabusa & The Great Sasuke & Alexander Otsuka v Dick Togo & Men's Teioh & Ricky Fuji
2 Hours, Excellent VQ
Michinoku Pro 12/22/01 Samurai TV DVD/MP4
Yasu Urano v Hi69
Hideki Nishida v Macho Pump
Mima Shimoda & Etsuko Mita v Chaparita Asari & Miyuki Fujii
Jinsei Shinzaki & Chinen Hokkai v Yone Genjin & Tsubo Genjin
Gran Hamada & Tiger Mask IV & Kazuya Yuasa v Curry Man & Tomohiro Ishii & Psychic
Dick Togo & Gedo v SASUKE & Sasuke the Great *UWA/UWF Intercontinental Tag Team Titles Match*
2 Hours, Excellent VQ
Michinoku Pro 5/6/02 Samurai TV DVD/MP4
Hi69 v Yasu Urano
Tsubo Genjin v Chinnen Hokkai
Jinsei Shinzaki & Jushin Thunder Liger & Jody Fleisch v Curry Man & PABLO & Onryo
Tomohiro Ishii v Kazuya Yusas
Masao Orihara v Hideki Nishida
Gran Hamada v Macho Pump
Tiger Mask v Ikuto Hidaka
The Great Sasuke v Dick Togo
2 Hours, Excellent VQ
Michinoku Pro 6/2/02 GAORA DVD/MP4
Kazuya Yuasa v Teppei Ishizaka
PSYCHO & Ofune v X # 1 & X # 2
Kyoko Inoue & Yumi Ohka & Emi Tojyo v Fang Suzuki & Ranmaru & Hiroyo Muto
Ricky Fuji & GENTARO v Macho Pump & Chocoball Mukai
The Great Sasuke v GOEMON *NWA Middleweight Title Match*
2 Hours, Excellent VQ
Michinoku Pro 7/20/02 Samurai TV DVD/MP4
Tomohiro Ishii v Ikeda-kun
Tsubo Genjin v Chinnen Hokkai
Pentagon Black v Macho Pump
Jinsei Shinzaki & Hideki Nishida v Yuki Ishikawa & GOEMON
Kazuya Yuasa v Ikuto Hidaka
Dick Togo v Masao Orihara
The Great Sasuke v Metal Master
2 Hours, Excellent VQ
Michinoku Pro 8/15/02 Samurai TV DVD/MP4
Gran Naniwa & Jody Fleisch v Hideki Nishida & Chinnen Hokkai
Jinsei Shinzaki & Kazuya Yuasa v Kintaro Kanemura & Macho Pump
Masao Orihara v Tsubo Genjin
Ikuto Hidaka v Tomohiro Ishii
Curry Man v Pentagon Black
Tiger Mask v Metal Master
The Great Sasuke v Dick Togo
2 Hours, Excellent VQ
Michinoku Pro 8/25/02 Samurai TV DVD/MP4
Masao Orihara & Tomohiro Ishii v Ikuto Hidaka & Macho Pump
Gran Hamada v Metal Master
Tsubo Genjin v Chinen Hokkai
Curry Man & Pentago v Hideki Nishida & Jody Fleisch
Jushin Thunder Liger & The Great Sasuke & TAKA Michinoku v Jinsei Shinzaki & Gran Naniwa & Kauya Yuasa
Tiger Mask v Dick Togo *Tohoku Jr. Tournament Championship Finals Match*
2 Hours, Excellent VQ
Michinoku Pro 11/8/02 GAORA DVD/MP4
Naohiro Hoshikawa v Kazuya Yuasa
Gran Hamada & Hideki Nishida & Hanzo Nakajima v Masao Orihara & Tomohiro Ishii & Macho Pump
Tsubo Genjin v Yone Genjin
Tiger Mask IV & Heat v Koji Kanemoto & Gedo
CIMA & Judo Suwa & Don Fujii v Tiger Mask & Curry Man & Dragon Kid
Shoichi Funaki v Ikuto Hidaka
The Great Sasuke & Jinsei Shinzaki & Dick Togo v TAKA Michinoku & Kaz Hayashi & Gran Naniwa
2 Hours, Excellent VQ
Michinoku Pro 3/2/03 & 3/9/03 GAORA TV DVD/MP4
Highlights of Kazushi Miyamoto v Kazuya Yuasa 3/9/03
Highlights of Tiger Mask IV v Ikuto Hidaka 3/9/03
The Great Sasuke & Jinsei Shinzaki & Gran Naniwa v TAKA Michinoku & Dick Togo & Kaz Hayashi 3/9/03
Highlights of Men's Teioh v Macho Pump 3/9/03
Highlights of Tsubo Genjin v Mt. Aso 3/9/03
Highlights of Kyoko Inoue & Etsuko Mita v Mima Shimoda & Chapprita Asari 3/9/03
Highlights of Curry Man & Masao Orihara & Metal Master v Hayate & Komachi & Jody Fleisch 3/9/03
Highlights of Gran Naniwa v Metal Master 3/2/03
Highlights of Tsubo Genjin v DJ Nira 3/2/03
Highlights of Hayate & Komachi v Masao Orihara & Macho Pump 3/2/03
Highlights of Lioness Asuka v Chapparita Asari 3/2/03
The Great Sasuke v MIKAMI 3/2/03
Jinsei Shinzki & Curry Man & Jody Fleisch v TAKA Michinoku & Dick Togo & Ikuto Hidaka 3/2/03
2 Hours, Excellent VQ
Michinoku Pro April-May 2003 GAORA DVD/MP4
The Great Sasuke v Ikeda-kun 4/26/03
Kaoru v Chapparita Asari 4/26/03
Aso-san & Fuji-san & Iwate-san v Blue Ranger & Red Ranger & Yellow Ranger 4/26/03
Hayate & Komachi & Yamabiko v Dick Togo & Ikuto Hidaka & Masao Orihara 4/26/03
Tsubo Genjin & Sasu Genjin & Fuji Genjin (Ricky Fuji) v Sanso-hashi & Son-goku & Cho-hokkai 4/26/03
Tsubo Genjin & Sasuke Genjin & Fuji Genjin v Dick Togo & Ikuto Hidaka & Masao Orihara 4/27/03
Sanso-hashi & Son-goku & Cho-hokkai v Aso-san & Fuji-san & Iwate-san 4/27/03
Hayate & Komachi & Yamabiko v Sanso-hashi & Son-goku & Cho-hokkai 5/5/03
The Great Sasuke v Ultimo Dragon *NWA Middleweight Title Match* 5/5/03
2 Hours, Excellent VQ
Michinoku Pro 9/23/03 Commercial DVD/MP4
Kazuya Yuasa v Nobutaka Moribe
Tsubo Genjin v Macho Pump
Masao Orihara v Hideki Nishida
Jushin Thunder Liger New Japan & Koji Kanemoto v Ikuto Hidaka & Minoru Fujita *IWGP Jr. Heavyweight Tag Team Title Match*
Tiger Mask v Dick Togo *IWGP Jr. Heavyweight Title Match*
Jinsei Shinzaki & Osamu Nishimura v Tadao Yasuda & Makai #1
Atsushi Onita v The Great Sasuke *No Ropes Exploding Barbed wire Double Hell Death Match*
2 Hours, Excellent VQ, Master Video, Excellent VQ, DVD Case with Original Cover Art for Sale
Michinoku Pro 11/2/03 10th Anniversary Show DVD/MP4
Super Demekin v Kazuya Yuasa
Hayata & Seiji Ikeda v Masao Orihara & Macho Pump
Yone Genjin v Wellington Wilkins Jr.
Naohiro Hoshikawa & MIKAMI v Gran Hamada & Osamu Inoue
Jinsei Shinzaki & Chinen Hokkai v Bob Sapp & Tsubo Genjin
Minoru Fujita v Ikuto Hidaka
Jinsei Shinzaki & Kazuya Yuasa & Chinen Hokkai & Kesen Numajiro v Dick Togo & Men's Teioh & TAKA Michinoku & Shiryu & Hanzo Nakajima
The Great Sasuke v Super Delfin
4 Hours 30 Minutes, Watchable VQ
Michinoku Pro 2/22/04 & 2/29/04 GAORA DVD/MP4
Highlights of Ikuto Hidaka & Minoru Fujita v Jushin Thunder Liger & Koji Kanemoto 9/23/03
Highlights of The Great Sasuke & Jinsei Shinzaki v Ikuto Hidaka & Minoru Fujita 1/12/04
Kensuke Sasaki & Jinsei Shinzaki v Kazuya Yuasa & Seiji Ikeda 2/22/04
Royal Rumble 2/22/04
The Great Sasuke & Flying Kid Ichihara & Hayate & Kesen Numajiro v Dick Togo & TAKA Michinoku & Masao Orihara & Macho Pump 2/29/04
Alexander Otsuka 2/29/04
Kensuke Sasaki v Jinsei Shinzaki 2/29/04
2 Hours, Excellent VQ
Michinoku Pro June-July 2005 GAORA DVD/MP4
Shogo Takagi v Rasse 6/24/05
The Great Sasuke & Tajiri Ishimori & Shu Sato & Kei Sato v Mango Fukuda & Pineapple Hanai & Takeshi Minamino & Kesen Numajiro 6/24/05
Shinji Nohashi v Shanao 7/9/05
Garuda & OMA & Rasse v Mango Fukuda & Pinapple Hanai & Takeshi Minamino 7/9/05
Kesen Numajiro v Shu Sato v Kei Sato *Three Way Match* 7/9/05
Jinsei Shinzaki & GAINA v The Great Sasuke & Dick Togo *Tohoku Tag Team Titles Match* 7/9/05
1 Hour 45 Minutes, Excellent VQ
Michinoku Pro 2/19/06 GAORA DVD/MP4
Mango Fukuda v Mototsugu Shimizu
Jinsei Shinzaki & Macho Pump v Danshoku Dino & Alexander Otsuka
Royal Rumble
Kagetora v Yoshitsune
The Great Sasuke & Dick Togo v Shu Sato & Kei *Mask vs. Hair Match*
2 Hours, Excellent VQ
Michinoku Pro Sasuke vs. Delfin GAORA DVD/MP4
Highlights of The Great Sasuke v Super Delfin 5/7/93, 7/24/93, 8/24/93, 8/12/95, 8/23/98, and 11/2/03
The Great Sasuke v Super Delfin 10/8/06
2 Hours, Excellent VQ
Michinoku Pro 12/17/06 GAORA DVD/MP4
Banana Senga & Rei & Ken45° v Yoshitsune & Rasse & Takeshi Minamino
Katsuyori Shibata v Fujita Jr. Hayato
Jinsei Shinzaki v GAINA
The Great Sasuke & Shinji Nohashi v Shu Sato & Kei Sato *Steel Cage Bunkhouse Triple Death Match*
1 Hour 40 Minutes, Excellent VQ
Michinoku Pro 1/13/07 & 1/14/07 GAORA DVD/MP4
Jinsei Shinzaki & Shinji Nohashi v GAINA & Zeus 1/13/07
The Great Sasuke & Tiger Mask IV & Happy Man v Masao Orihara & Shu Sato & Kei Sato 1/13/07
Jinsei Shinzaki & Kesen Numajiro v GAINA & Zeus 1/14/07
The Great Sasuke v Fujita Jr. Hayato 1/14/07
Tiger Mask IV & Rasse & Happy Man v Brahman Shu & Brahman Kei & Masao Orihara 1/14/07
1 Hour 45 Minutes, Excellent VQ
Michinoku Pro 6/16/07 & 6/17/07 GAORA DVD/MP4
Yoshiyasu Shimizu v Takayuki Aizawa 6/16/07
Fujita Jr. Hayato v Rui Huigaji 6/16/07
Jinsei Shinzaki & Kagetora & HAPPY MAN v Kazushi Miyamoto & GAINA & Zeus 6/16/07
Ryuji Ito & Abdullah Kobayashi v Kesen Numajiro & Shinjitsu Nohashi *Fluorescent Light Tubes Death Match* 6/16/07
Fujita Jr. Hayato & Rasse & Banana Senga v Yoshiyasu Shimizu & Rui Hiugaji & Takayuki Aizawa 6/17/07
Yoshitsune v Ken45° 6/17/07
Shinjitsu Nohashi v Ken45° 6/17/07
Yoshitsune v Shinjitsu Nohashi 6/17/07
Jinsei Shinzaki v Ted Tanabe 6/17/07
1 Hour 45 Minutes, Excellent VQ
Michinoku Pro 6/20/08 Samurai TV DVD/MP4
Kenoh & Takayuki Aizawa v Dynamite Tohoku VIII & Rui Hiugaji
Tsubo Genjin v Chinnen Hokkai
GAINA v Minoru Fujita
Jinsei Shinzaki & Super Delfin & Yone Genjin & Gran Naniwa v Gran Hamada & HANZO & Garuda & Macho Pump
Tiger Mask IV v Shinjitsu Nohashi
Fujita Jr. Hayato & Shu Sato & Kei Sato & Ken45° Maguro Ooma v Yoshitsune & Kagetora & Rasse & Takeshi Minamino
SASUKE & Sasuke The Great & Masaaki Mochizuki v Dick Togo & Men's Teioh & Shiryu
3 Hours, Excellent VQ
Michinoku Pro 12/12/08 Samurai TV DVD/MP4
Rei v Shibaten
Men's Teioh v Shinobu v Rui Hiugaji
Jinsei Shinzaki v Kesen Numajiro
Takeshi Minamino & Ken45° & Maguro Ooma v Kagetora & Rasse & Shinjitsu Nohashi
The Great Sasuke & Survival Tobita & Ultraman Robin v Shu Sato & Kei Sato & Alien Mephilas *Great Space Wars*
Yoshitsune v Fujita Jr. Hayato *Tohoku Jr. Heavyweight Title Match*
2 Hours, Excellent VQ
Michinoku Pro 6/19/09 Samurai TV DVD/MP4
Mitsuharu Misawa & Ted Tanabe 10 Bell Salute
ken45° v Kenbai
Ultimo Dragon & Yapper Man # 1 & Yapper Man # 2 v Kinya Oyanagi & Rui Hiugaji & Satoshi Kajiwara
TAKA Michinoku & Men's Teioh & Kensen Numajiro v Rasse & Takeshi Minamino & Maguro Ooma
Jinsei Shinzaki & Tiger Mask IV & Dick Togo v Shu Sato & Kei Sato & Shinjitsu Nohashi
Fujita Jr. Hayato v The Great Sasuke *Tohoku Jr. Heavyweight Title Match*
2 Hours, Excellent VQ, HD Re-Broadcast
Michinoku Pro 12/12/09 Samurai TV DVD/MP4
Kesen Numajiro & Kinya Oyanagi v Rui Hiugaji & Kenbai
Ultimo Dragon v Rasse
Takeshi Minamino & Maguro Ooma & ken45°v Shinjitsu Nohashi & Yapper Man # 1 & Yapper Man # 2
Jushin Thunder Liger & The Great Sasuke v Shu Sato & Kei Sato
Kenou v Fujita Jr. Hayato *Tohoku Jr. Heavyweight Title Match*
2 Hours, Excellent VQ
Michinoku Pro 11/7/10 Samurai TV DVD/MP4
Rasse v Daichi Sasaki
Kenbai & Yapper Man # 1 & Yapper Man # 2 v Maguro Ooma & Shu Sato & Kei Sato
Jinsei Shinzaki & TAKA Michinoku v Kesen Numajiro & Shisaou
Fujita Jr. Hayato v Rui Hiugaji
Ultimo Dragon & Taro Nohashi & Takeshi Minamino v Dick Togo & Ken45°& Kinya Oyanagi
Kenou v The Great Sasuke *Tohoku Jr. Heavyweight Title Match*
2 Hours, Excellent VQ
Michinoku Pro 12/16/10 Samurai TV DVD/MP4
Kinya Oyanagi & Ryuichi Sekine v Kesen Numajiro & Daichi Sasaki
Jinsei Shinzaki & TAKA Michinoku v Ultimo Dragon & FUNAKI
Fujita Jr. Hayato & Takeshi Minamino & Maguro Ooma & Rasse v Kenou & Yapper Man # 1 & Yapper Man # 2 & Kenbai
Dick Togo v Rui Hyugaki
The Great Sasuke & Ricky Fuji & Ken45°v Shu Sato & Kei Sato & Taro Nohashi *Great Space Wars*
2 Hours, Excellent VQ
Michinoku Pro 5/8/11 Samurai TV DVD/MP4
Taro Nohashi v Daichi Sasaki
Jinsei Shinzaki & Yapper Man # 1 & Yapper Man # 2 v Ultimo Dragon & Takeshi Minamino & Rasse
Dick Togo v Kesen Numajiro
Kenou & Kinya Oyanagi & Kenbai & Ken45°v Shu Sato & Kei Sato & Fujita Jr. Hayato & Kagetora
The Great Sasuke v Rui Hiugaji *Tohoku Jr. Heavyweight Title Match*
2 Hours, Excellent VQ
Michinoku Pro 12/11/11 Samurai TV DVD/MP4
Kinya Oyanagi v Daichi Sasaki
Jinsei Shinzaki & Kesen Numajiro v Ultimo Dragon & Rasse
Takeshi Minamino & Manjimaru v Yapper Man # 1 & Yapper Man # 2
Fujita Jr. Hayato & Rui Hyugaji & Taro Nohashi v Kenou & Ken45°& Kenbai
Atsushi Onita & The Great Sasuke v Shu Sato & Kei Sato *Great Space Wars No Ropes Barbed wire Death Match*
3 Hours, Excellent VQ

Michinoku Pro 6/3/12 Samurai TV DVD/MP4
Daichi Sasaki v Ayumu Gunji
Ken45° v Kinya Oyanagi
Takeshi Minamino & Manjimaru v Rui Hyugagi & Taro Nohashi
The Great Sasuke & Jinsei Shinzaki & Aja Kong v Yapper Man # 1 & Yapper Man # 2 & Yapper Man # 3
Ultimo Dragon v Kesen Numajiro
Brahman Shu & Brahman Kei v Rasse & Kenbai *Tohoku Tag Team Title Hardcore Match*
Kenou v Fujita Jr. Hayato *Tohoku Jr. Heavyweight Title Match*
2 Hours, Excellent VQ
Michinoku Pro 9/1/12 & 9/2/12 Samurai TV DVD/MP4
Kaijin Habu Otoko v El Solar 9/1/12
Ultimo Dragon v Rasse 9/1/12
Jushin Thunder Liger v Great Zeba 9/1/12
The Great Sasuke v Heat 9/1/12
Jushin Thunder Liger v Kaijin Habu Otoko 9/2/12
The Great Sasuke v Jushin Thunder Liger 9/2/12
Jushin Thunder Liger v The Great Sasuke *Fukumen World League Tournament Finals Match* 9/2/12
2 Hours, Excellent VQ
Michinoku 11/10/12 Samurai TV DVD/MP4
Kenbai v Ayumu Gunji
Yapper Man # 1 & Yapper Man # 2 & Yapper Man # 3 v Kinya Oyanagi & Katsuo & Mika Iida
Ultimo Dragon & Kesen Numajiro v Rasse & Owen Phoenix
Rui Hyugaji v Daichi Sasaki
Fujita Jr. Hayato v The Great Sasuke *Tohoku Jr. Heavyweight Title Match*
2 Hours, Excellent VQ
Michinoku Pro 12/13/12 Samurai TV DVD/MP4
Jinsei Shinzaki & Kinya Oyanagi v Daichi Sasaki & Ayumu Gunji
Menso~re Oyaji v Katsuo
Kenou & Rui Hyugaji & Taro Nohashi v Takeshi Minamino & Manjimaru & Ken45°
Rasse & Kenbai v Ultimo Dragon & Kesen Numajiro *Tohoku Tag Team Titles Match*
The Great Sasuke & Daisuke Sekimoto & Yapper Man # 2 & Yapper Man # 3 v Yuji Hino & Brahman Shu & Brahman Kei & Karate Brahman & Great Zebra *Great Space Wars*
Fujita Jr. Hayato v Katsuhiko Nakajima *Tohoku Jr. Heavyweight Title Match*
2 Hours, Excellent VQ

Michinoku Pro 6/30/13 Samurai TV DVD/MP4
Daichi Sasaki v Ayumu Gunji
Rasse & Kenbai v Kesen Numagiro & Kinya Oyanagi
Ultimo Dragon & Shisaou & Katsuo v Yapper Man # 1 & Yapper Man # 2 & Yapper Man # 3
Takeshi Minamino & Manjimaru & Ken45° v Brahman Shu & Brahman Kei & Behnam Ali
Tatsumi Fujinami & Jinsei Shinzaki & Alexander Otsuka v Riki Choshu & Rui Hyugaji & Taro Nohashi
Meiko Satomura & Dash Chisako & Sendai Sachiko & Kagetsu v Carlos Amano & Hiryo Matsumoto & Hailey Hatred & Mio Shirai
Fujita Jr. Hayato v Kenou *Tohoku Jr. Heavyweight Title Match*
2 Hours, Excellent VQ
Michinoku Pro 12/13/13 Samurai TV DVD/MP4
Manjimaru & Ken45°& Daichi Sasaki & Obariyon v Kinya Oyanagi & Rasse & Kenbai & Ayumu Gunji
Yapper Man # 3 v Mio Shirai
Ultimo Dragon & Kesen Numagiro v Katsuo & Menso~re Oyaji
Jinsei Shinzaki v Fujita Jr. Hayato
The Great Sasuke & Yapper Man # 1 & Yapper Man # 2 & Macho Pump v Brahman Shu & Brahman Kei & Taro Nohashi & Karate Brahman *Great Space Wars*
Kenoh v Takeshi Minamino *Tohoku Jr. Heavyweight Title Match*
2 Hours, Excellent VQ
Michinoku Pro 6/8/14 Samurai TV DVD/MP4
Daichi Sasaki v Ayumu Gunji
Yapper Man # 1 & Yapper Man # 2 & Yapper Man # 3 v Macho Pump & Eagles Mask & Vancouver Cat
Ultimo Dragon & Manuel Majoli v Kinya Oyanagi & Rui Hyugaji
Takeshi Minamino & Manjimaru & Ken45°v Taro Nohashi & Rasse & Kenbai
Jinsei Shinzaki & Kesen Numajiro v The Great Sasuke & Brahman Kei *Tohoku Tag Team Titles Match*
Fujita Jr. Hayato v Brahman Shu *Tohoku Jr. Title Match*
2 Hours, Excellent VQ

Michinoku Pro 12/12/14 Samurai TV DVD/MP4
Kenbai & Owen Phoenix v Ken45°& Antonio de Luca
Marie Apache v Yapper Man # 3
Jinsei Shinzaki & Funaki & Kesen Numajiro v Kinya Oyanagi & Katsuo & Eagles Mask
Ultimo Dragon v Rasse
Fujita Jr. Hayato & Takeshi Minamino & Manjimaru v Rui Hyugaji & Daichi Sasaki & Ayumi Gunji
The Great Sasuke & Brahman Shu & Brahman Kei & Ultrman Robin v Kameshi & Kameshi # 1 & Kameshi # 2 & Kamegoro *Great Space Wars*
2 Hours, Excellent VQ

Michinoku Pro 12/10/15 Samurai TV DVD/MP4
Ken45° v Kesen Numagiro
Dash Chisako & Shinobu & Ryuichi Sekine & Takayuki Ueki v Jinsei Shinzaki & Ultimo Dragon & Eagles Mask & Yapper Man # 3
Takeshi Minamino & Manjimaru v Kenbai & Rui Hyugaji
Ikuto Hidaka & Minoru Fujita v Ayumu Gunji & Daichi Sasaki *Tohoku Tag Team Title Match*
The Great Sasuke & Ultraman Robin & Brahman Shu & Brahman Kei & Master ET v C3PO-1 (Yapper Man # 1) & R2D2-2 (Yapper Man # 2) & Darth Vader GAINA & Superman Kinya (Kinya Oyanagi) & Yoda Taro (Taro Nohashi) *Great Space Wars*
2 Hours, Excellent VQ
Michinoku Pro 9/16/16 Samurai TV DVD/MP4
Super Tiger v Maximus
Eisa 8 v Australian Wolf
Revolucion v Argos
SUGI v Leprechaun
Gabaiji-chan v Azura
Kenabi v Rasse
Caristico v Samba Rio de Janeiro
2 Hours, Excellent VQ
Michinoku Pro 12/15/16 Samurai TV DVD/MP4
Kesen Numajiro v Keisuke Goto
Nogyo Boy Raito v Eagles Mask
Riho & Yapper Man # 3 v Emi Sakura & Kotori
Jinsei Shinzaki & Ultimo Dragon v Ken45°& Kengo
Fujita Jr. Hayato & Takeshi Minamino & Manjimaru v Kenbai & Ryu Hyugaji & Ikuto Hidaka
The Great Sasuke & Brahman Shu & Brahman Kei & Ultraman Robin & Mothra v Killer Clock GAINA & Dead Shot # 1 & Harley Quinn # 2 & Gunji & Taro Nohashi *Great Space War*
2 Hours, Excellent VQ

Michinoku Pro 6/18/17 Samurai TV DVD/MP4
Kesen Numajiro & Yasutaka Oosera v Ayumu Gunji & Koji Kawamura
Kengo v Daichi Sasaki
GAINA, Yapper Man #1 & Yapper Man #2 v Kenbai & Rasse & Taro Nohashi
Manjimaru & Ken45° v Rui Hyugaji & Takeshi Minamino
Ikuto Hidaka & Minoru Fujita v Yapper Man #4 (Ryota Hama) & Yappe Man #3 *Tohoku Tag Team Title & UWA Tag Team Title Match*
The Great Sasuke & Shinobu & Ryuichi Sekine v Hakushi & Brahman Shu & Brahman Kei
2 Hours, Excellent VQ
Michinoku Pro 12/15/17 Samurai TV DVD/MP4
Yasuaka Oosera v Koji Kawamura
Jinsei Shinzaki & Riho & Kotori v Daichi Sasaki & Emi Sakura & Aasa Maika
Ikuto Hidaka & Minoru Fujita & Ken45°v Kenbai & Kesen Numajiro & Rasse
Ryu Hyugaji & Ayumu Gunji v Manjimaru & Kengo
The Great Sasuke & Brahman Shu & Brahman Kei v Flash Dick Togo & Nane Takahashi v Lex Luthor # 1 & Steppenwolf # 2 & Doctor Poison # 3 & Darkside GAINA & Mars OK *Great Space War*
2 Hours, Excellent VQ

Michinoku Pro 6/15/18 Samurai TV DVD/MP4
Yasutaka Oosera & Koji Kawamura v Towa Iwasaki & Syoki Kitamura
Hiroe Nagagama v Yapper Man #3
Jinsei Shinzaki & Ultimo Dragon & Dick Togo v Yone Genjin & GAINA & Hayate
Taro Nohashi & Kenbai & Rasse & Yappe Man # 1 & Yappe Man # 2 v Rui Hyugaji & Manjimaru & Ken45° & Kengo & Ayumu Gunji
The Great Sasuke & Mini Master & Gorgeous Matsuno & Ryuichi Sekine v Brahman Shu & Brahman Kei & Ultraman Robin & Abdullah Kobayashi *Two out of Three Falls Hair vs. Mask Match*
2 Hours, Excellent VQ
Michinoku 6/24/18 "Jinsei Shinzaki 25th Anniversary Show" Samurai TV DVD/MP4
Yasutaka Oosera v Koji Kawamura
The Great Sasuke & Brahman Shu & Brahman Kei v Yapper Man # 1 & Yapper Man # 2 & Yapper Man # 3
Dick Togo & Kesen Numajiro v Shisao & Hayate
Cassandra Miyagi & Heidi Katrina & Ami Sato v Meiko Satomura & Mika Iwata & Manami
Jinsei Shinzaki & Kenbai & Rasse v Manjimaru & Ken45° & Kengo
Chihiro Hashimoto v DASH CHISAKO *Sendai Girls Title Match*
Rui Hyugaji v Taro Nohashi *Tohoku Jr. Heavyweight Title Match*
2 Hours, Excellent VQ
Michinoku Pro 12/21/18 Samurai TV DVD/MP4
Yasutaka Oosera & Koji Kawamura v Towa Iwasaki & Syouki Kitamura
Greg Glorius & Riho & Mei Suruga v Masahiro Takanashui & Emi Sakura & Baliyan Akki
Ultimo Dragon & Dick Togo & Kesen Numajiro v Manjimaru & Ken45°& Kengo
Kenbai & Rasse v Rui Hyugaji & Ayumu Gunju
The Great Sasuke & Brahman Shu & Brahman Kei & Gorgeous Matsuno & Ultraman Robin v Yappe Man # 1 & Yappe Man # 2 & Yappe Man # 3 & Taro Nohashi & GAINA & Pretty *Great Space Wars*
2 Hours, Excellent VQ
Michinoku Pro 6/14/19 Samurai TV DVD/MP4
Hiroshi Yamato v Koji Kawamura
Jinsei Shinzaki & Hayate & Komachi v Ultimo Dragon & Dick Togo & Rasse
HAPPY-MAN & Kenbai & Yapper Man 1 & Yapper Man # 2 v Kengo & MUSASHI v Ayumu Gunji & Rui Hiugaji *Three Way Tag Match*
GAINA & Taro Nohashi v Ikuto Hidaka & Minoru Fujita *Tohoku Tag Team & UWA World Tag Team Titles Match*
The Great Sasuke & Mitsuo Momota & Chikara v Brahman Shu & Brahman Kei & Shinobu *Cage Match*
The Great Sasuke v Brahman Shu & Brahman Kei & Shinobu *Cage Match*
3 Hours, Excellent VQ
Michinoku Pro 12/13/19 Samurai TV DVD/MP4
Fujita Jr. Hayato v Kengo
Rui Hiugaji v Tatsuya Hanami
Jinsei Shinzaki & HAPPY-MAN & Hayate v Dick Togo & Ultimo Dragon & Rasse
Kenbai v MUSASHI
The Great Sasuke & Brahman Shu & Brahman Kei & Anal Lover Prince & Yukizuri Queen v Elton John Rambo & Schwarzenegaina & Elsa 1 & Ko 2 & Pretty Olaf *Great Space War*
2 Hours, Excellent VQ
Michinoku Pro 2/15/20 NicoNico TV DVD/MP4
Tatsuya Hanami v Tair Ogasawara
The Great Sasuke v HAPPY MAN
Brahman Shu & Brahman Kei v Kengo & Nougyou Boy Raito
Masahiro Takanashi v Yasutaka Oosera
Rui Hyugaji & Yappe Man # 1 & Yappe Man # 2 v MUSASHI & Taro Nohashi & Rasee *Two out of Three Falls Match*
1 Hour 45 Minutes, Excellent NicoNico TV VQ
Michinoku Pro 12/11/20 Samurai TV DVD/MP4
Tatsuya Hanami & Daiju Wakamatsu v Tairo Ogasawara & Takuro Niki
Emi Sakura & Mei Suruga v Bailyan Akki & Chie Koshikawa
Jinsei Shinzaki & Koji Kawamura Violento Jack & Ken45°
Rui Hyugaji & MUSASHI v Yasutaka Oosera & Koji Kawamura
The Great Sasuke & Brahman Shu & Brahman Kei & Abdullah Kobayashi v Indy Jaws & GAINA & Murray # 1 & Dr. Aykroyd # 2 & Obake no DJ Lee Taro *Great Space Wars*
2 Hours, Excellent VQ
Michinoku Pro 6/4/21 Samurai TV DVD/MP4
Yapper Man # 1 & Yapper Man # 2 v Koji Kawamura & Yasutaka Oosera
Baliyan Akki & Mei Suruga v Emi Sakura & Yuna Mizumori
GAINA & Taro Nohashi v Rasse & Rekka
Ken45° & Manjimaru & Rui Hiugaji v Ayamu Gunji & MUSASHI & Tair Ogasawara
The Great Sasuke v Jinsei Shinzaki *Casket Match*
2 Hours, Excellent VQ
Last updated: 6/22/21
All DVD's listed are for sale. You can order by e-mailing me at bahumuth17@aol.com with a list with what you are interested in and I will get back to you with a total price.
Each DVD is 6 dollars (For example 3 DVD's are $18 dollars) and there is a two DVD minimum order.
I tend to mostly go through PayPal these days but if you prefer Venmo or Cashapp I can do those as well.
For Pay Pal users: First order can be used for Paying for an item or service since you do not know me yet, but for second order and going forward please send it as sending it to a friend.
MP4's are also 6 dollars. The MP4 will be sent to you the day of the purchase unless otherwise noted before you make the purchase. There is no minimum order for MP4's. Longer shows might have to be broken up into two parts or possibly even three parts when sending them.
Shipping price goes into the 6 dollars if you live in the USA. If you live outside of the USA, I will give you a shipping price based on what you are interested in purchasing and what country you live in.
I also now offer Original Cover Art in DVD cases for 15 dollars per video. These are offered for videos that state "DVD Case with Original Cover Art for Sale" at the bottom of the match listings. I will take original cover art and reprint it and place it in a DVD box for you. I will also do these for original VHS video covers as well and will reprint them as a DVD cover. I will do my best to make the VHS video covers look as legitimate as possible as a DVD cover. An example of what they will look like can be found at http://fmwwrestling.us/FMWVHSDVD.jpg
There is no minimum purchase if you order an Original Cover Art DVD. If you would like to see the cover art design picture and I do not have a picture above the video listing then contact me and I will send you a picture of it.
Just to clarify I am not selling the original DVD's. If I list that it's a Master DVD that means I have the master copy and will be recording off that to ensure high quality. I do not have multiple copies. Champs Forum/Handheld shows are straight from a personal video camera or television so it is impossible for those to be a Master Video.