Added: 12/29
Shinjiro Otani and Masato Tanaka defended their PWF Universal Tag Team Titles after defeating Kintaro Kanemura and Masao Orihara in the main event at Korakuen Hall in front of 1500 fans after Otani pinned Orihara with a Spider Bomb. During the match, former Battlarts and current NOAH wrestler Daisuke Ikeda interfered attacking Kanemura. Ikeda who worked for FMW in 1998 and 1999 and feuded with Kanemura during that time, challenged Kanemura to a match at the January 31st WEW Korakuen Hall match. Kanemura replied to Ikeda's challenge by stating that he'd be more interested in a Kanemura/Kuroda vs. Mitsuharu Misawa/Daisuke Ikeda match for the show. Kanemura will be having one of the biggest months of his career as he fought Shinya Hashimoto in the main event of Zero One's Korakuen Hall show, Kanemura then will face Shinjiro Otani at WEW's 1/7/03 Korakuen Hall show in the main event, and then will face All Japan's Satoshi Kojima on 1/25/03 at Korakuen Hall.
WEW's Garuda also has changed his name to UZ after he was punked out by his Far East Connection team mates (Dick Togo & Masao Orihara) for losing in their 6 man tag match to Ayako Hamada at the 11/4 Yokohama Bunka Gym show. Afterwards, he took off the mask and sided with Ayako Hamada and Hi69 and will now be teaming with them under the UZ name.
Kintaro Kanemura took on Shinya Hashimoto in the main event of 12/29/02 Korakuen Hall show in which Kanemura attempted to make the match into a Hardcore Rules match by using a table as well as his barbwire bat, but Hashimoto's kicks and power turned into to much for Kanemura as Hashimoto would win the match at 7:50 with a DDT. Kodo Fuyuki and Hido would end up running into the ring and would both attack Hashimoto afterwards with Zero One wrestlers coming into make the save for Hashimoto. Fuyuki would declare that the Zero One/WEW feud is far from over.
WMF announced the lineup for their first show in 2003 at the Tokyo Takenotsuka Battle Sphere which is quickly becoming their home arena with Mammoth Sasaki and Tetsuhiro Kuroda teaming for the first time since they formed Team FMW last year to due battle against Kodo Fuyuki's WAR and foreigner groups towards the end of FMW. GOEMON will be teaming with new Brand Double Cross member Mr. Gannosuke and the returning Soldier who is coming back from an injured arm which he received while training back in October.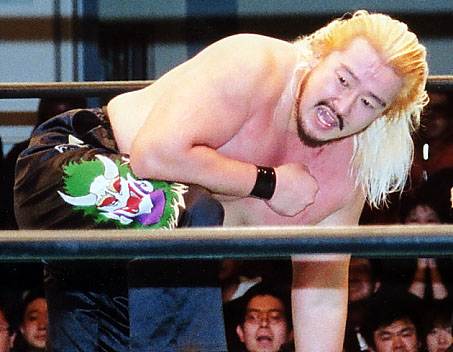 Added: 12/24
Mr. Gannosuke turned heel at the 12/21/02 Sapporo Teisan Hall show to join GOEMON's Brand Double Cross. Gannosuke during a tag match with Jinsei Shinzaki against GOEMON and Tetsuhiro Kuroda turned against Shinzaki during the match and began to help GOEMON beat down Shinzaki during the match. Kuroda would watch as Gannosuke and GOEMON would beat on Shinzaki, and then confront GOEMON about Gannosuke apparently being apart of the group. GOEMON and Gannosuke would then attack causing the referee to just throw the match out as GOEMON and Gannosuke continued to beat to attack Shinzaki and Kuroda.
Then after the main event of the show, Gannosuke would come out again and attack Mammoth Sasaki after his match with Garuda, but Kuroda would come out and make the save for Mammoth despite the bloody brawl the two had at Korakuen Hall the week before. Mammoth and Kuroda would shake hands afterwards, and Mammoth would challenge Gannosuke to a match for 2003.
WEW will be returning to Korakuen Hall on December 27th as Kintaro Kanemura and Masao Orihara will challenge the PWF Tag Team Champions Shinjiro Otani and Masato Tanaka in the main event. Kodo Fuyuki earlier stole the PWF Tag Team Titles from Otani and Tanaka and will not get it back unless they can go through Kanemura and Orihara for them.
Added: 12/15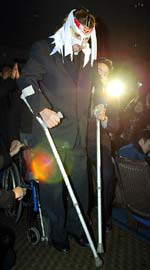 The WMF December 12, 2002 Korakuen Hall show drew a very good crowd of 1700 old time FMW fans to see the return of their favorite wrestlers from FMW as well as Hayabusa's return to the building since his horrible injury on October 22, 2001 which was a span of 461 days since the injury to returning to Korakuen. Hayabusa who has been training 3 hours a day everyday to relearn how to walk again and wanted to take his first step to the public in the building that the incident occurred started off the show by giving an interview with the President of Laing, Inc. Tetsuya Yamada who is the sponsor for WMF holding the mic for him. Hayabusa spoke to the crowd about how one year ago at this time he was fighting for his life after germs had gotten into his body and inside of his heart by staying in the hospital which caused s fever to get so high for so long that the only way to get them was through open heart surgery. Hayabusa then stated that he wanted to return the "holy ground" of Korakuen Hall to take his first step, and with that to the delight of the crowd cheering him on, Eiji Ezaki took one step forward to crowd's delight. Eiji in all smiles told the fans thank you for all their support and that he would return later into the show to do color commentary.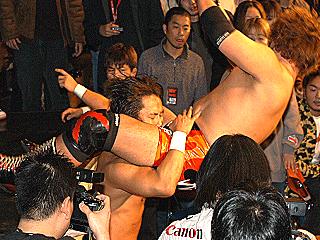 Mammoth Sasaki returned to the ring after his suffering a fractured fibula on October 6th to take on long time friend and foe, Tetsuhiro Kuroda in the main event. Mammoth making his first return to Korakuen since March 10, 2002 tried getting his first ever victory over Kuroda by using his raw power as well as getting tables and chairs involved in the match. Kuroda who bled big time hit all his signature spots as well as using weapons to try and take Mammoth down and in the end the two would begin striking each other and both would end up knocking each other out for good as the referee Marty Asano would make the 10 count for the Double KO finish at 23 minutes, 5 second.
All Japan's Satoshi Kojima made his WMF debut against Mr. Gannosuke in a "Hayabusa Special Challenge Match" in which Hayabusa was able to get Kojima attend the show due to his friendship with All Japan President Keiji Muto. Gannosuke who was making his return to Korakuen Hall after Vic Grimes broke his leg back on January 6, 2002. Hayabusa also sat and did color commentary as both Kojima and Gannosuke went right ahead beating the crap out of each other with hard strikes. Gannosuke would manage to hit the Fire Thunder and a Praying Powerbomb on Kojima but in the end, Kojima would begin to strike Gannosuke with lariat after lariat to finally get the win over him at 14 minutes, 14 seconds. Kojima afterwards would shake Hayabusa's hand and would go on to announce that he would like to be apart of another WMF show in the future.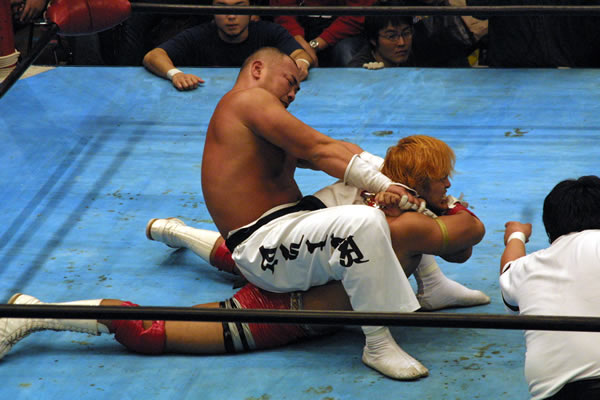 In a "Garuda tryout match" which was to test Garuda's strength he was set up against Michinoku's Pro's Jinsei Shinzaki. Garuda would at first get the upper hand on Shinzaki but Shinzaki would follow up on offense and deliver a Praying Powerbomb on Garuda. Garuda's mask would begin to be torn up during the match and then Shinzaki would rip the mask off to finally reveal Garuda as Tomokazu Morita. Shinzaki would then finish off Garuda with a Goku-Raku Gatame (the cross-arm strangle) as Garuda was officially out of it and the referee would stop the match and award it to Shinzaki. Afterwards, Garuda would put the remaining bit of his mask on and announce to the crowd that even though they now know that he is Tomokazu Morita (which basically everyone has known since the debut of the character on 11/5/01) but wants to continue on with the Garuda name and mask. Garuda would then go over to Hayabusa and tell him he was sorry for failing his tryout match, as Hayabusa stuck his hand out and shook Garuda's hand and congratulated Garuda on his work.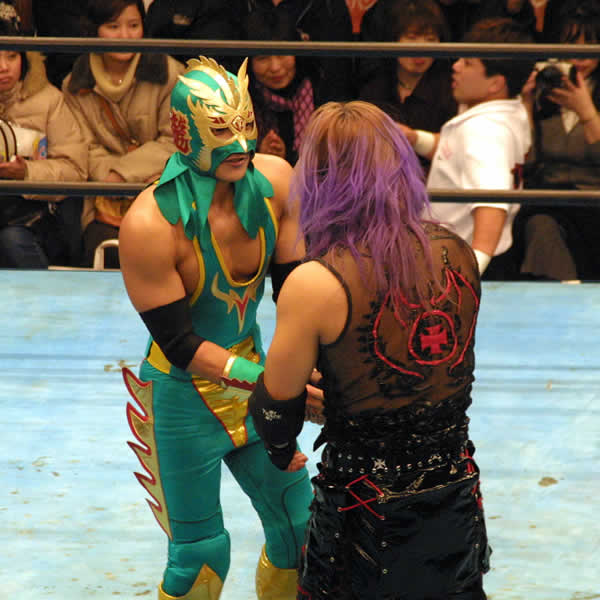 In what was one of the most anticipated matches of the night as far as high flying goes, Onryo took on Toryumon's Dragon Kid who started out in the business as a FMW referee after being told he was too small by Atsushi Onita to be a wrestler. The two started things off with a very speed base offense, and hitting as much as spots as they could right before Dragon Kid would end up pinning Onryo in just 3 minutes, 28 seconds after a hurricanrana. The crowd right away turned on such a quick match and show their displeasure by booing very heavily. No word on whether or not one of the two got injured before the match or it was just simply a school night for Dragon Kid and he had to get to bed early.
In her first ever match since August 25, 2001, Emi Motokawa returned to the ring after suffering a horrible neck injury and teamed with friend Kyoko Inoue to battle Aja Kong and Chapparita ASARI. The end result would be though of the hard hitting Aja Kong just simply beating up the smaller Emi and then finishing Emi off with a brain buster. Emi's next match will be December 23rd against Chapparita ASARI.
In the comedy match, Ikeda-kun would defeat Toryumon's Stoker Ishikawa with Michinoku Pro's referee Ted Tanabe being added to the mix. It was Ikeda-kun's third ever pro win in his now 16 month career.
Brand Double Cross' GOEMON would team with Sukekiyo to defeat the team of Flying Kid Ichihara and Asian Cougar as GOEMON would hit the Swanton bomb on Ichihara to get the win at the 10 minute mark to avenge his singles loss to Ichihara back on November 10th at the Takenotsuka Battle Sphere.
In the opening match, Wrestle Brain Jr. Heavyweight Champion Ricky Fuji returned to WMF for the first time since September 29th to take on WMF rookie Mineo Fujita who was making his Korakuen Hall debut. The two would work on the basics before Ricky would his "Hard Rock" finisher, putting away the youngster Fujita at 6 minutes, 29 seconds.
Added: 11/7
WEW ran its second biggest show of the promotions short history on November 4th as they ran at the usual home for FMW in November in the Yokohama Bunka Gym. The announced attendance was at 4300 for the 4800 seat arena which would be very good especially considering that the Yokohama Bunka Gym shows sale some of the highest priced tickets for wrestling in Japan, but the number was actually in the 2000 people range.
The main event of the show was Kintaro Kanemura and Zero One's Masato Tanaka reuniting to do battle for the WEW World Title. Their last singles match was back on July 30, 2002 in Osaka which ended in a Draw after both men knocked each other out. This time, many weapons were used as Kanemura brought out his Barbwire Baseball Bat as well as sent Tanaka through a table and then begin to smash Tanaka's head with a piece of a table which caused Tanaka to bleed big time. The barbwire baseball bat would then be set on fire by Kanemura and was used for hitting Tanaka in the stomach with it and then Kanemura would Powerbomb Tanaka onto the flamed barbwire baseball bat for the victory to Kodo Fuyuki's delight. Afterwards Hido and Dick Togo would come out and celebrate Kintaro Kanemura's successful defense of the WEW World Title over his rival Masato Tanaka in such a brutal match.
The Zero One team of Shinjiro Otani and Kuroge Wagyuta who replaced Tatsuhito Takaiwa defeated the team of Tetsuhiro Kuroda and TAKA Michinoku in the semi main event in what was a very good fast paced style of match with Otani getting the pinfall over TAKA Michinoku to makeup for the Masato Tanaka main event lost for Zero-One.
The WEW Tag Team Champions GENTARO & Takashi Sasaki successfully defended their titles for the 4th time over Tomohiro Ishii and a masked man by the name of TNR # 1 who replaced the originally scheduled Ikuto Hidaka who ended up suffering an eye injury and not being able to wrestle for the WEW Capricious Behavior 2002 tour. TNR # 1 ended up looking very sloppy during the match and would be pinned by GENTARO.
In what turned out to be a light bulb stick and barbwire board death match, Hido ended up defeating Gosaku Goshogawara after Biomonster DNA who had been Gosaku in the suit for over the past year came into the ring and cracked another light bulb stick over Gosaku's head for the Hido victory.
Kodo Fuyuki who had gotten out of the hospital the day before after being knocked out from Masato Tanaka on the 11/2 Kyoto show was arrested after speculation from the police that Kodo Fuyuki helped Shinjuku Shark's lover Rika Fujisaki steal a baby and claim as it her and Shinjuku's own. Rika Fujisaki who has been with Shinjuku Shark since the FMW 11/23/01 Yokohama Bunka Gym show was also arrested for the kidnapping, but Fuyuki was able to get out and sat front row for the Kanemura vs. Tanaka main event.
Added: 11/1
Hayabusa at a Press Conference today announced the lineup for the WMF 12/12/02 Korakuen Hall show which will be the biggest show for the promotion as they return to the former home of FMW.

In the main event, Mammoth Sasaki will be making his return after his fractured fibula that he suffered back on October 6th as he will face former friend and partner from their days of Team Zero and Team Kuroda, Tetsuhiro Kuroda. This will be their first singles match against each other since July 2, 2001 at Korakuen Hall. Mammoth will be looking for his first ever win over Kuroda at the show.

In the semi-main event, in a match put together due to the friendship of Hayabusa and All Japan President Keiji Muto, All Japan will be sending Satoshi Kojima to take on Mr. Gannosuke in a match that looks to be a very good match as well as a big time draw for the show. This will also be Gannosuke's first singles match up since August 11, 2001 against Kuroda.

In a match that is labeled a test for Garuda, Garuda will be facing Jinsei Shinzaki in a match labeled under a Garuda trial match, which shows that Garuda is being tested and being put against some very tough competition to see how he does.

In another interpromotional match on the show, Onryo will be taking on Toryumon's Dragon Kid in what will be a very good highflying match up with both men hitting some

Then in a match build as Women's Marvelous Match, Emi Motokawa will be wrestling in her first match since August 25, 2001 after suffering a herniated disc which required surgery for it. Emi had thought about retirement very heavily after FMW closed down but she will finally be making her return with partner Kyoko Inoue against Aja Kong and Chapparita ASARI. Emi's return looks to be brutal as the last time she was against Aja Kong on November 28, 2000, she was out of action due to injuries until February 6, 2001.

In the comedy match of the show, Ikeda-kun will be taking on Toryumon's Stoker Ishikawa, and in the opener GOEMON will team with fellow Brand Double Cross member Sukekiyo to take on Asian Cougar and Flying Kid Ichihara.

The show looks to be a very good show, and will hopefully establish an audience for future Korakuen Hall shows something that WEW is having a hard time doing so far.
Added: 10/25
Kaori Nakayama officially retired from pro wrestling at WEW's 10/23/02 Korakuen Hall show in a long battle against long time rival Shark Tsuchiya.
Nakayama was born in the world of pro wrestling as her father was a local promoter in Osaka and her mother Miyoko Hoshino was a two time All Japan Women's Pro Champion. Kaori entered the women's side of the FMW Dojo and trained under the likes of Shark Tsuchiya and Crusher Maedomari who were not easy at all towards girls trying to get into the business.
Kaori would make her debut at an FMW show on July 19, 1994 against Mayumi Shimizu at the age of 16 and would soon join Shark Tsuchiya's group for her first year in wrestling. She would then leave Shark's group and then go under the influence of FMW Joshi star Megumi Kudo and would become Kudo's second and regular tag partner.
After Kudo retired on April 29, 1997 at the Yokohama Arena, Kaori was thought to be the next star in the FMW's women's division but that would never take place. Kaori would be considered too small by Shoichi Arai, Go Ito, and Atsushi Onita being only 110 pounds, and was not believable in defeating the likes of Shark Tsuchiya and thus never got a win over Shark in her career.
Kaori would also by the office thought to just not be good enough to become the number 1 women's star in FMW and after she suffered an injury that kept her out of wrestling for almost a year in 1998, the women's division officially came to an end. Kaori would come back to FMW on November 20, 1998 where she would team with Ricky Fuji against Hido and Go Ito, but would end up taking the pin over Team No Respect's manager in the match. After that match, FMW quite frankly had no idea what to do with the only woman under contract to them.
They would begin a working relationship with GAEA in March 1999 for Kaori to do something as she would team with GAEA top star Sugar Sato but that working relationship would come to an end in May 1999 after FMW would close deals with every promotion feeling that they were not getting the fair deal by any of the promotions they were working with.
In July of 1999, FMW would decide to restart their women's division and would sign Emi Motokawa to be used as Kaori's opponent for houseshows to give something for the both of them to do every night until they would team together to take on Miss Mongol, Jazz, and Malia Hosaka at the FMW November 23, 1999 Yokohama Arena show where Nakayama would get one of the biggest wins of her career by defeating Jazz at the show.
Kaori and Emi would then be put in a feud with Azusa Kudo, in which Kudo would destroy the both of them until Emi would end up turning on Kaori and siding with Azusa, thus causing them to go to a different direction with Kaori without any direction again in her career.
The idea for Kaori to be put with Jado & Gedo on June 21, 2000 would take place as Jado and Gedo would also be left without any direction due to the end of Team No Respect earlier in the week with Kaori being used as their manager and then would turn into partner which would result in Kaori winning her first and only title in her career in the WEW 6 Man Tag Team Championship Titles after defeating the team of Kodo Fuyuki, Mr. Gannosuke, and Shinjuku Shark on September 17, 2000 with Kaori getting the biggest pin of her career pinning Fuyuki for the title. The team would end up vacating the titles, but then adding Masato Tanaka to the group and would call the team "The Complete Players" but then on February 21, 2001with FMW running low on money, Shoichi Arai would ask the locker room if anyone would want out of their contract, and The Complete Players along with Hideki Hosaka would take the offer and decide to become freelancers but would soon all go to work for Atsushi Onita's promotion as well as other promotions for the rest of 2001 for the most part.
While each of the wrestlers that left FMW would find a new home in a new promotion, Kaori would be the only one left out, and would work small shows before forming a partnership with long time rival Shark Tsuchiya.
After FMW officially ended, Kaori would team with Shark Tsuchiya at Atsushi Onita's FMW May 4, 2002 show where she would announce that she would be retiring by the end of the year and would begin talks with Fuyuki about working for his new WEW promotion until she retired. Nakayama would work for WEW as well as WMF's debut show before facing partner and long time rival Shark Tsuchiya at Korakuen Hall where the two would have a bloody battle before Nakayama would ultimately take the lost in her last match ever, afterwards her and Shark would hug and wish her luck as she would be leaving the business that Shark Tsuchiya had seen her through her entire 8 year plus career. Kaori would then be given a retirement ceremony after the match and a 10 bell salute for her pro-wrestling career.
Kaori Nakayama is leaving pro-wrestling at the young age of 24 and I wish her the best outside of the business.
After the main event of the WEW 10/23/02 Korakuen Hall show which would see Tetsuhiro Kuroda, TAKA Michinoku, and Gosaku Goshogawara who won his first ever Championship in his near 9 year pro wrestling career defeat the Zero One team of Shinjiro Otani, Masato Tanaka, and Kuroge Wagyuta after TAKA pinned Wagyuta with the Michinoku Driver. WEW World Champion Kintaro Kanemura would rush the ring and attack Masato Tanaka who will be challenging Kanemura for the WEW Title on November 4th at the Yokohama Bunka Gym and the two would have to be separated. Kanemura has been upset over what Tanaka did to WEW owner and friend of Kanemura, Kodo Fuyuki a couple of weeks ago when Fuyuki announced to Masato Tanaka about Tanaka challenging for the WEW World Title, and Tanaka replying with that he really didn't care if he didn't win a bush league belt in the WEW Title. Fuyuki furious with Tanaka threw water at him, in which Tanaka replied with elbowing and knocking out Fuyuki at the conference.
Added: 10/17
It was announced that at the 10/26 WMF show, Hayabusa's new autobiography will be released and by the end of the month will be available in Japanese book stores and by mail order. The book which was written while Hayabusa sat in the hospital for most of this past year which Hayabusa felt either extremely lonely or very bored. The book will start out about his injury last year and why he is still fighting for a come back even though some people would call it foolish, then move on to his early school days, then about his training in getting into wrestling, then to his becoming the ace the new FMW in 1995, to becoming a family man and someone that is cared by so many friends and fans.
At the WMF 10/15 Kitazawa Town Hall show, before the main event, Mammoth Sasaki came out to the ring on a crutch for his left leg due to his fractured fibula and told the fans at the show he was sorry for not being able to wrestle on a show that he was advertised for due to his October 6th injury. He would though announce that he plans to be back and better in ever for WMF in 2003. While Mammoth would be leaving the ring, the Double Cross Brand of Kuroda, GOEMON, Soldier and Sukekiyo would come out for their match at the same time Mammoth would be heading to the back. Kuroda and Mammoth would have a long stare down, before all 3 members of Brand Double Cross would jump Mammoth and would all begin to go after his injured leg, and would then begin to smash his crutch over his leg several times before leaving to head to the ring while Mammoth would be screaming in pain for help.
Soldier has fractured his right arm while training, and was not able to participate in the main event of the 10/15 which is why Sukekiyo did double duty for the show and worked the main event. Soldier came out with Kuroda and Sukekiyo with his right arm in a sling. Hisakatsu Oya will take Soldier's spot in his 10/26 match against Daiyu Kawauchi.
WMF announced at the 10/15 show that they would be returning to Korakuen Hall on December 12, 2002. It will be the first time many WMF wrestlers have wrestled in that building since this past Spring. It will also be the first time Hayabusa will enter the building that housed so many of his memorable matches since his injury in the same building on October 22nd of last year and will be the first time for Mr. Gannosuke in the building since breaking his leg there as well on January 6th of this past year.
Added: 10/10
Mammoth Sasaki suffered a fractured fibula wrestling on October 6th at the Nagoya show and will be out of action for three months which his comeback for the 12/12/02 WMF Korakuen Hall show.
Due to Mammoth's injury, GOEMON announced another assassin of his to debut at the upcoming October 15th show under the name Kaikiyo who will debut against Flying Kid Ichihara with Onryo being moved up to the main event to team with Garuda.
Added: 10/1
Mammoth Sasaki has gotten rid of Mitsuhiro Matsunaga from the WMF as he defeated Matsunaga at the September 29th show with the Mammoth Driver in five minutes and twenty seconds. Because of the WMF rule of no death matches in the promotion, Matsunaga went back to his roots of his karate style for the match up which is the style he used for the first couple of shows for FMW in 1989.
After the lost, Matsunaga got on the mic and announced that he would leave this independent promotion and will stop interfering in Mr. Gannosuke and Mammoth Sasaki's matches. GOEMON who has been the breakout star and lead heel for WMF so far did guest commentating for the match and was very unpleased with the outcome.
GOEMON also earlier in the card teamed with new partners Sukekiyo and Super Hentai to defeat Onryo, Flying Kid Ichihara, and Asian Cougar when GOEMON's new tag team partner Sukekiyo beat his former tag team partner Onryo when Sukekiyo used a backslide on Onryo for pinfall in a near a twenty minute long match.
Kodo Fuyuki along with Tetsuhiro Kuroda, Chocoball Mukai, Kaori Nakayama, Hido, and Azusa Kudo went out to Shoichi Arai's grave and paid respect to Arai by each praying in his memory. When Fuyuki addressed the cameramen taking pictures he announced that he hopes Arai's spirit will help his October 23rd Korakuen Hall show and November 4th Yokohama Bunka Gym show do very well financially.
Last updated: 9/17
WMF held its second show on September 16th at the Shinjuku Island Hall. Hisakatsu Oya who has returned to his old mid 1990's FMW heel look was boo'd very heavily going into his match with Mammoth Sasaki. Mitsuhiro Matsunaga would appear once again with his barbwire baseball bat, this time attacking Mammoth Sasaki, knocking out Sasaki and Oya would capitalize on it by putting on a submission on the knocked out Mammoth until the referee had no other decision but to stop the match and award the upset victory to Oya. When Mammoth would awake, he screamed for Gannosuke (Hayabusa is still spending most of his day rehabilitating at the hospital and could not appear at the show so Gannosuke would be acting commissioner for the show) to come out and screamed at Gannosuke to give him a match with Matsunaga as soon as possible. Gannosuke stated that even though Hayabusa stated he didn't want Matsunaga and his death match ways at any WMF show, he knew how Mammoth felt because of what Matsunaga did to himself at the debut show, and he would give Mammoth his match against Matsunaga at the September 29th Saitama Koshigaya Katsura Studio show. Sukekiyo (picture above) made his debut along with Brand Double Cross' leader GOEMON to defeat GOEMON's old partner and friend Onryo and Flying Kid Ichihara when Sukekiyo got the pinfall over Ichihara.
Tetsuhiro Kuroda and TAKA Michinoku announced their tag team partner in the main event at the WEW 9/14 show to be Hido, and while Kuroda would make his way to the top rope during the match, it would be Hido who would climb up the rope and hit a superplex on Kuroda causing the match to turn into a 4 on 2 handicap as Kanemura, Togo, Orihara along with Hido beat down Kuroda and TAKA until Orihara would easily get the victory in the Apex of Triangle Title Match. Fuyuki would then come out and announce that along with himself, Kanemura, and Hido that Team No Respect is back and that it would have a partnership with The Far East Connection.
Fuyuki would then turn his direction towards the bucket of Fermented Soybeans he had brought to the ring and while Kuroda look to be out, Fuyuki would punish Kuroda even more for participating for Hayabusa's WMF and while Dick Togo and Hido held on to TAKA, Fuyuki would try to poor the Soybeans on Kuroda but Kuroda would quickly get up, grab the bucket away from Fuyuki and dump the bucket right on Fuyuki's head.
After his tag victory at the show, Biomonster DNA would receive a letter from his mother. Biomonster would read the letter, then took off his mask to reveal Azusa Kudo, and left the ring and stated he will no longer be Biomonster DNA.
Added: 8/30
WMF ran its first show at the Tokyo Differ Ariake to a sell out crowd. WEW's Tetsuhiro Kuroda teamed with his former tag team partner Hisakatsu Oya to score the upset against Mr. Gannosuke and Jinsei Shinzaki after Kuroda pinned Gannosuke with a lariat. After the match, Mitsuhiro Matsunaga came out and attacked Mr. Gannosuke with a barbwire bat right in front of an embarrassed Hayabusa who was sitting down watching the show who had earlier stated he didn't want Matsunaga and death matches being brought in the WMF. GOEMON would come out and would shake hands with Matsunaga to signify his heel turn. Mammoth Sasaki would end up winning the main event defeating Garuda.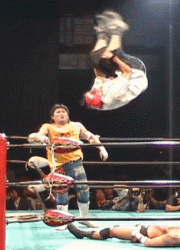 Added: 8/25
Kintaro Kanemura won back the WEW World Title since losing it to Fuyuki back on January 6, 2002 after defeat Tetsuhiro Kuroda. During the match, Kuroda was attacked by a masked man that Fuyuki earlier in the show claims is Garuda and WMF's version of Garuda is a fake. Garuda attacked Kuroda and hit him with 450 Firebird Splash and then Kanemura hit Kuroda with the Powerbomb for the win. and the title. Fuyuki then came out and said he was going to make an example out of Kuroda for working the WMF show on the 28th as all the WEW wrestlers came out and hanged a bloody Kuroda to a scaffold.
TAKA Michinoku, Takashi Sasaki, GENTARO, and Hi69 all came out and made the save for Kuroda and head to the ring to chase of Fuyuki's group in the ring for the end of the show as Kuroda is now apart of that babyface group against Fuyuki's heel WEW group.
Shark Tsuchiya & Kaori Nakayama teamed to defeat Biomonster DNA in a handicap match earlier in the show after Nakayama rolled DNA up for the pin, after the match Nakayama announced that her official retirement match would be on October 23, 2002 at the WEW Korakuen Hall show.
Added: 8/19
WMF held its first show at the Saitama Pepe Hall Atlas on August 18th as a warm up show for the wrestlers to be in shape and get rid of the ring rust as several of the wrestlers had not wrestled in months. Mr. Gannosuke made his return to the ring for the first time since January 6th when he broke his ankle after Vic Grimes came crashing down on a table with Gannosuke's leg still under the table. Mammoth Sasaki wrestled for the first time since March 15th as he left Fuyuki's group after he brought in Onita. Garuda who wrestled in Japan for the first time since November 23, 2001 pinned FMW Dojo friend Satoshi Makita who has a new outfit, blonde hair, and new name in the Solider in the 8 man tag. Happy Ikeda under the new name Ikeda-kun got the biggest win of his career as he ended the show by winning a 12 Person Battle Royal last eliminating Tomezo Tsunokake to end the show. Hayabusa who has been working 3 hours a day in a Rehabilitation center in Tokyo to relearn how to walk was unable to make the trip to the show, but Mr. Gannosuke came to the ring and got on the mic with Hayabusa on a cell phone and announced that they did not want Mitsuhiro Matsunaga attending the 8/28 Differ Ariake show as they do not want the promotion in death matches which Matsunaga brings, but just a straight wrestling type style, and that Tetsuhiro Kuroda would officially be the tag team partner for Hisakatsu Oya against Gannosuke and Jinsei Shinzaki at the show.
Kintaro Kanemura & Tetsuhiro Kuroda will be touring with Zero-One in late August with their most notable matches being on August 22 as Kanemura takes on former Big Japan wrestler Kamikaze and Kuroda facing Naohiro Hoshikawa. Kanemura also lost in the finals of the WEC Tournament at the Yokohama Bunka Gym on August 18th as he was beaten by former friend and partner Seiji Yamakawa.
Added: 8/12
Kodo Fuyuki announced that his WEW promotion has come to a fulltime deal with Samurai TV to air WEW shows starting for their August 23rd at the Differ Ariake show. Fuyuki also announced that he will resurrect the WEW World Title and WEW Tag Team Titles for the 8/23 show as Kuroda will take on Kanemura for the vacant WEW Title and TAKA Michinoku & Hi69 will take on Takashi Sasaki & GENTARO for the vacant WEW Tag Titles.
Atsushi Onita announced after his Onita FMW 8/11/02 show that he was taking the FMW name out of his promotion and stated that he wanted Hayabusa & Gannosuke to carry the FMW name in the WMF promotion. Onita also announced that he wanted to team with former arch rival Riki Choshu to face Zero One's Shinya Hashimoto and Shinjiro Otani in a future tag match.
Mitsuhiro Matsunaga and Hido had a rematch of their 5/4 thumbtacks death match in which both wrestlers at the 8/10 WEW show as the match turned out to be just as brutal as their first one as both wrestlers were covered all over their bodies in thumbtacks by the end the match before Hido once again got the victory over Matsunaga.
Tetsuhiro Kuroda ended up winning his B Block in the Zero One Fire Festival tournament but would end up losing in the finals to Shinjiro Otani in a match that went over 20 minutes. Otani has now won the tournament two years in a row. Kintaro Kanemura has also made it to the finals of the World Extreme Cup tournament and will face Seiji Yamakawa on 8/18 at the Yokohama Bunka Gym which will be the first singles match against the two since their WEW Hardcore title match at the FMW 5/5/00 Komazawa show.
Added: 8/1
Tetsuhiro Kuroda has sent word to WMF that he would like to be able to compete for the WMF starting at the 8/28/02 show because of his friendship with Hayabusa. Kuroda would have to get permission from Fuyuki because WEW is his number one priority at the moment. If Kuroda is given the ok to work the 8/28 show, he will most likely take over Matsunaga's spot with Oya against Gannosuke and Shinzaki, and Matsunaga would just appear at the show.

I got the Shoichi Arai tell all book which main selling point is exposing Atsushi Onita. Arai finished writing the book on April 30, 2002, just a little over two weeks later before his death. Arai goes into how Onita had a huge ego and was very selfish and was never liked by any of the wrestlers in FMW, but every wrestler as well as Arai knew Onita was their master because he was the one who had started FMW and that's where their job was, so while Arai as well as Hayabusa and Masato Tanaka did not like Onita personally, they remained loyal to him. His only friends in the business are Shoji Nakamaki and Ichiro Yaguchi. Onita was also horny nonstop and slept with hundreds of women before and after shows in the early 90's, as well as jealous of Hayabusa due to Hayabusa being the ace of the company even when Onita came back and also because of Hayabusa's looks. He states how when Onita retired that BMG Video which released their commercial videos cut off their deal with FMW because they felt that without Onita there was no chance that many tapes would be sold and Arai agreed to a deal with Toshiba EMI in July 1995.
He states that many women trainees would quit the dojo due to a lesbian trainer (no name given) would sneak into the beds at night in the Dojo and would eat the girls out. My personal opinion is that it would be Crusher Maedomari. Also, says that the top FMW women's wrestler (pretty much assuming it's Kudo) was a real bitch to rookie women wrestlers and treated them all like crap until they had paid their dues in the business. Kaoruko Arai was not his niece (she was a television actor). He felt that Fuyuki was very good with handling FMW's money and his match with Masato Tanaka on 11/23/99 he felt was one of the best FMW matches ever. He felt that Gannosuke, Kanemura, Jado, and Hido by themselves is what made Team No Respect work so well in 1998. In the last pages he talks about how tragic the Hayabusa accident was and hopes that Hayabusa is taken care of and recovers as soon as possible. The last chapter goes into his last days as he talks about filing FMW for bankruptcy on February 15, 2002 and going into hiding, and mentions that there were no threats on his life, but he was getting calls by the hour from lenders asking him where there money was and how he was in such debt due to borrowing so much money during the last couple of years of FMW. It's very clear that he knew his last days were coming up when writing the book and the last thing he writes is that he hopes the best for Fuyuki, Gannosuke, Kuroda, Kanemura, GOEMON, Oya, Ichihara, Ricky, DNA, and Onryo.
Kintaro Kanemura had his first singles match with Masato Tanaka on July 30, 2002 in Osaka for since their November 12, 2000 Yokohama Hardcore Match. Kanemura and Tanaka battled to a bloody brawl before the referee stopped the match at 15:49 in a Zero-One Fire Festival Match giving each wrestler one point. Kanemura now has 3 points in the tournament after losing to Samoa Joe but then defeating TAKA Michinoku, he now has one match left against Shinjiro Otani. Tetsuhiro Kuroda lost to Hirotaka Yokoi in his first match of the tournament, but defeated Steve Corino so now has 2 points with 2 matches left to go.
Added: 7/22

WMF announced the official lineup for their August 28th show at the Tokyo Differ Ariake. The 8/18 show will be used as a small workout show in which it will be able to get some of the wrestlers a chance to get rid of ring rust as most of the wrestlers haven't performed in front of a crowd in several months especially Gannosuke who who wouldn't have worked a match in over seven months, and it's just a chance to get their timing back for the August 28th show. The owner and president of WMF is Tetsuya Yamada who is the owner of Laing, Inc. which is the financial backer for WMF but Hayabusa will be the booker and decision maker for the promotion.
WMF will work with Michinoku Pro and Toryumon as far as trading talents to help improve the cards before they are able to sign more to the promotion.

Hayabusa gave a very serious interview about a week ago as he talked about everything from his early life to the recent tragedies he has gone through. He said he started out always a wrestling fan with his favorite wrestlers being Mil Mascaras and Tiger Mask, but was always frowned upon for liking wrestling until he met Mr. Gannosuke in college who was also a wrestling fan and pushed him to go into training with him. He picked FMW because of such a fan of Atsushi Onita he was, and the style that FMW (which was a year old about the time) was so new, fresh and exciting. He said he didn't in particular like Fuyuki's Entertainment style route that he had pushed FMW into as everything would start and then be cut off, not giving anything in the product to be given any emotion towards to. He admitted he feared for his life when he was paralyzed on October 22, 2001, mostly because of how sick he had got right away while in the hospital, but doesn't remember anything shortly after the accident up until December 12, 2001 when he had surgery to remove the germs from his heart, so about a month and a half is a blur to him at this point due to all the medicine they gave him that wipes away your memory. He said he practices walking 2 to 3 hours everyday in a rehabilitation center and his goal is to learn how to walk again and then be able to make a return to the ring as Hayabusa again.
Hayabusa was then asked about Shoichi Arai and his death, Hayabusa said that right about when FMW went bankrupt, he got a call from Arai who mentioned thinking about suicide due to everything that had happened and how it would get his family out of depth that he had caused them. Then on May 14, 2002, he got a call from Arai who brought up the suicide again but Hayabusa eventually managed to think he had convinced Arai otherwise to not kill himself by the time they hung up. But then two days later, he got a tape with Arai talking about by the time he were to have this gotten this tape, he would have already committed suicide and that he was sorry and that he hopes he didn't disappoint anyone and that he hopes everyone from FMW would help Hayabusa out. Hayabusa admitted he had became very depressed afterwards. He was then asked about his promotion, and asked about starting a relationship with Onita FMW and Fuyuki's WEW, and said that it might happen in the future, but not right away and he hopes WMF will do a good job at trying to replace FMW's soul.
Added: 7/3
Eiji Ezaki made his first public appearance in Tokyo on July 3rd along side friends Jinsei Shinzaki and Mr. Gannosuke in a wheel chair to deliver the announcement that he would be starting the new promotion "WMF" Wrestling Marvelous of the Future. "I want to do my best desperately also for one day aiming at an early ring return. Until then I will be commissioner" said Hayabusa whose voice was notably shaking during the press conference. Jinsei Shinzaki will be a General Manager for the promotion and will work talent exchange with WMF and other promotions, most likely Michinoku Pro and All Japan Pro Wrestling. Eight wrestlers were announced as official WMF wrestlers, all being former FMW wrestlers. Mr. Gannosuke, Garuda, Mammoth Sasaki, GOEMON, Onryo, Flying Kid Ichihara, Satoshi Makita (who will work under a different ring name), and Happy Ikeda (who will work under the name Mr. Ikeda). The financial backer for the WMF is Laing, Incorporated which is a computer gaming enterprise corporation in Japan. The first WMF show will be on August 18th in Saitama Kawagoe and then the next being at the Tokyo Differ Ariake on August 28th.
Atsushi Onita has challenged Zero-One's Shinjiro Otani to a barbwire match at his next FMW show on July 14th at the Tokyo Differ Ariake.
Added: 7/1
Hayabusa broke his silence for the first times in months, the last report I had was that back in March was that he was able to stand with doctors assistance and was still in the rehabilitation center and today Eiji Ezaki announced that he would start his own promotion "WMF" Wrestling Marvelous of the Future with the initials being FMW backwards. Eiji was greeted by Mr. Gannosuke today who after 6 months is finally able to walk and finally released from his own hospital stay where the two came up with the idea of the new promotion. They plan on running their first show on August 28th and Mr. Gannosuke will be the center of the promotion with Hayabusa promising to show his face to the public for the first time in 10 months no matter where he is at the time. The promotion would mostly include the likes of Hayabusa's friends GOEMON, Onryo, Mammoth Sasaki, and Ricky Fuji. Hayabusa while still being unable to walk is still rehabilitating and hopes very much to be able to walk and attend the show in August.
WEW ran its second Korakuen Hall show on June 30th which marked the debut of former FMW and current Big Japan wrestler Hido who defeated Biomonster DNA. It was the first time since May 27, 2000 that Hido had wrestled in a Fuyuki booked show. After the win, Hido got on the mic and called out WEW owner Kodo Fuyuki and told him to bring out Kanemura for him. Hido then began to bad mouth calling him broken down and worthless which resulted in Fuyuki kicking Hido right in the crotch to get him away from the ring.
In the main event, Sanshiro Takagi and TAKA Michinoku teamed up to defeat Kintaro Kanemura and Tetsuhiro Kuroda when Takagi got his revenge on Kanemura. During the match, Masao Orihara came out and interfered on Kanemura's behalf. After the match, Kuroda go to on the mic and told Kanemura he didn't want Orihara around and challenged the two of them to a match for next months Korakuen Hall show on July 22nd. The main event was signed and will be a six man tag pitting Tetsuhiro Kuroda, TAKA Michinoku, and Takashi Sasaki against Kintaro Kanemura, Masao Orihara, and Chocoball Mukai. The team of Kanemura and Kuroda has only broken up in the WEW but will still team up to represent WEW in Zero-One, Big Japan, and DDT.
Kodo Fuyuki announced the next couple of shows for 2002 afterwards. They will run at the Isehara Food Market on July 27th, which was a once a year stop every May for FMW. Nagoya International Event Hall has been booked for August 10th. Tokyo Differ Ariake will take place on August 23rd, and the big show for the promotion will take place on November 4th at they debut at long time FMW ran Yokohama Bunka Gym. Kodo Fuyuki announced that he would like to get back atleast one more time at the Yokohama Bunka Gym as he fills his return to the ring would help draw better.
On June 29th, Kanemura and Kuroda teamed to face their old arch rival Masato Tanaka and his tag partner Shinjiro Otani for the NWA Intercontinental Tag Team Titles with Otani pinning Kanemura to defend the Titles for the 3rd time. Biomonster DNA will participate in Big Japan's World Extreme Cup bracket D in early July and will work against Mad Man Pondo, Axl Rotten, and Abdullah Kobayashi. Kintaro Kanemura is also in the tournament in Bracket C. Hisakatsu Oya also appeared on a Big Japan show defeating Ryuji Ito in a undercard match, Oya had been mostly working a small independent promotion in Akashi and taking a break for the most part.
Zero-One officially announced the participants in the Fire Festival Tournament Brackets. Block A will have Kintaro Kanemura, Masato Tanaka, Shinjiro Otani, TAKA Michinoku and a wrestler to be named later. Block B will consist of Tetsuhiro Kuroda, Steve Corino, Yuki Ishikawa, Kohei Sato, and another wrestler to be named later.

DDT 6/20/02
Kintaro Kanemura & Super Uchu Power d. GENTARO & Tomohiko Hashimoto when Hashimoto was DQ'd (4:58)
Tetsuhiro Kuroda & Onryo d. Sanshiro Takagi & Tanomusaku Toba when Onryo pinned Toba (11:53)

DDT 6/28/02
Sanshiro Takagi & MIKAMI & Tanomusaku Toba d. Tetsuhiro Kuroda & Onryo & Shinjuku Shark in a Best 3 out of 5 Falls Match
Tetsuhiro Kuroda pinned Sanshiro Takagi (1:10)
MIKAMI pinned Shinjuku Shark (9:50)
Onryo pinned MIKAMI (9:59)
MIKAMI pinned Onryo (17:00)
Sanshiro Takagi pinned Tetsuhiro Kuroda (18:50)
Kintaro Kanemura d. GENTARO (18:01)

Zero One 6/29/02
Shinjiro Otani & Masato Tanaka d. Kintaro Kanemura & Tetsuhiro Kuroda when Otani pinned Kanemura (20:25) to Defend the NWA Intercontinental Tag Titles for the 3rd Time.

Big Japan 7/7/02
Kintaro Kanemura & Tetsuhiro Kuroda d. Ryuji Yamakawa & Shadow WX when Kanemura pinned Yamakawa (15:42)

Zero One 7/7/02
Kohei Sato & Ryouji Sai d. Kintaro Kanemura & Tetsuhiro Kuroda Sato when Sato pinned Kuroda (14:29)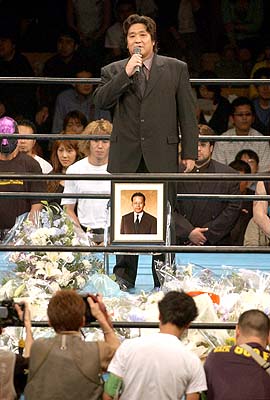 Added: 5/28

WEW held their public mourning of the death of Shoichi Arai at the 5/27 Korakuen Hall. Flowers were put in the ring next to his picture, while Fuyuki talked about Arai and how his life had been ever since the closing of FMW. A 10 bell salute was then given to honor Arai. Masato Tanaka, Hideki Hosaka, Shinjuku Shark, Megumi Kudo, Combat Toyoda, The Great Kojika, and Ryuji Yamakawa as well as others showed up to honor Arai.

WEW held their first Korakuen Hall show, while it was in front of less fans than FMW with the exception of their 4/20/99 PPV ever saw at Korakuen Hall. Tetsuhiro Kuroda and Kintaro Kanemura teamed up to defeat DDT's Sanshiro Takagi and Michinoku Pro's Dick Togo when Togo turned Takagi in the match to set up the double from the FMW wrestlers which would result in Kanemura hitting Takagi with the Thunder Fire Powerbomb for the win. After the match, K-Dojo owner TAKA Michinoku came out to make the save for Takagi and the main event for the next WEW Korakuen Hall show on 6/30 has been signed for Tetsuhiro Kuroda and Kintaro Kanemura to take on TAKA Michinoku and Sanshiro Takagi. Kintaro Kanemura will challenge Takagi for DDT's K-OD Heavyweight Title on 5/31.

As of right now, the only former FMW wrestlers that are working for WEW is Tetsuhiro Kuroda, Kintaro Kanemura, Biomonster DNA, and Chocoball Mukai. Hopefully more of the old FMW wrestlers will be added on for future shows, but it does not look like that will be the case anytime soon.
Onita's next promoted show under the FMW will be on June 2nd at the Saitama Koshigaya Katsura Studio. The two top matches of the show will be Tetsuhiro Kuroda against former FMW rookie and current Zero-One wrestler Yoshihito Sasaki and the main event being a barbwire match of Atsushi Onita, Ricky Fuji, Gosaku Goshogawara, & Chocoball Mukai against Mr. Pogo, Mitsuhiro Matsunaga, Tomohiro Ishii & Masaru Toi
A new promotion called Shinjuku Pro which has had DDT influence in the past will be running a show at a night club on June 2nd with The Great Sasuke defending his NWA Middleweight Title against GOEMON as the main event. Ricky Fuji will also wrestle on the show.
Added: 5/21
After getting word of Shoichi Arai on May 16th, Kodo Fuyuki who had just gotten out of the hospital the week before was rushed back to the hospital with an anxiety attack. Fuyuki was let out of the hospital two days later, and was told that he's going to have to take a antineoplastic drug once a week for the next 6 months and if everything goes smoothly, he will be totally cured in a year. Fuyuki who expressed much sadness in the passing of Shoichi Arai despite the two not getting along at all after FMW ended in February. Fuyuki announced at the beginning of the WEW 5/27 Korakuen Hall show, they will hold a ceremony in honor of Shoichi Arai. Fuyuki on the 20th held a press conference and announced the future of WEW with them having a working agreement with DDT and TAKA Michinoku's K-Dojo promotion. The main event of the 5/27 Korakuen Hall will be Tetsuhiro Kuroda and Kintaro Kanemura against Sanshiro Takagi and Dick Togo. Fuyuki also announced that he will run at the Hakodate Citizen Gym on June 16th and Korakuen Hall on June 30th and July 22nd, and while he knows the promotion is going to start small, his goal is for WEW to surpass New Japan as the number one promotion in Japan sometime in the future.
Click here for WMF & WEW News Early 2003