Added: 7/9
The FMW Reunion show promoted by Go Ito and funded by Kaoru Fuyuki under the Fuyuki Army Promotion name which drew a bigger crowd than any WEW show did at Korakuen Hall with an announced 2000 fans coming for the show.
The main event saw the team of Genichiro Tenryu, Kintaro Kanemura, and Masao Orihara defeat Mr. Gannosuke, Mammoth Sasaki, and TAKA Michinoku when Kanemura hit a senton splash on Mammoth for the win. Before the match, Kanemura would do the TNR Dance right in front of Gannosuke, as the former friends would be in a match together for the first time since January 5, 2002. Mammoth and Kanemura went at it right away as the match went on which resulted in Mammoth choke slamming Kanemura off the apron through a table. Both Gannosuke and Mammoth went against Tenryu during the match. Gannosuke managing to knock Tenryu down and put him in a Scorpion Deathlock before it was broken, and Mammoth exchanging chops with Tenryu. Tenryu would end up nailing Mammoth with a chair shot busting him open and then sending in to a pile of chairs. Tenryu would hit the spot of the show as he would hit a plancha with 5 wrestlers on the outside for him to land on. TAKA would get involved by getting Kanemura in a Crippler Crossface before it was broken up. Gannosuke & Mammoth would work together for the entire match until Gannosuke would turn on his WMF rival and clothesline and then leave Mammoth laying as Gannosuke took off. Tenryu would then begin to attack Mammoth, Orihara would hit a supplex off the second turnbuckle on Mammoth, and Kanemura would finish Mammoth with the Back YAMA senton splash for the win. Afterwards, Tenryu would show respect to Mammoth by offering him a water bottle. Mammoth would walk off frustrating as Hayabusa would accompany him backstage as Kanemura, Tenryu, and Orihara celebrated by all three of them doing the TNR Dance. Afterwards, Mammoth talked about how much he enjoyed working with Tenryu and that he learned a lot in that match, and hopes to have a singles match with Tenryu in the near future. Hayabusa announced that this show would be the final chapter of FMW and that is was more of appropriate send off for FMW than their final February 4, 2002 show right before the bankruptcy. It also looks like that Tenryu may take Onita's spot against Mammoth in the main event for the WMF 7/25/03 Korakuen Hall show as Onita is injured at the moment. It is still up in the air as only the undercard was announced for the show afterwards.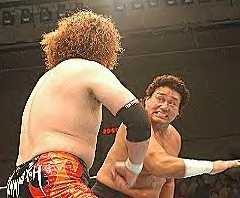 In what was the match of the night, Tetsuhiro Kuroda & Masato Tanaka teamed for the first time since Kuroda turned on Tanaka on November 28, 2000 to take on Dick Togo & Ikuto Hidaka. Kuroda and Tanaka both hit their signature moves as well as their old tag teams they had perfected while teaming for years in FMW. Tanaka ended up pinning Hidaka for the win as four of them held hands in respect for each other.
GOEMON & GENTARO defeated Hido & Chocoball Mukai in a Street Fight after GOEMON made Mukai tap to the Camel Clutch. Both GOEMON and Hido bled during the match with GOEMON carving Hido's head open with his knife. After GOEMON got the win, both Hido and Chocoball laid both GOEMON and GENTARO out with chairs until Onryo return to make the save. Onryo put his hand out to GOEMON afterwards and GOEMON shook it as GOEMON & Onryo were officially back together as a team. Onryo then put his hand out to GENTARO which GENTARO slapped away. Afterwards, GOEMON announced that the Brand Double Cross was officially over and they can go their separate ways for all he cares and that he and Onryo were back together as a team. GOEMON & Onryo will take on TAKA Michinoku & GENTARO at the WMF 7/25/03 Korakuen Hall show.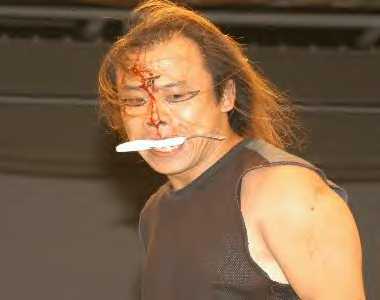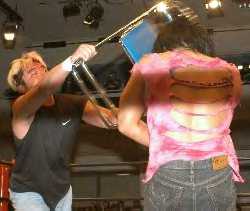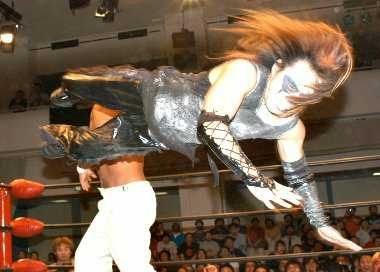 Added: 7/2
WMF has come upon rough house show times as their Northeastern shows back in June did not do very well although were all booked in small buildings, but their 6/22 Yamagata Funagata B & G Sea Center Show was canceled due to poor ticket sales. Their planned 8/6 show in Yamaguchi was also canceled due to poor ticket advances for the show.
Added: 6/18
The FMW Reunion show which will be on July 7, 2003 at Korakuen Hall and will go under the "Fuyuki Army Promotion" name. The list of the wrestlers that will wrestle at the show are. Genichiro Tenryu, Kintaro Kanemura, Tetsuhiro Kuroda, Hido, Chocoball Mukai, Gosaku Goshogawara, Shinjuku Shark, UZ, Mr. Gannosuke, Mammoth Sasaki, GOEMON, TAKA Michinoku, Dick Togo, Ikuto Hidaka, Masao Orihara, Takeshi Sasaki, Shoichi Ichimiya, and GENTARO.
Added: 6/14
WEW President Go Ito announced that the WEW 7/7/03 Korakuen Hall show that was booked will now be an FMW reunion show. Go Ito met with WMF Commissioner Hayabusa and Hayabusa agreed that the WMF talent will take part on the show. It will be the first time since the Fuyuki Army Promotion split up back in April 2002 that the WMF/WEW rosters will be together on the same show, this time with Mr. Gannosuke on the card. Go Ito also announced that he wants Genichiro Tenryu to participate on the show as well. Go Ito will continue to promote WEW Korakuen Hall shows for August 25th, September 22nd, and December 5th as he wants to keep the WEW name alive for Kodo Fuyuki, but knows that changes will have to be made for the promotion to keep it going.
Atsushi Onita vs. Mammoth Sasaki will be the main event for the WMF 7/25/03 Korakuen Hall show. After Mammoth Sasaki was pinned by Mr. Gannosuke in a tag match back on June 1st. Mr. Gannosuke got on the mic and told Mammoth that if he wanted to be the ace of this promotion that he was going to have to improve if he wanted to have a chance against Onita.
Added: 5/16
Onryo will be out of action for 3 months after fracturing his elbow during a match in Big Japan on May 7th. Onryo who was scheduled to be in the WMF Jr. Heavyweight Tournament was replaced by Sasuke the Great who was disqualified in his match against Asian Cougar after attacking referee Ted Tanabe in the match. GENTARO who recently became a freelancer after working for DDT will take his spot in a tag team match with Tetsuhiro Kuroda against GOEMON & HISAKATSU on 5/24/03 at the Osaka Sky Dome Hall.
Added: 5/8
Click the link for WEW 5/5/03 Kawasaki Stadium Notes and Pictures.
May 5th has always been one of the biggest days in Japanese wrestling. It's the final day of the Golden Week in Japan which allows many people to take the week off of work. FMW used it as the biggest day of the year for many years, with most of them coming from Kawasaki Stadium.
It was the date in 1991 that Eiji Ezaki made his FMW debut.

Atsushi Onita signed a contract in 1993 that would have FMW run every year on May 5th at Kawasaki Stadium. It would start in 1993 with the main event of the Kawasaki Stadium show seeing Atsushi Onita defeat Terry Funk in the first ever Exploding Ring Death Match.

The next year followed with the first time ever that FMW drew over 50,000 fans for a show with Atsushi Onita taking on WAR's Genichiro Tenryu in a Exploding Barbwire Cage Death Match with the stipulation being that if Onita were to lose, he would have to retire the next year. Tenryu would win the match.

Onita would spend the next year promoting his Retirement Match for May 5, 1995 against friend Tarzan Goto.
Just a week before the show though, Goto would bail out and leave FMW for IWA. Onita then would decide to put former Dojo student Eiji Ezaki who had been going under the name Hayabusa for his retirement show, with Onita passing the torch to Hayabusa as the ace of FMW. It would be the biggest show in FMW history with 58,250 fans attending in a Exploding Cage Barbwire Death Match.
Onita would win his Retirement Match after Hayabusa would miss a Moonsault off the top of the cage and then be hit with two Thunder Fire Powerbombs.

The next year, without Onita, FMW would still honor its contract with Kawasaki Stadium and run at Kawasaki Stadium on May 5, 1996 without its usual main draw for the show. Megumi Kudo would defeat the retiring Combat Toyoda in a Exploding Barbwire Death Match in one of the greatest FMW matches ever, and Hayabusa would team with Masato Tanaka to lose to Terry Funk and Mr. Pogo in a Exploding Ring Barbwire Death Match.

FMW would not run on May 5, 1997 due to renovations of Kawasaki Stadium due to the building becoming very old and not earthquake proof as well as filling more seats into the stadium. Instead FMW would run on April 29, 1997 at the Yokohama Arena for the Megumi Kudo Retirement Show.

FMW would not at Kawasaki Stadium in 1998 due to the inability to run a successful show and would officially end the contract with Kawasaki that would give them the right to run there once a year. Instead, FMW would run a show under Atsushi Onita's ZEN group on May 5, 1998 in Wakayama with Atsushi Onita officially ending the ZEN group on that day.

FMW would return running big shows on May 5, 1999 at the Yokohama Bunka Gym drawing 2800 fans with the main selling match being Hayabusa & Jinsei Shinzaki taking on Masato Tanaka & Tetsuhiro Kuroda with the winner of the pinfall getting a shot at Kodo Fuyuki's FMW Double Titles. Kuroda would score the biggest pinfall of his career and pin Hayabusa to get a shot at the main event of the show. Kuroda would lose in the main event to Kodo Fuyuki with the reformed Team No Respect in his corner, which would set up for the Team FMW vs. Team No Respect feud going into the November 23, 1999 Yokohama Arena show.

FMW would then run at the Komazawa Olympic Indoor Park Gym on May 5, 2000 with the main event being Hayabusa vs. Masato Tanaka in a match built as FMW vs. ECW Japan. Hayabusa would end up getting his first win on May 5th since 1993 after defeating Tanaka in one of the better matches of 2000 to finally put an end to ECW Japan.

FMW would then run in what would turn out to be its last show on May 5th as they would return to Kawasaki Stadium on May 5, 2001. Although the Stadium itself had been destroyed in 1999, the grounds and property still remained open. FMW would rent the space and fit in 10,500 fans for a show that saw Hayabusa return after a 6 month absence due to double reconstructive elbow surgery to team with The Great Sasuke against Tetsuhiro Kuroda and Mr. Gannosuke in a Octagon Exploding Cage Match. Hayabusa would end up winning the match after pinning Mr. Gannosuke. FMW would plan to run a show on May 5, 2002 at the same Kawasaki Stadium spot, they would end officially declaring bankruptcy on February 15, 2002.

Kodo Fuyuki would begin his new WEW promotion and take over the FMW spot and run the first ever WEW show at the building drawing 16,800 to see the return of Atsushi Onita on May 5th since 1995 to team with The The Great Sasuke against Zero One's Shinya Hashimoto and Shinjiro Otani. The match would end in a DQ due to Onita spitting mist and throwing a fireball at Hashimoto to end the match.

WEW now ran for its second straight year at Kawasaki Stadium on May 5, 2003, this time drawing a sell out of 18,500 to see Kintaro Kanemura taking the place of the late Kodo Fuyuki fight Shinya Hashimoto in a Exploding Barbwire Death Match.
The show would be built as the Kodo Fuyuki Memorial Show with every wrestler on the show attending to give their farewell to Kodo Fuyuki.
Added: 5/3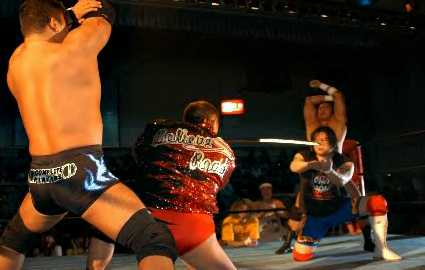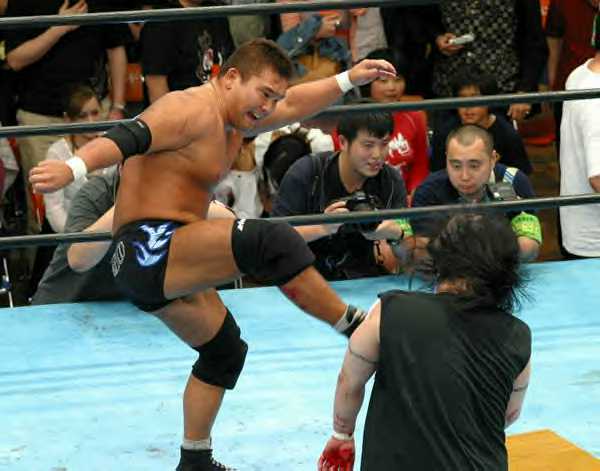 WEW ran at Korakuen Hall on May 3, 2003 in what was a very good show drawing a very good number of 1800 just two days before the big WEW 5/5/03 Kawasaki Stadium Show. Kanemura would be busted open in the same spot that he was for his match against Kuroda earlier in the week, and would bleed big time once again. Otani would end up hitting a dragon supplex on Kuroda and then finishing him off with the Spider Bomb for the win. After the match, a video of Shinya Hashimoto played talking about his match against Kanemura at Kawasaki. Hashimoto stated that although he in inexperienced at an exploding barbwire death match, he will defeat Kanemura. Hashimoto stated he made a promise to Fuyuki that he would give it his all for the match, and Kanemura is going to have to pay as a result of that promise. After the video of Hashimoto ended, Kanemura would pretend to cry which resulted in everyone in attendance laughing. Kanemura stated that he is going to symbolize all of WEW and its fighters for this match, in memory of Fuyuki. Tetsuhiro Kuroda will challenge Masato Tanaka in the semi main event of the show. It will be the first time the two have wrestled in a singles match since Kuroda defeated Tanaka on January 5, 2000 at Korakuen Hall for the WEW World Title.
Zero One's Steve Corino defeated TAKA Michinoku earlier in the show. TAKA had most of the offense for the match, but Corino would end up countering with a Powerbomb and then finishing TAKA off with two Northern Lights Supplexs for the win. TAKA will now go on to face Shinjiro Otani on May 5th at Kawasaki, and Corino will go on to face Shinjuku Shark on the same show.
Zero One's Jun Kasai & Yoshihito Sasaki defeated Hido & Gosaku Goshogawara in a Weapons Street Fight after Kasai pinned Goshogawara. The match was heavily bloody, with ladders, tables, and chairs being used in the Street Fight. Kasai would pin Goshogawara after hitting him with a Pearl Harbor Splash off the ladder for the win. Hido & Gosaku Goshogawara will team up once again to take on Jun Kasai with his partner being Mr. Danger Mitsuhiro Matsunaga for a Death Match at Kawasaki.
Kintaro Kanemura successfully defended the WEW World Title against friend and tag partner Tetsuhiro Kuroda on April 29, 2003 at the Tokyo Differ Ariake. The two brawled all over the arena, including setting Kuroda on to a table, as Kanemura would dive off the balcony of the arena right on to Kuroda. They would fight back in to the ring where tables and chairs would begin to get involved. Kanemura would crotch Kuroda with a table as well as supplex him off a table set on the turnbuckle through another table. Both wrestlers would bleed heavily during the match, as Kanemura would honor Kodo Fuyuki by hitting Kuroda with the Charging Lariat for 2. Kanemura would eventually get the win in 19 minutes 6 seconds. after hitting Kuroda with a Thunder Fire Powerbomb on to a pile of chairs for the win. Afterwards, Kanemura and Kuroda would congratulate each other on a well done match and look to set their sights for their tag match against Otani & Tanaka on May 3rd at Korakuen Hall.
Big Japan's Shadow WX defeated Gosaku Goshogawara in a Fluorescent Lights Death Match. Fluorescent Lights were placed all around the ring for the wrestlers to use as weapons. Both wrestlers were sent through the the lights as well as smashed the lights over each others heads. By the end, glass and blood was all over the ring. Shadow WX would get the win after hitting a Brainbuster on Gosaku with glass being everywhere in the ring at 10 minutes 17 seconds.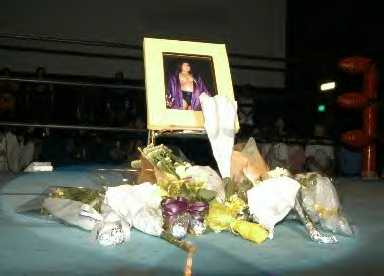 This was the first WEW ran show since Kodo Fuyuki's death. Before the show started, the picture that was used at Fuyuki's wake was placed in the ring, and fans were allowed to bring flowers to put in the ring. All the WEW wrestlers met up at the ramp before the show, and a 10 bell salute was given to Fuyuki to honor their friend and boss.
Added: 4/29
Mammoth Sasaki canceled his WMF 4/27 match with Mr. Iwaonosuke at the Kawagoe Exercise Hall due to a family member being taken to the hospital. It looks like that Mammoth Sasaki will face Atsushi Onita on July 25, 2003 at Korakuen Hall.
WMF will be having a Tournament to crown the first champion for WMF. There will be an eight man tournament starting on May 11th to crown the first ever WMF Jr. Heavyweight Champion. Onryo vs. Asian Cougar and Tomoya Adachi vs. Flying Kid Ichihara will be the first round matches on 5/11, the other first round matches will be on 5/24 when Soldier takes on Mineo Fujita, and GOEMON wrestles Ikeda-kun on 6/1. The semi-finals will be on 6/20 and 6/21. Finals of the tournament to crown a new champion will be on July 25, 2003 when WMF comes back to Korakuen Hall.
Added: 4/27
The official WEW 5/5/03 Kodo Fuyuki Memorial Kawasaki Stadium show lineup was announced. Kintaro Kanemura will appear in Kodo Fuyuki's robe in honor of his friend.
Added: 4/24
Hayabusa, Mammoth Sasaki, and Atsushi Onita visited former FMW wrestler Sambo Asako in the hospital. Asako who started wrestling in 1990 for FMW and retired on 1/5/95 against Onita, lost his right leg to diabetes. Onita stated he will be running a show on May 25th at the Tokyo Differ Ariake, and Hayabusa stated that he will send a WMF match on the show.
Mammoth Sasaki also challenged Onita to a match in the future. Mammoth last year left the Fuyuki Army Promotion with many other former FMW wrestlers after Onita and Fuyuki had became partners and Onita would be wrestling for the promotion.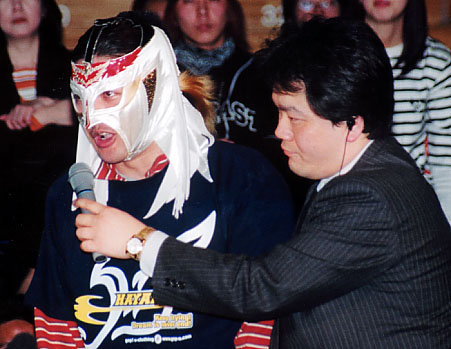 Added: 4/13
WMF ran its second show ever at Korakuen Hall on April 11, 2003 entitled "Marvelous Day 2nd". The crowd looked to be the exact same amount as the December 12, 2002 Korakuen Hall show with basically the same people attending the shows. The show was taped for Samurai TV and will air on April 29th and then will air again on April 30th.

Hayabusa once again started off the show by coming down the entrance way with WMF financial backer Tetsuya Yamada holding the microphone for him. Hayabusa was able to stand up completely by himself and then was able to walk using his walking canes and talked about his improvement and that he will never let his dream die of wrestling at least one more match. He then told the fans that they would enjoy the show, and that he is very much looking forward to the main event. He also said that he would like to hear a response from the show because there is always room for improvement for pleasure.
In the main event of the show, Zero One's Masato Tanaka defeated Mammoth Sasaki at 16 minutes 55 seconds after a Rolling Elbow Smash. It was brought before the match that Sasaki debuted the name "Mammoth Sasaki" against Masato Tanaka on September 15, 2000. This would also be entitled Mammoth's third match trial (his first was defeating Garuda and the second would be the double KO against Kuroda).
The match would start with both trading words before beginning a very physical match. Very physical shots with both tough wrestlers giving it all they got towards each other would start off. Eventually Tanaka would hit the reverse DDT off the top turnbuckle and begin using his signature moves before Mammoth would end up countering and hitting a German Supplex causing Tanaka to land right on his head. Mammoth would then use some of his signature moves including a Awesome Bomb, a flying elbow off the top rope, and then would choke slam Tanaka off the apron on to a table placed on the outside. Tanaka would end up kicking out and would eventually put away with Mammoth with the Rolling Elbow Smash for the win. Afterwards, Tanaka would get on the mic and congratulate Mammoth for putting up such a fight. Tanaka then stated how proud he was of Sasaki from going from the FMW Dojo student Yoshinori Sasaki to now Mammoth Sasaki, the ace of WMF.
Mammoth would get on the mic and thank Tanaka for the kind words, and stated while Tanaka was a great opponent, he wants opponents like Tanaka to show his ability and beyond. The two would shake hands and the show would end with both wrestlers the fans around ringside hands.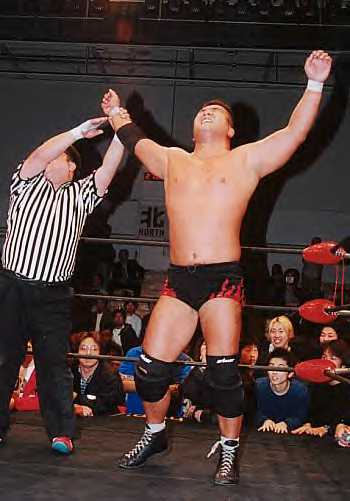 In the semi main event of the show, Mr. Gannosuke would defeat Jinsei Shinzaki with a Shining Wizard for the win at 13 minutes 30 seconds. In what was build as a 5 year rematch from their April 21, 1998 Korakuen Hall match in FMW which would result in Shinzaki getting the win, this time it would be Gannosuke getting the revenge on his former tag partner. Gannosuke would come out in his black Buddhist outfit that he originally debuted in on November 20, 1998 but had since had it shelved since 1999.
Jinsei Shinzaki who was furious with Gannosuke would come out and attack Gannosuke right away and throwing him into the crowd into a stack of chairs. But then Mr. Gannosuke's GUN team mates Mr. Rocknosuke and Mr. Iwaonosuke would come out and attack Shinzaki. Shinzaki would be thrown in the ring and worked on until Gannosuke would be able to compose him himself and make it into the ring, where all three would set Shinzaki up for a Praying Powerbomb. Gannosuke would then look at Hayabusa watching the match from the broadcast booth and tell both GUN members to attack Hayabusa. As both Rocknosuke and Iwaonosuke would make their way towards the helpless Hayabusa, Shinzaki would manage to get away from Gannosuke and run to make the save for Hayabusa. Shinzaki would attack both GUN members and get them away from Hayabusa.
Gannosuke would then attempt to attack Shinzaki while taking care of the GUN members from behind but Shinzaki would realize and Gannosuke approaching him and get a uppercut on Gannosuke. The two would begin to battle into the crowd with Shinzaki eventually hitting a Praying Powerbomb on Gannosuke from a far distance on to a table which would bust Gannosuke open very badly, with blood covering half his face.
The two would then finally make it back to the ring. Shinzaki would hit a Praying Powerbomb on Gannosuke as well as a Missile Dropkick and then putting Gannosuke in the Gokuraku Gatame choke. Gannosuke would some how manage to make it to the rope to break the choke. With his last breath, Gannosuke would out of nowhere hit a Shining Wizard on Shinzaki and manage to get the victory over Shinzaki.
Mr. Pogo would then come out after the match was over and go right after Gannosuke who was still beaten and bloody from the match. But before Mr. Pogo could do anymore damage to Gannosuke, Shinzaki would make the save for Gannosuke out of frustration and hit a front face kick on Pogo sending him out of the ring. Gannosuke would walk away the bloody winner, and Shinzaki would walk towards Hayabusa at the announcing booth to talk to his friend in a very frustrating state of mind.
In what will turn out to be Garuda's last match in a very very long time, Tetsuhiro Kuroda defeated Garuda at 8 minutes 49 seconds. Kuroda went on the attack earlier, using his lariats and hitting signature spots. Garuda would come back hitting a flying body press, but Kuroda would end up getting the quite easy victory, finishing Garuda off with a lariat. Garuda would then get on the mic and state that he has been very badly injured for some time now, and had only recently came back to participate for this show and stated that the injuries that he has, the he maybe out up to one or two years.
Kuroda would get on the mic and wish Garuda the best of luck on a speedy recovery. Garuda had been seriously injured since January, causing his match against fellow FMW trainee Soldier on February 15, 2003 to be moved to the opening match, which would last less than 5 minutes before the referee would have to stop the match due to the pain Garuda had been in. Garuda would come back on March 29, 2003 so that he could participate for this Korakuen Hall show, but now will be letting his serious injuries heal.
Soldier would get to wrestle for his first time at Korakuen Hall since April 9, 2002 against Ultimo Dragon's T2P's Milano Collection A.T. Milano A.T. would defeat Soldier at 4 minutes 53 seconds with his signature A.T. lock.
The match would be a very basic ground attack match for both, with both using submission moves the entire way, before Milano would grip on the A.T. lock for the tap out by Soldier in the very quick match.
Onryo would finally end his feud that had dated back since September 16, 2002 against Sukekiyo. Onryo would defeat Sukekiyo by using the Fire Bird 450 Splash for the very first time at 12 minutes 47 seconds.
Afterwards, Sukekiyo would grab the mic and stated for his next match, he will no longer be Sukekiyo. He then pulled his mask off to reveal ZIPANG's Tomoya Adachi, but that he would wrestle as Tomoya Adachi. He would also no longer be apart of The Double Cross Brand anymore, and stated that his dream is to wrestle Hayabusa which got a loud cheer from the crowd. Tomoya Adachi who had just recently closed ZIPANG so that he could work full time for WMF, had worked a tour for FMW in September 2001 as well as many Japanese Independent promotions through out the years.
Mr. Pogo would face GUN's member Mr. Iwaonosuke and defeat Iwoanosuke in a bloody quick match at 4 minutes 39 minutes with a Face Crusher onto Pogo's chain that he had used for most of the match.
While the match was short and bloody, it was said to not be very good at all, with Pogo especially being very very slow during the match.
Ikeda-kun defeated Tsubo Genjin with a school boy at 8 minutes and 1 second with a school boy. The comedy match featured both Ikeda-kun as well as referee Ted Tanabe take off their shrits and having a flexing contest with Tsubo Genjin. Eventually Ikeda-kun would roll up Tsubo for the win with the school boy, but afterwards would get his picture with Tsubo to his delight.
The Double Cross Brand team of GOEMON & HISAKATSU & Ricky Fuji would team up to defeat Flying Kid Ichihara & Asian Cougar & Mineo Fujita after GOEMON would pin Fujita with the Swanton Bomb at 9 minutes 11 seconds. The Double Cross Brand would each individually have half their face painted in unity. The match would be basic, with every wrestler getting their signature spots in before GOEMON would get the pinfall victory on the rookie Mineo Fujita.
WEW announced the majority of the matches for the Kodo Fuyuki Memorial Kawasaki Stadium show on May 5, 2003. While there will be 2-3 more matches added with NOAH participation as well from other promotions, the first 5 matches announced will all be WEW vs. Zero One. In the main event, Kintaro Kanemura will substitute for his friend the late Kodo Fuyuki in the main event, in the match that Kodo Fuyuki wanted to be his last against Shinya Hashimoto in the main event in a Exploding Ring Barbwire Death Match. It will be a rematch of their December 29, 2002 Zero One match which Hashimoto won easily.
In the semi main event, Tetsuhiro Kuroda will take on Masato Tanaka in a singles match for the first time since the FMW January 5, 2000 Korakuen Hall show which saw Kuroda defeat Tanaka for the WEW World Title. TAKA Michinoku will also face Shinjiro Otani for the first time since their Fire Festival match last July at the Differ Ariake.
Before the show, Kintaro Kanemura will defend the WEW World Title against Tetsuhiro Kuroda on April 29, 2003 at the Tokyo Differ Ariake. Kanemura & Kuroda will then team up for the May 3, 2003 WEW Korakuen Hall show to take on a Zero One mystery team which will most likely be the team either of Shinya Hashimoto & Masato Tanaka or Shinjiro Otani & Masato Tanaka in the main event.
Added: 4/3

On March 31st, 585 days after being paralyzed from the neck down on October 22, 2001. Hayabusa moved out of the hospital that he had been living in since December 29, 2001. Hayabusa will still be going to rehabilitation three hours a day in Tokyo, but will be able to make it for the most part on his own. Hayabusa is now able to walk with two canes strapped to his arm, and on March 14, 2003 was able to walk down stairs for the first time. Hayabusa will be at the WMF 4/11/03 Korakuen Hall show to show the fans how far he has come. Hayabusa though will need surgery in May on his left shoulder after the accident caused him to injure several nerves in the shoulder.
Added: 3/25
GOEMON before the WMF 3/23/03 Saitama show started, came to the ring with a picture of Kodo Fuyuki in a FMW match. GOEMON wore his old FMW Team No Respect 1998 jersey when he went by his real name Koji Nakagawa. All the WMF wrestlers surrounded the ring and held a 10 bell count in memory of their friend Kodo Fuyuki.
More pictures of Kodo Fuyuki's vigil and funeral were uploaded to http://wepso.org/Ceremony.html
Interesting to see the various wrestlers and people that showed up to attend.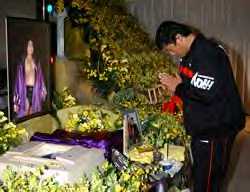 Added: 3/23
800 people attended Kodo Fuyuki's vigil on March 22nd in Yokohama. Kodo Fuyuki's theme "Shoot it '95" played in the background as well as a video tribute with Fuyuki's most memorable matches playing while the wrestlers and fans gathered together. All of the flowers in the funeral hall were dyed yellow in memory of Fuyuki. Mitsuharu Misawa along with all the Pro-Wrestling NOAH wrestlers that attended had to jump on a bus right after their show on that day to attend, with most of the wrestlers like Kenta Kobashi still in their jump suit to pay their last respects. Genichiro Tenryu who also attended went to Fuyuki's wife to give him his condolences to her and then visited Fuyuki's coffin where he stated that he wants a one more match with Fuyuki in heaven. Hayabusa who had to leave early from his Rehabilitation Center in Tokyo would also attend, as well as Motoko Baba, Toshiaki Kawada, Masahiro Chono, Jado and Gedo. After a prayer was held, Kintaro Kanemura led a TNR Dance in honor of Fuyuki.
The funeral was held for Fuyuki today in Japan at 11 AM. Mitsuharu Misawa led the funeral service for Kodo Fuyuki which was held at 11 AM in a Temple Funeral Hall in Yokohama today. There was a 2 1/2 hour video tribute to Fuyuki. Shinya Hashimoto spoke in front of everyone and stated that every wrestler should hope to have the passion and love for this business that Fuyuki had for it. Again over 800 people attended the service, with the likes of Genichiro Tenryu, Shinya Hashimoto, Shinjiro Otani, Masato Tanaka, Kensuke Sasaki, TAKA Michinoku, Go Ito, the entire WEW roster, and many more. Fuyuki's widow along with her two daughters thanked everyone for being able to attend.
At the farewell service, long time friend of Fuyuki, former WAR/FMW and current WEW ring announcer Kichisuke Nakamura announced for the final time, "In the red corner, weighing 249 pounds, "Macho Body" Fuyuki, Hiromichi!"
Fuyuki's coffin then was covered in yellow streamers by everyone who attended and then placed in a hearse and driven to a cemetery where the coffin of Kodo Fuyuki was buried. Fuyuki's Buddhist name will be revealed at the Kodo Fuyuki Memorial Show on May 5, 2003. Rest in Peace, Fuyuki-san.
WMF ran their 3/23/03 show in Saitama with The Double Cross Brand revealing their new member to the group, Mr. Pogo. Mr. Pogo attacked Gannosuke's GUN group. The match got out of hand early as the referee disqualified for hanging Gannosuke from the ropes. After the show, Hayabusa announced the official line up for the WMF 4/11/03 Korakuen Hall show. Announcing Mammoth Sasaki vs. Masato Tanaka as the main event. Mr. Gannosuke vs. Jinsei Shinzaki was changed from the handicap match to a singles match for the semi in a rematch of their 4/21/98 Korakuen Hall match. Garuda's special challenge will be against Tetsuhiro Kuroda. Mr. Pogo will also be on the show wrestling a member of the GUN's.
Added: 3/22
Shinya Hashimoto spoke out publicly about the death of Kodo Fuyuki. Hashimoto announced that he will keep his promise and wrestle at the WEW 5/5/03 Kawasaki Stadium show. It was announced that Fuyuki's best friend Kintaro Kanemura will take Fuyuki's spot in the main event match against Hashimoto. Kanemura stated that he will be living Fuyuki's dream for him at Kawasaki. Fuyuki before his death told Kanemura that if he did die before the show, that he wanted Kanemura to take his spot. Kanemura remained one of the most loyal people towards Fuyuki throughout everything that has happened in the past year.
It was announced that Go Ito will take over and become the booker for WEW and will promote the WEW 5/5/03 Kawasaki show which is now entitled "The Kodo Fuyuki Memorial show". This will be Go Ito's return to wrestling after a near four year absence. Fuyuki's wife will become the financial backer for WEW.
Genichiro Tenryu has already got permission from All Japan President Keiji Muto to work the show. Mitsuharu Misawa will work the show as well, as well as other wrestlers from Pro-Wrestling NOAH, Zero-One, DDT, and K-Dojo will also send wrestlers for the show. New Japan and WMF are both rumored to also send wrestlers as well. Jado, Gedo, and Masahiro Chono have all showed interest in participating in the show.
Tetsuhiro Kuroda & Chocoball Mukai before the IWA 3/21/03 show, came to the ring, holding a picture of Kodo Fuyuki. A 10 bell salute was given to Fuyuki. Pro-Wrestling NOAH also brought out every wrestler on the card before their show, and held a picture of Fuyuki as well for a respectful 10 bell salute in memory of Fuyuki. New Japan as well held a 10 bell salute for Fuyuki, with long time friend, Gedo ringing the bell 10 times in the memory of Kodo Fuyuki.
Added: 3/20
Kodo Fuyuki died on March 19th at 6:50 PM in a Yokohama Hospital due to his intestinal cancer that he had since April 2002 spreading to his liver. Fuyuki's wife Kaoru and two children were there by his side as were Kintaro Kanemura, Tetsuhiro Kuroda, Shinjuku Shark, and Chocoball Mukai. Fuyuki's wife Kaoru who knew it would be the last day of her husband's life called Tokyo Sports and asked them to come into the room and take pictures one last time of her and her husband together that day. Hiromichi Kodo Fuyuki was 42.
Added: 3/16
In a angle to attempt to try and heat up the April 11th Korakuen Hall show, Mr. Gannosuke along with Mr. Rocknosuke attacked Hayabusa & Jinsei Shinzaki after they were leaving a Tokyo Rehabilitation on March 15th. Mr. Rocknosuke jumped Shinzaki and Gannosuke knocked Hayabusa out of his wheel chair as Hayabusa did the first physical bump since the injury. Shinzaki will challenge Gannosuke, Rocknosuke, and Iwaonosuke at Korakuen Hall in a handicap match that is being build as the rematch 5 years later of the Gannosuke vs. Shinzaki heated match that took place on April 21, 1998 at Korakuen Hall.
While giving what would be his last speech to the Korakuen Hall crowd, Fuyuki announced the returning Go Ito to the crowd. Fuyuki was actually the main person that ended up causing Go Ito to lose his FMW booking job in June 1999.
Added: 3/13
Shinya Hashimoto attended the WEW 3/11/03 Korakuen Hall and finally officially accepted the match with Kodo Fuyuki for May 5, 2003 at Kawasaki Stadium in a Exploding Ring Death Match. Fuyuki said that he is very happy this will get to be his last match ever. Fuyuki talked about how earlier this month, he had to go to the hospital once again and found out that the cancer has now spread to his liver and it is getting worse. Fuyuki knows that he will dead soon, but is hoping that he is still alive for his match with Hashimoto. Hashimoto announced that he felt very bad for Fuyuki, and hopes that a miracle will happen and Fuyuki will end up beating the cancer.
Added: 3/9
Some notes coming from the WMF 3/9 show.

Onryo came out to new music for his match against Ricky Fuji. Ricky Fuji was accompanied by Sukekiyo. After Onryo won with the Onryo Clutch, he was attacked by Sukekiyo. Ricky Fuji then joined in on the attack on Onryo. Ricky then grabbed the mic and told the crowd that he was joining The Double Cross Brand. This is officially Ricky's first heel turn in 6 years.

Mammoth Sasaki vs. Asian Cougar was said to be a very good match, and the best match on the show.

After the Gannosuke team won in the main event, Hayabusa came out and announced some matches for the 4/11 Korakuen Hall show. He announced Onryo vs. Sukekiyo. He also announced that Masato Tanaka will be on the show. Looks like the idea for Gannosuke vs. Mammoth has been pushed back as it seems like Gannosuke will be working in some sort of handicap match at Korakuen Hall.

Garuda who has been injured for the past month was told by Hayabusa that he will also have another special challenge for the show.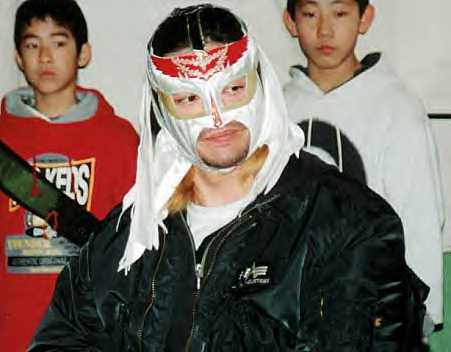 Added: 2/27
I wanted to write today about what I really feel WMF is doing, and what really needs to be done. They're doing the Sukekiyo gimmick from last year with Mr. Gannosuke with two guys that are very similar to Gannosuke to team up with up with him, since they decided to have him split from the Double Cross Brand back on February 15th after he shoved HISAKATSU for losing their tag match and got back supplex by HISAKATSU as a result. What needs to be done instead is bring in two guys with two entire separate identities, to establish themselves new characters instead of just cop offs of Gannosuke. Even if it's something what WWE did with Shelton Benjamin and Charlie Haas for Team Angle. WMF is in desperate need for new faces in the promotion, as everyone has worked against each other a million times the last 5 years besides Mr. Gannosuke and Mammoth Sasaki.
WMF is running at Korakuen Hall on April 11th, and the only match that should main event the show is Gannosuke vs. Mammoth. Mammoth needs to be booked as the ace of the promotion like Hayabusa was the ace in FMW. He needs to be the babyface booked in every main event, getting the wins over everyone leading to his match with Gannosuke. Instead, he has been semi-main eventing for the most part and looks to have established more of a feud with HISAKATSU while the heel vs. heel feud of Team Gannosuke is going against Double Cross Brand has been pushed as the main event feud.
WMF is overall a good promotion, it's just lacking something big that could really help the promotion out and get more new fans in instead of the same set of hardcore fans that are attending every show no matter what the lineup is.
Added: 2/22
Kodo Fuyuki with the rest of the WEW held a press conference to announce the lineup for the WEW 3/11 Korakuen Hall show as well as WEW will be running two shows prior to their 5/5/03 show on April 29th and May 3rd. Also, at the meeting Fuyuki issued an invitation to Shinya Hashimoto to attend the March 11th Korakuen Hall show and officially take Fuyuki up on his challenge for their Death Match at Kawasaki Stadium. Fuyuki stated that his health is getting worse and worse, and realizes he'll be dead soon and wants to go out with one last big match against Hashimoto. Hashimoto would reply back saying that he may attend the March 11th Korakuen Hall show, and if he does wrestle Fuyuki in a Death Match, then there better be an ambulance and priest right there, because Fuyuki will die that night.
Added: 2/6
WEW ran its most successful Korakuen Hall show to date on January 31st with the 60 minute Iron Man match between Kintaro Kanemura and Tetsuhiro Kuroda against Pro Wrestling NOAH's Daisuke Ikeda and Takashi Sugiura. Kanemura and Kuroda got off to a quick start when Kuroda scored a pinfall on Sugiura 36 seconds into the match. Kanemura would then score a pinfall on Ikeda to take a 2-0 lead on the NOAH team. Ikeda and Sugiura would then come back after a Double Count on both teams and Sugiura would get two pin falls on Kanemura, followed by an Ikeda pinfall over Kuroda using a devastating Muscle Buster to take the lead 4-3. Kuroda would then tie it up at 43:52 by pinning Ikeda, but Ikeda would end up knocking Kanemura out with some lethal kicks and get what would be the last pinfall of the match at 52:43 over Kanemura to win the match at 5-4.
After the match, all four men would congratulate each other on such a performance, with Ikeda getting on the mic and telling the crowd how much fun that would was and hopes that they can do a 90 minute Iron Man match in the future. The four men would then all do the TNR Dance to end the show.
Kanemura and Kuroda would then team up on February 2nd in the main event at Zero One's Differ Ariake show against Shinya Hashimoto and Tengu-Kaiser (former Big Japan wrestler Kamikaze in a Hayabusa like outfit). Kodo Fuyuki was also officially in the match for Kanemura and Kuroda, but was still dressed in a suit the entire time and just watched on from the apron, but would end up clotheslining Hashimoto during the match. Hashimoto would end up scoring the pinfall on Kuroda after at a DDT at 9:22, but afterwards Hashimoto would reply to a challenge laid out by Fuyuki for the WEW 5/5/03 Kawasaki Stadium show in a Exploding Ring Death Match. Hashimoto claimed that Fuyuki who is dying from his cancer spreading to his liver should not be coming out of retirement to wrestle, but if he wants to die in the ring, then that's his choice.
Added: 1/26
When Mr. Gannosuke pulled out of his matches and announced there would be a masked superstar to take his spot, there was no surprise when the masked superstar turned out to be Mr. Gannosuke revising the Hayabusa gimmick that he had in 1999 when he feuded with H. He will most likely keep the gimmick until his singles match up with Mammoth Sasaki which will most likely take place at the April 11th Korakuen Hall show.
Added: 1/25
Kodo Fuyuki is releasing a book of his own that will be released in book stores in Japan on February 5th, but will be selling advanced copies at the WEW 1/31 Korakuen Hall show. In the book, he will give his side of the story as far as why FMW went bankrupt last year and will talk about the accusations made by Atsushi Onita of embezzling FMW money, even though the two are now on good terms.
Fuyuki also announced that the intestinal cancer from last year has also came back into his liver as there were two lumps in his liver when he into the hospital for a checkup and the cancer is now spreading to the point where he knows that his days are numbered. Fuyuki has already prepared his grave and announced that every fan would be invited to his Buddhist funeral with Mitsuharu Misawa as the head of the funeral. Fuyuki stated that since he will be dead soon enough anyway that he plans on returning to the ring at the WEW 5/5 Kawasaki Stadium show against Shinya Hashimoto in the main event.
Rainbow Promotions ran an All-Star East vs. West of Japan show with a crowd 2100. One of the main matches was the West team of Mr. Gannosuke teaming with Mitsuhiro Matsunaga, Hido, Kazuya Yuasa, Commando Bolshoi against the team of Mr. Pogo, GOEMON, Masao Orihara, Shoichi Ichimiya, and Ofune. The West team would win the Best 2 out of 3 Falls match, but during the match, Hido would begin to legitimately beat the crap out of K-Dojo's Ofune during the match, giving her stiff shots which would cause her to receive head damage as well as using a barbwire baseball bat on her during it. Ofune would suffer a concussion as a result but would tell everyone she was fine and was able to make it back in the ring at the end of the show to take a group picture with everyone. Due to the concussion though she will most likely not be able to wrestle at the WEW 1/31 Korakuen Hall show like originally planned.
Also on the show, Satoshi Kojima defeated Kintaro Kanemura at 16 minutes 2 seconds in a match that Kojima bled heavily during. Kanemura used some creative table spots during the match including a supplex off a table on the top rope through a table in the ring, but Kojima would end up defeating Kanemura after a lariat. Afterwards, Kanemura would call Kojima back in the ring for them both to do the TNR Dance together.
Added: 1/14
WMF ran its first show of 2003 at the Tokyo Takenotsuka Battle Sphere with Hayabusa making his first public appearance of the new year at the show. Hayabusa announced that WMF will be defiantly listening to what the fans want for the new year and also announced that WMF will be running at Korakuen Hall again on April 11th.
The Brand Double Cross of Mr. Gannosuke, GOEMON, and the returning Soldier ended up getting the victory in the main event of the show over the team of Mammoth Sasaki, Tetsuhiro Kuroda, and Garuda when Mr. Gannosuke pinned Mammoth after a Gannosuke Clutch at 19 minutes 56 seconds. They are setting up for a singles match between Mr. Gannosuke vs. Mammoth Sasaki in the very near future.
Added: 1/10
It was announced at the WEW 1/7/03 show that the promotion will hold its first ever 60 minute Iron Man match with Kintaro Kanemura and Tetsuhiro Kuroda teaming up to go against Pro Wrestling NOAH's Daisuke Ikeda and Takashi Sugiura at the WEW January 31, 2003 Korakuen Hall show. Kanemura and Kuroda stated that they both wanted Mitsuharu Misawa instead of Sugiura in the match, which Sugiura replied that he was Misawa.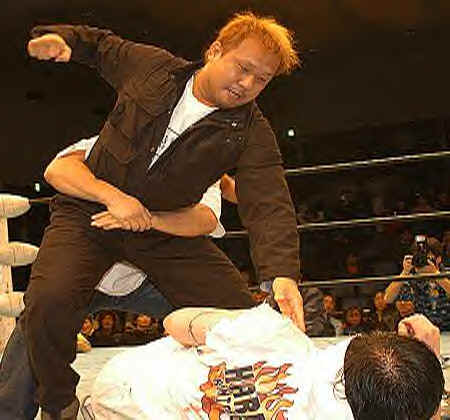 At the January 7th Korakuen Hall show, Daisuke Ikeda ran into the ring and attacked an already bloodied Kintaro Kanemura who had just done battle with Shinjiro Otani to set up the match for the 1/31 show.