Added: 2/20
Kodo Fuyuki made a big time announcement today announcing that he would start up his own promotion once again, this time with all the FMW wrestlers that agree to join which most likely will be the entire roster. Still no word on the March 10th and April 9th Korakuen Hall shows that FMW had booked, but Fuyuki announced that his promotion which as of right now will be called "Fuyuki's Army Promotion" will take the booking over of FMW's May 5th at Kawasaki Stadium show and will be the show of mourning for FMW. Shoichi Arai will have nothing to do with the promotion, and the FMW logo will not be used at all, and no word on how the shows will be broadcasted Television wise.

Kodo Fuyuki visited Hayabusa at the Rehabilitation Center in Tokyo yesterday as well and Hayabusa got word for the first time about FMW going bankrupt. A depressed Hayabusa then agreed to join Fuyuki's promotion as soon as he is physically to help in anyway.

Fuyuki also fired back at FMW founder Atsushi Onita's comments in the media where Onita blamed everything on Fuyuki for FMW's bankruptcy. Fuyuki simply stated in return that no one person end a promotion like Onita is claiming Fuyuki did.
Long time FMW veteran Ricky Fuji has been booked for the next Michinoku Pro tour. Ricky has been very close friends with The Great Sasuke as well as Jushin Liger, so Ricky as expected becomes the first FMW wrestler to find a spot in another promotion at least for now.
Added: 2/17
FMW officially announced its bankruptcy on the February 16th and the promotion will fold in March. It's still not sure on what FMW will do for the two shows they have announced for March. One being their 3/10 Korakuen Hall PPV and the other being a house show on 3/31 in Hiroshima. Hopefully they do run one last show at Korakuen Hall on March 10th giving the fans that supported FMW a chance to say goodbye to the wrestlers that brought them years of blood, sweat, and tears.

I was told by many people last night that I would be the best person to write about FMW as a whole. I've followed the promotion for years, supported it through good times and through bad times and will always continue to support the wrestlers that stayed loyal to FMW. Tetsuhiro Kuroda, Yukihiro Kanemura, Hisakatsu Oya, Koji Nakagawa, and Ricky Fuji.

Atsushi Onita, Mr. Pogo, Masato Tanaka, Mr. Gannosuke, Megumi Kudo, Combat Toyoda, and The Gladiator deserve credit for helping FMW become as big as it got.

And then there was Hayabusa, the man that kept promotion going, the man that loved FMW as much as FMW owner Shoichi Arai did.

Kodo Fuyuki will be given the blame for the failure of vision, some of it will be deserved, some won't be. He was very selfish and pushed himself over people that he shouldn't of, especially during the last couple of shows, winning both the WEW World and Tag Titles. His Sports Entertainment route did not work, but it's not what caused the promotion to go into bankrupt. It was the doubt of Hayabusa being out for years if he ever comes back at all, and then the Mr. Gannosuke injury is what is ending FMW. Bad luck, bad decisions by a lot of people, and a bad economy, that's what going to end FMW, not just one person who liked the WWF style and went with it until the company went under.

As for those interested, I am going to keep the site going. I'll still be around and will still be selling tapes for those interested.
FMW was a great promotion, even in its last days, they still had good shows, and great wrestlers that loved the promotion. There will always be FMW spirit in each of the wrestlers.
Added: 2/5
In the main event of the FMW 2/4 Korakuen Hall show for the WEW Tag Team Championship, Tetsuhiro Kuroda teamed with Sabu in place of the injured Mr. Gannosuke against Kodo Fuyuki and The Sandman. Sabu in a tribute to Hayabusa came out wearing the Arabian pants that both he and Hayabusa are well known for as well as wearing Hayabusa's mask and Hayabusa's tattoo on his chest. Kodo Fuyuki and Sandman ended up winning the match after Fuyuki pinned Kuroda to win the WEW Tag Titles, giving both Fuyuki the WEW World and Tag Team Championship.

It was announced that Mammoth Sasaki would work for PRIDE's 2/22 Korakuen Hall show, which would be the first time Sasaki in a shoot fighting style. Before joining the FMW Dojo, Sasaki trained and worked as a sumo wrestler where he received the name "Mammoth" originally.

Kodo Fuyuki has established a relationship with both IWA Japan and DDT. Fuyuki has became the DDT Commissioner and will have both IWA and DDT wrestlers work on FMW shows hoping that the hardcore fans of both promotions will attend FMW shows to see their wrestlers.

The next FMW show will be held on March 10th at Korakuen Hall.
Added: 1/19
FMW announced that they would return to Kawasaki Stadium for their May 5, 2002 show for the second straight year. Last years show did a very good business for the return of Hayabusa, but lacked heat throughout the show especially for the main event.

Kodo Fuyuki challenged Keiji Muto for the main event at Kawasaki Stadium in a exploding match for the AJPW Triple Crown if Muto retains against Toshiaki Kawada next month at Budokan Hall. The odds on Muto appearing at the show fall greatly on if he decides to sign a contract with All Japan on February 1st or stay with New Japan. If Muto stays with New Japan the odds are very slim, but if Muto does go with All Japan than he will most likely appear as Fuyuki has the connections with Tenryu in All Japan. Also, Garuda is most likely to return to FMW at the show.

The spot of Gannosuke injuring his ankle spot on January 6th occurred when Vic Grimes did a flip off the turnbuckle to the outside but Gannosuke who was laying on a table quickly moved out of the way but his foot was still under the table when Grimes 400 pound plus body came crushing down through the table.

With Gannosuke out, Sabu will be brought in to take his spot and Kuroda and Sabu will defend the WEW Tag Team Titles against Kodo Fuyuki and The Sandman in the main event of the 2/4/02 Korakuen Hall show.
Earlier in the week, Hayabusa was transferred from a regular hospital room to a rehabilitation center in Tokyo which is where he will try to relearn how to walk when the time comes.
FMW President Shoichi Arai attended IWA's Korakuen Hall show this month and was attacked by Tiger Jeet Singh's manager. The 57 year old Tiger Jeet Singh maybe brought in for a future FMW show due to his name in Japanese wrestling.
FMW has postponed their 1/21 Hiroshima Prefectural Gym show to 3/31 due to the lack of ticket advance for the show and the thought that it will do better business.
Added: 1/6

Bad news struck again at the FMW 1/6 Korakuen Hall show as Mr. Gannosuke fractured his ankle while taking a splash onto a table by Vic Grimes causing Gannosuke to fracture his ankle. Gannosuke was immediately helped backstage where he would be taken to a Saitama Hospital where they would find the good news that the ankle was not broken like originally expected and that Gannosuke will be able to return to the ring in two months. FMW President Arai stated Gannosuke's injury once again shows that FMW is suffering through difficult bad luck but will overcome like they always do as FMW is now without Hayabusa and Mr. Gannosuke once again just like this time last year.

News on Hayabusa is that he is now feeling much stronger after the surgery back on 12/29 and is now eating very healthy and is improving day by day as far as feeling better.

Kodo Fuyuki won his third WEW World Title after defeating Kintaro Kanemura in the main event at the 1/6 show, after the match Fuyuki asked Kanemura to join his group in which Kanemura turned him down and stated that he is FMW forever. Fuyuki announced that he would go for the WEW Tag Titles, but that looks to be put on hold for now after Gannosuke's condition. As of right now Fuyuki's group consists of himself, Balls Mahoney, Sandman, Vic Grimes, Paul LeDuc, NOSAWA, and Mitsunobu Kikuzawa.
Added: 12/30
On December 29th, Hayabusa had surgery to remove bacillus germs that had gotten into the valve of his heart. After the surgery to remove the bacillus his fever went slowly down and he was able to move from intensive care where he had been staying since October 22nd to a regular hospital room. His appetite also improved greatly after the bacillus was removed. Hayabusa will remain in a General Ward hospital and his next checkup will be January 12th.
Added: 12/24
The Japanese movie Mask De 41 starring Hayabusa and Mr. Gannosuke will begin airing on January 6th in Japanese theaters. Both Hayabusa and Mr. Gannosuke who are the lead characters play pro wrestlers in the movie. Hayabusa's other movie "Backyard Dogs" which he filmed last year is now on video and you can get it off the internet.
FMW held their one night Tag Team Tournament for the WEW Tag Team Titles which was won by the team of Tetsuhiro Kuroda & Mr. Gannosuke who defeated GOEMON & Onryo in the first round, Sabu & Yoshihito Sasaki in the semi-finals, and then Kintaro Kanemura & Mammoth Sasaki in the finals with Kodo Fuyuki as the Special Referee to become the 15th WEW Tag Team Champions.
Naohiko Yamazaki due to an eye injury had his retirement match against Kodo Fuyuki at the show. After the lost to Fuyuki, there was a Retirement ceremony where many of the FMW wrestlers got in the ring and hoisted Yamazaki on their shoulders in the ring for his farewell to wrestling.
Kodo Fuyuki will challenge Kintaro Kanemura for the WEW World Title at Korakuen Hall. The last time these two fought were as Team No Respect friends back on January 5, 1999 when Kodo Fuyuki defeated Yukihiro Kanemura at Korakuen Hall.
Added: 12/9
Team FMW scored a victory over Team WAR at the December 9th Korakuen Hall PPV, when Mr. Gannosuke got his first ever career pinfall against Kodo Fuyuki when he got the Gannosuke Clutch on Fuyuki for the pinfall. After the match, Genichiro Tenryu praised the FMW workers for a job well done in their performance. Tenryu and Fuyuki had not been getting along since the beginning of the All Japan Real World Tag Tournament which they lost in a playoff match for the finals against the eventual winners of the tournament Keiji Muto & Taiyo Kea when Muto pinned Fuyuki. Fuyuki also got pinned by Toshiaki Kawada in a match that if they were to have won would of automatically been in the finals.
At the beginning of the show, Senmu Yoshida announced that from request of his daughter that he resigned as FMW President and gave the position back to Shoichi Arai.
Naohiko Yamazaki announced at the show that the December 21, 2001 will be his retirement show. Yamazaki suffered an awful eye injury in September said that along with the injury, he isn't motivated to return fulltime and will wrestle Kodo Fuyuki in his final match on the show. Yamazaki made his debut January 13, 1998 and has been as an under card wrestler throughout his career. His biggest match to date was at the November 23, 1999 Yokohama Arena show when he and Yoshinori Sasaki lost to Dory Funk, Jr. and Terry Funk.
An update on Eiji Ezaki was announced last week. Eiji is still in the same Tokyo hospital and not being able to be transferred from his illness he has been suffering through while not being able to move around in the hospital which is full of germs everywhere, and he has not shown any signs of improvement as far as mobility goes in the past month.
Shinjuku Shark and Stuart Levy's English translator Rika Fujisaki began their relationship at the November 23rd in Yokohama, but just days later as Rika was walking, she was grabbed and kidnapped. Soon afterwards, a man in plain English announced to Shinjuku that the only way to get her back was to defeat 10 of his assassins. The first assassin was revealed as Chotaro Kamoi. Shinjuku made short work of him and pounded him until the referee had no choice but to stop the match and reward Shinjuku with the win. The next assassin will be revealed on December 21st at Korakuen, which has been announced will not be broadcasted on PPV like most other Korakuen Hall shows.
Added: 12/3
Kintaro Kanemura & Ryuji Yamakawa defended the WEW Hardcore Tag Team Titles for the first time since March 5th of this year against Mammoth Sasaki & Azusa Kudo. They defended the belts against Daisuke Sekimoto & Men's Teioh at Big Japan's December 2nd Yokohama Arena show which marked the first time Yamakawa was in the ring since he bruised his brain back in March. Sekimoto & Teioh ended up winning the Titles despite the time limit for the main event match only being 10 minutes due to Yamakawa not being allowed in the ring that long. Kanemura dressed up in his old Yukihiro Kanemura outfit from early 99 for the contest.
Eiji Ezaki celebrated his 33rd birthday on this past November 29th. No update has been given on Hayabusa's condition since he got sick earlier a couple of weeks ago.
Genichiro Tenryu & Kodo Fuyuki have patched up their differences since the 11/24 Korakuen Hall incident that caused them to lose to the Harris Bros. They have now won 5 straight matches including a win over All Japan Triple Crown Champion Keiji Muto & Taiyo Kea to collect 10 points so far in the tournament.
Added: 11/25
FMW ran their November 23rd Yokohama Bunka Gym PPV which turned out to be a financial success, even with Hayabusa not being able to appear at the show. The show drew 3000 paid, which is an improvement over the last two (5/5/99 and 11/12/00) times FMW ran at the Yokohama Bunka Gym. All the expensive floor seats for the show were sold out much like FMW's successful Yokohama Arena show back on 11/23/99.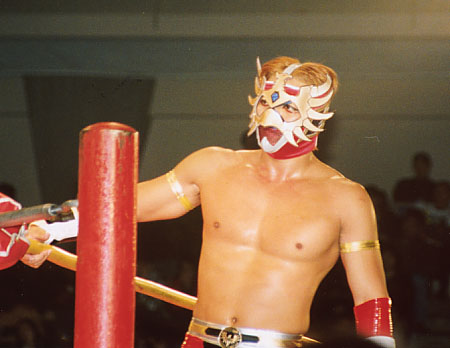 Tomokazu Morita made his in ring debut as Garuda to team up with Tetsuhiro Kuroda to take on the WAR's main members Genichiro Tenryu and Kodo Fuyuki in the main event of the show. Garuda dressed differently for this match than his first appearance back on November 5th, and dressed more uniquely than before. During the match, Garuda was able to hit many highflying moves such as the Fire Bird 450 Splash as well as the hurricanrana. Kuroda was busted open badly during this match as he was hit several times with chair shots by Tenryu and Fuyuki. After 23 minutes plus of action, Garuda ending up falling to Fuyuki's Charging Lariats which would eventually seal the deal for the WAR team as Fuyuki pinned Garuda to win the match, making Fuyuki's record at the Yokohama Bunka Gym with FMW 5-0 defeating Onita, Hayabusa twice, Kuroda, and now Garuda. After the match, Fuyuki and Tenryu announced that WAR plans on destroying FMW which caused Mr. Gannosuke, Kintaro Kanemura, and Mammoth Sasaki all come to the ring begin to attack Tenryu and Fuyuki with help from Kuroda. All four wrestlers shook hands afterwards and an 8 man tag was signed for December 9th at Korakuen Hall, with Tetsuhiro Kuroda, Kintaro Kanemura, Mr. Gannosuke, and Mammoth Sasaki taking Genichiro Tenryu, Kodo Fuyuki, Arashi, and Kouki Kitahara. Also, after the match Garuda announced that he would be going back to Mexico where he would practice and train some more before wrestling again in FMW.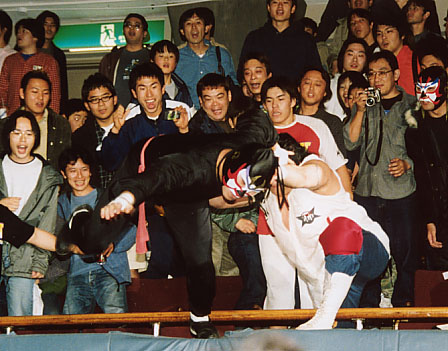 Kintaro Kanemura successfully defended his WEW World Title against Michinoku Pro' The Great Sasuke. The match which started out The Great Sasuke many of his signature highflying signature moves turned into more of a Kanemura signature brawl match where both wrestlers brawled into the crowd before Kanemura ended up throwing Sasuke off the balcony right onto a table. Sasuke would eventually get back into the match and hit some more highflying spots but Kanemura would eventually hit the Fire Thunder Powerbomb on Sasuke and get the victory to keep the WEW World Title around his waste. Kanemura is scheduled to wrestle for Michinoku Pro in the near future and will meet Sasuke once again.
After Hayabusa and Tetsuhiro Kuroda were stripped of the WEW Tag Team Championship back on November 5th due to Hayabusa's injury, the match between Mr. Gannosuke and Mammoth Sasaki against Biomonster DNA and Dr. Luther was quickly made for the vacant Tag Titles. Dr. Luther who made his return to FMW for the first time in many years was in the ring the majority of the time while Biomonster DNA came in for brief offensive bursts. Gannosuke and Sasaki hit Luther with many double team maneuvers and Gannosuke eventually pinned Luther with the Gannosuke Clutch to win back the WEW Tag Team Titles. But afterwards, Gannosuke got on the microphone and announced that they were once again vacating the WEW Tag Titles.
Kyoko Inoue & Lioness Asuka defeated Mima Shimoda & Etsuko Mita in 15 minutes in a very good match. Emi Motokawa made her first appearance for FMW in three months after she herniated a disc and needed surgery on it. No word, on when she will be back and ready to compete.
Superfly Jimmy Snuka (who looks ancient) made his FMW debut teaming along side a student of his Jayson Ray to take on GOEMON & Onryo. Snuka hit his signature spots, but looked awful, and Jayson Ray had to take over for his mentor and GOEMON would eventually get the win over Ray. After the match, Ayako Yoshida who is the daughter of former FMW President Senmu Yoshida had been alongside Onryo to protect her and the two began to form a close bond together after her father turned heel on Shoichi Arai back in June to help Fuyuki eventually own FMW, turned on Onryo and embraced with her father in the middle of the ring.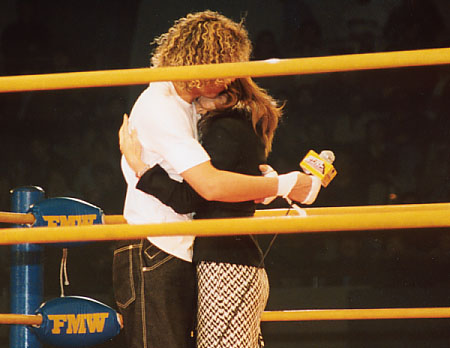 Ricky Fuji's wedding was scheduled to take place at the event, but while the ceremony was going on, before Shoichi Arai could pronounce them man and wife, the wrestlers that were invited all began to fight with each other in the ring interfering with the wedding causing for it to stop, and the wedding soon turned into a Battle Royal with even Ricky Fuji involved. While the Battle Royal was taking place, Naohiko Yamazaki came in and ran off with Ricky's bride all to himself. Shinjuku Shark would eventually win the Battle Royal last eliminating Mitsunobu Kikuzawa. After the match, Shinjuku Shark finally embraced with Rika Fujisaki who was brought in this past June as Stuart Levy's interpreter which had been being teased since August 11th at the Komazawa Olympic Gym between the two.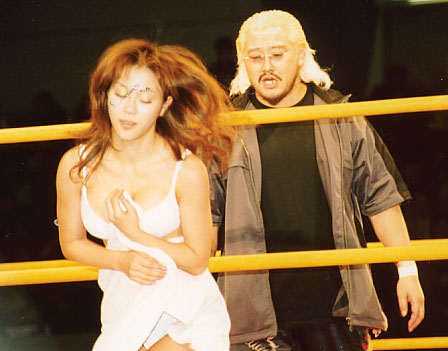 In a much talked about match, Mr. Gannosuke's girlfriend Mirei (in the white) took on the woman who claimed to be Mr. Gannosuke's lover Makiko (black) in a match where the winner would have to tear off all the other woman's clothes. Makiko would win the match after tearing Mirei's dress off, but Mr. Gannosuke quickly came in and managed to cover his girlfriend before anything was seen. Mirei frustrated with Gannosuke after all these accusations of him being with Makiko ran off in tears.
Hisakatsu Oya, Yoshihito Sasaki, and his father Masato Sasaki teamed up to take on NOSAWA, Satoshi Makita, and Senmu Yoshida. During the match, Masato took punishment and beating from NOSAWA, Makita, and Yoshida but still managed to get the tag to his son Yoshihito who would get the pinfall victory over Satoshi Makita to win the match. As a result, the father and son hugged in celebration.
FMW Dojo student San Paul made his in ring debut in the opening match in a losing effort to Chocoball Mukai.
A day after their victory over Tetsuhiro Kuroda and Garuda, Tenryu and Fuyuki wrestled at the 11/24 All Japan show in their first match for the Real World Tag Tournament where they wrestled the Harris Brothers. During the match, a miss spot between the two cause them both to collide into each other causing both to become furious with each other. Tenryu began to chop at Fuyuki, and Fuyuki hit Tenryu with a lariat causing him to fall out of the ring, as Fuyuki turned around both Harris Brothers were up and hit Fuyuki with the H Bomb as Tenryu watched and didn't bother to save his partner. Tenryu announced that he would not team up with Fuyuki anymore in All Japan, and every team they're scheduled to face for the rest of the tournament would get a forfeit victory.
Added: 11/14
FMW held a public Buddhist prayer for Hayabusa. The entire roster showed up and poured water on the Buddhist statue symbolizing the healing of Hayabusa's injury in the streets of Tokyo. Kodo Fuyuki, Mr. Gannosuke, Mammoth Sasaki, and Shuhei Yoshida led the prayer.
Hayabusa has gotten a cold from being so immobile inside the hospital with so many germs surrounding him which has postponed his transfer to a hospital in his hometown of Kumamoto so it would be easier for his family to visit him.
Added: 11/6
Kodo Fuyuki announced the lineup for the FMW 11/23/01 Yokohama Bunka Gym show. Tenryu and Fuyuki will team up to take on Tetsuhiro Kuroda and Garuda in the main event of the show. The co main event will be Kintaro Kanemura defending his WEW World Title against The Great Sasuke. This will be Kanemura's first defense since being rewarded back the title on September 9th.
"Superfly" Jimmy Snuka will make his FMW debut in a tag match with his protégé "Made in Japan" Jayson Ray against GOEMON and Onryo.
Kodo Fuyuki at the 11/5 Korakuen Hall PPV announced that the team of Hayabusa & Tetsuhiro Kuroda have vacated the WEW Tag Team Titles, and the team of Hayabusa, Tetsuhiro Kuroda and GOEMON have vacated the WEW 6 Man Tag Titles after the injury suffered by Hayabusa. The vacant WEW Tag Team Team Titles will be on the line when Mr. Gannosuke and Mammoth Sasaki wrestle Biomonster DNA and making his return to FMW Dr. Luther.
Ricky Fuji has announced that he will be getting married at the show. The following wrestlers will be the wedding ceremony during the show. Shinjuku Shark, Flying Kid Ichihara, Naohiko Yamazaki, Happy Ikeda, Yasu Urano, Tomoya Adachi, Survival Tobita, Saitama Gorilla, Masked Sumo, and Mitsunobu Kikuzawa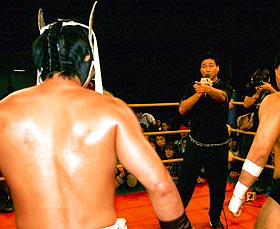 Added: 11/5
Today, at the 11/5 Korakuen Hall PPV, Fuyuki came out with Garuda (Tomokazu Morita) who was in the same gear as Eiji Ezaki's Darkside of Hayabusa costume. Fuyuki promised that you will see the Fire Bird Splash in FMW again with Garuda. Garuda would turn on Fuyuki afterwards and siding with the babyface FMW side and even gave Fuyuki a 450 Fire Bird Splash in the ring. After the main event, Genichiro Tenryu would come out and state that this Garuda makes him want to vomit and a challenge would be set for the 11/23 Yokohama Bunka Gym. Whether or not it will be a tag or singles match will be determined tomorrow as FMW announces the card for the show. The other main match looks like Kintaro Kanemura vs. The Great Sasuke for the WEW Title for the show.
From what it seems like, Atsushi Onita did not appear at the show.
I got the FMW 10/22 PPV in today where Hayabusa was paralyzed.

You can tell Ezaki didn't think much of it at first even while not being able to move. While he was on the ground bit telling the referee to keep going. Sasaki would continue kicking him, and then put him in a chin lock before the referee ended the match. Ricky Fuji, GOEMON, Hisakatsu Oya, Yoshihito Sasaki, Tetsuhiro Kuroda, and Satoshi Makita all come in the ring and got the stretcher. Shoichi Arai comes to the ring and begins talking to the fans before GOEMON tells him Hayabusa wants the mic. Hayabusa begins talking and his words begin to get very emotional as it sounds like he's about to cry...the show is ended with Hayabusa still in the ring motionless.
Added: 11/3
Kodo Fuyuki traveled to Mexico after his 10/27 Budokan Hall lost to Kawada to find the wrestler that will take over as the FMW superstar of the promotion. In the picture above, Fuyuki is shaking the hand of the man who is called "Garuda"
No evidence has been given to who Garuda, besides that he is wearing Mexican wrestler Magic's mask. The wrestler will be at the 11/5 Korakuen Hall show to be introduced and will make his debut at the 11/23 Yokohama Bunka Gym show. Right now, the heavy favorite on the man behind the mask is Tomokazu Morita who two months ago was sent to Mexico to learn and gain experience just like Eiji Ezaki did in the early part of his career. It will most likely be obvious at Korakuen in front of many people if it is in fact Morita under the mask.
Rumors are still heavy that Atsushi Onita may appear at the 11/5 Korakuen Hall show as well, although Kodo Fuyuki keeps denying that Onita will appear.
Added: 10/31
Things are fairing much better for Eiji as he is now able to eat three meals a day, and has slowly began to move his knees. Eiji is slowly but surely getting better and better everyday.
Although things are getting much better for Eiji physically, his wrestling career looks most likely over. FMW founder Atsushi Onita has contacted Shoichi Arai and stated that he wants to come back to the promotion that made him a legend in this sport. FMW has shown interest in Onita coming back twice before, first time back in 1999 when FMW tried getting him booked for their Yokohama Arena show on 11/23/99 which Onita stated that the only way he would come back was if he was paid so much money that would be able to buy FMW himself. Then earlier this year, Onita was asked to return at the FMW 5/5/01 Kawasaki show, which he simply turned down. Onita would return at the November 5th Korakuen Hall show and if everything works out would make his return at the Yokohama Bunka Gym 11/23/01 show, the same building he wrestled his last FMW match against Mr. Pogo three years ago the 11/20/98 show.
Kodo Fuyuki who revealed that he was not leaving FMW for All Japan full time at the 10/22 Korakuen Hall show and that he was now the lifetime FMW commissioner and fired FMW President Yoshida from his position. Fuyuki went down to Mexico earlier this week and announced that he would find the new star to carry FMW and would reveal him at the November 5th show and would make his in-ring debut at the Yokohama Bunka Gym with Hayabusa out.
Added: 10/27
Eiji Ezaki has been transferred out of the Nihon Hospital in Tokyo to a hospital more suitable for rehabilitation for an injury like Ezaki's. Ezaki is now able to move certain parts of his upper body as the paralysis is slowing fading now which is a very good sign, but still nothing as far as his legs go. It looks like Eiji will make a full recovery, just no idea on how long it will take.
Today at the 10/27 All Japan Budokan Hall, Jinsei Shinzaki who took the place of Hayabusa for the All Japan team against the WAR team wrestled as Hakushi and defeated Kouki Kitahara using Hayabusa's Falcon Arrow in dedication to Hayabusa. Later in the show Kodo Fuyuki wrestled Toshiaki Kawada but lost to his former team mate in 18 minutes 5 seconds. The WAR team still defeated the All Japan team 3 to 2 overall.
The Great Sasuke will return to FMW at the November 5th Korakuen Hall for the first time since his wrestled at the May 5th Kawasaki show.
Added: 10/23
As of right now, things are still the same as far as the condition of his body goes. He was given tons of medicine at the Nihon Hospital in Tokyo and is no longer feeling any pain right now. But the fact that he was feeling pain is actually a good sign since at least he can feel something. He will stay in the emergency room for several more days as tests will be given to see how permanent the cervical vertebrae damage will be. Both his parents were contacted that were in Kumamoto, Japan and North Korea at the time and came as soon as possible, as well as his wife and 4 year old son. At the hospital, Eiji was able to smile at friends and family as he has been conscious and been able to talk throughout the whole incident. The FMW office in Tokyo has been poured with phone calls at all hours of people asking what Ezaki's conditions are.
In a interview given after FMW owner Shoichi Arai had just left the hospital, Arai told reporters that "Hayabusa will be fine" but to keep their thoughts and prayers for him and his family.
One quick correction, FMW will run their 10/28 joint show LLPW, seeing that it's a charity show. What was canceled was Hayabusa's appearance before the show where he would sign autographs and meet fans.
FMW will still run their 11/23 Yokohama Bunka Gym, but any chance of Hayabusa being there is impossible.
The incident was broadcasted on PPV and the cameras kept filming as Hayabusa was taken on a stretcher with wrestlers running to the ring to see what had happen. While on the stretcher Hayabusa asked Satoshi Makita to put the microphone to his mouth where he began to break down in tears and said that he may of just died for FMW before he was put into the ambulance with Shoichi Arai going inside as well. The show kept being broadcasted for 15 minutes as fans were still in shock and horror after what had just happen. Shoichi Arai at the hospital told the fans that he had suffered to vertebrae damage as a result. Fans left the show in disbelief and tears as the wrestler that has symbolized FMW since Atsushi Onita retired on 5/5/95 is in a hospital not being able to move.
Here's the address for anyone wanting to send cards or letters to Eiji Ezaki
FMW (Entertainment Pro Wrestling)
c/o Hayabusa (Eiji Ezaki)
DaVinci Shimo Meguro 6F
2-23-15 Shimo Meguro
Meguro-ku, Tokyo 153-0064
JAPAN
Please stay strong and get through this Eiji, if anyone can do it, it's you. You've shocked and impressed so many people including myself before so many times, do it one more, please.
Added: 10/22
I came online today and got on the FMW official website today to get FMW 10/22 Korakuen Hall results. On top of the page in Japanese there was something written about Hayabusa and then I looked to see that there was no result to his match with Mammoth Sasaki. Right then I knew something was wrong. I translated the words written on the FMW website to see that Hayabusa had injured his vertebrae and that there would be a update on the FMW website as soon as anything was released. I was worried, but maybe it wouldn't be that bad. Hayabusa cracked his vertebrae back on July 30, 1995 against The Gladiator after a botched Shooting Star Press attempt. Hayabusa was still able to finish the match, cut a promo afterwards, and walk to the ambulance on his own will and wrestled and didn't miss one show. Then I found pictures and news about the incident. Hayabusa after attempt a moonsault from the ring ropes, a spot that he has done every match I have seen him in, ended going wrong when his foot slipped on the rope causing him to land head first. Hayabusa was stretcher off and sent to the nearest hospital in Tokyo. As of right now, he has no feeling in his body. I will post the latest on his condition as soon as it is released. My thoughts and prayers go to Eiji Ezaki that he makes it through this tough time right now.
Added: 10/15
Kodo Fuyuki appeared at the October 7th All Japan Korakuen Hall show where he has sided with Tenryu's WAR alliance. After the show backstage, Fuyuki went right up to All Japan owner Motoko Baba and demanded a match with Toshiaki Kawada. Baba replied with that if Fuyuki really wanted to get his ass kicked by Kawada that much, then he would get his wish. Fuyuki is still booked with FMW at least until the October 22nd Korakuen Hall PPV where he will take on rival Hisakatsu Oya and Biomonster DNA in a Triple Threat Match. Fuyuki ended up being the first person to defeat Biomonster DNA by pinfall at the October 9th Korakuen Hall show.
Kintaro Kanemura is once again the WEW World Champion. Last month at the September 9, 2001 Korakuen Hall show, President Yoshida showed video of the FMW September 5th Green Dome show where Hayabusa in his match he did a lowblow on Kanemura. Back in May 1999, the rule was enforce that a lowblow was illegal in FMW and would force an automatic disqualification. About a month after that the rule was made, it was ignored. Just about every FMW show there is at least one lowblow used in a match right in front of the referee. But as President, Yoshida demanded that Kanemura would be rewarded back the WEW World Title and Hayabusa was force to give the title back.
As of October 14th, 10,023 people had signed the petition stating they wanted Shoichi Arai back in FMW. Stuart Levy had asked for the petition back on August 11th to see if 10,000 people would sign the petition to have Arai back in FMW in some capacity other than Yoshida's slave.
Hayabusa and Tetsuhiro Kuroda won the WEW Tag Team Titles at the October 9th Korakuen Hall show, defeating the former champs Mr. Gannosuke and Mammoth Sasaki who were making their first title defense on the show. After the match, Mammoth Sasaki challenged Hayabusa to a singles match at the next Korakuen Hall on October 22nd.
There are several relationships building in FMW the past few months. First Mr. Gannosuke introduced his girlfriend Mirei back in July who has accompanied him to ringside for every big match. Ayako Yoshida who is the daughter of President Yoshida who is against her fathers activities since turning on Shoichi Arai back in June to side with Fuyuki and Stuart Levy's side has developed a bond with Onryo who has helped protected her from her father and Mammoth Sasaki several times. Rika Fujisaki who has been the translator for Stuart Levy when he gives his English spoken interviews to the Japanese audience has began to fall for Shinjuku Shark and has accompanied him to the ring for several matches.
Also, many of those have contacted me asking for a picture of Azusa Kudo's new gimmick "Biomonster DNA". Here's a picture that was published on the official FMW website along with the rest of the cards on the October tour.
Added: 9/13
Despite other reports of Kodo Fuyuki leaving FMW for good to join All Japan, as of right now Fuyuki is still with FMW and is schedule to tour with FMW until at least the end of September. At the September 9th Korakuen Hall show, Fuyuki wore his old Revolution shirt and announced that he was going to join Tenryu's WAR group that is invading All Japan right now. Fuyuki also challenged former tag team partner Toshiaki Kawada to a Triple Crown match if Kawada wins the Titles in October. No word if Fuyuki will continue to work into October with FMW.. At the September 9th Korakuen Hall show, Fuyuki who has had recent health problems as of late teamed with Kintaro Kanemura and Mr. Gannosuke lost the WEW 6 Man Tag Team Championship to Hayabusa, Tetsuhiro Kuroda, and GOEMON in the main event after Hayabusa pinned Kanemura with a 450 Fire Bird Splash for the win.
Hayabusa won back the WEW World Championship on September 5th from Kintaro Kanemura who defeated Hayabusa last month for the Title at Komazawa Olympic Gym in what was a very good match with a great ending. Hayabusa won the title at the Sapporo Green Dome, the same building he won it the first time back on May 22, 2001 against Tetsuhiro Kuroda. Also, on the May 22nd Sapporo Green Dome show, GOEMON and Onryo retained the WEW Tag Team Championship after Onryo pinned Sasaki with a Onryo Clutch. This time in the Green Dome, Gannosuke and Sasaki walked away as the new WEW Tag Team Champions after Sasaki choke slammed Onryo for the pin.
Shoichi Arai was fired as FMW President on August 11th and replaced by now FMW President Senmu Yoshida is being forced to be Yoshida's servant if he still wants anything to do with FMW. Mixx Entertainment and Tokyo Pop's Stuart Levy on August 11th announced that he will run a petition, and if 10,000 people sign the petition, he will think about bringing Arai in some capacity. You are allowed to sign the petition at the FMW website right now, and as of right now almost 1500 people have signed. No word on the deadline as of yet.
Mr. Gannosuke at the Edowara River Boat Race Field on September 22 will wrestle as "Riki Ganshu" in a parody of New Japan legend Riki Choshu in which Gannosuke will dress up like Choshu and use all of Choshu's main moves and mannerisms. Gannosuke debut this gimmick at the last Edowara show on August 25th.
Tomokazu Morita who has just gone through his rookie year in professional wrestling will be sent over seas to Mexico to learn more and get a chance to improve much more. Over the past few months, Morita and Yoshihito Sasaki have really showed their skills and look to become very well rounded wrestlers with Morita working the highflying style, and Sasaki wrestling the strong style. I compare Tomokazu Morita to a young Eiji Ezaki. Morita looks a lot like Ezaki, works the same style that Ezaki did in his preliminary days, and is now going over to Mexico to train on more of a highflying style. Morita is believe to come back to FMW between 6 months and the next year.
Added: 8/15
On August 11, 1998 at Korakuen Hall, Shoichi Arai put up his spot as FMW President against Kodo Fuyuki and Go Ito's Team No Respect where he would team with Atsushi Onita and in a eight man. If Arai's team were to lose, he would be fired as FMW President. Arai managed to keep his spot as FMW President after he pinned Go Ito in the match. Three years to the day at the Komazawa Olympic Gym, Arai again was put in a difficult spot. There would be set of three matches, if the team of Hayabusa, Tetsuhiro Kuroda and Biomonster DNA lost two of their three matches against Kodo Fuyuki, Mr. Gannosuke, and Kintaro Kanemura then Kodo Fuyuki would own Hayabusa's 5% of the FMW stock and would give it to the Mixx Entertainment company from Los Angeles. Azusa Kudo made his debut as Biomonster DNA and totally destroyed Kodo Fuyuki in the first of the best of three matches beating him in just a little over three minutes.
Mr. Gannosuke along with his new girlfriend got revenge on Tetsuhiro Kuroda for ending his career back on November 12th of last year by defeating Tetsuhiro Kuroda to even the score up in the best of three series.
Kintaro Kanemura scored one of the biggest upsets of the year for FMW by defeating Hayabusa in a singles match for the first time in his career after three Thunder Fire Powerbombs to win the WEW World Title and causing Fuyuki's team to win the best 2 out of 3 series. Fuyuki with 52% of the FMW stock gave it to Mixx Entertainment but would fire Shoichi Arai as FMW President beforehand and announced FMW Vice President Yoshida as the new FMW President due to Yoshida turning on Arai and giving Fuyuki part of his FMW stock to make Mixx Entertainment owning FMW possible.
FMW announced the main event for their upcoming Sapporo Green Dome September 5th show which will be Kintaro Kanemura defending his WEW World Title against Hayabusa. Hayabusa won the WEW World Title in the same building in one of the best matches of the year against Tetsuhiro Kuroda back on May 22nd.
Added: 8/7
Kodo Fuyuki took matters into his own hands in a attempt to get Shoichi Arai fired in FMW by wrestling him in a one on one match, but instead Azusa Kudo under his new name DNA in a dark cloth over his face ran into the match and attacked Fuyuki causing the No Contest keeping Arai in FMW going into the August 11th Komazawa Olympic Gym show where Hayabusa will be forced to put up the 5% of his FMW stock after he was pinned by Kanemura in a 6 man in the main event on the August 3rd Korakuen Hall show. If Fuyuki's team wins 2 of the 3 main matches scheduled for the show, Fuyuki will own the majority of the percentage in FMW and will sell it to Mixx Entertainment (Tokyo Pop) and FMW will become an American based company out of Los Angeles.
FMW had their lottery on August 6th to declare the 3 matches that will headline the Komazawa Olympic Gym Show. Hayabusa will wrestle Kintaro Kanemura who pinned Hayabusa for only the second time in his career on the August 3rd show in the main event match. Former Team Kuroda members Tetsuhiro Kuroda will wrestle Mr. Gannosuke in the other match, the two have been trading tag team victories over each other in the past couple of house shows in the last month, but the last time they wrestled in a singles match was on November 12th at the Yokohama Bunka Gym where Kuroda ended Mr. Gannosuke's career at the time. Azusa Kudo will debut as DNA and reveal his face since returning as a man and wrestle Kodo Fuyuki after ruining Fuyuki's shot of getting rid of Arai at Korakuen Hall.
Added: 7/26
The fight for ownership of FMW will be settled at the August 11th Komazawa Olympic Gym show. Right now Shoichi Arai owns 48% of FMW, Kodo Fuyuki owns 47% of stock in FMW, and Hayabusa owns 5% of the stock in FMW. Hayabusa will put up his 5% of stock in the promotion in a series of three matches on August 11th. Kodo Fuyuki & Mr. Gannosuke & Kintaro Kanemura will represent Fuyuki's team and Hayabusa, Tetsuhiro Kuroda, and Azusa Kudo will represent Hayabusa's team. Kintaro Kanemura will take on Azusa Kudo in the first match, then Tetsuhiro Kuroda will take on Mr. Gannosuke, and then Hayabusa will take on Kodo Fuyuki. The team that wins 2 out of the 3 matches will get Hayabusa's 5% of the promotion. If Fuyuki's team he will be able to sell the promotion to Tokyo Pop and FMW will become an American based promotion from then on.
Azusa Kudo who was badly beaten up at the July 20th Korakuen Hall show and taken off in a stretcher announced that he will get a sex change and return back to a man.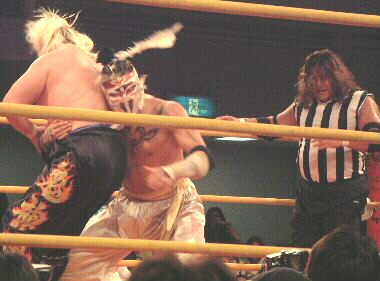 Added: 7/6
FMW Commissioner Kodo Fuyuki who through FMW Vice President Yoshida and a money backer in the Tokyo Pop executives will be buying FMW from under Shoichi Arai. Fuyuki is attempting to get Shoichi Arai fired from the promotion, so has made a stipulation where if Arai is pinned in any of his matches he will be fired from FMW. At the July 2nd Korakuen Hall show, Fuyuki forced Arai to team with Gannosuke and Kanemura to take on Hayabusa, GOEMON, and Onryo with Fuyuki as the Special Referee. Arai avoided getting pinned in the match after Hayabusa pinned Gannosuke with a 450 Fire Bird Splash. This made Fuyuki very upset and signed another match with Arai to attempt to get him fired as Arai will team up with Hayabusa, Tetsuhiro Kuroda, Azusa Kudo against Kodo Fuyuki, Mr. Gannosuke, Kintaro Kanemura, and FMW Vice President and skilled kick boxer Yoshida.
Added: 6/24
After wrestling in the main event of the Michinoku Pro June 17th Sapporo Green Dome where Hayabusa teamed up with The Great Sasuke and Alexander Otsuka to defeat Dick Togo, Men's Teioh, and Ricky Fuji he took a trip traveled to the Tokyo Meguro Temples to train and prepare for his upcoming 6 man main event match at Korakuen Hall on July 2nd where he will team up with GOEMON and Onryo to take on FMW President Shoichi Arai, Mr. Gannosuke, and Kintaro Kanemura with FMW Commissioner Kodo Fuyuki as the Special Referee. Hayabusa meditated for several hours stating that clearing his mind is what will prepare his team to victory. Hayabusa lately has been resting and recovering from recent injuries he has suffered the past few shows including both his arms and his ankle.
Kaientai Dojo Student Yasu Urano will be making his FMW debut in July and will be competing in undercard matches for most of the tour.
Added: 6/10
Team Kuroda has broken up after 5 months of existence. The split between the group happen at the June 8th Korakuen Hall show where Kodo Fuyuki reformed his heel stable and included Team Kuroda members Mr. Gannosuke, Mammoth Sasaki and Shinjuku Shark to the group, causing Kuroda, Azusa Kudo and Naohiko Yamazaki to side with former enemy Hayabusa because of the split. This is what the two main factions in FMW are now.
Hayabusa's babyface faction consists of Hayabusa, Tetsuhiro Kuroda, GOEMON, Onryo, Hisakatsu Oya, Ricky Fuji, Azusa Kudo, Naohiko Yamazaki, and Shoichi Arai.
Fuyuki's feel faction consists of Kodo Fuyuki, Mr. Gannosuke, Kintaro Kanemura, Mammoth Sasaki, Chocoball Mukai, Flying Kid Ichihara, Shinjuku Shark.
Added: 5/24
Hayabusa won his first singles title since August 23, 1999 when he finally became the WEW World Champion at the Sapporo Green Dome after pinning rival Tetsuhiro Kuroda with the H Thunder in a Barbwire covered Double Hell Death match with Kodo Fuyuki as the special referee. This will also be Hayabusa's first time since 1998 to be the long term Champion for FMW as when he won the Brass Knuckles Title back in 1999, the belt was retired two days later. Also, Hisakatsu Oya, Ricky Fuji, and Flying Kid Ichihara became the WEW 6 Man Tag Team Champions after defeating Azusa Kudo, Shinjuku Shark, and Naohiko Yamazaki when Oya pinned Yamazaki to win the vacated belts. Kintaro Kanemura defended his WEW Hardcore Title after beating Jun Kasai, after the match Kanemura announced that he would be retiring the WEW Hardcore Title for good. Even though the show was a huge success financially, several injuries took place, during the WEW Tag Team match in which GOEMON & Onryo defended the WEW Tag Team Titles by defeating Team Kuroda's Mr. Gannosuke & Mammoth Sasaki, both Onryo and Sasaki suffered injuries during the match and were unable to wrestle the next day. Tetsuhiro Kuroda also was injured by some of the explosions that went off in the Barbwire covered Double Hell Death Match, but was able to wrestle the next day in the main event.
Another injury for FMW was Kodo Fuyuki injuring his knee really bad the day after the Sapporo Green Dome show in a tag match, Fuyuki had to be stretcher out of the building into the hospital. No word on how long Fuyuki could be out, but he is out of the hospital now and on crutches.
Added: 5/13
Hayabusa & Tetsuhiro Kuroda signed the contract for their 5/22 Sapporo Green Dome match which will be a Exploding Barbwire Double Hell Death Match for the WEW World Championship with Kodo Fuyuki as the Special Referee.
Added: 5/12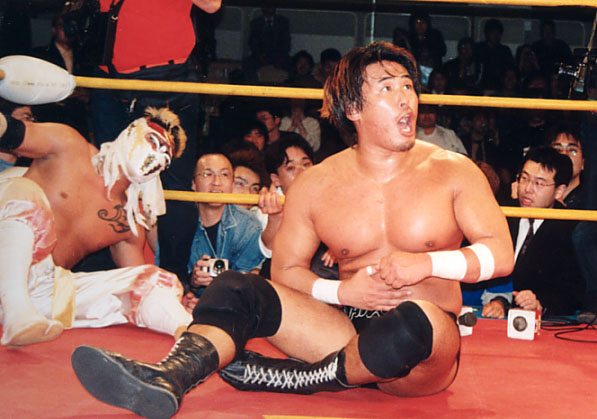 Hayabusa returned to Korakuen Hall for his first match in the building since November 3rd of last year, he teamed up with longtime friends Hisakatsu Oya & Ricky Fuji to take on Team Kuroda's Tetsuhiro Kuroda, Mr. Gannosuke, and Mammoth Sasaki in the main event of the show. During the match, while Kuroda was taking care of Hayabusa, Gannosuke came into the ring for the double teamed and tried clotheslining Hayabusa but instead hit Kuroda which lead to Hayabusa hitting an H Thunder on Kuroda and then finishing off the WEW World Champion with a 450 Fire Bird Splash for the victory in Hayabusa's second match since coming back from the injury. After the match, Kuroda grabbed the microphone and began to scream at Gannosuke for costing him the match as Sasaki tried holding both members back. Hayabusa will challenge Tetsuhiro Kuroda for the WEW World Title on May 22nd at the Sapporo Green Dome in a Double Hell Death match.
The News Archive section can now be found by clicking the hyperlink below.
FMW Archived News Section