Tokyo Dome City
I arrived in Tokyo, Japan on June 20, 2010 for my third trip to Japan. I stayed at the YMCA Asian Youth Center for the first five days of the trip and due to them being all booked up on June 26th, I booked the last three days of my trip at the Hotel Grand Palace which I stayed at last year. The YMCA Asian Youth Center is a very small hotel but it is a very good deal as I booked five nights for 300 dollars where as the Hotel Grand Palace was a little over 400 dollars for three nights, but the rooms are much nicer at the Grand Palace and most importantly the bus will come to the hotel to pick you up and take you to the Narita Airport unlike at the YMCA hotel. It was almost night by the time I had gotten checked into my hotel so all I did was walk around Tokyo Dome City as well as check out Toudoukan's.
Sign for Toudoukan outside and Hayabusa Phone cards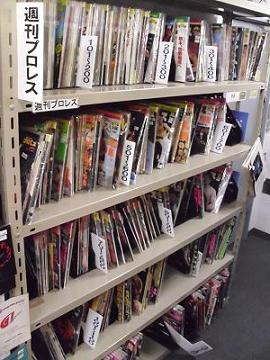 DVD's and Magazines at Toudoukan's
One of the big reasons I love going to Japan every year is to go to Toudoukan's. It's the best source for Japanese wrestling magazines as they sell most magazines for 2-3 dollars. Although over the last 2 1/2 years since I went for the first time they definitely have much much fewer magazines than they use to, it's still definitely the best wrestling store to attend in Japan.
FREEDOMS 6/21/10 Poster outside Korakuen Hall and Ricky Fuji heading over to Korakuen Hall
The next day was June 21st and the big part of the day was to attend the FREEDOMS Korakuen Hall show. I went to the wrestling store Champions to buy my ticket to the show and looked around what they had. The problem with store like Champions and the New Japan store that I also went is that there's nothing in that store you won't see on the internet in a couple of months for a much cheaper price so I usually stray away from buying much at those stores although they did give me a New Japan fan at the New Japan that came in handy the rest of the trip due to how hot it got throughout the trip. I went by Korakuen Hall and took pictures of the inside and saw them setting up for FREEDOMS show. As I was about to go down the elevator to leave I was joined in it by Big Japan's Kazuki Hashimoto. As I was leaving Korakuen, I then saw Ricky Fuji walking Korakuen with his bags. I got his attention and he told me that he remembered me from last year. I ended up getting a picture of him before heading back to the hotel to get ready for the show.
Mr. Gannosuke & Magnitude Kishiwada
I was a little early before the start of the FREEDOMS show so I waited in line down the stairway of Korakuen Hall with several other fans. This was one of the times that my New Japan fan came in handy as it gets ungodly hot down there. When it was time for the doors to open the first wrestler I noticed was Mr. Gannosuke selling tickets to his show on July 8th. Although for the second straight I couldn't buy anything from him I got his autograph, took a picture of him, and showed him some old FMW programs that I had bought earlier at Toudokan's which he laughed at how Atsushi Onita looked back in 1990. I walked by Magnitude Kishiwada who I took a picture of although he didn't seem that happy that I took a picture of him and then didn't buy any of his Magnitude Kishiwada DVD's. I then bought the two May 2010 FREEDOMS' DVD's from The Winger who knows a little bit of English and told me he remembered me from last year as well.
Before the FREEDOMS June 21, 2010 Korakuen Hall show.
I went to my seat and began talking to the guy next to me before the show started. I showed him my old FMW programs from 1990 as he told me he was a big fan of FMW starting in 1993 and laughed uproariously at Mr. Pogo as a Ninja and Ricky Fuji from back then. He then busted out a photo album he had in his bag which had hundreds of photos of him with wrestlers throughout the last 15 years as well as showing me videos he took while at Big Japan's May 4th Yokohama Bunka Gym show.
Mammoth Sasaki's return to the ring for the first time in 16 months
Mammoth Sasaki vs. Daisuke Sekimoto
Necro Butcher vs. Jun Kasai
Necro Butcher during intermission
Mammoth Sasaki & Kamui during intermission
Onryo vs. TAJIRI and GENTARO and Great Kojika after their match
The show then started and like I feel this was the show of the trip for me. Mammoth Sasaki's return was an awesome thing to be there live with a thousand fans in the building screaming "Mammoth" during the match. As I talked about in the FREEDOMS report I also got to talk to Necro Butcher who was bleeding all over as he seemed like had suffered a concussion after taking a German Supplex head first on the ladder as he told me he wished he could just take a nap right here on the table. I also got a picture of Mammoth and Mammoth and Kamui posing together. My camera's batteries began to die after I took the picture of Mammoth so I didn't take many pictures of the show 5 vs. 5 FREEDOMS vs. Kojika Army match. After the show, Takashi Sasaki thanked every fan at the door for coming.
Mr. Danger's Steakhouse Restaurant and BAHU & Mitsuhiro Matsunaga
I went to Mr. Danger's Steakhouse Restaurant on the night of June 22nd. It's an easy find from the subway although in June the humidity gets unbearable and you can't help but sweat just from being outside even at night. I got my steak and it was pretty good although Ribera's steak is still definitely the best steak i have ever had. I took pictures of the restaurant and with Mitsuhiro Matsunaga who gave me two posters as presents. One of his retirement match back on December 23, 2009 in NOAH and a W*ING May 5, 1993 poster where he main evented against Leatherface.
Soldier at his BUU Bar and Kamui's father
The next day on June 23rd saw me again wake up after just a couple of hours of sleep during the night and not be able to fall back asleep. At that point I felt like skipping DDT's Shin-Kiba show as I just didn't feel like making the effort to go to Shin-Kiba and spend the money for a show when I saw the same wrestlers last year at Korakuen and Kota Ibushi was not going to be on the show again due to an injury just like last year. I decided to go Soldier's BUU bar in Ikebukuro instead. It was a good choice.

Going to Soldier's bar was one of the main highlights of the trip. I got to talk FMW with a former FMW wrestler who spoke some English. I told Soldier about how five years ago I did an interview with him for this website through e-mail which his reply was "THAT WAS YOU?!". He also told me stories how it was a complete shock to him when FMW died and when Kanemura originally broke the news he thought he was joking. He told me how every FMW wrestler pretty much has a normal job these days. He told me Garuda pretty much had to leave wrestling after he had to get a real job when he got married to his ugly wife and had two kids with her. He told me he liked every wrestler he has ever met, except maybe Garuda because he's a goof. He told me how Ricky Fuji got married and had a kid not too long ago as well as Tetsuhiro Kuroda recently got married as well. He told me Masato Tanaka is the strongest wrestler he has ever been in the ring with and is the only wrestler he knows that doesn't smoke and drink but Yoshihito Sasaki is also one of the strongest he has ever faced and he had to wrestle him everyday in the Dojo. Koji Nakagawa was their FMW Dojo trainer but Mammoth Sasaki was the Dojo Boss who lived in the Dojo with them and made sure everything was kept in order but when FMW closed and he went over to the WMF Dojo it just became Mr. Gannosuke in complete control. I also bought the last WMF show from August 31, 2008 on DVD that I now have for sale. Kamui's father was there and is a big time wrestling fan. There were a couple of other people there that I was a big hit with as they kept asking questions through Soldier to ask to me. They all then began showing me pictures of wrestlers on their phone. I got every wrestler that Kamui's dad showed me as it was mostly DDT and Big Japan wrestlers but the other man kept showing me pictures of K-Dojo wrestlers and I did not do well at all with that. It was a lot of fun for a couple of hours. A former FMW referee then came in with his girlfriend and at about that point everyone was quiet. It was also getting late and the subways were about to close so I decided it was time to leave. Soldier also told me that Ryuji Ito's bar was downstairs, but I didn't bother to check that out. That night was probably the most actual fun night i've had while in Japan.
Yamashita Park and Yokohama Bay
Yokohama Stadium and Yokohama Bunka Gym
The next day on June 24th I decided to leave Tokyo for the first time as I headed on over to Yokohama for the first time. I went to Yamashita Park which is very nice and peaceful. It's right by the Yokohama Bay that is a very beautiful sight. It was also probably the only time in Japan that you're outside and it was comfortable being outside in June. I also walked by the Yokohama Bunka Gym that held many FMW shows throughout the years as well as Yokohama Stadium that held the September 19, 1992 show with Atsushi Onita against Tiger Jeet Singh on top.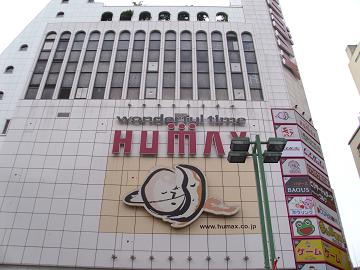 Building that holds the Shinjuku FACE on the 7th Floor and before the SMASH June 25, 2010 show.
I switched hotels over to the Grand Palace and then headed on over to Shinjuku. Shinjuku is definitely the biggest commercial area in Tokyo. I killed time before going to the SMASH show at the Shinjuku FACE by going to the arcades that are on the first floor of the building that the Shinjuku FACE is in. Due to tickets being higher for SMASH than any other promotion I ended up buying the 55 dollar tickets which were the cheapest. They ended up being standing room only tickets and you had to spend another 5 dollars on a drink. SMASH definitely has its following as it seems like the same 400-500 people attend every show and the fans wear their SMASH t-shirts to shows more than any other promotions fans I have ever been to. Kamui's father also saw me while walking by to his seat and said hello before heading to his seat. The show was decent although the first half it definitely dragged.
Isami Kodaka vs. KUSHIDA
Isami Kodaka vs. KUSHIDA was definitely a disappointing match. Kodaka bled all over and brought out a barbed wire board but the match just never clicked for me.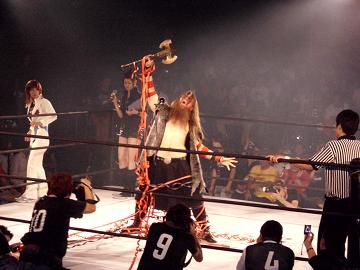 Heimo Ukonselka and Jessica Love after TAJIRI kissed him and spit mist into his mouth
Heimo Ukonselka & Star Adder & Jessica Love against TAJIRI & Hajime Ohara & Lin Bairon was entertaining Jessica Love's entrance to Avril Lavinge's "Boyfriend" is an awesome entrance. Spot of the match was Jessica trying to kiss Ohara and TAJIRI instead grabbed him and kissed him instead and while kissing him spit mist into his mouth. You can see the green mist coming out of Jessica's mouth and then he proceeds to spit the mist in TAJIRI's face.
Syuri vs. Kana
Best match on the show was Syuri against Kana due to how well they built it up. They definitely made this as the biggest match in Syuri's career. One thing TAJIRI did in HUSTLE and brought it with him to SMASH is video packages before every match and you got to see the whole entire story build up of this match. Syuri was definitely the most over in the crowd and when she got the win the building did pop big for it as she celebrated like she had just won a world title at the biggest show of the year. The fans were cheering her on as she began to cry while doing her interview. Not the best as far as actual wrestling on the show, but I would still say a very entertaining show in general.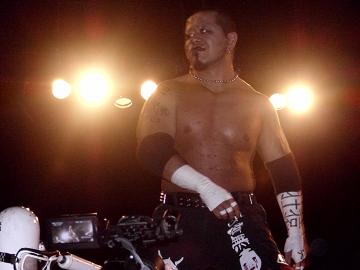 Super FMW June 26, 2010 show at the Shin-Kiba 1st Ring and Jun Kasai before the match.
Tarzan Goto and Mr. Pogo
Shadow WX and Jun Kasai during the wild brawl
I attended the Super FMW show on June 26th at the Shin-Kiba 1st Ring. Like I said in the News section that this show was the definition of a one match show. The wild and crazy brawl between Tarzan Goto, Mr. Pogo, Masahiro Sase, and Yuta Nakata against Jun Kasai, Shadow WX, The Winger, and Nobuhiro Tsurumaki was the saving grace of a otherwise horrendous show. After the show, me and a couple of other fans stayed to get pictures with the wrestlers as this was the only show I have ever been to besides at the Tokyo Dome where there weren't wrestlers after the show selling stuff. Makato Hashi was the first one to came out and no one cared.
Mr. Pogo leaving the show and BAHU & Ricky Fuji after the Super FMW show.
Mr. Pogo then came out in a Hawaiian shirt and two other men next to him as he was not interested in staying for pictures. The Winger then came out without his mask on and asked me when I was going back home then I heard a "Hey Buddy!" and it was Ricky Fuji I talked to Ricky about the early 90's FMW for a minute and got a picture with him before heading back to the subway.
Before the Big Japan June 27, 2010 Korakuen Hall show
My last full day in Japan was June 27th where I attended Big Japan's Korakuen Hall show. This was a very good show as the Big Japan crowd probably has the loudest fans of any promotion I have been to.
The Winger during a 10 bell salute to Trent Acid and Makoto Oishi, Shiori Asahi, and Tsutomu Oosugi making their entrance
The show started with The Winger giving an emotional speech and leading a 10 bell salute for Trent Acid. The opening match saw Daikokubo Benkei and Mototsugu Shimizu defeat Yuichi Taniguchi and CHANGO after Shimizu hit a Footstomp off the top rope on CHANGO. The next match was the Men's World match as Makoto Oishi, Shiori Asahi, and Tsutomu Oosugi defeat Men's Teioh, Onryo, and Atsushi Ohashi. Oishi and Asahi double teamed Asahi until they hit the Cactus Flower which is a very impressing looking finisher with Oishi getting the pinfall on him.
Jun Kasai & Jaki Numazawa vs. Ryuji Yamakawa & The Winger
The next match was Ryuji Yamakawa and The Winger against Jun Kasai and Jaki Numazawa. Kasai and Numazawa jumped Yamakawa and The Winger during Yamakawa's entrance and control most of the match. Kasai and Numazawa pretty much just laid out Yamakawa throwing him through the barbed wire board. Kasai ended up getting the pinfall over Yamakawa with a Reverse Tiger Driver on Yamakawa. Kasai was not finished though as he and Numazawa continued to beat on Yamakawa and then break the barbed wire board over his body before they finally Kasai and Numazawa finally left the ring.
Yuko Miyamoto & Necro Butcher vs. Shuji Ishikawa & Kankuro Hoshino
Necro Butcher's balcony dive at Korakuen Hall and Miyamoto having to take on both Hoshino and Ishikawa after Necro recovered from the dive.
Necro Butcher pulling out a weapon to get Hoshino and Ishikawa out of the ring after the match.
Yuko Miyamoto and Necro Butcher against Shuji Ishikawa and Kankuro Hoshino was the match of the night. Necro Butcher was so incredibly over. The big spots in the match included all the wrestlers brawling up in the stands leading to Yuko Miyamoto climbing up the entrance gate in the stand and delivering a Moonsault which I could barely see but got a huge ovation. Necro Butcher then went up the balcony of Korakuen and proceeded to jump off of it with all three wrestlers catching him which got a huge ovation from the crowd. Shuji Ishikawa was a huge heel during the match as he worked on Necro's messed up knee with the fans screaming for Necro and when Necro got an inside cradle on Hoshino out of nowhere and the crowd reaction to the pinfall was the loudest I have ever heard at a pro wrestling show. The fans were screaming for Necro as he grabbed the mic afterwards and told the fans of Korakuen Hall that he loved them.
Yuko Miyamoto and Onryo during intermission
During intermission of the show I got to talk to Onryo for a second and take a picture of him as well as Yuko Miyamoto over at the 666 promotion table.
Daisuke Sekimoto, Shinobu and Ryuichi Kawakami vs. Yuji Okabayashi, Kazuki Hashimoto and Takumi Tsukamoto
The next match was Daisuke Sekimoto, Shinobu and Ryuichi Kawakami against Yuji Okabayashi, Kazuki Hashimoto and Takumi Tsukamoto. I would consider disappointing as it started out real good with Sekimoto and Okabayashi which was such an awesome match I saw on last years trip but I just felt the match kind of dragged a little bit when the other wrestlers were in. Sekimoto ended up hitting the German Supplex on Hashimoto for the win.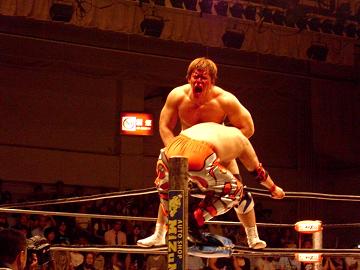 Takashi Sasaki vs. Yoshihito Sasaki
That was followed by Takashi Sasaki against Yoshihito Sasaki. Yoshihito was on for the match as he was in full hatred mode for Takashi as he kept spitting in Takashi's face. Yoshihito ended up bleeding all over during the match before Takashi put him away with a Right Leg Kick in a good match.
Nikkan Lee setting up the fluorescent light tubes to the ring and Masashi Takeda making his entrance
Ryuji Ito & Shadow WX vs. Masashi Takeda & Isami Kodaka
Masashi Takeda challenging Ryuji Ito to a BJW Death Match Title shot at Korakuen Hall on July 30th
A funny spot before the main event was Kankuro Hoshino in the ring setting up the fluorescent light tubes in the ring. He was going too slow for referee Nikkan Lee's liking who just told him to just leave and she would take care of it. She proceeded to put up the fluorescent light tubes at lightning speed and probably ten times faster than Hoshino was doing it. The main event was a really good match to end the show. The match saw Masashi Takeda and Isami Kodaka take on Ryuji Ito and Shadow WX in a Fluorescent Light Tubes Death Match. The light tubes were breaking and the glass was flying all over the front row of the crowd this year. They brawled all around the building before heading back in the ring. The ending sequence was Takeda was trying to put away Ito with German Supplexs but Ito kept kicking out at the last moment every time until Takeda got a fluorescent light tube and supplexed Ito on it to finally get the win. Takeda then challenged Ito to a BJW Death Match Title match at the next Korakuen Hall show on July 30th with Ito accepting.
BAHU with Necro Butcher and Jun Kasai after the show.
After the show I talked to Necro Butcher about how he suffered a broken ear drum in the match against Kasai, how he screwed up his knee in Yokohama against Yoshihito, and how he can't take any time off because he has got 6 kids to support so he is going to have to just take pain killers like they're candy. I also got a picture with Jun Kasai and talked to The Winger one last time before leaving.

I left the hotel and headed back to the Narita Airport on June 28th to fly home. I ended up sleeping through most of the plane ride due to exhaustion. It was another awesome week long trip throughout the country. I don't know when I will be able to go back again, but I am sure whenever I do end up going back it'll be just as great as my first three trips have been.
Click here for more pictures from the trip
Click here for the 2009 Japan Diary
Click here for the 2008 Japan Diary