Bunkyo, Tokyo, Japan. The heart of Tokyo.
I arrived at the Narita Airport in Tokyo Japan on June 25, 2011 for my fourth trip to Japan. I planned on only staying 6 nights compared to last years 8 nights. 6 nights was more convenient money wise but it also meant I was going to have jam a bunch of different things for every day where with what I had planned to do where as last year every day I only did about one major thing a day. I stayed at the YMCA Asian Youth Center as although its much smaller its also much cheaper and a much easier walking distance to Korakuen Hall.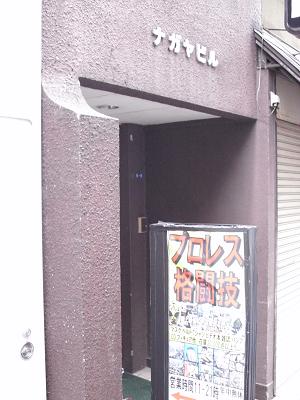 Toudoukan's
After checking into my hotel I did my yearly tradition of heading to Toudoukan's. I've bought over 500 magazines from the store today over the last 3 years but on this day I picked up some WMF/Mr. Gannosuke Production DVD's that had not made it state wise. I picked up WMF 1/13/07 with the main event of Mr. Gannosuke & Soldier vs. Onryo & Yuko Miyamoto, 2/17/07 with the main event of Mineo Fujita & Kitten Kid vs. Gosaku & Kamui and 1/14/08 with the main event of Gannosuke, Hideki Hosaka, and Leatherface vs. Soldier, Kengo Takai, and Kamui. I also picked up Mr. Gannosuke 5/1/08 of Gannosuke and Yasu Urano against Mammoth Sasaki and Takashi Sasaki as well as 11/22/08 with Gannosuke against Tatsumi Fujinami from 9/21/08 as well as Gannosuke against Mammoth. I also looked at the current FMW tapes they have in the store for sell and purchased the very first FMW Korakuen Hall entire show from October that I have never seen anyone else have available before.
Champion
I also went to the Champion and Battle Royal shops which are right next to the New Japan shop and bought tickets for all the shows I planned on going to at Champions. That would be my advice to anyone heading to Tokyo as Champions sells tickets to pretty much every Tokyo show and they have good seats and you know exactly where you will be sitting and you don't have to pay the extra 5 dollars for purchasing the tickets at the show. Champions also has a massive collection of rental tapes of pretty much every VHS put out by every promotion in the 80's and 90's.
Battle Royal
Battle Royal is more about collectable items like action figures, masks, and DVD's for the retail price which meant I did not buy anything from this store as almost everything they have you can find somewhere else for cheaper.
Shin-chan Arcade in Kasukabe, Saitama
The next day on June 26th, I decided to do the farthest trip first as I headed over to Kasukabe, Saitama and went to the LaLa Garden Mall which I had heard had a Shin-chan store inside of it. For those that don't know Shin-chan is a very popular cartoon show in Japan that has been on the air since 1992 so it's equivalent to the Simpsons here in America. They also have DVD's in English of the show that has been on Cartoon Network before that are very popular as well. I found out though it was more of an Arcade with a Shin-chan theme than a store as there was very limited stuff to actually buy although I did manage to win a stuff toy playing the crane game. I got some ice cream at Baskin and Robbins and then went back into Tokyo and headed to the NOAH show.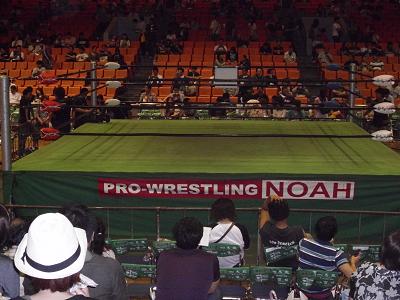 NOAH show at Korakuen Hall on June 26, 2011
I have not followed NOAH very much over the last couple of years. Due to lack of time and money and I am still not into 2011 yet where everybody downloads every match these days I have not really kept up with them other than reading results of shows. I really enjoyed the show though as almost every match was good.
Yoshihiro Takayama turning on Takuma Sano and Kensuke Sasaki vs. Bison Smith
Go Shiozaki & Jun Akiyama vs. Takashi Sugiura & Mohammed Yone
Some notes of the show was Yoshihiro Takayama turning on Takuma Sano joining KENTA's No Mercy group, KENTA's awesome new heel theme, Kensuke Sasaki vs. Bison Smith being the match of the show with the crowd definitely getting the loudest for the near falls and finish than any other match, and the main event not really coming through to me. Mohammed Yone who brawled mostly with Jun Akiyama was entertaining, but Go Shiozaki who has injured ribs brawling with Takashi Sugiura looked really poor to me especially compared to Akiyama and Yone's brawling.
Kenta Kobashi
After the show, Takeshi Morishima was signing autographs and Kenta Kobashi was right by the exit door shaking everybodys hand for coming as they left.
Kawasaki Stadium in 2011
The next day on June 27th, I went to Kawasaki. I have never seen so many donut shops so closed together as I did while in Kawasaki including a Crispy Cream store right by the Subway. I then walked and walked and walked before finally found Kawasaki Stadium. It has been turned into a Football field that holds about 15,000 people now compared to what it was when FMW ran it in the 90's which was a monstrous 50,000 plus seat Baseball Stadium. It's still a very large amount of area with a giant parking lot. I was very proud that I was able to find it by foot by myself but it took forever and if I wanted to make the Big Japan show that night I had to find a taxi to get me to the Subway station as fast as possible. I ended up making it to Korakuen Hall right as the show was starting with second row seats for only 42 dollars.
Big Japan at Korakuen Hall on June 27, 2011
The war between Yoshihito Sasaki and Shinobu
This show was the exact opposite of the NOAH show but I probably enjoyed it even more. The best part of the show to me was the hatred that Yoshihito Sasaki and Shinobu had for each other as Sasaki and Shinobu would randomly just go after each other no matter who else was in the ring with them and would slap and brawl with each other every chance they could which made Shinobu getting the upset pinfall mean even more. Shinobu also ended up doing an Asai Moonsault that wiped out the fan right next to me. The Barbed wire Board Death Match saw Masato Inaba who is new to Big Japan who was a huge FMW fan growing up wanting to show he can handle the Death Match style. Jun Kasai, Jaki Numazawa, and Masashi Takeda beat the holy hell out of him during their match and then some afterwards by putting Inaba through the barbed wire board atleast 20 times during and after the match. During intermission of the show, four English speaking girls ran up Masanori Horie who was sitting in the front row of the show with one screaming his name and kissing him all over his face before they left and never came back.
Yuko Miyamoto & Isami Kodaka vs. Brahman Brothers
Yuko Miyamoto and Isami Kodaka against the Brahman Brothers was a great live match but it felt every bit of 30 minutes. The Brahman Brothers brought out mannequins dressed like them. They pretended the mannequins were them. They hid behind the ring announcer when making the introduction so it was like them in the match. Then when one of the arms fell off they picked it up and used it to make the tag to the other. Other comedy spots included the bodies of them falling off and the Brahman Brothers freaking out and putting them back together as fast as possible, Miyamoto going up to the top rope with the Brahman Brothers outside the ring and electing to hit a flying dropkick and break one of them instead, and the Brahman brothers going to spit their black dye and Miyamoto ducking and the mannequin getting sprayed in the face instead. There would be two different balcony spots during the match with one being one of the Brahman Brothers trying to throw Miyamoto from it and the other later in the match with Miyamoto going to the balcony and teasing jumping from it but instead spitting green slime out of his mouth down onto the Brahmans face. Miyamoto would end up getting the black dye spit in his face during the match but the match would end up in a draw.
Ryuji Ito vs. Kankuro Hoshino
They made a big deal out of Ryuji Ito vs. Kankuro Hoshino with Great Kojika coming in the ring to read the declaration for the title and then having the Japanese anthem play before the match. Glass ended up getting shattered and flying all over me although feeling it the fluorescent light tube glass isn't that sharp at all. Hoshino was definitely the babyface the entire time. Everyone loved him. The only time Ito who is suppose to be the ace of the promotion got cheered was at the beginning when he poured a bucket of thumbtacks on himself which got an Ito chant but besides that the entire nearly sold out building was screaming their heart out for Hoshino to win the match. The grossest part of the match was when Ito pulled out a syringe and tried to jab it in Hoshino's face but Hoshino managed to get away and grab the needle and proceeded to place it into Ito's mouth and then stick it through Ito's gum with it coming out and whatever red substance was inside the syringe began shooting out of the side of Ito's gum which grossed out the entire side of the audience they were facing which was not my side thankfully. Ito eventually ended up putting Hoshino through a fluorescent light tube cinder block with the Dragon Splash to retain his title to the disappointed of the crowd that the main guy in the promotion retained his title. I'm not an Ito fan, but the crowd reaction to this shows that maybe Ito being the top babyface of the promotion needs to end soon because nobody in the crowd actually wanted him to win this match.
Soldier's BUU Bar
Due to the show being near three hours I did not get to the Suidobashi Station until around 10 as I wanted to make it to Soldier's BUU Bar in Ikebukuro which I went to last year and was one of the top highlights of last years trip. I had trouble finding the place as Ikebukuro is definitely a lot like Shinjuku where its all just a bunch of bars everywhere and it took about an hour to finally find. The place was empty when I arrived as Soldier was just watching an IWC show that he was on by himself when I got in. I really enjoy talking to Soldier about FMW/WMF and that's what I ended up doing for an hour. He confirmed the rumor that Yoshihito Sasaki left ZERO1 after stealing away Masato Tanaka's girlfriend. It was not Kaori Nakayama though as Tanaka and Nakayama had broken up years before any of this took place and Nakayama got married and has two kids now. He told me that Sasaki refuses to go into details about anything with Soldier who is one of his best friends even. He told me that Gannosuke is no longer the Ice Ribbon trainer as he and Emi Motokawa had a falling out and Gannosuke now just works as the GUTS World ring announcer. He told me that although he personally likes Kanemura most people consider him a bad guy in this business. Although we did not talk about the exact incident of Gannosuke and Kanemura and why they broke off on bad terms in 2004 from each other, just talking about them with Soldier it came off to me that Gannosuke is a stubborn person, and Kanemura can be a real dick and when a disagreement between the two took place than those combinations do not mix well with one another. He mentioned how Flying Kid Ichihara is still pretty much living off of his wealthy parents. He also told me about how Nanjyo Hayato was starting up his own restart FMW promotion and plans to run Korakuen Hall style shows in August with Onita, Kudo, and Hayabusa appearing on the shows. I sadly only stayed there an hour and looking back I wish I would have got to stay longer. I wanted to try and make it back before the subways closed but sadly I did miss it anyway and had to take a taxi back to my hotel.
Combat Toyoda's Korean Bar-B-Q Restaurant
The next day on June 28th was definitely the best day of the of the trip despite no wrestling shows that day. I went to Chiba to go to Combat Toyoda's Korean Bar-B-Q Restaurant. Toyoda lives very far away from the subway so I had to take a taxi to and from there when coming back. Combat Toyoda knows no English whatsoever but I already knew what I planned on ordering and thankfully a English speaking couple were there to translate for her to ask if I wanted her to call a taxi for me so I would not have to just randomly walk around looking for one. The place was very tiny, but nice and had a Disney theme going as well as all the songs playing were old Disney songs as the restaurant is very close to Disney Land Japan. I ordered a roast beef and although it tasted very good, it was not very much but still getting to meet Combat Toyoda and show her some old FMW pictures from some FMW Programs made the experience worth it.
Mineo Fujita at the Stanley Club on June 28, 2011
I then went straight to Shinjuku and got to Naoshi Sano's Stanley Club Bar just as it was opening as this was by far the best night of the trip if not the most fun I have ever had in Japan. Sano brings in a different wrestler every night to help with the bar and I chose to go this night because Mineo Fujita would be there and having covered him for 9 years made it a easy pick over other nights where he had other wrestlers such as Batten Tamagawa and Daisuke Kawaue working. It was just me, Sano, and Fujita for the first hour or so. They asked every sexual question there was to ask including trying to convince me to go to the strip club one floor above since I had gone on the trip by myself and needed some loving and then got out a magazine of hookers with their pictures where you call to setup a meeting and for a hundred bucks you have them for an hour. Sano told me that is what he uses pretty much every night. Fujita then pulled out a gay magazine to show me that had a gay fetish wrestling section with Fujita, Shinobu, and Masashi Takeda in it and wearing very little. Both Sano and Fujita told me that Takeda was actually gay which I would not have guessed.. I told them I was a WMF fan and Naoshi Sano after hearing that decided to call Ricky Fuji who was working at his Gym. Sano gave me the phone and I got to talk to Ricky who had remembered me from the previous two years. Ricky despite knowing English very well still will switch back and forth from English to Japanese in a sentence so it made it difficult to follow him sometimes but he did tell me that Nanjyo's new FMW start up promotion looks to run once every month before I gave the phone back to Sano.
Two people then came in to the bar with one being a female and the other being a male that looked just like Tetsuhiro Kuroda and sat next to me. They were both huge Hayabusa fans and we ended up talking about him as two other attractive females came in and that was the last I interacted with Sano when they came in. The female I was sitting next to was obviously a huge Mineo Fujita fan also as the background on her phone had a picture of him in his new ZERO1 t-shirt. Mineo Fujita hung around by us on one side of the bar as Sano stayed on the other with the girls. I asked Fujita since he was he in the WMF Dojo if he was a FMW fan which his reply was "No." and then I asked him if he was ever a Hayabusa fan which gathered another "No." response. Fujita then started hitting on me by saying "Me. You. TONIGHT!" which he ended up saying many, many times through out the night at me which would make the female fan of his laugh every time. He then began rubbing my arms which lead to him rubbing my chest, and then lifting my shirt up and rubbing my chest which I know is just him trying to get a response out of me. I ended up talking to that girl for another two hours with Fujita coming by every so often to talk to us and say "TONIGHT!" to me as we talked about pro-wrestling as her English was pretty decent and I could just tell how much she really loved pro-wrestling. She told me her name was Chihiro and she quizzed me on how well I was able to read Japanese wrestlers names off her phone using Weekly Pro Wrestling mobile which has results of every show from the past week. She randomly picked out the FREEDOMS show of all promotions and for the only time in my life will a girl be excited to see that I am able to read Japanese wrestlers names in Japanese. Chihiro ended up having to leave soon after and I talked to Fujita some more and afterwards I really thought of Fujita as one really cool guy after hanging out with him for four hours even though he pretty much felt me up during the night. I decided after four hours if I wanted to avoid having to take a taxi again I better leave then. I ended up making the Subway but I learned a hard lesson that night. It does not matter if you make it to the Subway before 12:40 the train will just randomly stop once it hits 12:40 no matter where you are which is sadly was farther away than I was when I left so another taxi had to be used but it still the highlight of the trip.
Secret Base at Shin-Kiba 1st Ring on June 29, 2011
Kamui & Takashi Sasaki
The next day on June 29th was a lot less packed than the other days of the trip. I went back to Toudoukan and got some more magazines but did not do much until I headed off to Shin-Kiba to go to Secret Base's Shin-Kiba 1st Ring show. Secret Base has a bad rep as its core of wrestlers are not very good, but they bring in a lot of good outside talent. For this show it was Takashi Sasaki, GENTARO, Yoshihito Sasaki, Munenori Sawa, Kamui, and Kazuki Hashimoto. The wrestling was decent although the Kazuki Hashimoto match was a big disappointment to me. The best part of the show was getting a chance to talk to Kamui for 5 minutes as he was able to speak decent English. I told him how I met his father last year at Soldier's Bar and how I was a huge FMW/WMF fan and he told me how he was a huge FMW fan growing up and that's what made him want to be a wrestler and his attire was inspired by Hayabusa. I also talked to him about the MASADA match which Takashi Sasaki overheard and tried to sell me the DVD of that show. I instead bought the new Kamui shirt that Kamui signed for me.
Pro-wrestling books and magazines inside the store next to Korakuen Hall & Antonio Honda
The next day on June 30th I would walk around the Tokyo Dome area and head over to the news stand where I purchased the latest Weekly Pro-Wrestling and looked at all the latest magazines and books they have. I would then randomly walk pass Antonio Honda going to Korakuen Hall for that nights show.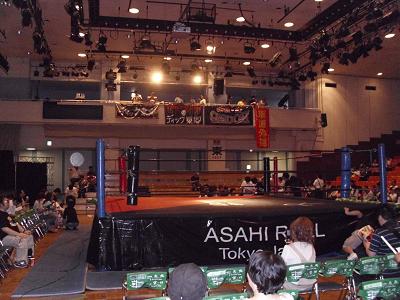 Dick Togo's Retirement show at Korakuen Hall on June 30, 2011
Jinsei Shinzaki walking the ropes against Takagi Genjin
Later I would head over to Korakuen Hall for that nights Dick Togo Retirement show. I got in pretty early for this show and was able to get in a rather short line to get Dick Togo's autograph and take a picture of him. I went upstairs to the balcony to take a picture of the ring from above as I had never gotten a chance to be up there in that building after all the times I have gone now. The show was a mix of a 90's Michinoku and current day DDT. I was able to see Jinsei Shinzaki, Tsubo Genjin, FUNAKI, and Kaz Hayashi live for the first time. It was also the first time I saw Kota Ibushi live as he had been injured previously right before my trip the last two years. After the first match, a familiar looking woman sat right behind me and it turned out to be Chihiro from Stanley Club. I ended up talking to her during intermission as she gave me her card and told me to e-mail her and told me to please keep in contact with her. She was a huge fan of Tomohiro Ishii as she was screaming her heart out for him during his match as she told me that she was very good friends with him.
Dick Togo vs. Gedo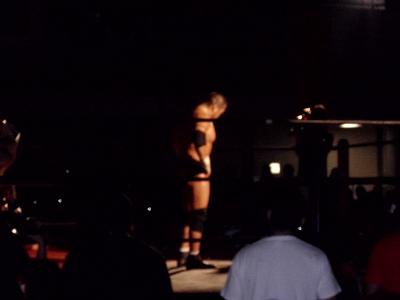 Dick Togo's Retirement Ceremony
The main event show was the retirement match of Dick Togo against Gedo. They showed a 10 minute video package of Togo's career and why he picked Gedo as his last opponent as they were team mates back in Universal in 1991. It was really an amazing video package and I saw some women crying afterwards. After the match started, Chihiro poked at me and screamed "LOOK! HAYABUSA! GREEN MASK!" and there was Hayabusa on the other side of Korakuen Hall watching the match from the entrance. Togo and Gedo ended up brawling right in front of him for a good long time. They did all the key spots you would expect as TAKA, Hayashi, HANZO, FUNAKI, Teioh, GENTARO, Yasu Urano, and Jado watched from ringside. Takashi Sasaki was in the crowd watching and Jinsei Shinzaki was behind the curtains watching. Togo eventually put away Gedo with the Senton and the two hugged afterwards. They then began calling out people to hand flowers to Togo and when they called Hayabusa out the crowd screamed in shock despite Togo and Gedo wrestling right in front of him during the match. Tiger Mask IV, Masao Orihara, Toru Owashi, Sasuke, Shinzaki, KDX, GENTARO and Urano and the entire DDT roster also came out and gave Togo flowers before Takagi was the last to give Togo the biggest set of flowers which resulted in Togo hitting a Pedigree on Takagi for a huge pop from the crowd. The building then got dark and even though they did not do a 10 bell salute the crowd still knew when to fill the ring with streamers as all the wrestlers picked up Togo and tossed him in the air as they all took pictures together to end the great show.
Chocoball Family in Shinjuku
I then headed over back to Shinjuku one last time to visit the Chocoball Family Bar which took about another hour to find so I did not even try to make it before the last Subway this time. There were two men there with one being a huge fan of Mitsuharu Misawa as all I kept hearing was "I RESPECT MISAWA MITSUHARU" and whenever I would bring up Fuyuki to Chocoball the guy would go "I LIKE SAMSON FUYUKI BECAUSE HE IS FRIEND OF MISAWA MITSUHARU". Chocoball pulled out a DVD of a Fuyuki Army show against Mammoth Sasaki from 2004 as well as a documentary that a TV show did on him after he joined FMW. It turns out he tried out for the New Japan Dojo in 1986 before running out in the middle of the night. He then got into bodybuilding in 1990 which lead to him getting connections into the porno business which lead to him getting into FMW in 1999. Talking to Chocoball, I could sense he is a lot more proud of his wrestling days than his porn days even though that's what he is probably a lot more known from in Japan. I could tell Chocoball was really good guy from the communication we did have, but between the very little English he was actually able to speak and how the most lively guy in the bar was still trapped in 1990 as far as pro-wrestling goes it could not compare to Stanley Club although it was still great to meet Chocoball and watch those videos with him.
I ended up leaving the next day and I really feel this was the most successful trip I had. Between having as much fun as I did and always being out doing something it really made for another amazing trip. I never know after I come back if I ever want to go back right afterwards, but I am sure after another 9 months just like every year I will be planning out another trip although at this point I don't know if there is much else I could do wrestling wise now that I would want to do that I have not done yet.
Click here for more pictures from the trip
Click here for the 2010 Japan Diary
Click here for the 2009 Japan Diary
Click here for the 2008 Japan Diary