Back at Tokyo Dome City
I arrived at the Narita Airport in Chiba, Japan on June 21, 2012 for my fifth trip to Japan. I would be there for eight nights up until June 29th. This year was the first year I would be up against time getting there as I planned on going to Big Japan's Korakuen Hall show on June 21st my first night in which I had never scheduled to do. I ended up just missing the Airport Limousine Bus by 4 minutes thus had to wait another hour before getting on a bus that would take 90 minutes to get into Tokyo. As soon as I checked into my hotel I only had 10 minutes to get ready and head on over to Korakuen Hall.
Big Japan show at Korakuen Hall on June 21, 2012
A match between Ryuji Ito and Ryuji Yamakawa vs. Shadow WX and Takashi Sasaki would have fans bring weapons for the wrestlers to use during the match. I brought a badminton that I handed on over to Ryuji Ito who was in the lobby collecting items which included the guy next to me handing Ito two jars of thumbtacks.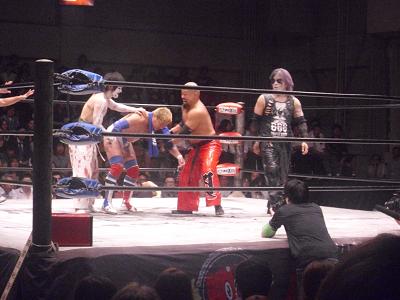 Onryo & Taro Nohashi & Konaka Pale One vs. Men's Teioh & Hercules Senga & Tsutomu Oosugi
Onryo started back up for Big Japan a month earlier after a long absence due to Men's Teioh being injured so this allowed me to watch Onryo live for the fourth straight year. It was also the first time seeing Nohashi and Konaka live as well. This was a fun match as Senga and Oosugi are very good workers and Onryo is always entertaining. Onryo ended up throwing dust in Teioh's face but Senga and Oosugi delivered their Sprial X off the turnbuckle to pick up the win over Konaka.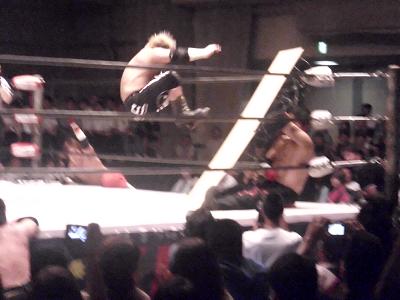 Shuji Ishikawa & Yuko Miyamoto & Isami Kodaka vs. Masashi Takeda & Kankuro Hoshino & Masato Inaba
This was a Barbed wire Board Death Match. The match was built around Ishikawa and Miyamoto who didn't get along the entire time which led to Ishikawa stealing Miyamoto's pin and them going at it afterwards with Kodaka playing peace keeper. Miyamoto defends his DDT Extreme Title against Ishikawa on 7/18.
Daisuke Sekimoto and Shinobu had the most heated exchange of the night
The Big Japan crowd always love an underdog and on this show it was Shinobu. Shinobu was the star of the show by taking everything Sekimoto was giving to him and for him to come back and fight back to take control of the match with the crowd popping huge as he went for his Shooting Star Press although Sekimoto got his knees him and eventually put him in a Boston Crab for a good long time before Shinobu was finally force to tap. The fans kept chanting Shinobu afterwards as he was helped to the back. Masashi Otani is starting to look like Shingo Takagi.
Fans bring the Weapons Match between Ryuji Ito & Ryuji Yamakawa vs. Shadow WX & Takashi Sasaki
This match was a lot of fun as well and had the audience in laughter for the majority of it. Sasaki used the badminton rack that I brought twice during the match. Both were only for a split second each time though. A rubber snake ended up getting thrown at Sasaki which freaked him out. Rolling tape was put in Yamakawa's mouth and then let go to hit him directly in the mouth. Yamakawa ended up botching the finishing clothesline spot and WX had to do it again. Yamakawa came to the ring from the crowd with his afro wig on. Sasaki kept throwing the wig in the crowd but the fans kept throwing it back in the ring.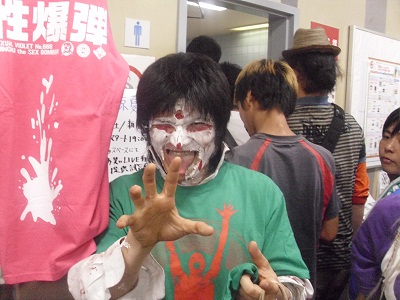 Onryo & Konaka Pale One
During intermission I was able to get pictures of Onryo, Konaka Pale One, Isami Kodaka, and Masashi Takeda. I was able to let Takeda know I would be going to Stanley Club the next day to see him.
Yoshihito Sasaki vs. Yuji Okabayashi for the Strong Heavyweight Title.
This match was slow at first with it mostly just being forearms to one another but it really picked up in the end with the finishing sequence seeing Sasaki headbutting Okabayashi so hard he busted himself opened badly before finishing Okabayashi off with a lariat.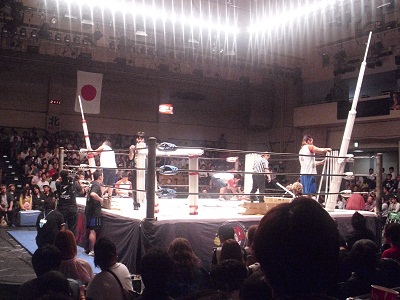 Abdullah Kobayashi vs. Jaki Numazawa in a Tokyo City Death Match.
A Tokyo City Death Match is a match where the Fluorescent Light Tubes are designed to look skyscrapers with the big one almost crashing down the first time they hit the ropes causing Kamitani and the other young boys to have to hold it the rest of the match until it was used. This was a good match as the crowd was going crazy with one half chanting for Kobayashi and the other chanting Numazawa very loudly. This match the whole way through was just fluorescent light tubes being used one another the entire time. Both backs were sliced. Kobayashi ended up retaining and using one of the fluorescent light tubes as a guitar.
WNC's June 22nd show at the Shinjuku FACE
The next day I traveled to Shinjuku which after this trip I am now very confident when it comes to finding anything in the area at this point. Thankfully Wrestling New Classic's tickets are cheaper for Shinjuku FACE than SMASH was. I paid the same price I paid two years ago (55 dollars + the extra 5 you have to pay to get a drink at Shinjuku FACE) and I ended up getting a seat this year atleast.
The young Big Japan wrestlers in a 8 Man Tag
The opening match was Big Japan's Kazuki Hashimoto, Takumi Tsukamoto, Masashi Otani and Hideyoshi Kamitani defeat YO-HEY & Koji Doi & Jiro Kuroshio & Josh O'Brien Hashimoto made O'Brien tap to an Ankle Lock. There was only about 10 Big Japan fans at the show but they were very vocal as they screamed BJW and Hashimoto's name through out the entire match. Hashimoto was the star of this match as he one of the best heels in the business right now with his "I am going to be a dick to you and I don't care because I hate you anyway" attitude.
Ultimo Dragon & Lin Byron
Ultimo Dragon and Lin Byron teamed up against Takuya Kito and Mototsugu Shimizu and this match had the biggest screw up ever about a minute in. Dragon and Byron did Double Asai DDT's and Kito did not kick out and the referee just stopped counting at 2 which left everyone confused. A whole minute pretty much went by without nothing happening as finally Dragon and Byron declared they should have won the match and they were given the win finally. Kito then grabbed the mic and issued for the match to become two out of three falls with Dragon and Byron agreeing. Dragon and Byron ended up again hitting the Double Asai DDT for the win. My guess is Kito knew that was the ending spot of the match so when they for whatever reason did it a minute in he was thinking that they were calling to go home right away and that's why he didn't kick out.
Leatherface & Maybach Taniguchi
WNC's rookie Hoshito Takahashi defeated Leatherface via Count Out. Takahashi's gimmick is that he is friends with a heel referee that just refs his match and always makes sure Takahashi wins. This time the referee made sure not to count to 20 until Takahashi was in the ring to count Leatherface out. Leatherface then tried turning on his chainsaw which wouldn't work so Leatherface just walked out with the fans feeling sad for him until he was able to get the chainsaw to work again in the lobby and rushing back to the ring to chase them off. Maybach Taniguchi defeated Hajime Ohara as Ohara is doing a gimmick where he is losing to other wrestlers from other promotions.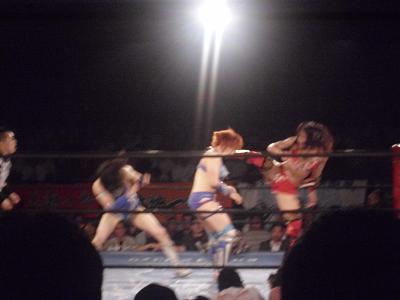 Syuri turning on Kana and AKIRA vs. Yusuke Kodama
Makoto & Mio Shirai d. Kana & Syuri when Makoto pinned Kana with Syuri ended up turning on Kana by kicking her in the head and then just standing there as Makoto made the pinfall on Kana as she walked out. Makoto was screaming for joy with the win. AKIRA defeated Yusuke Kodama with Kodama bleeding throughout and AKIRA acting like a complete heel through out the match before finishing him off with the Oldboy. These two matches reminded me of two years earlier as in the same building I saw Syuri deliver a similar kick to Kana's head to knock her out and AKIRA against Yusuke Kodama was the opener to that show.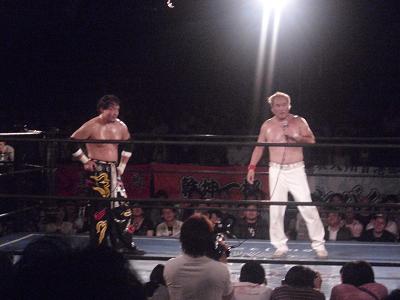 TAJIRI & Ryuji Yamakawa vs. Ryuji Ito & Shinya Ishikawa
This match was very slow to start as you could they wanted to make it go over 15 minutes because it was the main event of the show but I don't think Yamakawa has it in him any longer to go that long. Ito ended up pinning Yamakawa with the Dragon Splash as the new ring announcer (she is no SUNAHO) who speaks English for all the introductions messed up and said Yamakawa won the match. Yamakawa and TAJIRI hugged afterwards and Yamakawa got to have his goodbye with TAJIRI waving to him in the ring as he left. AKIRA then ran to the ring and choked out TAJIRI to officially turn heel and end the show.
Meeting with Masashi Takeda at Stanley Club in Shinjuku
I was one of the first ones to leave the building as I watched on the monitor of AKIRA continuing to choke TAJIRI out with the chain while waiting for the elevator. I headed over to Stanley Club which last year was one of my favorite nights while in Japan. Every night there is a different wrestler booked to bartend the place. This night would be Masashi Takeda who was excited to see a non Japanese person in the bar. This was a lot of fun as Takeda was very interested in asking me questions just like I was asking about him. I learned that he was a big UWF guy and thus got started training by Kiyoshi Tamura in the U-Style promotion. U-Style ended up morphing into the much smaller pro-wrestling based Style-E promotion and that is why Takeda remains loyal to it and is still a Style-E based wrestler. Takeda is a big Jun Kasai guy and will always follow Kasai at whatever promotion he is working as well. His favorite match was his Glass Death Match against Jun Kasai for the Jun Kasai promoted show on December 25, 2009. I asked him about his One Night Carnival Match against Yuko Miyamoto on July 12, 2009 in Yokohama with his biggest memory of the match feeling like he was going to die after falling off the scaffold and hitting the ring hard. Another match he was excited to talk about was his match against Ryuji Ito on July 30, 2010 when glass ended up cutting his eyelid and blood began flowing everywhere and he was blind in one eye and ended up needing 50 stitches afterwards. He showed me the scar that covers his whole eyelid as well. He ended up taking a picture with me on his phone and calling me his friend as our personalities clicked well despite the language barrier as his English was decent but it helped that there was a woman there that knew English fluently to translate throughout. He decided that he was going to leave at 12:30 and make the last train so I along with everybody else at the bar that night decided to call it a night and leave as well as I saw Takeda running as fast as he possibly could down the streets of Shinjuku to make the last train which I was able to luckily make as well.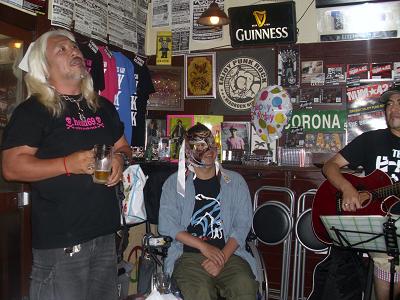 Hayabusa's concert on June 23rd in Takadanobaba at the Head Rock Cafe.
I traveled to Takadanobaba in Tokyo on June 23, 2012 to attend a Hayabusa concert at the Head Rock Cafe. Head Rock Cafe is headed by a big time pro-wrestling and FMW fan named Namijin who is the producer of several Japanese Punk Rock Indy bands. He also speaks very good English due to going to America several times for music related business. I waited in line with three other fans who were all wearing Hayabusa t-shirts before the place was opened. Hayabusa and his guitarist Fumi were setting up as Ricky Fuji was also sitting at the bar. Namijin came over and talked to me for a little bit as did Ricky Fuji who ironed out the details of my planned trip to his gym in a couple of days. After Hayabusa and Fumi had set up and were waiting for the show to start I went over to Hayabusa and handed him a DVD of several of his Florida matches which he told me (Hayabusa speaks very good English) were the only matches that he did not have of his career that had been video taped. He asked me how long I was in Japan for and what I was doing as I told him I was attending this concert and 5 pro-wrestling shows. The show then began with about 12 fans there in total in the small bar. Hayabusa began to sing all the songs from his most recent CD from 2010 and would tell stories to the fans in between the songs. He ended up talking about me in between one of the songs as Ricky shouted to me "he's talking about you Bret!" although I never picked up exactly what he said other than I was attending 5 shows. He also ended up telling a story that Nemijin told me later about after his Tokyo Dome match where he teamed with Giant Baba on May 1, 1998 he was in the locker room getting changed afterwards and looked over and there Giant Baba completely nude with his penis hanging out right next to him with Nemijin adding that he didn't mention if it was giant or not. Hayabusa's final song of the night was "Stand by me" by John Lennon in English which I ended up video taping off my phone and adding it to YouTube which you can find at http://www.youtube.com/watch?v=wVyDAK11ijQ
After the show, Nemijin pulled out a Best of Hayabusa DVD that he had and began playing it. I ended up sitting by Hayabusa and asking him all sorts of questions as he has the best knowledge of anything FMW related while watching his matches. We watched the Hayabusa vs. The Gladiator match where Hayabusa's Shooting Star Press didn't form completely and he ended up breaking a vertebrae in his neck with 911 being called immediately afterwards. After the Best of Hayabusa DVD was over we ended up watching a DVD that covered Hayabusa's career in 2000.
Due to sitting next to Hayabusa I just started asking all the questions I could off the top of my head including the question I am asked the most which is who owns FMW. Hayabusa told confirmed what I tell everybody that nobody owns the FMW name. It was liquidated and nobody purchased it and will remain that way forever most likely. Former WMF President Tetsuya Yamada was able to buy the DirecTV/SkyPerfecTV footage of FMW but is not allowed to use the FMW name to promote it nor any theme song used on the video. It was his decision to drop the Hayabusa gimmick in favor of H because his knee and his elbows were bothering him and they would continue to get worse every match due to his style. He ended up being told that the fans wanted Hayabusa back a year later and he was force to return to Hayabusa for good. I asked him about Yukihide Ueno who was also known as Battle Ranger Z. Ueno had always been a jerk to Ezaki right when he started. He feels it was out of jealousy because Ezaki came in later and was regarded as higher than him. Ueno then ended up quitting FMW after Hayabusa ended up getting the main event spot instead of him. Hayabusa told me that all that has been settled now as it was all so long ago and they're on good terms with Hayabusa even booking Ueno two years for his own show.
I asked him about the Mr. Gannosuke/Kintaro Kanemura split that nobody has an answered for. His answer was simply that Gannosuke doesn't like Kanemura's personality with Hayabusa adding that he doesn't either even though he's close friends with Kanemura's buddies Jado and Gedo. He just never really got along with Kanemura and neither did Gannosuke even though they were always booked as best friends. Go Ito is the only person from FMW that Hayabusa does not have any contact information as he has just disappeared from wrestling and any contact with any wrestlers for the last several years. Although Kodo Fuyuki was the main booker, Hayabusa helped with a lot of the booking as well. Hayabusa completely sided with Kodo Fuyuki's Entertainment Style of booking telling me that he knows Kodo Fuyuki is hated by many people for booking that way but it was just how they all (Fuyuki, Hayabusa, and Arai) thought the direction of the company should go adding that it all at least made sense (which it did). I asked him if his current girlfriend was a fan at all of Hayabusa with his response being that she hates wrestling and doesn't care that he is a pro-wrestler at all.
I asked him about the match against Mammoth Sasaki that he was paralyzed in. He told me that he knew right right away he was paralyzed and told the referee for him not to be touched but didn't tell the referee to end the match. Mammoth not knowing what to do and not fully understanding what just happened didn't want to just stand there so put Hayabusa in a chin lock figuring that was safe enough and would buy Hayabusa time. Hayabusa had one time in a match against Masato Tanaka on May 5, 2000 had been dropped on his head and lost feeling in his body for a second before so once the feeling never came back this time that's when Hayabusa finally asked for the match to be stopped. I asked him about the NOSAWA incident with Hayabusa telling me that NOSAWA had been out of jail and called him to apologize for it happening. NOSAWA told Hayabusa that he was innocent and he had been set up by a guy he knew in Mexico with Hayabusa believing him completely. NOSAWA has been since found innocent of all charges. The entire night ended up being 6 hours. Two hours of the concert and four hours of watching Hayabusa matches with Hayabusa while asking him questions. I didn't talk to Ricky Fuji that much that night due to my already scheduled interview with him and he was talking to the other fans that were there. I ended up heading out at Midnight and due to it being so late I decided against going back to Stanley Club that night to see Yuko Miyamoto bartend that night although this night ended up being by far the best night of the trip.
Hayabusa ended up covering the night on his Blog at http://ameblo.jp/fushichou/entry-11283455813.html

DDT's June 24th show at Korakuen Hall
The next day I was rushed again going to Korakuen Hall due to going to Church and then having to make it to the building for DDT's noon show.
Iron Man Battle Royal and return of Toru Owashi
A video package of Danshoku Dino traveling to Toru Owashi's bar asking him to come back to wrestling was shown before the Battle Royal to determine the Iron Man Heavyweight Champion. Dino pleaded with Owashi with Owashi sternly saying no. Dino ended up getting very upset and leaving in almost tears at being able to bring Owashi back. During the Battle Royal all the wrestlers were knocked and laid down like they were dead when another video package would be shown. This would show that after Dino left that Owashi had became very upset at what he had just done. Owashi would lay his head down while battling with his mixed feelings when his mother would enter the bar and smack Owashi for turning Dino's offer down to get back into wrestling. Owashi would then decide to come back to wrestling and would leave the bar with his apron still on. He would then show up seconds later with his apron on and head to the ring. He would grab the mic and enter the ring and right before being able to say anything the 15 minutes of the Battle Royal was up and Tsukasa Fujimoto was declared the winner with her jumping up and celebrating with the title ruining Owashi's moment to talk to the fans about coming back. Owashi will end up making his return to the ring for DDT's August 18th Budokan Hall show.
KUDO & Shiori Asahi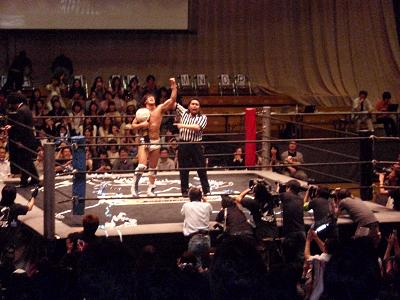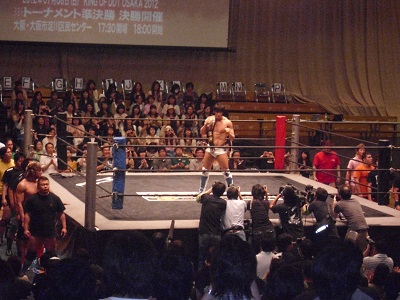 Kota Ibushi winning the DDT KO-D Title against Yuji Hino
A great video package was shown before the Kota Ibushi against Yuji Hino in the KO-D Title Match. Ibushi was standing right next to the church that I had just been to while REM's "Losing my Religion" while recapping everything Ibushi had been through since returning back in May. The match was a very good highflyer vs. power match with Ibushi pulling out the Phoenix Splash and then finally putting away Hino with the Phoenix Hold which was only the second time he had ever used the move. They then had 16 DDT wrestlers be randomly selected their spots in the tournament to determine who woul dface Ibushi for the KO-D Title on August 18th at Budokan.
Apache Army June 25th Rikimaru Memorial show at the Shin-Kiba 1st Ring
I traveled to Shin-Kiba for Apache Army's Shin-Kiba 1st Ring show on June 25, 2012. The show marked the one year anniversary of Rikimaru thus the entire locker room came out to start the show for a moment of silence. Before the show, Kazushi Miyamoto was the only wrestler at the gimmick table and granted there were only about 40 people that had arrived but I felt so bad for him as he stood there looking to sell his merchandise and nobody was going over to him. I was about to go over to him and buy something because I felt so bad but luckily somebody finally went over to him and bought a picture of him which he gladly autographed. I ended up picking up the Apache Army 3/25/12 DVD that probably would never make its way to the States otherwise.
Keita Yano against Shota and Bambi & Tomoka Nakagawa winning their match
The opening match saw Tanomusaku Toba and Keita Yano defeat Yusaku Obata and Shota when Toba picked up the win. Yano who I probably watch more than any other wrestler at this point due to him being in every promotion I follow had morphed into both the Joker over the last 2 years as well as using Bruiser Brody mannerisms throughout his match. Shuri Okada injured her knee a week earlier so she was unable to compete in the Joshi match on the show. After the match, former XWF President Sasehara who came in and sat down in the stands right at the start of the show ran into the ring to attack Micro following her match. Apache Army PR guy Hasegawa ran into the ring at first to try and pull Sasehara off but it took Kanemura rushing to the ring to throw Sasehara out of the ring to start an Apache Army against Sasehara's T-1 promotion feud.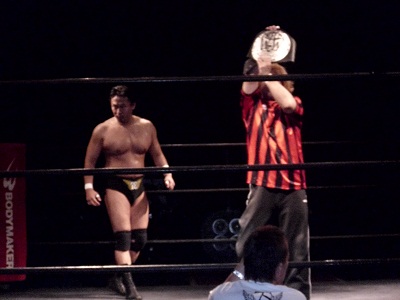 Kazushi Miyamoto over powering Dark Ranger & Yusha Amon and Tetsuhiro Kuroda defending his WEW World Title.
The highlight of the Kazushi Miyamoto and Arashi match against Dark Ranger and Yusha Amon were the fans chanting Sano's name at Dark Ranger the entire time. Sano screaming "NO! IM DARK RANGER!" to the crowd just made the fans more vocal about chanting Sano's name for the rest of the match. Tetsuhiro Kuroda against Shoichi Ichimiya was a basic match. Kuroda used all his signature spots that he has done for years and that was pretty much the entire match. Hasegawa then came to the ring and threw 16 balls with wrestlers names in it into the crowd. The fans that caught the balls would then come to the ring and then randomly place them in envelopes where they would determine the seeding of matches for the Take over the Independent single elimination tournament with the big match coming out of it would be Kintaro Kanemura vs. Tetsuhiro Kuroda in the first round next month.
Kintaro Kanemura & Daisaku Shimoda holding up a picture of Rikimaru
The main event was a basic main event match. Nothing wrong with it. Just everyone going through the motion. Kanemura ended up getting sent towards the stands but instead ended up baseball sliding on the floor and putting up two fingers to pose for a camera in a cute spot. Daisaku Shimoda ended up getting the win with a Backdrop on Nishimura for the win as Kanemura handed Shimoda a picture of Rikimaru to hold up in memory to end the show.
I ended up waiting outside a little while to see who would come out. This was also the coldest night in i've ever experienced in June as the temperature felt like it got down in the late 40's that night. Arashi hung around and talk to fans for a little while. Tetsuhiro Kuroda came out and I got a picture of him and I mentioned Team Kuroda to him with his reply being "That's fucking cheap!" while laughing.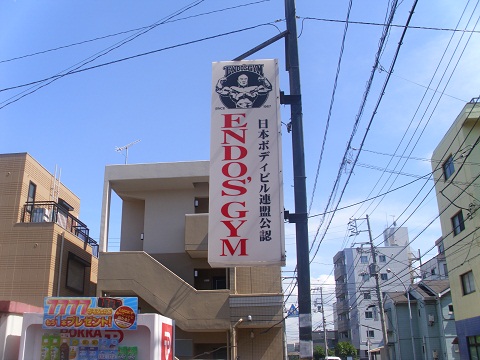 Ricky Fuji's Endo's Gym in Chiba on June 26th.
The next day I went to Chiba to visit Ricky Fuji's Gym for an interview which can be found at http://fmwwrestling.us/Ricky.html
Usually I am really good about being prepared with maps and directions on where I am going. That was not the case this day. I for whatever reason did not bring the address Ricky had given to me which I didn't notice until I had already taken the 90 minute subway train to Chiba. My memory of the address was also wrong when I tried to see if a cab driver could help and he couldn't. He suggested I go to the Chiba Community Center a couple of blocks down. They couldn't helped either and told me to try the Chiba Police Station for help. While walking over there I decided instead to just go to a Hotel right next to the Police station. There atleast I would have people that would most likely speak English with Internet access. I ended up getting help from the desk clerks as they searched the computer and ended up finding the accurate address. I had already been lost for 90 minutes at this point on top of the 90 minute subway train ride so I decided to just bite the bullet and take a taxi using the address they gave me and I finally arrived at Ricky's gym which ironically was only one block from a subway just not the subway I got off on.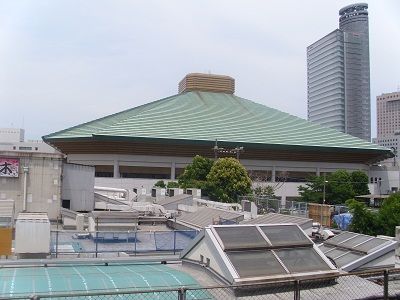 Ryogoku Sumo Hall
The next day I went to Ryogoku to take pictures of Sumo Hall as well as stopped by an arcade to play a New Japan arcade game from 2000 as I played as Atsushi Onita and lost rather easily.
Going to Akihabara on June 27th.
Then I stopped by Akihabara and visited many of the stores. There are a ton of electronic stores around there and I actually found a place that were selling old Super Famicom for about two dollars which included a New Japan game, an All Japan Women's game, and a bunch of Fire Pro games although I passed on them all. There are also a ton of women in maid outfits passing out flyers for their maid cafes where you're served your food by a woman as if she were your maid. Here's a video on YouTube best showing what the restaurants are like http://www.youtube.com/watch?v=zNAh35ChqcM
Soldier's new BUU Bar in Ikebukuro on June 27th.
I went back to my hotel and took a little break before heading back on over to Ikebukuro in Tokyo to go to Soldier's new BUU Bar. His bar has moved to the other side of Ikebukuro since I went to it last year. It was incredibly difficult to find as a result even though he actually moved it to the other side of town so it would be easier for people to get to it. Michinoku Pro and Apache Demolition's Takeshi Minamino was working that night for him as well. This actually turned out to be a bust as the previous two years I had a lot of fun at Soldier's. This year I had a woman sit next to me and ask me every possible question that she could think of with her very limited English skills like "do I know Karate?". I didn't get to talk to Soldier that much although I got to talk to Minamino a little bit. He likes working for Apache because they like serious wrestling. Big Japan is okay but he doesn't really like the Death Match style. He does not like the DDT because he feels the fans only like it to laugh and make a joke out of pro-wrestling. He then shared with me his feelings about the world ending this December which he is very vocal about believing. I ended up leaving Soldier's after probably less than a hour despite how long it took me although I would still recommend going, I just caught a bad night.
Then I headed on over to Stanley Club once again with Style-E referee Tessy Teshima as the bartender. Again, there was no Naoshi Sano as he has a female replace him whenever he's not able to make it. Kazuhiro Tamura was one of the people hanging out at the bar that night and I was able to talk to him a little bit. The only highlight really from that night was Teshima put in a DVD of a movie he starred in. He tried making love to a woman in the movie who wanted nothing to do with him and ran out of the house into the woods to get away from him. He ends up catching her and begins beating her which results in Teshima while watching himself do this in the movie to count one, two, three on her while he's beating her in the movie and to declare himself the winner which the entire bar popped for. I ended up heading back shortly after that.
FREEDOMS June 28th Shin-Kiba 1st Ring show & Mr. Gannosuke at entrance the door
My last night in Tokyo I went back to Shin-Kiba 1st Ring for the FREEDOMS show. I met a couple of people that I knew from Stanley Club at the show including my friend Chihiro. I also ended up talking to Takeda for a minute and picking up Mr. Gannosuke's 4/10/12 DVD from him.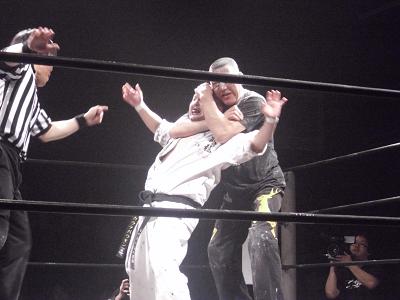 The final Kojika Army tag team match
The opening six man tag match was very entertaining due to the Baramon Brothers and Karate Baramon. Karate Baramon played guitar to start the match and then used blowing bubbles as a distraction towards Ryuichi Sekine and Ken Oka. The Baramon Brothers then grabbed some powder and launched it across the ring getting all over the wrestlers, the ring, and many of the fans including myself. Great Kojika ended up putting away Karate Baramon with his Iron Claw Slam for the win.
Kamui & Tomoaki Honma
After the match, referee Nikkan Lee began using a vacuum to clean up all the dust in the ring and on the ramp. Then during intermission and she came over to me and knew my name and where I was from and when I asked how did she know this she mentioned that she had read about me in Masashi Takeda's Blog at http://takedamasashi.blog.players.tv/article/56655149.html. I talked to her for a minute and went over and got pictures taken of Kamui and Tomoaki Honma who were at their tables.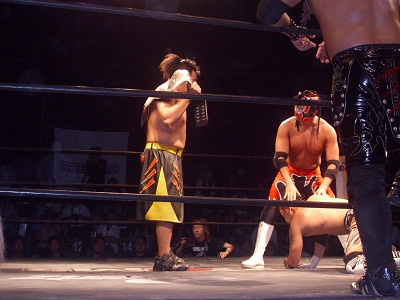 Bear Fukuda challenging HIROKI for his Independent Title and GENTARO placing the Sharpshooter on Kenji Fukimoto
Kuga and Bear Fukuda defeated The Winger and HIROKI after Fukuda ended up pinning HIROKI in a decent match. Fukuda afterwards grabbed HIROKI's Independent Jr. Heavyweight Title and challenged him to a match in the future with HIROKI accepting. GENTARO defeated Kenji Fukimoto in a Hardcore Match that saw both wrestlers smash each other over the head with chair shots and the bloody GENTARO placing the Sharpshooter on Fukimoto on a stack of chairs causing the referee to stop the match. GENTARO would enter himself in the Death Match Tournament after the match.
Takashi Sasaki & Mammoth Sasaki vs. Tomoaki Honma & Masashi Takeda
The main event was a good match. Mammoth was paired against Takeda for the first part of the match and Honma and Sasaki had a ending sequence before Mammoth would put away Takeda with a 29 Years Old on the stack of chairs. Afterwards, Jun Kasai would get in the ring and begin running the ropes and do a flip in the ring to show that he was physically ready to compete in his Death Match Tournament in two months. Kasai, Sasaki, GENTARO, Kamui, Mammoth, Winger, Fukimoto, Takeda would all be in the ring to announce that they would be in the Death Match Tournament when the Baramon Brothers would hit the ring with Kei announcing he was entering into the tournament as well with Shu screaming "I'M HIS MANAGER" repeatedly as the tournament would become a 14 man tournament. After the show, I went over and got a picture with Mammoth.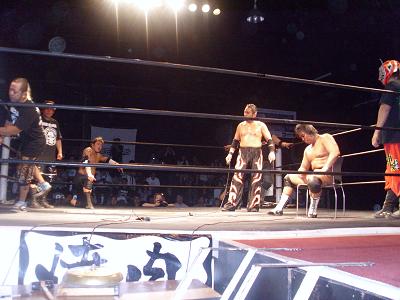 The first 9 wrestlers entered in the Death Match Tournament & Mammoth Sasaki after the show.
The main event was a good match. Mammoth was paired against Takeda for the first part of the match and Honma and Sasaki had a ending sequence before Mammoth would put away Takeda with a 29 Years Old on the stack of chairs. Afterwards, Jun Kasai would get in the ring and begin running the ropes and do a flip in the ring to show that he was physically ready to compete in his Death Match Tournament in two months. Kasai, Sasaki, GENTARO, Kamui, Mammoth, Winger, Fukimoto, Takeda would all be in the ring to announce that they would be in the Death Match Tournament when the Baramon Brothers would hit the ring with Kei announcing he was entering into the tournament as well with Shu screaming "I'M HIS MANAGER" repeatedly as the tournament would become a 14 man tournament. After the show, I went over and got a picture with Mammoth and headed out.
I then headed over to Stanley Club one last time with Shinobu as the bartender for the night. Shinobu was already drunk when I got there. He also had apparently taken off all his clothes already as well. Hercules Senga and Yuki Sato were also hanging out at the bar this night. A female fan sitting next to me ended up letting both Sato and Senga play with her breasts throughout the night. A friend of Shinobu who was sitting next to me told me what Masashi Takeda had told me a week earlier that Shinobu was actually straight and had been married, divorced, and had a girlfriend currently and was just a gimmick. So every time Shinobu would come up to me and try to act like he was going to kiss or touch me I would just tell him I knew he was just a gimmick which Shinobu would just shout "NO! NO GIMMICK!"
Shinobu ended up probably pulling down his pants and showing off his penis a dozen times that night and when Yuki Sato who was really cool to talk to ended up bailing I felt I needed to as I was reaching my limit on seeing Shinobu show off his penis so I called it a night and got ready to head on back home the next day after a successful 5th time to Japan.
Click here for more pictures from the trip
Click here for the 2011 Japan Diary
Click here for the 2010 Japan Diary
Click here for the 2009 Japan Diary
Click here for the 2008 Japan Diary