My 6th Trip to Tokyo
I arrived at the Narita Airport in Chiba, Japan on June 21, 2013 for my sixth trip to Japan. I would be there for ten nights until July 1, 2013 which would be my longest stay in Japan. Like last year I had to rush through the airport, customs, and immigration as fast as I could because I had a show to go to that night. Unlike last year I would have to get on the subway after checking into my hotel and travel 20 minutes to Shinjuku to find the Shinjuku FACE building off memory after forgetting to bring my map with me. Despite getting to the building at 6:05 and the show starting at 7 I was able to get the very last non standing room only ticket left.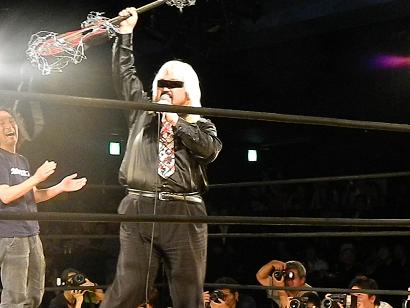 Atsushi Onita's June 21, 2013 Shinjuku FACE show to celebrate Ichiro Yaguchi's 20th Anniversary.
Atsushi Onita promoted this show on June 21, 2013 at Shinjuku FACE as Ichiro Yaguchi's 20th Anniversary in Pro-Wrestling. Ichiro Yaguchi came out to start the show and was given presents including a Barbed wire Guitar. A woman who stripped down to her bikini gave Yaguchi a present and then the ceremony ended with a Kabuki singer coming to the ring and singing a song with Yaguchi.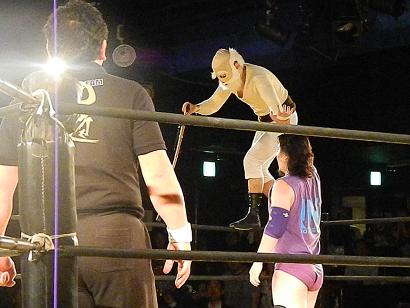 Gabbaiji-chan & Exciting Yoshida vs. Naoshi Sano & Keita Yano
The opening match saw Gabbaiji-chan team up with DDT wrestler from years ago Exciting Yoshida to take on Onita followers Naoshi Sano and Keita Yano. The gimmick of a Gabbaiji-chan is that he is an old man who needs a cane to get around and uses his cane to walk on the top ropes as well as to put the cane on the bottom rope to break a count for a pinfall. Eventually he will become energized up and begin running as fast as he can as well as diving off the top rope. Gabbaiji would end up picking up the win by pinning Sano wearing the Atsushi Onita FMW style attire to the ring with a Samson Clutch.
La Malcriada & Alex Lee
This would be my first time seeing Aki Kambayashi/Miss Mongol live as the masked La Malcriada as she teamed with Micro to take on Australian's Alex Lee and K-Dojo's Bambi. Alex Lee who was mocking Micro throughout the match in English due to her short height so it was justice when Micro would end up scoring the roll up pin on Lee for the win.
The Great Nita vs. The Winger
This would be the first time seeing Atsushi Onita live as he appeared as The Great Nita to take on The Winger. This was an absolute squash as Nita ripped off The Winger's mask and then began using his sickle to cut him open and then began using the barbed wire baseball bat to rake across The Winger's face followed by spitting mist in Winger's face and then finishing him off with a Thunder Fire Powerbomb for the win with Winger getting not one move in the match.
Dump Matsumoto & Shinjiro Otani
The next two matches were really just to show off Dump Matsumoto who beat her opponents and Katsunari Toi with her singapore cane through out and after the match while Leatherface brawled through out the crowd with his chainsaw. The next one was just to show off Shinjiro Otani's movesets as he just destroyed Kenichi Fujii throughout the match before Yokoyama got the pinfall on Fujii.
Atsushi Onita & Masato Tanaka & Ichiro Yaguchi vs. Akebono & Ryota Hama & Takuya Sugawara
The main event of Atsushi Onita, Masato Tanaka, and Ichiro Yaguchi against Akebono, Ryota Hama, and Takuya Sugawara really started off hot with Onita facing off against Akebono in the crowd as the crowd just was electric while they did the dueling chairs spot. They would make it back in the ring and bring in a chair where Onita would end up piledriving Sugawara through it. The broken table would be placed against the turnbuckle where both Akebono and Hama would run into Yaguchi against the table. Onita would make the save for Yaguchi by spitting mist into Akebono's face and then following that up by spitting mist into Hama's face. Onita would then deliver a Thunder Fire Powerbomb with Yaguchi jumping on top to get the pinfall victory. Onita would flip off Hama and Akebono as they were leaving the ring and then begin doing his promo. At this point I would make my way to ringside where I would tap the mat during the promo and getting water poured on me with the other fans by the ring to end the show.
Happy Share Event at the Tokyo Sound Creek Doppo with Hayabusa, Masato Tanaka, and Megumi Kudo on June 22, 2013
Ricky Fuji's daughter impersonating Masato Tanaka and Tanaka's reaction to it.
Taking a picture with Megumi Kudo after the show.
I attended Megumi Kudo's Happy Share With event on June 22, 2013 at the Tokyo Shinjuku Sound Creek Doppo which was a small musical room. The event drew about 40 fans to the show filling up the small little building. Before the show Megumi Kudo's Anthology video played on the screen to the side of the building. Megumi Kudo started off the show and introduced Hayabusa and Masato Tanaka who came out to their entrance themes. The event was to celebrate Masato Tanaka's 20th Anniversary show so a slide show was prepared of Masato Tanaka's early days of his career. Pictures of him as a young boy walking out with Atsushi Onita, Tarzan Goto, and even Megumi Kudo in her princess outfit were shown. They then talked about Mr. Chin who wrestled Tanaka many times in opening comedy matches in 1993. They then showed a video of Ricky Fuji along with his wife, daughter, and his Heavyweighters Band who gave a message to Tanaka. Ricky then had his daughter show off her own impression of Tanaka which made Tanaka laugh. They then had a video of Mr. Pogo shown with Pogo talking about his match with Tanaka from December 21, 1995 at the Yokohama Bunka Gym. Kudo then had Tanaka sing a song which can be found at http://www.youtube.com/watch?v=6hb32BT868g and during it Kudo left to go get the cake. The cake to celebrate Tanaka's 20th year in pro-wrestling. Tanaka then carved the cake and passed out pieces to everybody in the audience. They then had a raffle with the winners getting autographed posters and Happy Share With posters. Hayabusa along with guitarist Fumi Rock began to play some songs while they played Hayabusa vs. Masato Tanaka from May 5, 2000 on the screen. Everyone was then allowed to come up and take pictures with Hayabusa, Tanaka, and Kudo. They then thanked the fans for coming with Hayabusa doing his popular FMW catchphrase at the end of every show of "Let's have some fun!" to end the show. Kudo and Tanaka greeted everyone for coming personally. I was about to head back to the train when I noticed several fans staying by outside the building. One fan showed me personal photobook that had over 50 pictures of Megumi Kudo and him dating back to October 1995. One fan was a big FMW fan and could speak some English was talking to me about his favorite wrestler was Big Titan and he had brought a whole bunch of Megumi Kudo merchandise to the event. Megumi Kudo then came outside and greeted the fans where she signed everything including that Big Titan fans giant poster of her in a bikini. I got a picture with her before finally leaving the successful show and probably the highlight of the trip for me.
Mr. Gannosuke's Birthday and Anniversary Party at Stanley Club on June 22, 2013
Later that night I attended Mr. Gannosuke's 45th Birthday and 22nd Anniversary in Pro-Wrestling event at Naoshi Sano's Stanley Club. I ended up getting there right around as it started 8 PM so I was only the second fan there as Mr. Gannosuke and Guts Ishijima were preparing a Sumo Dinner. Gannosuke put in his personal Best of Gannosuke DVD that included Tarzan Goto and Gannosuke vs. Jado and Gedo from WAR 7/7/95, Mr. Gannosuke's return to FMW on 1/5/97, Hisakatsu Oya and Gannosuke vs. Hayabusa and Ricky Fuji 2/18/97, Gannosuke, Gladiator, and Crypt Keeper vs. Hayabusa, Ricky Fuji, and Mr. Pogo # 2 2/19/97, Gannosuke vs. Shinzaki 10/14/97, Gannosuke and Oya vs. Atsushi Onita and Yukihiro Kanemura 10/19/97, Gannosuke and Kanemura vs. Hayabusa and Masato Tanaka 11/28/97, and Gannosuke winning the FMW Double Titles on 1/6/98 against Tanaka. I mentioned to Gannosuke I was a big FMW fan which his reply in perfect English was "I know Hayabusa told me last year." he also in a little less perfect English mentioned he remembered me seeing me in Shin-Kiba in the past before. I asked him if he were friends with Onita or Tarzan Goto and he said no because they were always above him. I brought up about Kanemura and his past which he replied "we're okay now" and when I asked him about what happened he laughed and someone else began speaking to him and I didn't feel comfortable enough to bring it up again as I don't think he really wanted to try and explain it in general let alone in English. More and more people ended up coming in including Kazuhiro Tamura who was challenged to drink some very powerful alcohol from his reactions to drinking the shots. A fan ended up bringing in a cake with Gannosuke's picture on it along with kiwi, strawberries, and oranges. Someone that works for 666 that I never got the name who also attended ended up singing Gannosuke Happy Birthday and Gannosuke blew out the candles which can be found at http://www.youtube.com/watch?v=ZopHjUdYWWc. I ended up leaving around Midnight after about 4 hours to catch the last train out of Shinjuku but I ended up getting a picture with Gannosuke leaving as he thanked me and shook my hand.
DDT at Korakuen Hall on June 23, 2013 and the opening match of Hiroshi Fukuda & Tetsuya Endo against Chili wrestlers Guanchulo & Aggressor.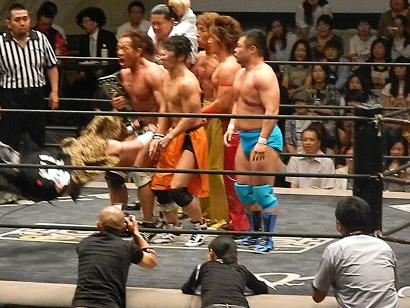 Iron Man Heavyweight Title Battle Royal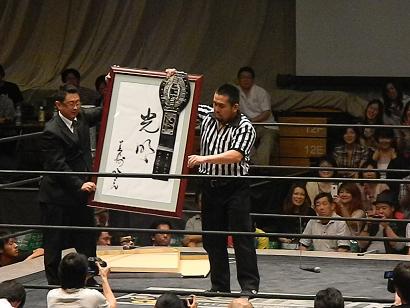 DJ Nira winning and losing Iron Man Heavyweight Title.
I attended the DDT on June 23, 2013 at Korakuen Hall. This show did not really do much for me. Maybe it was the lack of sleep or the bad seating but it did not have anything I hadn't seen from DDT already and I don't watch DDT much regularly anymore. The Iron Man Battle Royal was not as entertaining as it was last year although this year it did include YOSHIHIKO but with Toru Owashi doing all the moves with it. DJ Nira ended up winning the Battle Royal by the end and the title and then held up a framed picture which ended up toppling over Nira with the referee Matsui counting the pin and rewarding the picture frame as the Iron Man Heavyweight Champion.
Shigehiro Irie defending his KO-D Openweight Title twice
The main event saw Shigehiro Irie defend his KO-D Openweight Title in the main event against partner Keisuke Ishii. They showed an excellent video package before the match showing that both got started around the same time in 2008 and were regular tag team partners and friends. Irie ended up getting the win and afterwards Ishii wouldn't shake Irie's hand before leaving. Michael Nakazawa ended up coming out and cashing in his Money in the Bank for a title shot. Nakazawa's Monster Army group of Yuji Hino, Antonio Honda, and Hoshitango were interfering for Nakazawa throughout until Ishii came back out and made the save for Irie helping Irie defeat Nakazawa to retain the title again afterwards. Irie and Ishii then finally shook hands when Yuji Okabayashi came out having another Money in the Bank prize as they announced Irie vs. Okabayashi next month at Korakuen. Again, this show was okay but nothing that was better than anything i've seen from this promotion throughout the years.
Rainbow Bridge and Lady Liberty Statue in Odaiba, Tokyo on June 24, 2013
I went sightseeing on June 24, 2013 in Odaiba, Tokyo by the Tokyo Bay. This is also around where Onita and Yaguchi did the return of the Great Nita from the waters. This area also has a replica of the Statue of Liberty called "Lady Liberty", Tokyo Tower, as well as Rainbow Bridge which lights up very brightly at night. I took pictures and went by two close malls as this area was very enjoyable for stuff to do and pictures to take.
Afterwards I headed over to the wrestling shops near the Suidobashi Station as I went to Battle Royal where since last year it has become half wrestling store and half an old Suncoast you would have found at your mall 10 years ago with the novelty and nostalgic items as well as bootleg wrestling t-shirts and wrestling figures. I went next door to Champion's that has shrunk it half since last year when I went to it. They use to have pretty much every Japanese wrestling VHS tape there for rental and then some t-shirts and DVD's for sale now the store has rented out the spot where all the rental VHS tapes use to be and only saved a couple of All Japan and UWFI rental VHS tapes and mixed them with their other items. Nothing really of note was in the store to take a picture of though. Then went to Toudoukan's and purchased some magazines and took some pictures of wrestling masks and old WWF figures.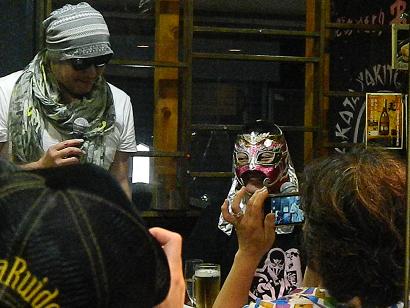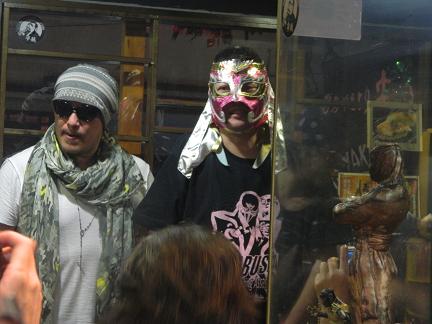 Meeting Hayabusa again at the KUSHI-ZARU on June 24, 2013.
I attended the Hayabusa concert that night in Kamata at the KUSHI-ZARU which was a very small little restaurant that held about 15 people which was about how many attended the concert. I ended up getting a back seat so not too many pictures were taken during the concert. During the middle of the concert Hayabusa would announce the return of Masahiko who was original guitarist during his first set of concerts in 2004 and 2005. Afterwards, Hayabusa would come back out without the mask and sit and talk with Masahiko. The owner of the restaurant who spoke very good English for having lived in New Zealand for three years asked me if I wanted to go up front and talk with Hayabusa which I took the opportunity.
Hayabusa told me that he has set a goal of 5 years of when he wants to return to the ring in the Hayabusa costume with no help from a cane or anything as he promised the FMW fans the day of his accident that he would return. He told me that in no way would he able to do a match though. He told me he has been going to rehab 2 hours everyday to be able to walk without any kind of assistance. He mentioned his favorite opponent was Mr. Gannosuke and when I told him I had attended Gannosuke's Birthday Party he asked me if Gannosuke had drank too much and that back in the day in college that Gannosuke at 18 would drink all night and then be hung over the next day and say he would never drink again but then that same night he would be drinking again. I asked him if his promoted show back in January 2009 had ever been released on DVD which he said it had not. He told me that he only lived in America for 4 months but that he can remember all the English he learned back then because of how prevalent English is in Japan and how much you see it around but he lived in Mexico for 14 months and remembers almost no Spanish. I asked him if he knew if Megumi Kudo and Hido were dating back in the FMW days and he told me he knew but he didn't care about anyone else's personal life. He told me that he liked being H more than Hayabusa as it was much easier on his knees and elbows and would have been able to prolong his career but the office told him he had to return back to Hayabusa.
One of the things I had been told a lot as the big knock on Hayabusa throughout the FMW was his mic skills because he spoke so softly that many fans were not able to understand him and with him speaking English this was very prevalent as it was very difficult to understand what he was saying because of how soft spoken he was to me in English atleast. He told me that he loves Sabu and that they get together to hang out every time Sabu is in Japan including this last time. He mentioned his first favorite wrestler was Mil Mascaras, then Tiger Mask, then later it was Stan Hansen and Bruiser Brody. He also use to watch and enjoyed old 1980's and 90's WWF, NWA, and AWA. I ended up having to go around 11:30 that night to catch the last train so I had to sadly cut the night short although it was another great time getting to really talk to Hayabusa.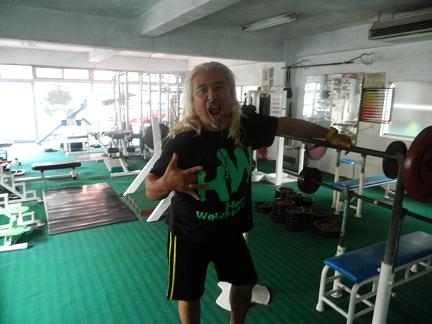 Ricky Fuji's Endo Gym in Chiba on June 25, 2013
The next day on June 25, 2013 I visited Ricky Fuji as his Endo's Gym in Chiba. I only spoke with him for an hour and 40 minutes this year unlike the 3 hours I spoke with him last year. He told me that he missed FMW and that he thinks everyone does and that's why Megumi Kudo and others hold events to bring the old FMW wrestlers together and how at every show he interacts with fans mention that they remember him from FMW. He told me a story about how he went to Canada for three years and use to train at Stu Hart's Dungeon and how Stu Hart use to put him in submission moves and even after Ricky would tap that Stu would refuse to let go. Ricky mentioned how he lived in Mr. Hito's basement for 3 years while in Canada and that's how he learned English so well. He mentioned when he met Bret Hart that Bret mentioned to him that he had trained with Mr. Hito as well with Ricky mentioning that made them wrestling brothers. When the British Bulldogs returned to Canada in 1989 he saw Dynamite Kid get bigger and bigger every week when Ricky asked Dynamite how he was getting big so fast he replied that he had been drinking his milk. Ricky then joked that he must have been injecting that "milk" in his ass with a needle. I asked Ricky what Japanese wrestlers he thought did steroids. Ricky stated he did not know for sure but there had been talk for years that Kensuke Sasaki and Kenta Kobashi had been doing them for a long time. When talking about the early FMW days I brought up that Mark Starr had passed away earlier in the month which shocked Ricky which he wrote about on his Blog. Mark had been one of Ricky's in ring rivals in the early days of FMW. Ricky also brought up that Chris Jericho had given him his tights that Ricky wore in 1992 which were based off the Rockers at the time.
I brought up about Mr. Gannosuke and Flying Kid Ichihara's return to FMW in 1997 with Ricky saying that Tarzan Goto wanted to come back but Shoichi Arai did not want him to come back as he had a bad reputation with the wrestlers for having an ego and not being a good worker who would put anyone younger than him over and he didn't have the drawing ability that Onita that was the same way. Ricky mentioned how he respected Kodo Fuyuki as a wrestler but he thinks Fuyuki's Sports Entertainment ideas hurt FMW because it negated how hard they had tried to make FMW known as a wrestling company and then Fuyuki would bring in actors that nobody knew to the shows to try and get mainstream attention that never worked. Ricky made mention that he still tries to use English everyday as well as teaches his daughter it as well. He mentioned that the recent 12 man tag match on February 8, 2013 in Osaka just had too many men in the ring. It was too little time with too many wrestlers trying to get their spots in and whoever booked the match did not really know FMW too well because some of the gimmicks were really more of W*ING gimmicks (Freddy Krueger, Crypt Keeper) that didn't really represent FMW.
I brought up the recent ZERO1 match with Onita, Ricky, and Kuroda against Kanemura, Hido, and Hosaka from May 4, 2013 and a spot in the match where Onita takes part of the broken table and smashes the wrong side of it over Kanemura's head with the metal part hitting Kanemura's head. Ricky said he couldn't believe it when Onita did that and that only Onita would have been able to get away with that kind of mess up as Kanemura is not going to say anything to Onita. Ricky mentioned that he would not consider himself a friend of Onita but more of business partners. We talked about Hayabusa a little and the subject of his divorce came up. Ricky mentioned that it was a very divorce and that they do not speak as Hayabusa rarely gets to see his kids although both are growing up and in high school now. He brought up a story about KAZMA Sakamoto returning to K-Dojo earlier in the month and mentioning to the fans that now both he and Jiro were back from WWE to compete in K-Dojo. Taishi Takiazawa who wrestled in developmental as Jiro came up to KAZMA afterwards and told him to never call him Jiro again. This was before the incident of Takiazawa being arrested that week was known about. Ricky then told me he had to get going as he had to pick up his daughter from school so I got a picture of him in his Gym and headed out.
GENTARO & SUSUMU and GENTARO & Fugofugo Yumeji
I returned to Stanley Club that night as SUSUMU was the special guest for the night. SUSUMU seemed like a really nice guy after talking to him a little bit. He told me that Captain Abnormal in FREEDOMS was the former Golden Pine also known as Masato Inabe in Okinawa Pro. HIROKI was actually already there drinking a beer by himself. GENTARO ended up showing up and talking with SUSUMU for a little while before Fugofugo Yumeji showed up. GENTARO who started up with Yumeji in 1999 in the Wrestle Dream Factory and began crying hysterically for over 5 minutes at seeing Yumeji. It was the first time GENTARO had seen Yumeji since his stroke. I spoke with Yumeji a little bit who spoke very good English. Yumeji mentioned that he had another friend die in the ring and that he can no longer speak with him but he can still speak with GENTARO so he is thankful for that. I asked for a picture and GENTARO began crying again hysterically at being around Yumeji while taking the picture as I headed out for the night.
Ribera Steak House in Gotanda on June 26, 2013
I thought I would return to Ribera's Steakhouse on June 26, 2013 and although I made it to a Ribera Steakhouse near the Gotanda Station it was defiantly different than the one I attended back in January 2008. This one was much smaller than the previous one as it was only a 9 seat booth although I believe the actual owner of the franchise was behind the counter and there were still tons of pictures of wrestlers having attended the restaurant. WWE wrestlers attended Ribera a few days later and it was defiantly a different one than the one I attended this time as they attended the one I went to back in 2008 that had a Goldberg picture on the front where as this one had a picture of early 1980's Hulk Hogan. I got my steak although I regretted only getting the 1/2 pound instead of the one pound steak because I was still hungry afterwards.
I then returned to Stanley Club again where CPE girls Houka and DJ Tomochan. CPE is a small catfighting promotion ran by Aki Kambayashi where it's a lot of bad catfighting that many girls end up getting their tops pulled down during the match. Some of the more known girls like Houka though wear pasties when their tops get pulled off. It was a lot of bad catfighting. DJ Tomochan though was being very flirty they entire night massaging the customers at the bar and I believe just trying to get free drinks out of everyone. I ended up getting a picture with Houka who I believe has also worked for REINA before as well.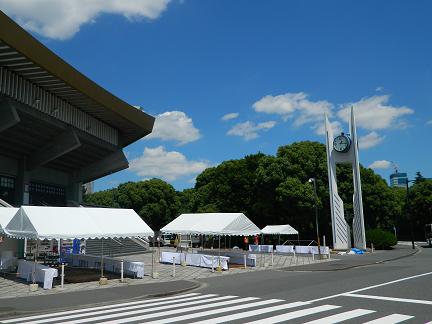 Tokyo Budokan Hall on June 27, 2013
On June 27th I walked around Budokan Hall during the day. It's actually a legendary part as it is in the Kitanomaru Park. I believe this is the last legendary wrestling building in Tokyo that I have atleast seen the outside of. Although I don't believe it will be holding any wrestling events any time in the near future after the Kenta Kobashi Retirement Match back in May.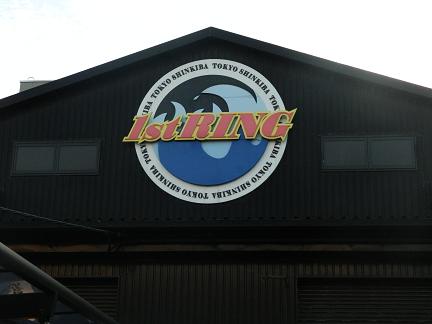 Tokyo Shin-Kiba 1st Ring for the FREEDOMS show on June 27, 2013 & Masashi Takeda
I attended the FREEDOMS show at Shin-Kiba 1st Ring that night on June 27th and with Atsushi Onita being on the show it drew about an extra 100 fans for the show. Mostly through going to Stanley Club a bunch I ended up knowing about 10 people out of the 267 fans at this show not including Masashi Takeda who I talked to for a second for the first time since last year.
Mammoth Sasaki & Keizo Matsuda
The opening match saw the veteran team of Mammoth Sasaki, Keizo Matsuda, and The Winger defeat the young team of Toru Sugiura, Daisuke Masaoka, and Yusaku Ito with Mammoth hitting the Awesome Bomb on Ito for the win. The recent lack of real usage of Mammoth would come into play later in the show.
Kamui and Eisa 8 defeated HIROKI and Ryuichi Sekine with Kamui scoring the upset over HIROKI after hitting a Swanton Bomb. HIROKI would not take the upset loss and would begin attacking Kamui and going after him backstage. HIROKI would come back out later during intermission to shake my hand after briefly meeting him at Stanley Club two days earlier.
Tatsuhito Takaiwa vs. SUSUMU
Tatsuhito Takaiwa defeated SUSUMU in what was a standard match. SUSUMU looked good through including hitting a Frankensteiner and Asai Moonsault but Takaiwa would of course pull out the win due to seniority after hitting a Death Valley Bomb on SUSUMU for the win.
Takashi Sasaki defeating Baramon Shu and Baramon Kei was a very entertaining match. They had GENTARO come out before to show off the King of Freedoms Championship to the wrestlers. This would turn into a crazy brawl early with water and weapons flying all over into the stands. Sasaki and Shu would actually end up working together against Kei but it would turn into a double cross and the Baramon's would double team Sasaki the rest of the match. Shu and Kei would end up pulling GENTARO into the ring without him actually taking an actual bump but Sasaki would end up making the save for his friend. Sasaki would end up putting black Indian ink in GENTARO's mouth for him to spit in Shu and Kei's face but GENTARO would end up only being able to spit a little bit out and would begin to freak out after swallowing much of it and getting it all over him. GENTARO would quickly exit the ring to try and clean up as much of the ink out as possible while Sasaki would put Shu and Kei in a Double Sharpshooter with both of them tapping. GENTARO with black ink all over his shirt would present the title to Sasaki with Sasaki hugging GENTARO in a feel good moment despite the screw up during the match with the ink. I actually spoke with a fan after the show about the Baramon's name. Baramon is what the Japanese symbols spell out and that is how their name is pronounced to the Japanese but Baramon does not actually mean anything and there is a screw up somewhere in the translation somewhere the meaning behind their name is suppose to be Brahman.
The main event of the show would be Jun Kasai, Masashi Takeda, Minoru Fujita, and Kenji Fukimoto taking on Atsushi Onita, Ichiro Yaguchi, Hideki Hosaka and their mystery partner would be revealed as Mammoth Sasaki. This would be another brawl all around the building with a mix of Kasai fans and Onita fans shouting passionately although there defiantly were more Kasai fans in attendance. The electricity for Onita's brawls are just something else even when there's less than 300 people in the building. The finishing sequence would see Mammoth Sasaki hitting the 29 Years Old on Kasai on a fluorescent light tube to get the pin. Kamui would quickly come out and jump off the top turnbuckle with Takashi Sasaki and The Winger also coming out very upset that Mammoth had betrayed the FREEDOMS Army. Onita's crew would end up taking off as you could hear Onita cutting his promo so loudly from the backstage in the area while Sasaki and Kasai would agree to join the FREEDOMS Army and Unchain together to fight off against Onita's Jado Army to end the show. I ended up waiting a little while after the show as two little children were dressed up as the Baramon Brothers which got a lot of attention from the fans exiting the building. I spoke with some very passionate Onita fans but when Onita came out he wanted nothing to do with any fans and quickly made it to an car awaiting for him and drove off.
Minoru Fujita
After the show I headed off to Stanley Club again but due to Sano appearing at the FREEDOMS show it did not open until 11 PM that night and no one was there but Sano. I ended up talking with Sano who speaks decent English and can read English perfectly. Sano talked to me about random things including how Keita Yano was fired from DDT last year for promoting his own Wallabee show with a bunch of DDT wrestlers on the show and making all the matches with DDT guys shoot fights with no pre determined winner resulting in all the matches turning into DQ finishes. Sano told me that half of GENTARO's body still shakes constantly as well as he is not mentally all there ever since the stroke. He also mentioned about how 90% of women wrestlers are lesbians. I asked about Emi Sakura which Sano replied that she wasn't a lesbian but she slept with a lot of wrestlers including Masa Takanashi and Daisuke Masoka and she was considered crazy. Sano is the second person to mention that as Soldier had told me previously that's why Gannosuke stopped working with Ice Ribbon because he couldn't handle dealing with her craziness. Sakura also no longer works for Ice Ribbon but a much smaller women's promotion now. Sano talked about how he makes very little money as a pro-wrestler but being a pro-wrestler that has a pro-wrestling bar has made him very good money throughout the last 3 years. Sano told me how Onita still is with many women and that whatever city they are in after the show Onita will hit 3 different hotels in that city with different women waiting to sleep with him that night although all of them tend to be older women. Minoru Fujita was the guest for that night but was having dinner with one of the FREEDOMS sponsors after the show so was going to be late. I ended up leaving around Midnight that night after about an hour and as I was opening the door to leave there was Minoru Fujita about to walk in. I ended up taking a picture of him and then taking off for the night.
DDT's Drop Kick Bar in Shinjuku & HARASHIMA on June 28, 2013
For the last three years I have been trying to find Great Kabuki's Big Daddy Restaurant. In 2010 I just simply could not find it. In 2011 I found it on my last night before it was opened and I was going to Dick Togo's Retirement show and then Chocoball Mukai's bar that night. I couldn't find it again in 2012. I finally was able to find it in 2013 and I know exactly where it is but once I went inside on June 28th it was just Great Kabuki inside and he told me that he couldn't serve anyone today and to come back tomorrow. So I headed back over to Shinjuku and went to the DDT Drop Kick Bar. It's a nice place right in the middle of all the sleaze of Shinjuku with strip clubs everywhere next to it and pimps out at night coming out tonight offering you to have sex with their girls for 100 dollars. It is also in the same building as Ebuchiko which is a restaurant with the Ebessan face as their logo ran by Ken Oka.
The Drop Kick Bar is a very nice bar that DDT's Daichi Kakimoto and FUMA run that has a TV playing Samurai TV throughout the night. I was there right after DDT had just ran at the Shinjuku FACE so Akito, Antonio Honda, and HARASHIMA all showed up afterwards. I spoke with Antonio Honda about how much weight he has gained since he first came up around 2004. Seriously, find a tape of him in 2004 and he looks like a different person with how skinny he use to be. I also got a picture of HARASHIMA who apparently is one of the nicest people in the wrestling business according to some of the people I was talking to that know him.
I headed back to Naoshi Sano's Stanley Club for the last time on the trip with Batten Tamagawa with Micro there drinking and watching the video that Tamagawa traveling across Japan with a list of West Gate Pro wrestlers asking women which wrestlers would they want to be with the most. This video was even more low rent than the CPE videos that I had watched two days earlier. Tamagawa is also a professional comedian apparently as well.
Akihabara on June 29, 2013
On June 29th I went over to Akihabara like I did last year. I didn't find too much I didn't see last year. It's the electronic town of Japan but most of the stores are just expensive items that you could find elsewhere locally. I went to a couple of the arcades around and played a arcade version of the original Super Mario Bros. but that was pretty much it for that afternoon.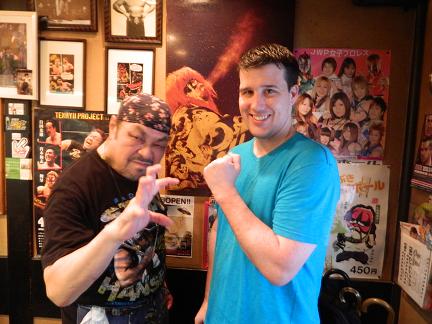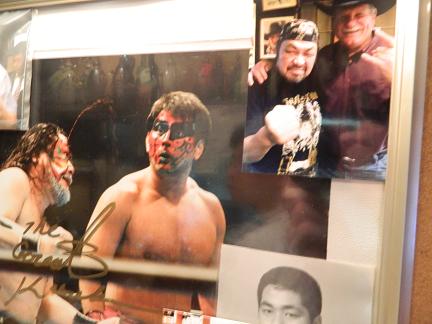 The Great Kabuki's Big Daddy Restaurant on June 29, 2013
Later that day I finally made it to The Great Kabuki's Big Daddy Restaurant. I got some Yakitori which is some very good chicken although not very much. It was still a great experience and Kabuki couldn't have been nicer giving me a free Big Daddy t-shirt that he signed the back of. I spoke with Kabuki a little bit as he told me how much he loved working in the United States especially Texas where there was so much great food. He also told me the reason that the store wasn't open to the public yesterday when I came by was because he was getting ready for his friend Stan Hansen to come by and eat.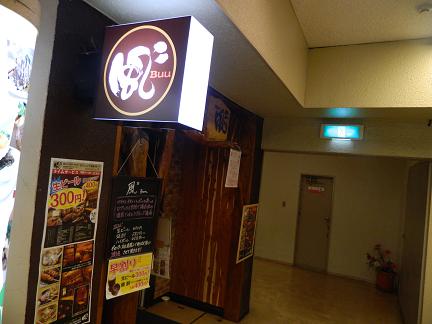 Soldier's BUU Restaurant on June 29, 2013
I went over to Soldier's BUU Restaurant that night in Ikebukuro which would be my fourth time there. Soldier moved to a different part of Ikebukuro in October 2011 in a much more busy area of the district although it's personally much harder for me to find than his previous place. He also has made it a full out restaurant instead of a bar and many people go to it without even knowing a former wrestler run in. Although the person I sat next to a female by the name of Keiko was a big wrestling fan who goes to Mexico every year to attend Lucha Libre shows in Mexico City. She also was a big fan Japanese wrestling independent fan and is the website designer for Great Kabuki's Big Daddy website who began playing a game with of seeing if I knew all the small independent wrestlers she named such as Tatsuhiko Yoshino and Tsuneo Yoshie. I asked Soldier about the former WMF wrestler Kitten Kid who apparently has found another job but still wrestles every so often as well as Garuda who is married with two kids and works for a cereal company that makes deals with the stores to carry that brand of cereal. Soldier asked me about what the former IWC wrestlers have been doing like Shirley Doe who has retired, Super Hentai who is still working every so often, and Sterling James Keenan who is has a developmental deal with WWE. Soldier told me to pass on that he really misses them. I ended up getting a picture of Soldier before leaving although it took three tries to still get a somewhat blurry picture of him and headed back to the hotel for my last full day in Tokyo.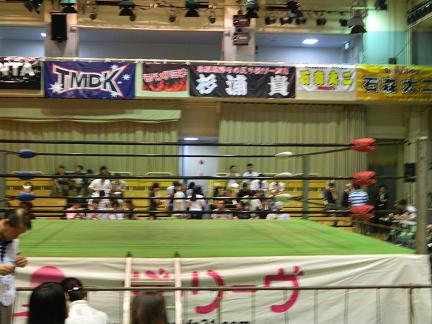 NOAH's Korakuen Hall show on June 30, 2013
This show overall was a one match show with all the undercard matches being rather short. They brought in a Japanese singer who proceeded to sing 3 full length songs and showed video packages prior to every match to stretch the show out to go exactly 2 1/2 hours. Just some notes from the undercard matches were Yoshinari Ogawa turned on Zack Sabre, Jr. for causing him to take the pin in their opening match against Kyle Sebastian and Slex. Jake Dirden who comes off as a low rent Bruiser Brody destroyed Masao Inoue, and Maybach Taniguchi lost via DQ to Yujiro Takahashi for attacking the referee in a nothing match.
Taiji Ishimori & Daisuke Harada & Hitoshi Kumano vs. Super Crazy & Pesadilla & Kaiser
This match stood out because of who were the teams corners. Ishimori's corner man was based off the Japanese Manga character Toriko who was dressed in a full body suit much larger than any of the other wrestlers. In the corner for Super Crazy was Elizabeth from the show Gintama which the costume was so big around it was difficult and took a great deal of time to get Elizabeth inside through the ring ropes. Ishimori ended up pinning Pesadila with a 450 Fire Bird Splash to get the win for his team.
Naomichi Marufuji & Mohammed Yone & Taiji Ishimori & Atsushi Kotoge vs. KENTA & Takashi Sugiura & Genba Hirayanagi & Maybach SUWA Jr.
The main event of Naomichi Marufuji & Mohammed Yone & Taiji Ishimori & Atsushi Kotoge vs. KENTA & Takashi Sugiura & Genba Hirayanagi & Maybach SUWA Jr. (Hajime Ohara) was a good match. Despite being a heel stable KENTA's No Mercy stable was more over than the babyface squad especially KENTA who fans were screaming very passionately out loud throughout the match. KENTA suggested that Ishimori take the place of Takeshi Morishima who is out of action to make it a 4 vs. 4 Captain Falls Elimination Match with NOAH President Akira Taue giving the okay. The final sequence saw Marufuji and Yone left against KENTA with them just taking turns on KENTA with Marufuji finally finishing KENTA off with the Tiger Flowsion in a match that would go over 27 minutes to setup their July 7th GHC Title Match at Ariake Colossum.
Big Japan Korakuen Hall show on June 30, 2013 and meeting Shinobu again
I went to this show with my friend Takiko that I met last year at Stanley Club. She is friends with Yuko Miyamoto and was able to get very good tickets in the bleachers right in the middle. I ended up sitting next to crazy Jun Kasai fan Mibu who if you watch any Big Japan or FREEDOMS shows with Jun Kasai on the show you will see her and her blonde hair of every show no matter where in Japan the show is being held at. I went to the merchandise tables with Takiko prior to the show and she spoke with Shinobu who she is also really good friends with as she is a big 666 fan and got a picture with me and him.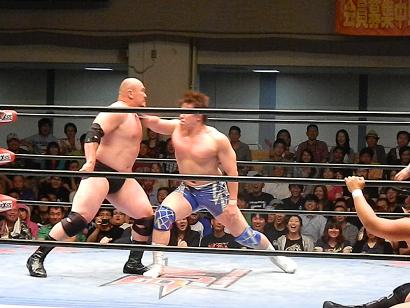 Yoshihito Sasaki & Madoka vs. Yuji Okabayashi & Kazuki Hashimoto
Despite being only the second match on the card this match stood out for just how hot the crowd got during the chopping exchange between Yoshihito Sasaki and Yuji Okabayashi which rivaled their hot finish last year in their singles match where they began head butting each other to the point that Sasaki was busted wide open hard way.. The crowd loved this exchange and it was already better than anything I had seen earlier in the day from NOAH. Madoka ended up getting the pin over Hashimoto for the win.
Takashi Sasaki, Shadow WX & The Winger vs. Yuko Miyamoto & Isami Kodaka & Masato Inaba
During this match Takashi Sasaki and Isami Kodaka ended up coming right towards me in the stands to do their spot where they bang each others heads into the signs on the wall to tell you what side of the building you are on. Sasaki and Kodaka ended up throwing each others heads into the metal so hard that it actually ended up breaking the sign. The Winger ended up getting his signature Small Package on Inaba for the win.
Jun Kasai & Jaki Numazawa & Takumi Tsukamoto vs. Ryuji Ito & Kankuro Hoshino & Hoshito Takahashi
This would be Ito's last match for awhile as he has a vertebrae facture. This was a good match although nothing you have not seen a bunch from these guys before. They used fluorescent light tubes and brawled around the area and Jun Kasai used a magazine as a weapon before Numazawa used a Last Rude on Takahashi who is paying his Death Match dues for the win to setup Numazawa as the next number one contender for the title.
During intermission Great Kabuki's wife who also works at Big Daddy noticed me in the stands as Great Kabuki who was with her came up and sat next to me to talk to me. He told me that he did not really follow Big Japan and but he had been invited to the show by Great Kojika and that they had drawn a good house tonight before heading back to his seat.
Daisuke Sekimoto vs. Ryuichi Kawakami
This was an awesome match that will get people's attention when it ends up online. Although there was no way Kawakami was ever going to defeat Sekimoto he defiantly made the audience think that he would pull off the upset with how close some of the near falls were before Sekimoto finally finished off Kawakami with his German Suplex to defend his BJW Strong Heavyweight Title.
Another awesome match as the crowd was 100% screaming passionately for Takeda to win throughout the matches and chanting his name the entire match. They teased Takeda coming so close so many times but near towards the end Ishikawa would end up delivering the spot that Mike Awesome made famous against Masato Tanaka by Powerbombing him over the top rope to the outside except this time instead of a table it was a stack of fluorescent light tubes that Takeda fell into. Although Takeda would make one more comeback and come close again with his German Suplexs it would be Ishikawa that would come away victorious after hitting his Cross Arm Splash Mountain to put away Takeda which just killed the crowd dead after how much they wanted Takeda to finally win. The crowd was so into Takeda I could see him getting another shot at Ishikawa in December in Yokohama and winning it. That's how much the fans loved and wanted Takeda to win on this show.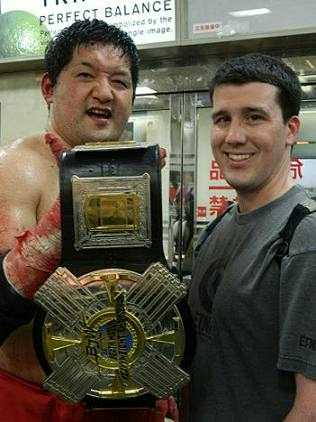 Shuji Ishikawa taking pictures after his title defense on June 30, 2013.
I met up with my friend Chihiro who I met two years ago at Stanley Club and then just happen to sit next to here a couple of days later at Dick Togo's Retirement show at Korakuen. Most of the crowd had already left by the time we were able to find each other but Shuji Ishikawa was still talking to a couple of fans. Chihiro asked me for my camera and for me to take a picture Ishikawa and the title. We then saw Takeda who was about to head back into the locker room as he was limping and bleeding everywhere. Chihiro asked him if he could take a picture with me. He agreed to even though you could tell he just wanted to go back to the locker room. The memory of the camera had ran out as she tried to take the picture and Takeda was not going to wait around as he headed to the back right away.
It was another great trip a highlight was meeting Megumi Kudo for the first time and getting to hang out and talk with Hayabusa again. I got to do pretty much everything I was looking to do on this trip. I also got to hang out with some really good friends and meet some really good friends on this trip as well. I know more people when going to a FREEDOMS or Big Japan show in Tokyo then I would know if a pro-wrestling show was held right by my house. I always don't know if I am going to go back next year but I think if I were to go back next year that it will be a little different and might not be the last week of June like I have done since 2009. But it still was a pretty amazing trip that worth every penny spent.
Click here for more pictures from the trip Part 1 (6/21/13 - 6/25/13)
Click here for more pictures from the trip Part 2 (6/26/13 - 6/30/13)
Click here for the 2012 Japan Diary
Click here for the 2011 Japan Diary
Click here for the 2010 Japan Diary
Click here for the 2009 Japan Diary