Tokyo Odaiba Bay
I returned to Tokyo for my 8th trip spanning over a decade since the first time I visited back in January 2008. This trip would be different from all the rest as it would be our Honeymoon. My wife would be coming along for this trip for her first time in Japan. We would only be in Tokyo for 3 days from July 2nd to July 5th and 3 days in Miyakojima, Okinawa July 5th to July 8th which is an island in the Pacific even farther below the main Okinawa island.

Another difference on this trip would be that we would be staying at a hotel in Odaiba, Tokyo. The usual hotel that I would stay at in Chiyoda, Tokyo which is walking distance from Korakuen Hall would not really be the best fit for a honeymoon hotel. I was going through Mr. Pogo's book earlier this year when I read about how he proposed to his future wife in 1996 at the Grand Nikko Hotel in Odaiba in front of the beautiful view. I checked out the hotel and decided that was the hotel I wanted to stay at as it did have an incredible view of Rainbow Bridge.
Tokyo Disney Sea
The one thing that my wife really wanted to do was go to a Disney theme park in another country. I looked up that Disney Sea had the best reviews so that was the first thing on the agenda. The Disney theme parks are actually in Chiba so staying in Odaiba it helped us travel wise which would turn out to be the only time it would help us. It was a fun park. We only did three rides. Most of the rides were water based. We did a submarine ride that I would not recommend for anyone claustrophobic. We did a water splash ride which was fun and an Indiana Jones ride which was fun but the line was a typical big roller coaster line and it just exhausted us to where we had to head back to the hotel.
Meeting up with Kintaro Kanemura
10 years ago when I went on my first Japan trip the two selling points were meeting Hayabusa and Kintaro Kanemura. I got to meet Hayabusa, but the Kanemura thing fell through and besides two years ago having a very brief interaction with him and getting a picture of him he is the only FMW wrestler I have never got the chance to really meet and interact with him. I have been communicating with Kanemura the last year pretty much just sending him old rare pictures I find of him and sending them to him which he thanks me for. Kanemura asked that I call him when I get in Japan to set things up. I called him and he did not pick up. I ended up sending him a message and he told me to meet up with him after he gets off work in Edogawa which if I was staying near Korakuen Hall would only be about 15 minutes on the subway, but it was an hour plus from Odaiba. After agreeing on the time a couple of hours later he tried to change it to 3 PM but we were still at Disney at that point, so I didn't even get that message until we were back and it was long after 3 PM. He told me that 11 PM would be okay and then changed it to after 11:30. The subway ride took way longer than we expected and between all the stops and subway station changes we ended up arriving a little after 11:30. When we got to the Edogawa Station there were two exits that were far from one another and I chose the wrong exit. He had been waiting for a couple of minutes as he ended up calling me so now I have a voice mail on my phone of him going "This is Kanemura....Edogawa Station....Call me." and then you can hear him lighting up a cigarette. We then had to go all the way to the other exit and as soon as I walked out of the station I saw Kanemura sitting on a bench with his friend. He introduced his friend who is a low low wrestler who I believe I have heard the name in the lowest of indie shows but I do not even remember it off the top of my head. Kanemura's friend was telling my wife that Kanemura was a legend which Kanemura told him no the only legend is Terry Funk. I gave him a present of a DVD of a match I have of him in Florida from 1993 against the Cuban Assassin which he really enjoyed. We talked for a minute as he was telling me he works at a Pachinko Casino two times a week and loves his job because of the schedule. We talked about the Mr. Pogo Memorial show the day before and how he really enjoyed the show. I got a picture with him and then he asked for my wife to take a picture with us as well. He then apologized for not picking up earlier but he told he got really drunk last night and was hung over when I called earlier and asked if we if we wanted to go to the bar with them. A couple of months ago because of his health issues Kanemura announced that he would try sobriety because of the issues alcohol has dealt him and he might be skinnier than all his years as wrestler but his health is not exactly the best. Years ago I would have jumped at this opportunity as I would really love to just get to talk to him and pick his brain some. But this was not really the ideal situation with my wife who was exhausted and it was already getting so late that the subways were about to close and with our hotel being so far away the taxi bill would have been enormous so we declined the offer. I thanked him for the opportunity and probably while drunk he called me again at 2 AM and then messaged me asking how long we were in Japan for. I responded the next morning and he just gave me a thumbs up emoji.

We still did end up having to take a taxi on our way back to the hotel, but it was nowhere near as expensive as it would have been if we had stayed.
Stopping near by TV Asahi
Zoji-ji Temple and Tokyo Tower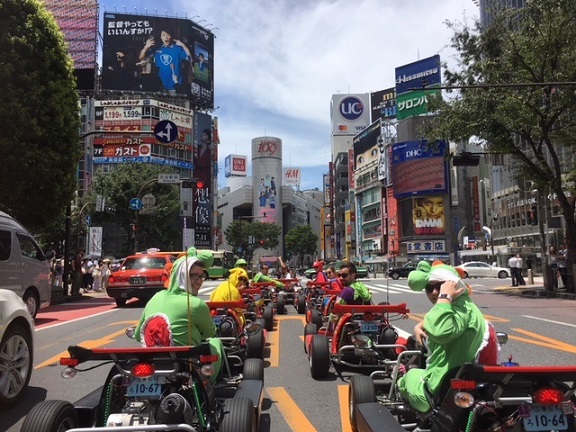 Shibuya Crossing
Taking a break from Mario Kart go kart racing all over Tokyo
Our second day we booked Mario Kart go kart racing. I had just heard about this in the past year, but this is getting very popular as they had a map across the world and it was covered in pins to represent where everybody was coming from. They are also all over Tokyo and I chose the one in Shin-Kiba due to the closeness and me knowing how to get around Shin-Kiba pretty well instead of a location like Akihabara which was another option. Problem with Shin-Kiba every building like 1st Ring just seem like an old lumber garage and this building was no expectation. This one is run by Americans who live in Tokyo. You get to choose your costumes and it seemed like only Mario, Luigi, and Yoshi were the only comfortable fitting ones. Costumes like Wario and Bowser were very thick and the conditions already created where we each needed to chug a water bottle before we even got started.

They gave a little quick tutorial and I am glad that we started in Shin-Kiba as it took me a minute to get use to driving a go kart and the streets in Shin-Kiba are pretty vacant so that helped compared to starting in Akihabara which I am sure would have been crowded while trying to get use to everything. There is a person that leads the group and everyone just follows them and then there is someone behind everyone in case an incident takes place. They also are taking pictures of you at every red light. This was intense. I am glad I did it, but I do not think I would want to do it again. You are driving among traffic and you have people waving and taking pictures of you which is fun. I was thinking that we would get to stop at the landmarks to take more pictures but we only stopped one time at a graveyard for a 5 minute break and a group picture. We drove by Tokyo Tower, Shibuya Crossing, and Rainbow Bridge. Rainbow Bridge was an experience as you really have to pick up your speed to go along with traffic and you are going 50 miles per hour/80 km per hour on these go karts which don't feel like they are made to go that fast and the breaks on both my wife and my karts were not really the most comforting with all the sudden stops that we had to make. It was a good way for my wife to see landmarks that we just were not going to get to see in only 3 days. Another thing I would suggest for anyone that is doing this that you would not even think about is to either cover your skin completely or use sun screen because 3 hours driving under the sun with no protection will cause a nasty burn.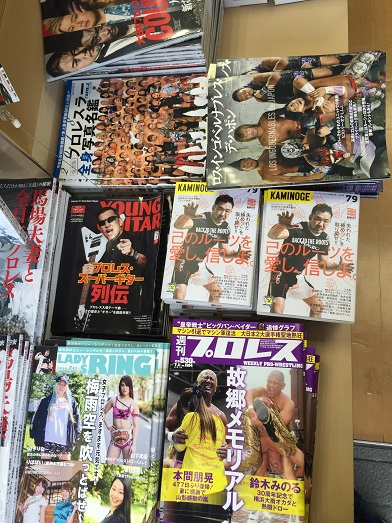 Book store in Tokyo Dome City
Returning to Champion
VHS Rentals and T-Shirts at Champion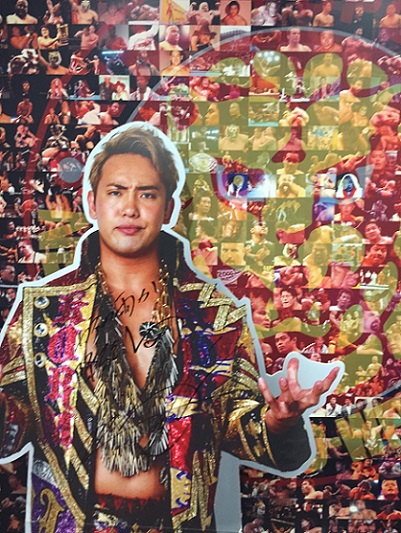 New Japan store
We ended up heading to Suidobashi afterwards so I can go to all the stores that I am use to going. We took a break first at TGIF Friday which is now the store on the first floor of Korakuen Hall and I believe owns the building as they are the reason the famous blue building has been repainted brown. We then went over to the book store in Tokyo Dome City where I took pictures of the most recent Japanese wrestling books then we went to the Champion where I took pictures of all the new t-shirts as well as the rental VHS tapes that as of 2013 were just down to UWF and All Japan Women after years of having a huge room dedicated to all the VHS tapes covering all the promotions back in the day. We then went to the New Japan store and everything is so expensive there that it always is just a stop for pictures since it's right next door to Champion.
The new Toudoukan in Sugamo
My favorite store in Japan a store that I have been there countless hours over the past 10 years is Toudoukan. They originally were also a block from Champion and the New Japan store but then back in 2013 moved a couple of blocks away near the West Exit of Suidobashi for more space although the one time I went to that location back in 2016 it actually seemed smaller than the original location. They decided to move to a bigger location in Sugamo, Tokyo back in March so those going to a show now can not just make a simple stop over before going to Korakuen Hall. I was a little worried as the map made it seem like the location was quite a walk from the subway station but it is literally right next to the subway station as you can even see a sign for it in the back of the building when you are at the Sugamo Station. This building is much larger as it's a very spacious two story building although I would still favor the original building over this. My wife liked it though because they now have free WIFI and a place to just sit as they have a location for press conferences with wrestlers as Masakatsu Funaki had been there earlier in the day, so they were showing the conference on the screen. I took as many pictures as I could with the limited time and picked up some more magazines out. Most everyone knows about this store, but if you are in Tokyo and even though now it is Sugamo I would suggest going here if you are a fan of wrestling to at least visit this store once. I was also told that Battle Royal which was also next door to Champion and the New Japan store which I took pictures of in previous trips from 2008-2013 has also moved to Sugamo but we were not in the condition to go looking for it with all the walking we had already done.
Mr. Danger's Steakhouse Restaurant
We headed out to Mr. Danger's Steakhouse that night. I had not been since 2010 and I remember really enjoying the steak. We got a little late start to the subway and it was another incident where being in Odaiba caused quite a lengthy subway ride. We also then messed up and took a express subway which skips every four stations so it will skip every four stations so by the time we realized this and had to get on another subway to go back in the right direction it was getting near 11:00 PM which was the time they close the doors to allow people in and everyone has to leave at 11:30. The only way to have any chance at making it to the restaurant was to take a taxi so that is what we did. The taxi let us off about two block away at around 11:15 so I decided to make a dash for the building as I did not want the last near 2 hours of traveling to be for nothing. Matsunaga opened the door and told me that he did not allow people at 11 PM but after he saw my wife also dashing behind me he decided to let us both in. The steak was good as I remembered and they made it really fast as we were out of there by 11:35. I showed Matsunaga about 30 seconds of the music video career I made him of which he was smiled and stated that I must be a big fan. They ended up giving my wife a Mr. Danger towel as a present and we were on our way. I don't think they would have let me in if they had not seen my wife trying to catch up with me but this was a success.
The last day we took it easy and just walked around the Odaiba Mall which has the famous Gundam Robot and then headed out. We then talked around Shinjuku although it was during the day so we avoided the Nigerians this time around. We did get to see the Godzilla statue near Shinjuku FACE but the walking and the sun burn was starting to really get to my wife so we headed to Tokyo Dome City to sit and recover before the FREEDOMS show.
Tokyo Dome City
All the restaurants in the Tokyo Dome area are now American as they now have a Shake Shack and a Taco Bell. We ended up staying at Shake Shack for a little while to relax before heading on over to Korakuen Hall We went down the stairs to get in line before the FREEDOMS show when it just so happen that Max someone I have known online for 10 years just so happen to be down the staircase waiting to be let in as well. We talked to Max for a little while before heading into Korakuen. I bought some FREEDOMS DVD's and then I saw Jun Kasai selling his new Death Match Anniversary t-shirt and that he only had one left so I decided to pick it up as well. I also saw Masashi Takeda and just got a picture although regret not getting his new shirt as well. They also now have a Big Japan TV screen on the side just showing Big Japan clips after you get off the elevator on the fifth floor.
The FREEDOMS show was the typical FREEDOMS show. A good show but nothing you haven't seen before if you have seen a bunch of the shows. I thought the semi-main event of Jun Kasai and Kenji Fukimoto against Violento Jack and Daisuke Masaoka was the best match of the show as Kasai is super over. GENTARO vs. Tomoya Hirata was also a really good opening match with GENTARO just torturing the rookie as Hirata seems to be my wife's favorite FREEDOMS wrestler. I had prepared my wife a little bit for it but the highlight was seeing a woman in the crowd that was so into it. She was screaming for the wrestlers with such passion that I wish every fan was like her as she was treating this event as a big deal.
We headed out after the show to Kamata for our last night at Tokyo for the KUSHIZARU Yakitori Restaurant. I had been to this place in 2013 for a Hayabusa concert and then again in 2016 following his death. The owner Masato Kawamura is such a nice guy and speaks pretty good English. He was so excited to see I was back and that I had brought my wife. He had seen on my Facebook that on my wedding cake I had a FMW cake with a Hayabusa figure on it and started showing all the other people in the restaurant. Kawamura was really good friends with Hayabusa and was actually the one that discovered his passing and has many different Hayabusa items at his store including placing his Hayabusa framed picture right next to me. He also makes really good Yakitori as a place like this will give you a true Tokyo feel. I asked for the check as we were heading and he told me to not to worry about it and that Hayabusa was covering as we took a picture together with the Hayabusa framed photo.
Hotel view in Miyakojima
Nagamahama Beach
Sunayama Beach
Biggest spiders I have ever seen in person
The next day we headed out to Miyakojima. Nothing wrestling related for these three days which that was a whole thing as all rental car places just turned us down for either just simply being American or because we did not have a year history of driving in Japan. Budget agreed to let us rent it for one day although when we came back to drop it off they were willing to let us rent it again but we had already done everything we needed from it. We drove to some really beautiful beaches including Nagamahama Beach and Sunayama Beach. Nagahama is more secluded as it is kind of hidden away and it was a cloudy day so there was only a couple of people around the entire time we were there. Sunayama is a tourist destination as we got there early and by the time we were leaving at 9 AM it was already starting to get packed. We ended up lucking out as forecast had it raining every day we were there and it was pouring the first day we got in. It had also been raining nonstop the past week as it was apart of the Rainy Season that ended up going up and covering the rest of Japan and flooding Okayama and Hiroshima to where mudslides were taking place. The next day was cloudy but after that the last two days were sunny. We also got to take the rental car out to a observation deck to oversee Nagamaha Beach and while we were going up I spotted some of the biggest spiders I have ever seen. The picture does not do it justice just how huge these things were also. We also went out of town to a light house on the edge of the island and saw more stars than I have ever seen in my life. It was a great experience as it was really a paradise location and we ended up getting out just in time as a level 4 Typhoon ended up hitting the island just two days later.
The Shisa statue at Miyakojima Airport
Japanese window bell present from ANA
We also learned saw a million Shisa's there which is a mixed of a lion and dog that protects the island as they are Okinawa's mascot. The airport also was one of the cooler looking airports I have seen as it looked like a huge hut. As we were at the airport the check in lady asked us why we came so far away and we told her for our honeymoon. She ended up walking up to us 2 hours later to give us a present of a Japanese window bell.
I feel like I say it every year, but this probably was my final trip to Japan. Being married and having done pretty much everything I ever sought out to do over these 8 trips in 10 years. Japan is an amazing place. My wife could not believe how quiet the subways were or how orderly everything was or just even how everything was so clean. More and more foreigners are going to Japan these days especially for New Japan's Tokyo Dome show. Hopefully anyone that does go to Japan finds these informative or entertaining to go through. Please be respectful while if you do go to Japan as it is an amazing place that deserves everybody's respect.
Below are links to my previous trips
BAHU's Japanese Trip Diary 2016
BAHU's Japanese Trip Diary 2013
BAHU's Japanese Trip Diary 2012
BAHU's Japanese Trip Diary 2011
BAHU's Japanese Trip Diary 2010
BAHU's Japanese Trip Diary 2009