Added: 12/27
Kintaro Kanemura and Masato Tanaka teamed up once again for the HUSTLE Christmas Special on December 25, 2005 at Korakuen Hall against Wataru Sakata and Ryouji Sai. Kanemura who had faced the two the day earlier had much more success with Tanaka as his partner as Tanaka was able to get the pinfall victory over Sai after Kanemura delivered the Blast YAMA Senton Special to Sai, and Tanaka follow up with the Superfly Splash on Sai.
Kanemura had teamed up with Katsuhisa Fujii the day earlier on December 24, 2005 at Korakuen Hall to face Wataru Sakata and Ryouji Sai. Despite Kanemura bringing a table into the ring and crotching Sai with it, he would not have the success he would eventually have with Tanaka as Sai would end up getting Fujii in the submission move the Shidomas for the tapout win. Former FMW Brass Knuckles Tag Team Champions Masato Tanaka and Tetsuhiro Kuroda would team up to face off against the team of Toshiaki Kawada and Kohei Sato on the show. Kuroda would be no matched for Kawada who laid out Kuroda with stiff kicks, clotheslines, and then eventually put him away with a kick to the face to score the pinfall victory over Kuroda.
Kintaro Kanemura after wrestling on the December 25th HUSTLE show drove from Korakuen Hall to his mothers house for a break from wrestling. He will be staying there until January 1st to rest and spend time with his family for the next week until having to go back to Tokyo on January 2nd for Big Japan. His sister, her husband, and son have also been staying at his mothers until the beginning of the year. Kanemura stated that 2005 was a very tiresome year for him, and just too much. He lost his father this year, he fractured his foot and was out for three months, and was also hospitalized for hematemesis which is vomiting blood. He is enjoying the break though, and in the mean time has been taking his nephew to Toys R Us and the candy store, he has also been going through old photo books that his mom has kept and found pictures of when he was just a little kid, and when he was 21 just starting out in wrestling.
I have gathered all the results of matches from shows in 2005 that have had WMF and Apache Army as well as just former FMW wrestlers working in them and will continue to update it for the rest of the year. It can be found at http://fmwwrestling.us/MiscResults05.html (Last updated 12/26)
Added: 12/16
The Indy Summit on December 9, 2005 at Korakuen Hall was a huge success drawing 1,933 fans to the shows. The Apache Army was represented by the team of Mammoth Sasaki, Takashi Sasaki, and Hido facing off against the Big Japan team of Ryuji Ito, Naoki Numazawa, and Abdullah Kobayashi in a Fluorescents Light Tubes Death Match. The Apache Army got off to a good start at the beginning of the match as the two teams started brawling along Korakuen Hall with Mammoth Sasaki choke slamming Naoki Numazawa from a table onto a row of chairs. Hido would follow up by delivering a chair shot to the head of Kobayashi, and Takashi Sasaki would smash a fluorescent light tube across the back of Kobayashi causing a huge cut. Mammoth would deliver the Mammoth Home Run to Numazawa, but the Big Japan team would come back with Ito smashing a light tube over Hido's head before squaring off against his tag team partner Takashi Sasaki. A bloody Takashi Sasaki would get the early advantage over Ito with a clothesline into the glass filled ring, but Ito would manage to come back with several kicks to the head and a German Supplex onto the glass for a two count. Ito would finally put away Takashi Sasaki by placing some fluorescent light tubes over Sasaki and delivering the Dragon Splash destroying the light tubes on Sasaki's body and scoring the pinfall victory at 17 minutes, 11 seconds for the Big Japan team.
Kintaro Kanemura will be returning to the Tokyo Dome for the first time since on May 2, 2002 to team up with fellow former FMW wrestlers Masato Tanaka and Hido to face the New Japan team of Jushin Thunder Liger, Jado, and Gedo for the January 4, 2006 New Japan Tokyo Dome show. It will be Kanemura's third appearance at the Dome with his first appearance coming on May 2, 1999 for the Giant Baba Memorial show in All Japan. It will be both Masato Tanaka and Hido's in ring debut at the Tokyo Dome. All three wrestlers have a long history with Jado and Gedo with Kanemura being thrown into fire by Jado in a match against Jado & Gedo in W*ING on October 31, 1993 with Hido being the one to help start the fire. Both Kanemura and Hido would form an alliance with Jado & Gedo when all four members would join Team No Respect in 1998, and Jado & Gedo would eventually form a team on November 28, 2000 with Masato Tanaka as The Complete Players and eventually leave FMW together on February 21, 2001. It will be the first time for all three wrestlers to face off against the legendary Jushin Thunder Liger. The next day on January 5th they will cross the street at Korakuen Hall as Kanemura & Hido will team up once again to face Jado & Gedo for the Riki Pro show. Chocoball Mukai will also be making his New Japan debut on December 18th at Korakuen Hall to face off against former IWGP Heavyweight Champion Yuji Nagata on the show.
Added: 11/24
The Apache Army ran a benefit show on November 23, 2005 at the Chiba Blue Field for Jun Kasai who after a hospital checkup found out he had a tumor in his intestines. Jun Kasai who has been staying at the Chiba University Hospital came out and thanked the fans and wrestlers for supporting him during this tough time. The show was entitled "Monkey Magic" in dedication to Kasai.
Mr. Gannosuke announced the new lineups for upcoming WMF shows. The first show in over three months will be at the brand new Tokyo Battle Sphere which will have Tarzan Goto return to face Soldier in the main event. Garuda will return to the promotion for the first time since April when he quit the promotion in order to get more paydays with Michinoku Pro.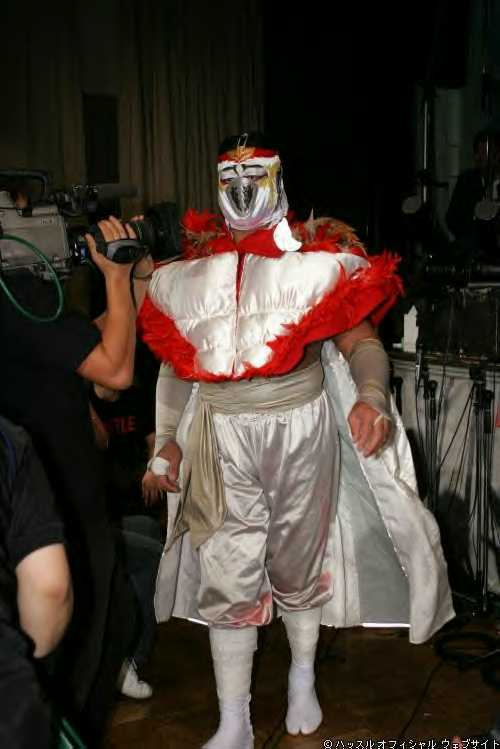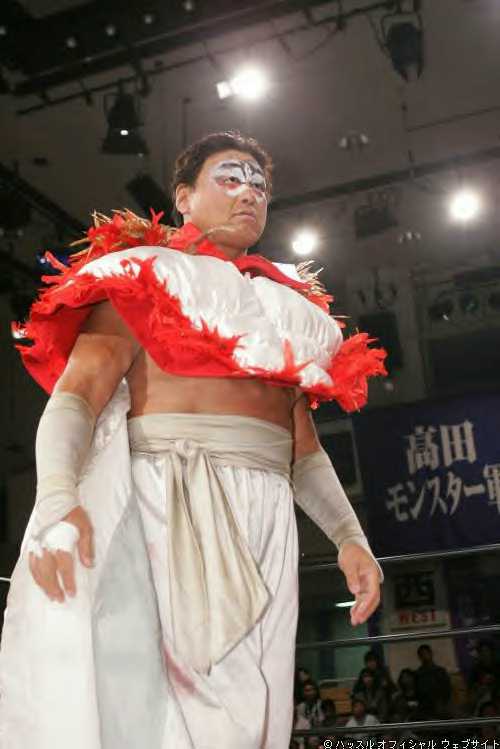 Added: 10/29
Masato Tanaka and Kintaro Kanemura teamed up at the HUSTLE House-10 at Korakuen Hall on October 27, 2005 to take on the team of Giant Silva and Monster C. Kanemura got the pin over Monster C with the Blast YAMA Senton Special. The win allows Tanaka and Kanemura to be entered into the HUSTLE Super Tag Team Tournament for Hustle Mania 2005 at the Yokohama Arena on November 3rd. After the match, Tadao Yasuda got on the mic and called out both Tanaka and Kanemura causing Kanemura and Tanaka to attack Yasuda in the ring before Hayabusa's Fight with Dream II music began to play. Genichiro Tenryu in his Big Hayabusa outfit came to the ring and made the save for Yasuda by going after Tanaka and Kanemura. After Tanaka and Kanemura finally left the ring, Tenryu took off his Hayabusa mask and it was announced that he would be Yasuda's partner to face off against Tanaka and Kanemura in the Super Tag Team Tournament on November 3rd.
European singer Captain Jack real name Franky Gee died on October 22nd due to a brain hemorrhage while in Spain. He was 43. Captain Jack appeared for FMW in August 2000. He was put in his only match against Kodo Fuyuki on August 28, 2000 at Korakuen Hall for the WEW World Title. Jack before his match sang "In the Navy" with a techno beat to it that the crowd very much liked . During the match, it showed that Jack had never actually wrestled a match before, and was quickly put away by Fuyuki in a short bad match. Fuyuki and Jack embraced after the match, and Fuyuki let Jack wear his WEW World Title belt around his waist as they left the ring together as friends. http://news.yahoo.com/s/nm/20051022/music_nm/captainjack_dc
Onryo and MIKAMI teamed up once again on October 16, 2005 for the Halloween themed 666 show at the Tokyo Shin-kiba 1st Ring. MIKAMI who in 666 has a Narcissist gimmick was looking at how good looking he was with a mirror before the match started. GOEMON revealed his Mystery Partner for the show as Sukekiyo who was Tomoya Adachi revising his 2002-2003 gimmick from WMF. Onryo and Sukekiyo wrestled most of the match with many near roll up falls before MIKAMI would accidentally hit Onryo with a flying drop kick which allowed Sukekiyo to get the pinfall victory over Onryo in the main event of the show. The next 666 show will be the biggest show in the history of the promotion as it will take place from the Tokyo Differ Ariake on December 26, 2005.
Hayabusa's next Triple Fight concert will take place on November 29, 2005 for his 37th birthday. The concert will take place will be a special Hayabusa Birthday themed show from the Osaka Tsukamoto Live house.
Weekly GONG will be promoting a show at Korakuen Hall on December 9th with different Independent promotions being advertised. The Apache Army, Michinoku Pro, Big Japan, IWA Japan, DDT, and K-Dojo. When Mr. Gannosuke heard about the show, he called up the offices of Weekly GONG and asked if they could put the WMF wrestlers like Soldier, Mineo Fujita, and Kenji Sawaraki on the show so that they could get a payday. One of the writers for the magazine replied that WMF along with Dick Togo's Super Crew, Tarzan Goto's promotion, and Battlarts were not considered real promotions and would not be able to participate at the show. Gannosuke was furious at a statement and lost his temper at the writer. It doesn't help that Gannosuke and Kanemura still have heat with each other, and Kanemura is on good terms with just about all the other promotions on the show as well. Many wrote complaints to Weekly GONG angry to hear how they could leave off WMF and Mr. Gannosuke when the show has been booked weakly so far with just tag team matches you see on their shows already. I personally think that a main event match between Mr. Gannosuke vs. Kintaro Kanemura would draw better than anything else they're going to have on the show. Right now the big match on the show is between the Apache Army vs. Big Japan which has been done to death for the past year on just about every Big Japan show it seems.
Although the Apache Army Korakuen Hall show on October 2, 2005 only drew 1,051 it still outdrew the Riki Pro show four days later by almost 200 fans. The crowd was said to have been the hardcore FMW fans that have remained loyal to the former wrestlers, and were extremely loud during the main event of the show. Toshiaki Kawada was boo'd excessively entering the ring by the fans by being an outsider. Kawada ended up turning himself babyface after the match by stating how much he enjoyed working for the Apache Army and that he planned on returning to the promotion to face Kanemura in a singles match.
Added: 10/8
With Kintaro Kanemura back in action, the Apache Army is now whole again for the first time since January 5, 2005. Kanemura, Tetsuhiro Kuroda, and Hido faced off against Riki Choshu, Daisuke Sekimoto, and Takashi Uwano on October 6, 2005 at Korakuen Hall. The match started with Kanemura and Choshu going right at it, Sekimoto spearing Hido, and Kuroda and Uwano facing off against each other with chops to one another. Quickly, the rest of the Apache Army got involved in the match which included holding Choshu down to allow Kanemura to deliver the Blast YAMA Senton Special. Riki Choshu would quickly make things even as he would grab a chair and begin smashing away at the Apache Army, including smacking it over Kuroda's head causing him to be busted open. Choshu would then put Kanemura in the Scorpion Death Lock, but GENTARO would be quick to react by coming off the top with a flying dropkick at Choshu to cause him to release the move. Hido would eventually put away Uwano with the Hido-Chan Bomber for the victory. The Apache Army would then clear the ring and celebrate as a group, stronger than ever.
Mammoth Sasaki did not have the same success for the group earlier in the show, as he once again fell to Yoshiaki Fujiwara after Fujiwara made Mammoth tap to the wakigatame. Takashi Sasaki & GENTARO also had little success as they fell to Tatsuhito Takaiwa and Dick Togo when Takaiwa delivered his Death Valley Driver to GENTARO for the win.
Kintaro Kanemura made an announcement prior to the October 2nd Korakuen Hall show that Megumi Kudo would be used in a much bigger role than interviewer. Kanemura announced that he planned on spanning the Apache Army promotion into two groups. One promotion would be a wrestling promotion, and another promotion that would be MMA influenced. Kanemura announced that he would be the President of the wrestling group, and that Megumi Kudo would become the President of the MMA group that would focus on mostly K-1 wrestlers in attempt to branch out and make some money off the popularity of K-1 in Japan.
Toshiaki Kawada made his Apache Army debut on October 2, 2005 at Korakuen Hall, teaming with his protégé Taichi Ishikari and former Big Japan star Tomoaki Honma to face off against Kintaro Kanemura, Hido, and Hi69 in the main event. It was Kanemura's first real match in three months, and Kawada welcomed him back by delivering a hard high kick to the face for the victory. After the match, Kawada talked about his former tag team partner the late Kodo Fuyuki, and announced that he planned on returning to the Apache Army for more shows in the future.
Peach Pro Wrestling 10/18/05
Yokohama Red Brick Warehouse

Tetsuhiro Kuroda & Shadow WX vs. Mad Man Pondo & Necro Butcher
Men's Teioh & Survival Tobita vs. Ricky Fuji & MASADA
Added: 9/30
There is a newest member of the Apache Army promotion, and that is Megumi Kudo. Although Kudo will not be wrestling on any shows, she will be attending each show as most likely an interviewer for the wrestlers. It allows Kudo to be able to travel with her husband Hido for the shows. Kudo will start up for the October 2nd Korakuen Hall show, which will be her return to Korakuen Hall for the first time since October 23, 2002 for Kaori Nakayama's Retirement.
The full lineup for the Apache Army show has been announced with the big draws of the show being Toshiaki Kawada's debut for the promotion, as well as Kintaro Kanemura's return to the ring in three months. Also, Tetsuhiro Kuroda and Mammoth Sasaki will be teaming up to face the former Kaientai Deluxe teammates in TAKA Michinoku and Dick Togo in the semi-main event. The former Ebessan now going as Kikutaro, three Riki Pro wrestlers, and NOSAWA Rongai.
For the upcoming Zero-One MAX show on October 2nd at the Sapporo Teisan Hall, two former FMW wrestlers will be facing each other. Mitsuhiro Matsunaga will be facing his teacher Masashi Aoyagi. Aoyagi who was Onita's opponent for the first FMW show on October 6, 1989 brought in many of his karate students to work the show to help fill out the card. One of the students he brought in was Mitsuhiro Matsunaga two years before he would become a cult hardcore icon in W*ING. The match will most likely be a Karate style match, as Matsunaga has recently returned back to his roots and hopes to be able to defeat his teacher.
The double booking for Mammoth Sasaki and GENTARO ended up becoming a problem on September 24th as they were both unable to make it to the Big Japan show on September 24th in time after the Zero-One MAX show on the same day. YOSHIYA and Viking Taniguchi had to fill for them as a result.
Added: 9/24
When FMW closed in 2002, Kintaro Kanemura and Tetsuhiro Kuroda became the most widely booked wrestlers in the business. Kanemura and Kuroda took numerous bookings for many different promotions to earn as much of a pay day as possible. Now both Kanemura and Kuroda are hurt. Kanemura has been injured and been unable to wrestle for any promotion, although he will be returning next week. Kuroda has been going through neck pains, and although he is still wrestling, he is being more selected towards his booking, only working for bigger paying promotions like HUSTLE or Riki Pro. Mammoth Sasaki and GENTARO have become the most widely booked wrestlers as of late. Mammoth and GENTARO started their two week tour for four promotions this past week for the Apache Army. Mammoth and GENTARO worked the September 16th and September 18th shows before joining Big Japan for their start of the tour on September 22nd at the Kawasaki City Gym. Mammoth and GENTARO teamed with Jun Kasai and Naoki Numazawa to beat Ryuji Ito, Daisuke Sekimoto, Takashi Sasaki, and Abdullah Kobayashi in a Double Ring Scaffold Death Match. The main spot of the match was Ito delivering a Dragon Splash off the top of the scaffold out of the ring onto Mammoth laying on a table outside of the ring. Although the end result would be Jun Kasai getting the victory for his team for Abdullah Kobayashi.
Mammoth and GENTARO then joined the Zero-One MAX promotion in the middle of their tour on September 23rd in Saitama. Mammoth teamed up with fellow former FMW Dojo student Yoshihito Sasaki to face fellow former FMW wrestlers Masato Tanaka and Tetsuhiro Kuroda. It was Mammoth's debut in Zero-One MAX and his first time teaming with Yoshihito Sasaki since March 2002 right after FMW ended and Yoshihito Sasaki quickly jumped to Zero-One. Mammoth ended up taking the fall against Masato Tanaka after the Roaring Elbow for the loss. GENTARO ended up having his scheduled match with Tadao Yasuda changed to a match with the former Big Japan wrestler Kamikaze and GENTARO also fell to Kamikaze after the Kamikaze Driver. Both Mammoth and GENTARO as well as everyone that competed on the show that night than participated in a 18 man Battle Royal that saw Kohei Sato last eliminate GENTARO for the victory. Both Mammoth and GENTARO will then work a double shot on September 24th as they will both wrestle for Zero-One MAX and Big Japan on the same day. They will then get a week break before participating at the Apache Army Korakuen Hall show and follow that up with the Riki Pro Korakuen Hall show to finally end their lengthy tour together.
Mr. Gannosuke will be in his second big screen Japanese movie called "The Restaurant" that will premiere at the Tokyo ZERO Hall on November 20th. Gannosuke's first movie was in the movie Mask de 41 where he played the character "Punk Lee".
The reason that promotions like WMF and 666 have been running more at the Tokyo Shin-Kiba 1st Ring lately is because as of August 1st the Tokyo Takenotsuka Battle Sphere was no longer to hold anymore wrestling shows. The WMF show on July 31st was the last because the Battle Sphere is just a garage like building in the middle of a regular neighborhood. Many people that lived in the neighborhood complained about the wrestling shows because it caused too much traffic and because two WMF shows had Mr. Gannosuke and Mammoth Sasaki fighting all over the neighborhood. The building was also used as a Dojo by several promotions including WMF after they shut down their personal dojo in February 2004.
Apache Army 9/18/05
Shiga Prefectural Industrial Exchange Hall

Tetsuhiro Kuroda & Hido & Jun Kasai vs. Takashi Sasaki & GENTARO & Saburo Inematsu
Yoshiaki Fujiwara vs. Mammoth Sasaki
Ryuji Ito & Bambi vs. Naoki Numazawa & Apple Miyuki
YOSHIYA vs. Shinjuku Shark *Exhibition*
Onryo vs. Katsumasa Inoue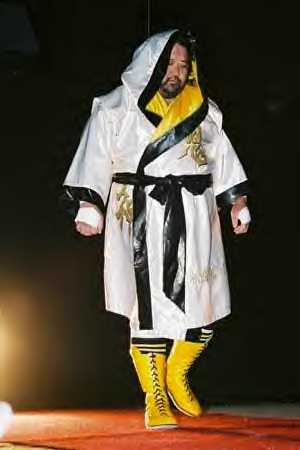 Added: 9/12
Tarzan Goto made his WMF debut on September 9, 2005 at the Tokyo Shin-Kiba 1st Ring in front of a very good crowd for the building in 287 fans. Goto would team up with his former student and protégé Mr. Gannosuke to face off against Soldier and MINEPYON in the main event. Goto would get the fight started right away by facing off against MINEPYON and giving the youngster chops to the chest and slaps to the face. Soldier would tag in and face off against Goto with both wrestlers fighting outside the ring, with Goto grabbing a table and throwing it on Soldier on the ramp way. Gannosuke would take over from there going after Soldier who has become his number one rival in the promotion, and then finishing off MINEPYON with the Fire Thunder at 26 minutes, 33 seconds. After the match, Soldier would get on the mic and begin insulting Gannosuke which would cause Gannosuke to become irate and attack Soldier with Gosaku Goshogawara and Kenji Sawaraki having to pull Gannosuke off. Tarzan Goto would grab the mic and challenge Soldier as well as MINEPYON and Gosaku Goshogawara to a 6 man match against Goto and two of his wrestlers for his upcoming show on October 2nd.
Onryo defeated Gosaku Goshogawara in the semi-main event in a WMF vs. 666 Hardcore Match with Gosaku using a ladder and tables as the symbol for WMF Hardcore where as Onryo would set fire crackers off on his elbow before rolling up Goshogawara with the Onryo Clutch for the win at 10 minutes, 34 seconds as his symbol for 666 Hardcore.
Gosaku Goshogawara's promoted WMF show on August 27th wasn't as much of a success only drawing around 100 fans for the show. The main even saw Mr. Pogo defeat Goshogawara in a Barbed wire Double Hell Spider Net Death Match at 18 minutes, 52 seconds with Pogo wrapping a chain over Goshogawara neck and throwing him over the barbed wire rope causing referee Ted Tanabe to stop the match right and reward Mr. Pogo with the victory.
Kintaro Kanemura has scheduled his return to the ring for October 2nd which also be the Apache Army's return to Korakuen Hall for the first time since December 27, 2004. Kanemura who had injured his knee in July has entitled the show "Kintaro Kanemura's Return: The Empire Strikes Back". Kanemura's return will see him team up with Hido and Hi69 to face off against former All Japan Triple Crown Champion Toshiaki Kawada for the first time as Kawada will also team up with Tomoaki Honma and Taichi Ishikari in the main event. Kanemura will have an exhibition match against the 40 year old Shinjuku Shark on September 16th with a 5 minute time limit to allow Kanemura to test his injured ankle in the ring. Kanemura will then return to Korakuen Hall on October 6th for the Riki Pro show and will team with Tetsuhiro Kuroda and Hido against Riki Choshu, Daisuke Sekimoto, and Takashi Uwano.
Mammoth Sasaki who has officially joined the Apache Army promotion and is no longer a freelancer will be facing off against Yoshiaki Fujiwara twice in the upcoming month once on a Apache Army show, and then for the Riki Pro Korakuen Hall show.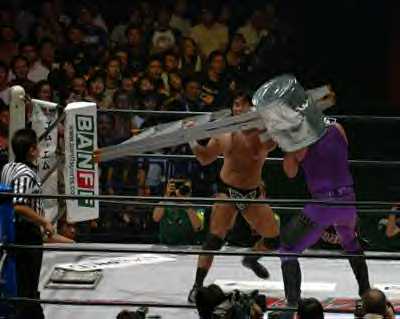 Tetsuhiro Kuroda once again challenged for the HHH Title Bat on September 10, 2005 for HUSTLE-12 at the Nagoya City Gym facing off against the champion Masato Tanaka, King Giraffe, The Monster C, Kwik Cook Lee, and Hollywood Tadao Yasuda in a Hardcore Elimination Match. The major shock of the match would be that HHH Champion would be the second one eliminated in the match. Kuroda and Yasuda would end being the last two wrestlers in the match. Although Kuroda would deliver multiple chair and garbage can shots, it would be Yasuda who would roll up Kuroda with the school boy to score the victory at 10 minutes, 18 seconds to become the second Hustle Hardcore Champion.
Added: 8/24
It was announced this past week that Mr. Gannosuke's mystery partner for the WMF September 9th show against Soldier & MINEPYON would be his friend and trainer Tarzan Goto. It would be the first time that Gannosuke and Goto would be teaming up since late 1996 when Gannosuke made the decision along with Flying Kid Ichihara to leave Goto's group and rejoin FMW. Goto who left FMW on April 23, 1995 after being pushed as Onita's successor to FMW in a spot that he knew would fail at after Onita planned to win in his last match at Kawasaki Stadium. Goto brought his students Mr. Gannosuke & Flying Kid Ichihara with him where they would ultimately land in IWA Japan and later Big Japan with another one of Goto's students in Hayabusa being given the spot as ace of FMW. There were attempts by Kodo Fuyuki who became friends with Tarzan Goto while the two were on many of the same independent shows in 1995/1996 to bring back Tarzan Goto to FMW in 1999. Kodo Fuyuki challenged Tarzan Goto to a FMW Double Titles match on March 19, 1999 for the May 5, 1999 Yokohama Bunka Gym show. Fuyuki pressed Goto that although he left FMW planning never to come back, this was not the same FMW that he did not want to return to. Goto ultimately still decided to not appear on the show. Since then Goto has worked small impendent shows mostly his own promotion Goto-Ippa and training students. Gannosuke who took off time from November 2000 to April 2001 from FMW because he had become a new father spent a good deal of time help training many of Tarzan Goto's students as a favor to his former teacher and the two have remained friends.
Added: 8/15
Kintaro Kanemura showed the Apache Army his loyalty at the August 14, 2005 Riki Pro Korakuen Hall show today. After Tomohiro Ishii defeated Hido with a brainbuster for the win, Kanemura headed to the ring. Kanemura who needed a crutch due to his injury told Hido and the rest of the Apache Army that he wanted Ishii to be friends with the Apache Army. Hido and Ishii would shake hands due to Kanemura's request when Kanemura would make his move. Kanemura would grab his crutch and from behind smash it over Ishii with the rest of the Apache Army stomping away at Ishii before leaving the ring and Ishii laying. Afterwards, Kanemura and Hido declared war on everyone which was what the Apache Army originally stood for when it was created on August 25, 2003.
Ichiro Yaguchi defeated Mammoth Sasaki in the opening match after Yaguchi made Mammoth submit to a cross knee scissors hold. The show was a matinee so many of the wrestlers including Mammoth Sasaki, Hido, Takashi Sasaki, GENTARO, Yuki Ishikawa, Asian Cougar, Dick Togo, and Daisuke Sekimoto after the Riki Pro show drove to Saitama to make the Big Japan night show.
I just wanted to note that I will be going to New York once again on August 17th to August 22nd so take that in mind as far as tape deals and e-mails go. I will try and have all orders that I have received sent out before I go.
I also want to note that I recently watched the WMF Round Robin Tournament matches that spanned from November to February. Many of the matches were really good but lacking heat. Mineo Fujita had improved greatly from the last I saw him. Seiji Ikeda entirely bases his offense on the moves of Arn Anderson who was one of his favorite wrestlers growing up. GOEMON & Onryo still work together good. Garuda who when I saw last was horrible and was having problems even putting on just a bad match had improved to he could put on a respectable and decent match due to his neck being in better shape due to much time off, although it looks like Garuda will never take the two years off for it to properly heal and allow Garuda to become what so many people felt he had when he was ranked as the top FMW Dojo student over Yoshihito Sasaki and Soldier in their rookie days. Mammoth Sasaki and Mr. Gannosuke had the best series of matches with both just beating the hell out of each other. Gannosuke's injury on February 19th started after Mammoth delivered a spinebuster on a stack chairs to Gannosuke with the back of Gannosuke's head hitting one of the chairs hard. Gannosuke was in obvious pain holding the back of his head for the rest of the match, but still took a Mammoth Home Run followed by an extremely hard chair shot by Mammoth that gave Gannosuke a concussion as well as busted him open hard way at the top of his head. An ambulance was called after the match and Gannosuke was taken to a hospital where he stayed the night due to the injury. Mammoth had obviously been injured from the match with Gannosuke and was limping badly throughout the whole match. Soldier used that as an advantage with the story of the match if an injured Mammoth could still come through, but after Soldier placed a ladder of Mammoth's neck and began swinging at it with a chair, it was clear that Mammoth had no chance. The major problem with all the matches and the Tokyo Takenotsuka Battle Sphere is that every match just did not have heat even if the wrestlers brutally beat each other like what Gannosuke went through. Many of the shows also looked empty which was another sad detail, as well as the fans looking miserable throughout due to it being so cold in the building with the shows taking place in the Fall and Winter with the building having no heater. The Takenotsuka Battle Sphere is basically a big garage that can hold a little over 300 people in its stands.
Added: 8/8
The big news coming out of the Apache Army show on August 5th would be that Kintaro Kanemura reconciled with Hido and the rest of the Apache Army. Kanemura who has been out of action with an injury and has not been booked for any shows in the month as a result attended the Apache Army show and came out after Hido called him out. They agreed to put their differences aside and team up once again. The group had been split in two after Kanemura accepted Choshu's leadership of the Apache Army. Hido and the rest of the group were furious over that and started their own group and referred to themselves as the real Apache Army despite Kanemura claiming the Apache Army that Choshu was in charge was the real one. It puts an end to the seven month Kanemura and Hido feud. Mammoth Sasaki faced Tetsuhiro Kuroda for the first time since their incredible December 12, 2002 Korakuen Hall match in WMF. Kuroda ended up winning this match after rolling up Mammoth out of nowhere with the Samson Clutch for the win.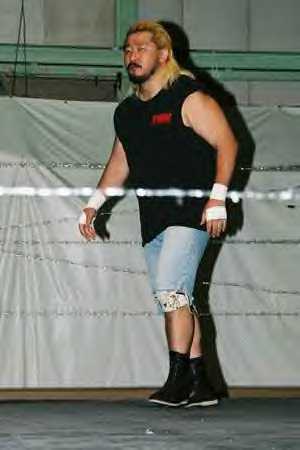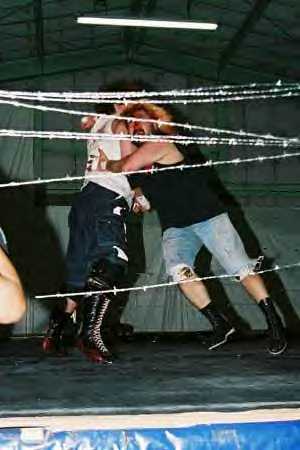 Added: 8/1
The big money match that WMF had been building up since December 21, 2002 when Mr. Gannosuke originally turned heel and attacked Mammoth Sasaki in Sapporo finally took place. Although they had two tournament matches with Mr. Gannosuke winning the first on December 19, 2004 in a Street Fight match that went into the streets of Tokyo before they would find themselves back in the ring with Gannosuke rolling up Mammoth with the Gannosuke Clutch for win, and their Playoff match on February 20, 2005 with the winner moving on to the finals of the WMF Round Robin Tournament that saw Gannosuke Fire Thunder Mammoth head first on a chair, and Mammoth nail Gannosuke so hard with a chair shot that it sent Gannosuke to the hospital afterwards with Mammoth getting the win. This was to settle the score once and for all between the two in a Barbwire Death Match. Both wrestlers dressed in street clothes prepared to be cut badly with Mammoth managing to cut Gannosuke's arm open with the wire, and Gannosuke cutting open Mammoth's arm and forehead badly. The ending sequence apparently got really heated with both men busted open badly, and both were giving each other their moves to try and put the other away. Gannosuke would hit Mammoth with a Praying Powerbomb on the chairs, and Mammoth would kick out and follow up with a Mammoth Home Run to Gannosuke. Gannosuke would kick out and deliver a Fire Thunder on the chairs, with Mammoth kicking out and getting back up and delivering the 29 Years Old on the chairs with Gannosuke again kicking out. Finally, Gannosuke would manage to put away Mammoth after several violent lariats for the victory at 17 minutes, 2 seconds over Mammoth to win the bloody war between the two. The cut on Gannosuke's forehead was so deep that it was still bleeding late into the night. Afterwards, Mammoth got on the mic and announced that this was his and Seiji Ikeda's last show for the promotion, and said his goodbye to the fans to the promotion he was once ace of. Gannosuke then then asked the fans to continue to support WMF despite recent departures of Mammoth, Ikeda, and Garuda and that WMF will continue to build on.
Seiji Ikeda also put over Gosaku Goshogawara on his way out as Gosaku also bled in his match, but managed to get Ikeda to tap out to the Texas Cloverleaf. Soldier who will be pushed back as Mr. Gannosuke's main rival was put over once again by his Dojo teacher GOEMON with Soldier finishing off GOEMON with his BUU which is an F5 off the top rope. Flying Kid Ichihara who is now at the age of 36 defeated the 25 year old Mineo Fujita with a moonsault for the win. Onryo won the opening match defeating Kenji Sawaraki after making him tap to the 66 Lock.
Gosaku Goshogawara announced that the WMF show he will be promoting on August 27th will have the main event of himself taking on his former mentor Mr. Pogo in a Barbwire Death Match. Mr. Gannosuke will then promote the next show on September 9th as he will be teaming up with a mystery partner to face Soldier and Mineo Fujita who is going under the name MINEPYON for the show. By the way, I saw clips of the Gosaku Goshogawara vs. Necro Butcher match from May 15th, and it was possibly one of the scariest matches in that both wrestlers just were screwing up every spot by barely even being able to drop one another on glass. I was surprised that one of them didn't suffer a broken neck from the way they were executing their moves.
Mammoth Sasaki recently did an interview before the match with Gannosuke where he was asked why he left WMF. Mammoth stated which he had already admitted before about wanting around the time of the end of Chapter 1 of WMF when Hayabusa left in February 2004, but stayed after feeling the promotion needed him for the restart and then the three month long Round Robin Tournament, but also stated that he really had a problem with how he had gone from the ace of the promotion because the promotion stood for a youth movement to Mr. Gannosuke's world with Gannosuke pretty much taking over as the ace of the promotion. Although he is friends with Gannosuke, he just did not agree with a lot of the booking decisions that were made, including his feud with Mitsuhiro Matsunaga and how their feud at the start of the promotion was handled poorly with Matsunaga being squashed by Mammoth because Matsunaga could not be the Death Match wrestler that he is, and had to return to his karate style that he started out in wrestling because WMF did not want to be known as a death match promotion, and wanted to be different than what FMW was known for. But then they just started doing hardcore matches out of nowhere for no reason with Mammoth facing Hido on October 19, 2003 in a Barbwire Double Hell Ladder Death Match which was just the start of his two month feud with Hido (they did that match because business was falling fast and they felt something like that would attract more old FMW fans to a particularly big show at the Differ Ariake). He also didn't like that there was nothing to strive for in WMF. How there was just the Junior Heavyweight Title which doesn't fit him, but there was no World Title, Tag Titles, or Hardcore Titles that was something to build the company around instead of just wrestlers fighting one another for the hell of it. Although he is a freelancer, he gets many of his bookings through Kintaro Kanemura who was the one that came up with him getting booked in Big Japan because of how much Kanemura loves the promotion. Although it's not Mammoth's ideal promotion to work for, and that he does not mind not challenging for the Big Japan Death Match Title anytime soon because of the matches they have to go through on top of the card, although he's not scared and is willing to be as hardcore as anyone. He also brought up his match with Tetsuhiro Kuroda on August 5th which is the first match I have even heard been announced for the card, and that hopes the match is a great straight match between the two. Mammoth's goal one day is to work in the United States, and that he wants to be linked as a former FMW wrestler forever, although he doesn't really want to be linked as a former WMF wrestler.
Hayabusa attended the 5 Year Anniversary Commemoration Party for NOAH on July 30, 2005 in Tokyo. He was invited by Mitsuharu Misawa and got the chance to meet with wrestlers that he had not gotten to talk to in years. He was greeted by Mitsuharu Misawa and took pictures with Jun Akiyama, his good friend Masato Tanaka, and Yoshihiro Takayama as well others. When meeting with Takayama their All-Asian Tag Team Title match from June 4, 1999 in All Japan was brought up. Hayabusa was very grateful towards Misawa for once again allowing him attend another NOAH event just like he was invited to the Tokyo Dome show earlier in the month to see old faces of old friends.
Added: 7/29
The 9th 666 show took place on July 24, 2005 with the promotion claiming 666 fans inside the little over 300 seat Takenotsuka Battle Sphere in Tokyo. The main event consisted of Onryo teaming with MIKAMI dressed up in gothic attire to fit the promotion taking on their rivals GOEMON & Darkside HERO!. Onryo once again was able to get the best of his former tag team partner as he pinned GOEMON with the Onryo Clutch. Crazy SKB & Jun Kasai who teamed up back in May to defeat wrestlers dressed up as Jesus Christ & Buddha this time took on Saddam Hussein & Osama Bin laden in a match entitled "Terrorism Wrestling Warning. 911 Fahrenheit that becomes the Twin Towers Blast Blazing Up" with SKB once again getting the victory after setting a helmet on fire with firecrackers and delivering a diving headbutt with the firecrackers going off. Lingerie Muto was also involved in the 6 Man Battle Royal that was won by the former Jet666 now going by 726.
WMF has already announced another show, which I believe is being promoted by Mr. Gannosuke once again on September 9, 2005 at the 1st Ring in the Araki Palace. Tickets will go on sale for the show at the July 31st show. I believe that show will eventually be referred to as the 3rd Year Anniversary show for WMF.
Added: 7/20
Hayabusa recently met with Nikkan Sports' Takashi Nagai and Soldier at his apartment for dinner and drinks. Although Soldier didn't even make his debut in FMW until Hayabusa had already been the ace of FMW for five years he still finds Satoru Makita to be one of his best friends from wrestling to eat and drink together. Hayabusa then received notice that Mitsuharu Misawa had sent him a free pass to attend the NOAH July 18, 2005 Tokyo Dome show in the Sky Box seats. Hayabusa mentioned how much he appreciated Misawa for the gesture, and enjoyed the show and was impressed with NOAH. I recently got the chance to talk with Mr. Gannosuke who saw the show on tape and stated that the Kenta Kobashi vs. Kensuke Sasaki match on the show was one of the best matches he had ever seen. The match consisted of 187 chops between Sasaki and Kobashi.
Some more news was revealed about Shinya Hashimoto's death. Hashimoto was living with Kaoru Fuyuki after divorcing his wife in March and leaving her and their kids to be with Kaoru Fuyuki and her two daughters in Yokohama. Hashimoto collapsed at 8:55 AM and Fuyuki immediately called 911 but Hashimoto's heart and lungs had stopped working in the ambulance. Shinya Hashimoto's sister ended up taking over the responsibility of Hashimoto's funeral because neither his ex-wife or Kaoru Fuyuki wanted to be put in the public eye, after so many people were upset over Hashimoto leaving his family to be with his friends widow. Hashimoto's funeral was patterned after Fuyuki's funeral that he had helped put together with the hearse driving off with red streamers being thrown at it, just like what was done for Fuyuki's with yellow streamers.
The Apache Army recently were asked a series of questions about their opinions on different situations. Kintaro Kanemura stated his least favorite people in dealing with promoting his shows was Satoshi Kojima because of his high paid guaranteed demand, Tomohiro Ishii because of his often he is drunk, Wataru Sakata with no reason given, and Ikuto Hidaka because of his demand that the money be paid up front before he performs. His biggest ambition is to pay back Tetsuhiro Kuroda the money that he owes him because of his loyalty/friendship with Kanemura and the group, he is one of the last on the food chain to get paid for the shows because he's the most willing to understand the financial problems. But Kuroda has a bad neck, and needs the money to go to the hospital to check on how bad it really is. Because of his bad neck, Kuroda who was one of the most active freelancer wrestlers all over the Japanese Independent circuit has cut down most shows to just HUSTLE and Riki Pro because of the higher pay days for working with them. When Hido was asked what is the worse thing for him, he answered when he comes home drunk and as a result Megumi Kudo refuses to let him sleep on the bed, and he has to sleep on the couch instead.
Mammoth Sasaki recently admitted that he no longer wanted to be a full time WMF wrestler right before the WMF Round Robin Tournament was announced in October. Mammoth felt that after Hayabusa left the promotion, he did not really feel like the promotion was not the same anymore, and did not feel the same loyalty he had. Mammoth remained anyway because the promotion had booked him through February and did not want to screw Gannosuke over and hurt the credibility of the tournament. Once the tournament was over, Mammoth was allowed to work other promotions including the rival Apache Army for more paydays. Mammoth eventually announced along with Seiji Ikeda that they would become freelancers on May 15, 2005 after the last show seeing that the promotions future did not look bright as they were aware that Laing, Inc. would not be financially backing the promotion much longer. Mr. Gannosuke who knew as what was ahead was saving up money of his own to be able to book a show another WMF show at the Tokyo Takenotsuka Battle Sphere which is suppose to be what the promotion had technically been built on, which was Mr. Gannosuke against Mammoth Sasaki in a non tournament match, as well as barbwire being reintroduced to the former FMW fans.
Added: 7/11
Former IWGP Heavyweight Champion and Zero-One ace Shinya Hashimoto has died at the age of 40. 28 months to the day that he shook Kodo Fuyuki's hand at Korakuen Hall for the last time, which ended up being eight days before Fuyuki's death, Shinya Hashimoto has sadly passed away as well. Hashimoto collapsed suddenly, and was rushed to the Yokohama University Hospital where he was announced dead at 10:36 AM Yokohama time, although he had already died in the ambulance on the way to the hospital. It is believed that his death was caused from a brain hemorrhage.
Although Hashimoto was mostly a top New Japan wrestler during FMW, he became a factor to the former FMW wrestlers when WEW and Zero-One agreed to work together in 2002. Hashimoto agreed to work with Kodo Fuyuki's WEW for the first time for the first time for the May 5, 2002 Kawasaki Stadium show with Hashimoto teaming up with Shinjiro Otani to face Atsushi Onita & The Great Sasuke. Hashimoto would quickly get hit with green mist in the face by Onita, and eventually the match would come to an end when Onita would throw a fireball at Otani's face, ending the match in disqualification. When Kodo Fuyuki found out that his cancer was going to cause his eventual death, he asked Hashimoto if they could work a program together to setup one last possible match for Fuyuki on May 5, 2003 at Kawasaki Stadium. Hashimoto agreed, and the start of their feud began when Hashimoto defeated Kintaro Kanemura on a Zero-One Korakuen Hall show on December 29, 2002 quite easily. Fuyuki interfered and had a heated confrontation with Hashimoto. Fuyuki's health got worse as time went by, he still wanted to have hope that he would live to May 5th and fight Hashimoto in a Exploding Ring Death Match, where he would not mind dying in the ring. Fuyuki eventually had to load up on painkillers just to be able to leave the hospital, and appear at Korakuen Hall where he accepted flowers presented to him by Shinya Hashimoto on March 11, 2003 and the two would make their match official. When Kodo Fuyuki died on March 19, 2003 in Yokohama, Hashimoto who had become very close to Fuyuki during his last days became very depressed. Shinya Hashimoto attended the funeral who visibly cried at the funeral, gave a farewell speech to his friend Kodo Fuyuki in front of everyone, and then was a Pall Bearer for Kodo Fuyuki.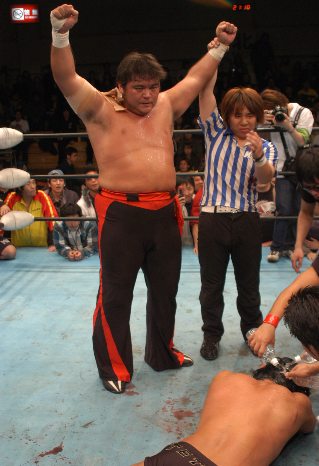 Kintaro Kanemura replaced his good friend Kodo Fuyuki for the May 5, 2003 Kawasaki Stadium show in a Exploding Barbwire Death Match against Shinya Hashimoto. Both Kanemura and Hashimoto held a box with Kodo Fuyuki's ashes and both flung themselves into the exploding barbwire causing the ashes to fly all over the ring, just how Kodo Fuyuki had wanted it. Shinya Hashimoto defeated Kanemura on that night, but afterwards Hashimoto show of respect for his fallen friend would win over Kodo Fuyuki's widow and friend Kintaro Kanemura. Hashimoto and Kanemura would form a tag team on May 29, 2003 at Korakuen Hall in Zero-One and be on the losing end to the team against John Heidenreich and The Predator. Months later, the group of former FMW wrestlers would form the Apache Army and would declare war on Zero-One. After beating up a Zero-One rookie, and leaving him bloody on October 24, 2003, they would see Shinya Hashimoto watching the incident from the back of Korakuen Hall. They would call out Hashimoto to the ring and challenge him to a fight. Although Hashimoto would manage to take out Mr. Gannosuke, Tetsuhiro Kuroda, TAKA Michinoku, GENTARO, and Hido by himself, it would be Kanemura doing Kodo Fuyuki's signature Charging Lariat to knock Hashimoto down giving the Apache Army a moral victory. Hashimoto would then agree to wrestle on the 1 Year Anniversary of Kodo Fuyuki's death on March 19, 2004 at Korakuen Hall. He would face Tetsuhiro Kuroda, and although he would allow Kuroda much more offense than usual, he would eventually get the win, and once again show much respect to the memory of Fuyuki, and his family. His last match for the Fuyuki Army would take place on May 5, 2004 at Kawasaki Stadium, when he would be moved down the card from the main event to face Mammoth Sasaki. Although Mammoth would give it his best, and Hashimoto was suffering from a severe injured shoulder, he would manage to defeat Mammoth, but again would show respect on the way by shaking Mammoth's hand and bowing to him. Shinya Hashimoto's last match would be on August 31, 2004 when he and Yoshiaki Fujiwara would lose the NWA IC Tag Team Titles to Shinjiro Otani and Takao Omori. Hashimoto would have much needed shoulder surgery in December 2004, and officially break away from Zero-One. While rehabbing, it was learned that Shinya Hashimoto had began a relationship with Kodo Fuyuki's widow Kaoru, and plans were that either Hashimoto would be returning to New Japan or start his own promotion with Kaoru, or both. Hashimoto's sister stated that Hashimoto had a heart problem last year, and was taking medicine for it that he was force to come off of after his shoulder surgery. Hashimoto's doctor stated that high blood pressure was most likely the cause for the brain hemorrhage, and that Hashimoto suffered from years of stress that caused problems someone his age should not be having. When asked for comment about Hashimoto's death, Atsushi Onita replied that pro wrestling in Japan will never be the same without Hashimoto. Hayabusa stated that he felt Hashimoto's death was too sudden, and that he could find the words to describe it, and offered his prayers. Shinya Hashimoto becomes another one of the many wrestlers, that have died too young for this world.
Here is a link to pictures of the Shinya Hashimoto vs. Kintaro Kanemura Exploding Barbwire Death Match from WEW's May 5, 2003 Kawasaki Stadium show. http://fmwwrestling.us/WEW5503.html
Added: 7/6
Hayabusa attended the DDT July 3, 2005 Earthquake Relief Benefit show for the victims of the earthquake that hit Niigata back in March. Hayabusa who lives in Yatsushiro, Kumamoto, which is near Niigata agreed to do the show in April after meeting with Sanshiro Takagi during the WE LOVE SABU show. The show itself was a success selling out the building with 490 people attending. GOEMON also wrestled on the show in a tag team match. It's only the third wrestling show that Hayabusa has gone to in the last year. Hayabusa performed a song in front of the crowd about the tragedy of the earthquake, which the crowd sat quietly but obviously emotional throughout the whole song. Hayabusa got to meet several wrestlers for the first time, and many wrestlers for the first time in years. Ebetaro, AKINO, Mariko Yoshida, and MIKAMI all took pictures with Hayabusa backstage. Hayabusa enjoyed being with Ebetaro and MIKAMI who were constantly making him smile and laugh while taking pictures with them. Ebetaro use to wrestle in FMW as Mitsunobu Kikuzawa during the last few months of FMW after Hayabusa had already suffered his injury.
There will be a two day tournament on August 12th and August 13th at the Tokyo Takenotsuka Battle Sphere called D-II Climax, which will be running against the G-1 Climax tournament. This tournament will be held for Independent wrestlers, and Zero-One MAX will allow one of their wrestlers to compete in it. Mr. Gannosuke has shown interest in wanting to be involved in the tournament. Mr. Gannosuke has been spending most of his free time working on a upcoming movie that has an opening scheduled for November 20th in Tokyo and Osaka, although it could be much longer until the movie makes it to theaters. It is Gannosuke's second movie as he had a role in Mask de 41 as Punk Lee.
Added: 6/20
Mr. Gannosuke who turns 37 today, announced the lineup for the first WMF show that he will be mostly financially backing on July 31, 2005 at the Tokyo Takenotsuka Battle. If the show does not do well financially, it would possibly be the last WMF show. The main event will be almost the entire focus of the show as Gannosuke has booked himself to face Mammoth Sasaki in a Barbwire Death Match. Both Gannosuke and Mammoth put on the best WMF match in a long time on February 20, 2005 where Mr. Gannosuke had to go to the hospital afterwards after taking a chair shot so hard to the head by Mammoth. This will be Gannosuke's first barbwire match since August 25, 1997 in FMW.
Added: 6/17
After three years of being owned by a Japanese bankrupt court, the FMW video library has officially been bought. "The Fight Network" which will be a 24-hour combat channel in North America out of Toronto made the purchase recently. The network which is based out of Toronto, Ontario Canada plans on starting up on August 1st with a goal of becoming established in Canada before hoping to make it in America. The network will air FMW shows, PRIDE, St. Louis Wrestling, Vale Tudo from Brazil, IWA Puerto Rico, and they hope to get New Japan and Ring of Honor taped shows eventually. The FMW official video tape library had not been touched by anyone due to the price of it after Shoichi Arai declared bankruptcy.
Tokyo Pop from California made a deal in 2000 for the rights to use FMW's Toshiba Emi Commercial tapes to release as DVD's in North America, and although they were nice to me personally about selling tapes, they did take advantage of other websites claiming they could and would sue those websites for selling FMW Pay Per View shows, although the only thing they could legally go after were websites that were selling Toshiba Emi FMW Commercial tapes. Tokyo Pop lost all control of the FMW Commercial Tape footage they had when FMW went bankrupt. Before this deal, the only FMW footage that was legally allowed to air on television was by Atsushi Onita who still access to the BMG Commercial Tape footage which consisted of Commercial Tapes put out by FMW during Atsushi Onita's days in FMW from 1991 to 1995. BMG Video which is a major video production company in Japan decided a month after Atsushi Onita had retired that FMW was not going to make them much money anymore and decided to end their deal with FMW. FMW started Toshiba Emi shortly afterwards, and when FMW went bankrupt, that footage went into the bankruptcy vault as well.
I rewrote an excellent column originally written by Dave Meltzer that he published in the May 1, 1995 Wrestling Observer Newsletter, which talks about Atsushi Onita's upcoming retirement at the time, retirements in wrestling, how Atsushi Onita and FMW started, and the May 5, 1995 Kawasaki Stadium show. It is one of the few times that the FMW promotion was the lead story for the Wrestling Observer in the 1990's. It can be found at http://fmwwrestling.us/Observer5195.html and will also be able to be found at the bottom of the first page of my FMW history Biography.
Added: 6/16
Masato Tanaka and Mike Awesome once again had the show stealing match at WWE's PPV ECW One Night Stand on June 12, 2005 at the Manhattan Hammerstein Ballroom. Tanaka and Awesome who regularly had the best match on ECW PPV's in the late 90's using their style of matches they formed in FMW, once again went at it without being afraid to hurt one another. Mike Awesome hit a running Kamikaze Awesome Bomb on Tanaka through a table from the apron to the outside of the ring similar to what he did against Yukihiro Kanemura on July 10, 1998 in FMW. Awesome eventually finished Tanaka delivering another Kamikaze Awesome Bomb over the top rope to outside of the ring through a table. Awesome then flew over the top rope, and hit his knee going over it in the process before landing on Tanaka. With a hurt Mike Awesome, the referee decided to improvise and turn the match into a Falls Count Anywhere match by counting the pinfall outside of the ring and giving Mike Awesome the pinfall victory over Masato Tanaka. Mike Awesome who is 40, and has already had three knee surgeries was helped out by officials due his injured knee. Although in Japan, Masato Tanaka's main rival will always be Kintaro Kanemura because of the hundreds of battles they've had against each other throughout the last decade, it will be Mike Awesome who Masato Tanaka is best known for feuding with in America due to the violent chair shots and devastating table landings between the two. The two have had many different classic battles spanning five different promotions, and for four different title belts. Here is a recap of the singles matches between the two over the years.
FMW 8/25/95
Tokyo Korakuen Hall
2150 Fans

FMW Brass Knuckles Championship Tournament Match: The Gladiator d. Masato Tanaka (10:52)
FMW 2/18/97
Tokyo Korakuen Hall
2150 Fans
FMW Double Titles Championship Match: The Gladiator d. Masato Tanaka (15:25) to Defend the FMW Brass Knuckles Heavyweight Title for the 2nd Time, and FMW Independent Heavyweight Title for the 1st Time.

FMW 9/28/97
Kawasaki Stadium
50012 Fans

FMW Double Titles Championship Match: Masato Tanaka d. The Gladiator (15:18) to become the NEW FMW Double Titles Champion.

ECW 7/3/98
Elmhurst Queens, New York
1000 Fans

Masato Tanaka d. Mike Awesome

ECW 8/2/98 "Heatwave '98"
Daytona, Ohio Hara Arena
4376 Fans

Masato Tanaka d. Mike Awesome (11:49)
ECW 8/8/98
Philadelphia, Pennsylvania ECW Arena
1400 Fans

Masato Tanaka d. Mike Awesome

ECW 9/19/99 "Anarchy Rulz '99"
Villa Park, Illnois Odeum
6000 Fans

ECW Heavyweight Championship Match: Mike Awesome d. Masato Tanaka & Taz in a Three Way Dance to become the NEW ECW Heavyweight Champion.
Masato Tanaka & Mike Awesome pinned Taz (2:01)
Mike Awesome pinned Masato Tanaka (13:48)

ECW 11/7/99 "November to Remember '99"
Buffalo, New York Bert Flickinger Center
3000 Fans

ECW Heavyweight Championship Match: Mike Awesome d. Masato Tanaka to Defend the Title

ECW 12/17/99
Nashville, Tennessee
2500 Fans

ECW Heavyweight Championship Match: Masato Tanaka d. Mike Awesome to become the NEW ECW Heavyweight Champion.

ECW 12/23/99
White Plains, New York

ECW Heavyweight Championship Match: Mike Awesome d. Masato Tanaka to become the NEW ECW Heavyweight Champion.
ECW 3/4/00
Asbury Park, New Jersey

ECW Heavyweight Championship Match: Mike Awesome vs. Masato Tanaka went to a No Contest (8:54)

MLW 5/9/03
Orlando, Florida Tabu Night Club

Mike Awesome d. Masato Tanaka via DQ
Zero-One 2/29/04
Tokyo Sumo Hall
6500 Fans

NWA United National Championship Match: Masato Tanaka d. The Gladiator (11:44) to Defend the Title.

WWE 6/12/05 "ECW One Night Stand"
Manhattan, New York Hammerstein Ballroom
2500 Fans

Mike Awesome d. Masato Tanaka (9:51)
The Apache Army group of Kintaro Kanemura, Mammoth Sasaki, Tetsuhiro Kuroda, Hido, Takashi Sasaki, GENTARO, and Shinjuku Shark will be touring for the upcoming Riki Pro tour starting June 24, 2005 which will conclude on July 4, 2005 at the Osaka Prefectural Gym # 2. The Osaka Prefectural Gym # 2 was always one of the most popular buildings for FMW shows, and probably held more FMW shows than any building other than Korakuen Hall throughout the years.
Added: 6/10
For the second straight time, WMF was dead. But for the second straight time, WMF has came back to life. Although Laing, Inc. has backed out of WMF and closed the promotion offices, the promotion will still keep going. Mr. Gannosuke had decided he will pretty much by himself keep the promotion going. Gannosuke will put up his own money for the upcoming show and anymore future shows, although he will have sponsors helping him out financially. The only show announced for the future in July 31, 2005 at the Tokyo Takenotsuka Battle Sphere. This is much like what Kintaro Kanemura does for his Kintaro Kanemura Festival shows.
Added: 6/6
Kintaro Kanemura & Hido go wake back. They started out as enemies in 1993 when Hido sided with the heel Jado & Gedo against Kanemura and his babyface group in W*ING. Hido helped Jado & Gedo light the fire that Kanemura ended up being powerbombed in and had 75% of his skin severely burnt. After W*ING folded, both Kanemura & Hido joined the W*ING group invading in FMW in 1994. They had been pretty much friends since. From W*ING to ZEN to Team No Respect to the Apache Army, Kanemura & Hido were pretty much as close of friends as you can get for over 10 years straight. But when Riki Choshu defeated Kintaro Kanemura on January 5, 2005 and took over leadership of the Apache Army, Hido wanted nothing to do with it. Riki Choshu stood for everything that the Apache Army stood against, which was to represent the Independent Japanese promotions in a war against the bigger promotions like Zero-One, All Japan, and the Riki Choshu ran World Japan. With Choshu in charge of the group, it lost all its meaning, and Hido left Kanemura and sided with Tetsuhiro Kuroda who had left the group back in March 2004. Kanemura & Hido's rivalry had been building up throughout the year, with matches against the two taking place from the Apache Army Promotion to Big Japan to Riki Pro. Riki Pro is where the first singles match between Kanemura & Hido would take place since July 27, 1997. The match would be scheduled a Lumberjack match with Hido's friends and partners of Tetsuhiro Kuroda, Takashi Sasaki, and GENTARO being at ringside for Hido, and Tomohiro Ishii being at ringside for Kanemura. The match would start with both Kanemura & Hido swinging chairs at one another with Hido winning the battle and smashing Kanemura over the head with it. Hido would take early control of the match, and manage to bust open Kanemura's forehead, and as Tomohiro Ishii saw that Hido was in trouble, he would jump in the ring and quickly grab Hido and deliver a Brainbuster to him. The Akrangers & Kuroda would quickly clear Ishii out of the ring, but it would give the bloody Kanemura an opportunity to control the match, and he would do that. Kanemura would deliver a senton to Hido, and deliver stiff elbow shots to Hido, as well as a Fire Thunder to Hido but would be unable to put him away. Hido would come back by managing to catch Kanemura climbing the top turnbuckle again, and superplex Kanemura off the turnbuckle. Hido would also fail to manage to put Kanemura away, and Kanemura would come back with Rolling German Supplexs on Hido, and then finally finishing his former friend off with a Blast YAMA Senton Special and score the victory at 8 minutes, 29 seconds. As soon as the match was over, the Akrangers & Kuroda would attack the bloody Kanemura with Ishii coming in and helping Kanemura eventually get them out of the ring. While Hido would grab the mic and declare the war between him and Kanemura was not nearly over. The next match between them will be in a tag team match at the Yokohama Bunka Gym on June 8th for Big Japan's big show with Kanemura teaming up with Big Japan's Daisuke Sekimoto to face off against Hido & GENTARO in a Hardcore Rules Street Fight.
Added: 5/31
Laing, Inc. officially announced the closing of the WMF promotion today effective for early June. The official resignations of Mammoth Sasaki, Garuda, and Seiji Ikeda took place just shortly before the announcement by WMF President Tetsuya Yamada was made of the closing. Yamada of Laing, Inc. which has been the financial backer since the promotion started in August 2002 made a press release stating "Because WMF was an unprofitable operation, a complete withdrawal with the promotion will take place". Since there no other way for money to be funded for the organization, it will officially close this upcoming week to allow their offices in Tokyo and Roppongi to be cleared out.
It came to no surprise, and even speculated here that this was the end for the promotion just three days ago. Mammoth Sasaki & Seiji Ikeda who were extremely loyal to the promotion were force to become freelancers to be able to work elsewhere and be able to make money, with no heat on either them with Mr. Gannosuke unlike Garuda who had just left the promotion a month earlier for basically the same reason.
WMF was originally thought to have ended in February 2004 when it was announced that the promotion had no more booked shows after their February 11, 2004 Korakuen Hall show by many people, and still many people that do not visit this site still believe the promotion ended then. Although it was announced by Mr. Gannosuke that the promotion would be taking a six month break to collect money and give the promotion another shot to make it. WMF would return on August 7, 2004 but would only run in small buildings the entire time, most notably the Tokyo Takenotsuka Battle Sphere which only seated 300 fans, and still lost money on their shows. One of their biggest shows was actually their last on May 15, 2005 at the Osaka Delfin Arena where they drew over 400 fans, although having to pay the likes of Kensuke Sasaki, Super Delfin, and Necro Butcher cut into the overall profit for the show immensely.
WMF officially started on July 3, 2002 and ran its first show on August 18, 2002 as a practice show to setup their Debut show on August 28, 2002 at the Tokyo Differ Ariake which marked the return to Hayabusa in a wrestling arena since his tragic accident the year before. The biggest and most successful show the promotion ever put on was on December 12, 2002 for their first Korakuen Hall show that had Hayabusa take his first steps in the building where his injury occurred, as well as Satoshi Kojima, Jinsei Shinzaki, Aja Kong, the return of Emi Motokawa, and the best match ever put on by the promotion in Mammoth Sasaki against Tetsuhiro Kuroda in a bloody main event. WMF started out strong in their first year with a core of the old FMW audience attending, but after some booking blunders and poor promoting for key shows, as well as a no show by Atsushi Onita for a show that was booked around him, they never really did recover. WMF was a project that focused on getting the younger wrestlers from FMW like Mammoth Sasaki, Garuda, Seiji Ikeda, and Soldier over as top stars with veterans like Mr. Gannosuke, Tetsuhiro Kuroda, Hisakatsu Oya, Jinsei Shinzaki, GOEMON, and Onryo helping draw people to the shows. WMF held 60 shows from the start to the announcement that the promotion was ending on May 31, 2005.
Added: 5/28
With Mammoth Sasaki & Seiji Ikeda both opting out of WMF to become freelancers earlier this month, it looks like WMF may possibly be coming to a near end. Even though Mammoth & Ikeda would still work for the promotion when a show is planned, it leaves only Mr. Gannosuke, Soldier, Mineo Fujita, and Kenji Sawaraki as the only full time WMF wrestlers left. GOEMON who left the group last year to be apart of Hayabusa's Project and Onryo who is now officially a 666 wrestler would also wrestle on any future. Garuda is the only wrestler that has left the group recently that would not be welcomed back by the promotion. Despite doing well at the Osaka Delfin Arena for its latest show on May 15th, the group still is in such bad financial shape that two weeks since the last show and still nothing planned for the future, it might be almost over for WMF. The group of Mr. Gannosuke, Mammoth Sasaki, Seiji Ikeda, and Mineo Fujita are touring right now together for two shows. They worked a charity event for China today with Mammoth Sasaki & Seiji Ikeda teaming up to take on Mr. Gannosuke & Mineo Fujita with the freelancers winning after Mammoth deliver the 29 Years Old on Fujita for the victory. Soldier will join the group tomorrow for the Independent Dream show at the Tokyo Takenotsuka Battle Sphere. Mammoth Sasaki will continue working for the Apache Army and the shows they will participate for Big Japan. Although nothing Seiji Ikeda has not been booked for anything yet, it would not be a surprise if he were to begin working for Michinoku Pro as he toured with the group regularly in 2003 and 2004.
The Apache Army announced more matches for their upcoming shows at the second floor of the Zepp Tokyo which holds 309 people in the room, with 200 people being able to sit down at a table to watch the show. Takashi Sasaki & GENTARO will start a five match series coming up with the first two matches of the series being at the Zepp Tokyo shows. Before the shows, the Apache Army group of Kintaro Kanemura, Takashi Sasaki, GENTARO, and K-Dojo's MIYAWAKI will be touring for Zero-One MAX.
Added: 5/23
Recent Apache Army cards have been announced for the next month. The two Apache Army shows set for June 9th and 10th in Zepp Tokyo will be the first set of shows under the Apache Army name since January 23rd. A week after the two shows, a Kintaro Kanemura Festival show will take place in the Chiba Blue Field on June 19th with the lineup mostly complete with Kintaro Kanemura teaming up with Dick Togo to face the Akrangers of Takashi Sasaki & GENTARO in the main event. Recently, Mammoth Sasaki has been touring with the Apache Army wrestlers on their shows as well in Big Japan with them. Mammoth originally began working with the Apache Army wrestlers on their Big Japan tour, and was to begin working on their upcoming shows as a WMF wrestler. But after the May 15th show, it was announced that Mammoth Sasaki & Seiji Ikeda were officially becoming freelancers. WMF has been even lower on money as of late, and has been struggling to pay the wrestlers even the two shows a month that they have been working on. Mammoth and Ikeda will continue to work for WMF, but Mammoth will also begin working pretty much on every Apache Army show in the undercard as well. As of late, the heat between Gannosuke & Kanemura which started about a year ago over the difference in opinions has grown a lot as of late, where as of right now, the two do not even like each other anymore and are not on speaking terms. Still no WMF show has been announced for the future yet, although the group will be working for the China-Japan Wrestling show on May 28th which is a benefit show to help people financially in China, and then the next day at the Independent Dream show on May 29th at the Tokyo Takenotsuka Battle Sphere that is being put on by the group "Battle Net".
Added: 5/21
Was finally able to get WMF results of the last two shows thanks to Kris Zellner. One of the main reasons why Mr. Gannosuke & Kintaro Kanemura broke up alliances between WMF & Apache Army was over both enjoying the competition between the two promotions they run, and because they think differently when it comes to wrestling. Kanemura felt there should be more Street Fights and bloody Death Matches on the shows, because the promotions were based off of FMW. Gannosuke on the other hand felt it was time to move to a more straight wrestling style, staying away from the Death Matches unless it was a special occasion, feeling the Death Matches has ran its course. Well even though both promotions have been hurting gate wise for their shows, there was a match booked between Mr. Gannosuke and Mammoth Sasaki on December 19, 2004 that was booked to be a Street Fight because of Mammoth Sasaki's injured knee would make it hard for the two top wrestlers in the promotion to have a good straight match. The match consisted of both wrestlers brutally beating each other up in the streets of Tokyo, and Mammoth being powerbombed into a barbwire board. The match received extremely high remarks from the fans that were once hardcore FMW fans, so since WMF has added more and more of a Street Fight/Death Match style to their shows. WMF brought in American wrestlers Balls Mahoney, Shirley Doe, Necro Butcher, and Mad Man Pondo feeling they were all able to wrestle that style of match with the likes of Mr. Gannosuke, Gosaku Goshogawara, Mammoth Sasaki, and Seiji Ikeda. The Tokyo Takenotsuka Battle Sphere show changed its main event to Gosaku Goshogawara vs. Necro Butcher feeling it was going to be the biggest bloodshed from the promotion ever, that no match would be able to follow it. The show turned out to be a disappointment drawing one of the smallest crowds to the 300 seat building of only 120 fans for the show. Glass was crushed, fluorescent light sticks were crashed over both before finally the bloody Gosaku Goshogawara surprisingly upset Necro Butcher by Doctor Bombing him through two fluorescent light sticks for the victory to officially become the Drunk King of wrestling. The semi-main event also had a FMW feel to the match, as it was a Falls Count Anywhere Street Fight that saw every wrestler brawl all around ringside with both Mammoth & Ikeda bleeding throughout the match before Mammoth would finally get some revenge on Soldier by finishing off him with a Mammoth Home Run for the victory.
The next show on May 15th with no hardcore wrestling on the show, turned out to be a huge success. WMF ran at the Osaka Delfin Arena and drew 400 fans, twice the size of the average of Osaka Pro event. Osaka Pro talent Super Delfin, Black Buffalo, Kushinibo Kamen, and new addition Flying Kid Ichihara all worked the show for WMF. Kensuke Sasaki was also a big factor for the bigger gate, as the show last month in Saitama that he was also a part of was one of the promotions most successful shows in the building that they have had. Lingerie Muto who is affiliated with the group "r" has been working almost every Independent show undercard has become one of the most talked about rookies in awhile with his gimmick of Keiji Muto in bra and panties lost to both Onryo & Riki Senysu on the shows. Mr. Gannosuke who is the booker for WMF had booked himself out of anything meaningful in Tokyo by putting himself in the opening match against rookie Kenji Sawaraki because he was going to be winning in the main event over Mammoth Sasaki & Seiji Ikeda the next day by defeating Ikeda with the Gannosuke Clutch. No announcement for any future WMF shows booked yet.
Added: 5/11
Hustle-9 took place at the Niigata City Gym on May 10, 2005 in front of an announced 3500 fans. Masato Tanaka defended his HHH Title Bat for the 1st Time in a Hardcore Royal Rumble defeating Kintaro Kanemura, Tetsuhiro Kuroda, Monster C, Piranhian Monster and last eliminating Demon Spider at 14 minutes, 39 seconds. Bicycles, ladders, and tables were used in the match. Kuroda was the first one to be eliminated after being pinned by Demon Spider, Kanemura who was the first one entered in the Royal Rumble style match, was the next to be eliminated after taking the biggest bump of the match by being hit with the Death Valley Driver by Tanaka off the top rope through two tables. It would be followed quickly by Piranhian Monster eliminating Kanemura from the match. After the successful defense, Tanaka was attacked by another monster who he will be defending the HHH Bat from at the next Hustle show.
I just wanted to let everyone know I won't be around the next couple of days. I will be going to New York on Thursday morning and returning on Monday. Please take note to that as far as tape orders go. That will also delay the WMF results being posted on the site a day or so until I get back on Monday.
The 666 promotion announced the lineup for its upcoming show on May 21, 2005 at the Tokyo Takenotsuka Battle Sphere which will be the 10 year anniversary show for Onryo's pro wrestling career. Onryo will face friend MIKAMI in the main event for the first time their really good match on May 3, 2002 at Korakuen Hall for DDT. Jun Kasai & Crazy SKB will team up to face the powers of Christ and Buddha in the semi-main event. WMF's Mammoth Sasaki & Mineo Fujita will take part in a Battle Royal on the show. Also, in a 666 Story of the Legends Match, Naoshi Sano will face a Grandfather and a Grandmother in a handicap match.
Although he will still most likely be wrestling for WMF this week as Flying Kid Ichihara, Ichihara has joined Osaka Pro and has become the next Ebessan. Mitsunobu Kikuzawa who teamed with NOSAWA at the end of FMW in late 2001 and early 2002 gave notice to Osaka Pro that he wanted to be a freelancer due to not being paid often enough, but still be able to work Osaka Pro as Ebessan, a gimmick that he has made extremely popular. Osaka Pro which owns the Ebessan gimmick decided to just give it to Flying Kid Ichihara instead. Kikuzawa countered by coming up with a similar gimmick in Ebetaro.
Added: 5/5
Today marks for the 10 year anniversary of the biggest FMW match ever to take place. Click the link the History of Atsushi Onita vs. Hayabusa from 5/5/95 for an article I wrote having to do with the May 5, 1995 match between Atsushi Onita & Hayabusa, and their careers after the show. I also put in the last two articles from May 5th that I have written about the Kawasaki Stadium history and the May 5th history for FMW.
Added: 4/24
Hayabusa & Jushin Thunder Liger met face to face for the first time on April 22nd in almost 9 years to do interview together with Weekly Gong Magazine. Hayabusa & Jushin Liger who had become great friends back in 1993 when Hayabusa was a still a young wrestler still paying his dues in FMW, and Jushin Liger was working for the bigger New Japan and already legend in the business. Liger helped Hayabusa early in his career, including giving Eiji Ezaki the concept for the Hayabusa gimmick, and becoming a masked flyer like he was. Liger also personally chose for Hayabusa as his first round opponent in the Super J Cup in 1994 which would be great exposure for Eiji Ezaki and his debuting Hayabusa gimmick in Japan. Hayabusa got his big break a year later by FMW after Onita retired and he was made the ace of the promotion. But in 1996, after Hayabusa was out with injuries for several months, Jushin Liger met with Hayabusa while both were in Florida backstage at WCW World Wide tapings, where Liger would ask Hayabusa to leave FMW and join New Japan where he would be promised to be pushed as one of the top Junior Heavyweights in the biggest promotion in Japan since Hayabusa did not have more booked dates with FMW due to his injury. Hayabusa who had been asked to leave FMW to join IWA Japan two years earlier for more money and turned it down was again being asked to put his loyalty for FMW, but this time it was by his friend Jushin Liger who had helped him so much early in his career asking him to leave FMW. Eventually, Hayabusa turned down Jushin Liger's offer to New Japan, causing Liger to feel betrayed by someone who he had gone so much out of his way to help. Jushin Liger wanted nothing to do with Hayabusa afterwards and did not speak with Hayabusa for yeas, and did not end his grudge with Hayabusa until after he was paralyzed in 2001. Both agreed to meet in person for the first time on April 22nd for Weekly Gong where they would give an interview about their feelings on everything that happened between the two including more pictures with the two together. The magazine with the interview and pictures will be out next week. Hayabusa felt extremely happy after the interview, feeling it was good to no longer have a strained relationship with Mr. Liger after so many years. He also stated that it has felt like it has been reunion week for him, as he has gotten reacquainted in person with both Sabu & Jushin Liger this week for the first times in a long time.
This is from Dave Meltzer's May 2, 2005 Wrestling Observer Newsletter on the Sabu shows: "They had two Sabu benefit shows, an afternoon and en evening show at Differ Ariake in Tokyo on 4/17 that turned out very well, although the crowd wasn't very big. They drew 303 for the afternoon show and 501 for the night show for the first ever benefit show of its kind for a foreign wrestler, and benefit shows are rare in Japan for anyone. Sumie Sakai, a Japanese woman wrestler who is based in the U.S., put the shows together. She was praised as having strong leadership qualities and once announcing the idea, they had 57 wrestlers ask to work the show for free, which meant they ended up doing a second show. Mick Foley donated one of his WWF title belts (which went for a disappointing price of just $570.), a Cactus Jack ref flannel shirt, a dress shirt with bloody tie and some Cactus Jack T-shirts. TAKA Michinoku, Kintaro Kanemura and Mr. Gannosuke helped with booking. Megumi Kudo made an appearance doing an in-ring talk segment with Sabu, although all he said was "Arigato, Thank you." Sandman came straight from the airport to work. Even though New Japan told him not to come, Osamu Nishimura showed up and gave a big speech, saying he would never survived his first trip to the U.S. if it wasn't for all of Sabu's help, and that Sabu introduced him to so many East Coach indie promoters. Masato Tanaka finished the night show with a big speech, talking about how Sabu inspired all the wrestlers that followed doing the hardcore style and many people who have well could have never had jobs in wrestling without him popularizing the style. He credit Sabu with having major influence on creating the style that made ECW. NOAH, which controls wrestling bookings at the building, let them run the show with a very small rental charge, they got the ring for free, and all the stars, both big and small, worked as ring crew setting up the ring, building the stage and putting out the chairs all morning. The wrestlers who weren't working manned the concession stand. The funniest story was Sandman walking and seeing Jaguar Yokota backstage. Sandman went to Fumi Saito, a reporter who helped organize the show, and said, "If I'm not mistaken, is that Jaguar Yokota? Oh My God!" When told it was, he went up to her and said, "My name is Sandman, so pleased to meet you. You are the greatest legend. " She smiled. He walked away. She then started asking, "Who was that?" The big joke is that if it was HHH who did the same thing, she still wouldn't have a clue who it was. The biggest match on the shows was Sandman & Ryuji Ito over Necro Butcher & Bad Boy Hido when Sandman pinned Butcher after a Russian leg sweep using a cane. Sandman called Sabu into the ring and they drank beer together. Sabu was telling people that his first match back would be on the 6/10 show in Philadelphia. He said he would like to wrestle on the 6/12 ECW PPV, but nobody from WWE has contacted him."
Added: 4/22
Hayabusa has agreed to attend the DDT July 3, 2005 show which will be a Niigata Nakagoshi Earthquake Revival Support show for the Earthquake that hit last month. GOEMON will wrestle on the show, as well as Mariko Yoshida & AKINO. Hayabusa and Sanshiro Takagi talked about the show after the 12:30 WE LOVE SABU show and took pictures together backstage afterwards.
Pictures & Notes from the WE LOVE SABU 4/17/05 Shows.
Added: 4/18
The Sabu Benefit show entitled "WE LOVE SABU" was overall a success by Sumie Sakai with what will most likely be the FMW reunion for 2005 with no May 5th show scheduled this year. The first show drew at 12:30 PM drew 303 fans, and the 6:30 show drawing 501 fans with the money going towards Sabu's hospital bills. Hayabusa sang a song dedicated to Sabu which Sabu thanked Hayabusa through translator Fumihiko Saito for his kind words about him in the song. Hayabusa then said in English "I want to fight you in the ring again." Hayabusa and Sabu have remained friends throughout the years as they keep in touch every so often. Sabu out of a show of respect wore a Hayabusa like attire in his introduction in the last ever FMW match, and Hayabusa when he was a rookie chose to pattern much of his moves and look based on Sabu because of how much he enjoyed Sabu in the early days of FMW.
Megumi Kudo & Kaori Nakayama had their own talk show interview in the ring with Sabu during the show. Megumi Kudo started off by showing pictures on the video screen at the Differ Ariake of Sabu in FMW. Sabu responded back by saying how sad of the lost of FMW, and that it was the best time of his life. Kaori Nakayama who also patterned her look based on Sabu took turns with Megumi Kudo asking Sabu questions about his career in Japan. It was the first time that Nakayama had returned to the wrestling business of any kind since her retirement on October 23, 2002. It was the first time for the legendary Megumi Kudo since September 22, 2003. When asked about his health, Sabu announced that he feels he is 90% healthy, and that he plans to make his big return to the ring on June 10, 2005 in Philadelphia, Philadelphia for the ECW Reunion show at the ECW Arena. Mick Foley who was unable to attend put up one of his WWE World Titles that he won for auction during the show, with the winning bid coming in at 850,000 Yen (roughly 8,500 U.S. dollars). New Japan's Osamu Nishimura also made an appearance at the show, and everyone on both shows had a prayer for the full recovery of Sabu.
Added: 4/17
Tetsuhiro Kuroda & Hido became the third WMG Tag Team Champions in their return to Korakuen Hall for the first time in months after defeating the team of Kintaro Kanemura & Tomohiro Ishii in front of an announced crowd of 1850 fans in the main event. Hido who now has won the WMG Tag Team Titles for the second time was able to score the pinfall over Ishii for the victory.
Sumie Sakai's promoted "WE LOVE SABU' shows today will be posted on the results page when the shows are concluded. The first show will take place at 12:30PM Japan time. The main FMW related matches are Hisakatsu Oya & Ricky Fuji will be teaming for the first time since April 11, 2003 to face off against former W*ING wrestler Masaru Toi & Gosaku Goshogawara. Mr. Gannosuke who should have been booked in a more meaningful match will be teaming with Winger & former FMW Women's wrestler Shark Tsuchiya to face Seiji Ikeda, Sumie Sakai, and a Mystery Partner in the semi main event. The main event of the 12:30 show will be TAKA Michinoku also having a Mystery Partner in his corner to face DDT's Sanshiro Takagi & NOSAWA with MIKAMI in their corner. The big show will then take place at 6:30PM. Takashi Sasaki & GENTARO will reunite their feud with GOEMON who will be teaming with Big Japan's Daisuke Sekimoto. One of Sabu's rivals from ECW and friends The Sandman will team with Ryuji Ito to face Hido & Necro Butcher in the semi-main event. In the main event, the FMW team of Kintaro Kanemura, Tetsuhiro Kuroda, and Mammoth Sasaki will team to face another FMW superstar Masato Tanaka who will also be teaming with Ikuto Hidaka & Minoru Fujita. Also, Hayabusa will be performing a song dedicated to Sabu, as well as Megumi Kudo is scheduled to appear on the show.
Added: 4/10
Riki Choshu, Tomoya Adachi, and Kintaro Kanemura will all be running their own promoted shows in April using former FMW wrestlers. Riki Choshu will run at Korakuen Hall with Kintaro Kanemura teaming up with Tomohiro Ishii to face Tetsuhiro Kuroda & Hido for the promotions WMG Tag Team Championship. The titles were vacated earlier this year when Kanemura & Hido split up as a team after Kanemura was force to put Choshu in charge of the Apache Army. Tomoya Adachi will then run his own promoted show on the same day using WMF affiliated wrestlers Mr. Gannosuke, GOEMON, and Ricky Fuji to face small Independent wrestlers Survival Tobita, Crusher Takashi, and Kazunori Yoshida. Kintaro Kanemura will then run his fourth Kintaro Kanemura Festival a week later with Kanemura facing GENTARO in the main event, and Kuroda facing the other Akranger Takashi Sasaki.
Added: 4/5
The biggest news coming out of the weekend for WMF was that Garuda had pretty much worked his last match with the promotion. Garuda who chose working the Michinoku Pro show on April 1st over the WMF show had his match changed for April 3rd. Instead of facing Mammoth Sasaki, the card was changed to where Garuda would face Seiji Ikeda instead. After Garuda put over Ikeda on the show, there was a three hour meeting with WMF representatives & Gannosuke. Garuda announced at the meeting that he was quitting WMF and was joining Michinoku Pro full time. This angered Gannosuke who was extremely upset at Garuda and let him know about it on the phone. Mammoth also talked to Garuda on the phone, although not as upset because the two have been friends for five years since Mammoth lived with him in the FMW Dojo while Garuda trained to be a wrestler. Garuda has decided to work Michinoku Pro full time to keep him financially secured because it would allow him to work more shows although WMF pays more for a single show than Michinoku. Money has become a big issue for Garuda after being kicked out of his apartment by his ex-girlfriend.
GOEMON ended up defeating his friend/rival Onryo for the WMF Jr. Heavyweight Championship on the April 1st show. It ends Onryo's almost 14 month reign as WMF Jr. Heavyweight Title reign even though it was also Onryo's first title defense since winning it. It's also the first time GOEMON has defeated Onryo in a non exhibition match since October 10, 2000 ending Onryo's five match streak over GOEMON. It is also the first singles title reign for GOEMON since he won the FMW Independent Jr. Heavyweight Championship against Ricky Fuji on November 20, 1995 as Koji Nakagawa. Balls Mahoney & Shirley Doe made their WMF debuts on the show as well. Shirley Doe successfully defended his IWC Heavyweight Title in a good match with Seiji Ikeda that saw Doe winning in a little over 19 minutes with the Sillyhead #2 for the win. Balls Mahoney teamed with Soldier to defeat Mr. Gannosuke & Gosaku Goshogawara in the main event with Gannosuke bleeding for most of the match, and Balls getting the victory over Goshogawara. Shirley Doe then fought Goshogawara on April 3rd and won again, although this time they had a disappointing match with Goshogawara being hung over during the match and just not caring about the quality. Mr. Gannosuke teamed with Kensuke Sasaki and got his revenge on Soldier & Balls Mahoney by pinning Balls with the Gannosuke Clutch for the victory. There were many fans at the show that had IWC shirts and flags at the shows. The next set of WMF shows will be on May 14th & May 15th.
Added: 3/28
Takashi Nagai who is a journalist at Nikkan Sports did a very good interview with Hayabusa after Hayabusa performed at a Shinjuku Night Club on March 17th in front of 30 fans that was published on March 27th.

Nagai asked Hayabusa many different questions regarding the accident on October 22, 2001 and his life since the injury.

Hayabusa stated that he remembers looking up at the ceiling of Korakuen Hall after the incident and then realizing that he was unable to move. Hayabusa while laying in the ring that no matter what the injury was going to cause, he wanted to return to Korakuen Hall to the ring.

Nagai then asked Hayabusa about what exactly he remembered after the injury. Hayabusa remembers bits and pieces after the injury, giving the promo to the crowd to not rush the ring, and to continue to support FMW, but shortly after that when being stretcher to the ambulance, he lost consciousness which did not return until later in the day when in the hospital. That was the worst, because his body going into shock had worn off, and that was when he had realized he was not only unable to move, but he couldn't even talk, or even bite his tongue. He could hear people talking, and the voice of the doctor was audible. When he was unable to move or talk, he started to wonder if he was going to die.

Hayabusa does not remember anything from after that to December 29, 2001. Doctors had put him on such high doses of drugs that wipes away all of his memory in those two months. In those two months that he doesn't even remember was the biggest challenge of his life, having to fight for his life when being in the hospital immobile caused germs to get into his body and raising his temperature to a live threatening fever. Surgery was needed to remove the germs near his heart, and only then does his memory begin to return.

He stayed in hospital for 525 days until he finally was allowed to return home on April 1, 2003. Hayabusa recalls after leaving the hospital and going to a bar for the first time and being able to drink sake with his father afterwards how excited he was to finally be able to drink alcohol for the first time in so long, but that it was difficult coming to grasp to the fact that he couldn't just hold the cup with one hand, but needed both and even then his hands trembling the whole time.

He states it has been extremely painful live this way in the 3 1/2 years, but that his singing has made him feel a lot better. He mentions that he has came up with 20 new songs, released a CD last year, and has held 6 live shows from Tokyo, Sapporo, etc. Although he still will find himself crying by himself about once a week.

Life has actually been more painful though since returning home than at the Hospital, because he feels he was such a burden to his wife, and with always being home, it became too much for the relationship between him and his wife to handle, and they divorced last June although he is still in love with her.

He then mentions that he hopes to be done having to live most of his life in a wheelchair soon, and hopes that within one year he will be able to live life just using a walking cane. He also wants to work on nursing medical treatment for handicapped people. He plugs two live shows he will be doing on April 4th and April 6th in his hometown of Kumamoto and then Hakata.

He then says that although it is not possible to walk still, the promise he swore to himself laying in the ring while looking up at the ceiling at Korakuen Hall three and a half years ago has not been forgotten, and he still wants to return to the ring at Korakuen Hall. He is advancing, slowly, one step at a time.
Added: 3/26
Atsushi Onita retired today for the 4th time, and perhaps finally the last time on March 26, 2005 in the building that he lost more blood than anywhere else, Korakuen Hall. An announced 2000 fans attended the show, and saw Atsushi Onita & Ichiro Yaguchi take on Genichiro Tenryu & Shiro Koshinaka in a Barbwire Double Hell Street Fight Death Match. Ichiro Yaguchi came out to Sambo Asako's old FMW theme before "Wild Thing" played one last time for Atsushi Onita's introduction. Onita and Tenryu started out the match right away by fighting in the outside of the ring where Onita would manage to piledrive Tenryu through a table. Onita would feel the taste of the barbwire inside and out of the ring for possibly the last time as well as throwing somebody into it. Onita attempted many different Fire Thunder Powerbombs on Tenryu & Koshinaka, but Tenryu would end up being too much for Onita as Tenryu would manage to throw Onita into the barbwire and then finish him off with a 54 Years Old Brainbuster for the pinfall victory. Eleven years after Atsushi Onita announced he would retire if he were to lose to Genichiro Tenryu at Kawasaki Stadium on May 5, 1994 he would retire for good, he finally retired losing to Tenryu. After the match, the barbwire was removed and fans were allowed to come as close as possible to Onita and Tenryu as Onita poured water everywhere and gave his farewell to professional wrestling promo while screaming like only Atsushi Onita can.
Before the show, Atsushi Onita celebrated another big event in his life by graduating from Meiji University in Tokyo with a Political Science degree. Atsushi Onita took pictures with his mother next to him and his fellow graduating classmates as Onita announced today marked his graduation from not only college, but his graduation from professional wrestling after a career that spanned over 30 years.
Also on the show was a FMW style Street Fight consisting of Mr. Pogo & Mad Man Pondo facing Ricky Fuji wearing an old FMW Street Fight t-shirt & Gosaku Goshogawara. Mr. Pogo would be rewarded the victory for his team after placing his chain on Ricky Fuji's neck and then throwing him over the top rope to choke him out causing the referee to stop the match for the Mr. Pogo & Mad Man Pondo victory.
HUSTLE-8 was considered a very big disappointment crowd wise for the show on March 18, 2005 at the Tokyo Sumo Hall. The show only around 5000 fans which is less than half the building is able to hold. One of the best matches of the show was the 8 Man Weapons Elimination style match for the HHH Title Bat. Kintaro Kanemura, Tetsuhiro Kuroda, Masato Tanaka, Giant Silva, Dan Bobish, Flying Vampire # 16, Spanky, and Wataru Sakata all brought a weapon to the match. Each wrestler went after Giant Silva right at the beginning of the match, and with all 7 wrestlers pinning him, Silva was the first to be eliminated. One of the big spots of the match consisting of Masato Tanaka using a table to superplex Kanemura through a table with Flying Vampire # 16 on it. The match would come down to Masato Tanaka and Wataru Sakata as the last two wrestlers left in the match with Tanaka scoring the pinfall over Sakata after delivering guitar shot to Sakata for the victory and to be the first ever Hustle Hardcore Hero Champion. Tanaka proudly raised the golden bat afterwards.
Ricky Fuji held his third promoted show on March 19, 2005 at Tokyo Takenotsuka Battle Sphere and faced off against "The Hitman" Koji Nakagawa in the main event in a Canadian Last Man Standing Match. The match lasted nearly twenty minutes before Nakagawa finally finished off Ricky with a Pedigree on a chair for the pinfall and then the 10 count afterwards for the win. The match between Biomonster DNA and Gosaku Goshogawara was called off after Mr. Pogo came to ringside and attacked both wrestlers causing the referee to end the match.
Sumie Sakai will be promoting two Benefit Shows on April 17th at the Tokyo Differ Ariake for Sabu. The two shows will be somewhat of a FMW reunion with Hayabusa, Mr. Gannosuke, Kintaro Kanemura, Tetsuhiro Kuroda, Mammoth Sasaki, Megumi Kudo, Hido, Kaori Nakayama, Hisakatsu Oya, GOEMON, Onryo, Ricky Fuji, Seiji Ikeda, Gosaku Goshogawara and Masato Tanaka will be appearing for the shows. Also on the show will be Takashi Sasaki, GENTARO, Asian Cougar, Asian Condor, NOSAWA, Ikuto Hidaka, Junji Tanaka, Minoru Fujita, wrestlers from Big Japan, and of course Sabu. One show will have a 12:30 started, and then be followed with a 6:30 start for the next show.
WMF has booked the next two shows after their two April shows next week. They will be returning to the Tokyo Takenotsuka Battle Sphere for the first time in almost three months since the Round Robin Tournament on May 14th, followed by a trip to Osaka at Osaka Pro's home Delfin Arena on May 15th for the next show.
Added: 3/15
Kintaro Kanemura, Tetsuhiro Kuroda, and Wataru Sakata held a press conference for HUSTLE-8 on March 18, 2005 at the Tokyo Sumo Hall. The announcement was made that the Hustle promotion would be creating a new title. But the new title would not be a belt, other than a title bat. The Hustle Hardcore Hero Bat was revealed to the media and it was announced that the HHH bat would be on the line in a 8 man Hardcore Battle Royal style match. The match will have Kintaro Kanemura, Tetsuhiro Kuroda, Wataru Sakata, Masato Tanaka, Flying Vampire # 16, Leonardo Spanky, Dan Bobish, and Giant Silva. Each wrestler will get to bring a weapon of their choice to the ring, and the winner of the Battle Royal will be rewarded the brand new title bat.
Masato Tanaka was not at the press conference. He was at KFC instead. Tanaka announced at KFC to the media that he had been offered a spot on the upcoming WWE PPV for a ECW reunion show at the Hammerstein Ballroom in Manhattan, New York on June 12th. Tanaka who through FMW worked for ECW from 1998 to 2000 became a ECW Heavyweight Champion while being a WEW World Champion in FMW on December 17, 1999 against Mike Awesome accepted the offer by WWE told reporters that ECW was very influential in his career and that he was very happy to work the show. Tanaka's last Pay Per View in America was on May 16, 2000 for ECW's Hardcore Heaven 2000. Mike Awesome is the top candidate for Tanaka's opponent on the show. Other Zero One MAX wrestlers offered a spot on the show and accepted were by Super Crazy & C.W. Anderson.
Added: 3/12
Atsushi Onita announced the lineup for his 4th Retirement, and at the age of 46, most likely his final one for March 26, 2005 at Korakuen Hall. Onita booked Genichiro Tenryu for the show nearly 11 years after their Kawasaki Stadium match in 1994 that caused Onita's second retirement one year later. But because Onita is not going to lose in his final match, and Tenryu is not going to lose, it has been turned into a tag match with Onita teaming with Ichiro Yaguchi to most likely do the job in the match against Genichiro Tenryu and Shiro Koshinaka in a Barbwire Double Hell Street Fight Death Match. Onita will be using his group of wrestlers and friends on the show, with only Mr. Pogo, Ricky Fuji, Masaru Toi, Gosaku Goshogawara, and Aky (Miss Mongol) being former FMW wrestlers on the show. Onita's long time rival Mr. Pogo will be in the semi-main event teaming with Mad Man Pondo to face Ricky Fuji & Gosaku Goshogawara. Ten years ago at Kawasaki Stadium for Onita's retirement show, Mr. Pogo also faced Ricky Fuji in a tag match in the semi-final of the show. Nise Onita Toshiyuki Moriya will face off against Nise Riki Choshu, Riki Ishin.
Tetsuhiro Kuroda & Onryo won the WEW Tag Team Titles today at Kintaro Kanemura's Festival show today by defeating former champions Takashi Sasaki & GENTARO. The title victory marks Tetsuhiro Kuroda's 6th WEW Tag Team Title reign, and 7th overall and Onryo's second WEW Tag Team Title reign, and third overall. Kintaro Kanemura, Masato Tanaka, and Tetsuhiro Kuroda will team up on the 2nd Anniversary of Kodo Fuyuki's Death on March 19, 2005 for HUSTLE at the Shizuoka Grand Ship Convention Center to take on Super Crazy, C.W. Anderson, and Flying Vampire #16.
The full lineup for the WMF shows in April have been announced with GOEMON vs. Onryo facing against each other once again on April 1st in a Hardcore Match, and Mammoth Sasaki taking on Garuda in the semi-final on April 3rd at the Saitama Pepe Hall Atlas.
Added: 3/7
Kintaro Kanemura will be promoting his own show once again at the Chiba Blue Field, but the big news coming out of the show is the WEW Tag Team Titles being revised after two years. Kintaro Kanemura & Tetsuhiro Kuroda defeated Takashi Sasaki & GENTARO on March 11, 2003 and was not heard of again. Takashi Sasaki & GENTARO will attempt to win back the WEW Tag Team Titles after two years against Tetsuhiro Kuroda & Onryo. Onryo was last WEW Tag Team Champion on September 5, 2001 when he & GOEMON lost the titles to Mr. Gannosuke & Mammoth Sasaki in FMW. The main event will be a bloody street brawl with Kintaro Kanemura and Hido continuing their feud with Kanemura teaming with Big Japan wrestler Ryuji Ito and Hido countering with his own Big Japan wrestler Jun Kasai who is fresh off leaving Zero One to return to Big Japan.
Added: 3/2
Soldier wearing his Black Garuda mask in the picture was able to successfully defend his IWC International Championship throughout this past weekend while in Pittsburgh. First on Saturday, February 26th at the Uniontown VFW, Soldier defended the title for the second time (first was against Garuda in August) against Christopher Daniels and fought to a twenty minute minute time limit draw. Soldier then came back the next day at the McKeesport Palisades and defeated Chris Hamrick with a flying elbow drop for his 3rd successful title defense. Although Soldier himself was disappointed in his performance over the weekend, he is expected back in May and Mr. Gannosuke will possibly be coming with him.
Added: 2/28
I got the opportunity to being able have a Q & A with Soldier through this weekend through e-mail. Here are some of the questions that were asked to the recent WMF Round Robin Tournament winner.
"Who were some of your favorite wrestlers growing up? Were you a big fan of FMW growing up?"

Soldier: Right now it's Shirley Doe, ha ha. And me. As well as Chocolate Thunder (IWC trainee). I also like Ebessan and Sabu. Yes, I was a big FMW fan.

"What made you decide to join the FMW Dojo? Who helped you train in FMW, and what are some of your memories from it?"

Soldier: I liked Onita and Hayabusa. GOEMON taught me. It was very super hard to train in the dojo.

"What are your thoughts on Garuda and Yoshihito Sasaki from going through the Dojo with them and how they're doing now in wrestling?"

Soldier: Garuda and Sasaki were already in dojo when I started. They started in Animal Hamaguchi's dojo, which is a very hard dojo. They had six people in that dojo, but three of them left very early because it was so hard.

"What are some of your favorite matches that you've been apart of, what are some of the best matches you've seen?"

Soldier: My favorite match: Sterling James Keenan in my last match in IWC. Hayabusa vs. Onita is my favorite match to watch.

"Here's a question more about FMW that I have just wondered and you may know, but in 2000 when Hayabusa was going to be having reconstructive elbow surgery, how come Mr. Gannosuke was also taken off the roster for a couple of months?"

Soldier: Gannosuke was working with Tarzan Goto again around this time. Gannosuke & Hayabusa do not think the same when it comes to wrestling, like entertainment or hardcore style wrestling.

"What was your feeling when you found out that FMW was closing down?"

Soldier: I could not believe it.

"Do you still keep in contact with Hayabusa?"

Soldier: I stayed in his house and drank with him, so I am still very good friends with him. He is now a singer, so that is good for him.

"What were your thoughts of winning the WMF Tournament? Was there anything you got for winning the tournament?"

Soldier: Of course, I won. It was very easy. It will start IWC in WMF and I will create many new IWC members in Japan. No trophy, but they said to me, if I have an idea for a match, they can make that happen. So that is how IWC came to WMF, because I won.

"One last question, but do you have any idea if there will be a Kawasaki Stadium upcoming this year run by either Kanemura or WMF or will there be no May 5th show this year?"

Soldier: Maybe this year there will be no show.
Kintaro Kanemura & Dick Togo teamed together on February 27, 2005 at the Ikebukuro Sunshine City Gym to take on Masato Tanaka & Super Crazy. The match started right away with Kanemura and Crazy brawling around the arena. Masato Tanaka would intervene and hold on to Kanemura while Super Crazy climb a set of stairs to the balcony where he then delivered an Asai Moonsault from the balcony landing on Kanemura. Kanemura and Tanaka would both get busted open during the brawl around the building when Kanemura would set up a table and place Tanaka on it and dive off the stairs sending Tanaka through the table. When all four wrestlers would finally make it back in the ring, Kanemura would stack several chairs on top of one another. Super Crazy would attempt to put Dick Togo through the chairs with a powerbomb, but Masato Tanaka instead would use Togo's body to superplex Kanemura through the stack of chairs. Finally, the match would come down to the long time rivals of the last 10 years in a punching match blood running down both their faces when Tanaka would deliver the Roaring Elbow and pin Kanemura at 17 minutes, 17 seconds. Afterwards, a bloody Tanaka noted that tomorrow would be his 32nd Birthday and talk about Naohiro Hoshikawa who suffered a career ending injury after being in a coma last October and that his progress was steadily improving. Other matches on the card were the Big Japan Tag Team Champions Takashi Sasaki & GENTARO challenging for the PWF Tag Team Titles but losing to the champions of Minoru Fujita & Ikuto Hidaka when Hidaka pinned GENTARO at 15 minutes, 8 seconds. Takao Omori destroyed DJ Nira at 3 minutes, 31 seconds. In the opening match, Tetsuhiro Kuroda & Hido defeated the Zero-One MAX team of Ryouji Sai & Rikiya Fudo when Kuroda pinned Fudo at 15 minutes, 23 seconds.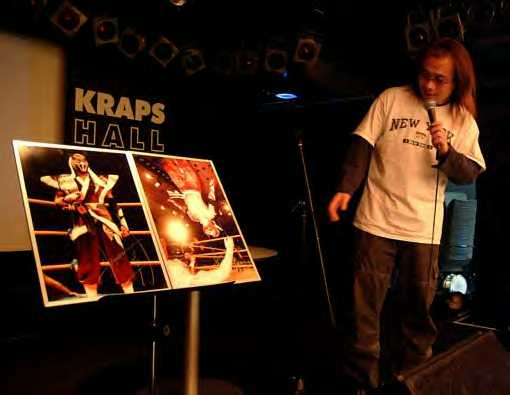 Hayabusa made up for his postponed concert that was originally scheduled to be a Christmas themed show on December 21, 2004. The make up show was held on February 15, 2005 at KRAPS Hall. Hayabusa keeping with the theme of wearing sports jersey related to his character wore an Atlanta Falcons Michael Vick jersey to the concert, he has worn other jerseys like the Phoenix Coyotes and Philadelphia Eagles to showcase his love for sports and his gimmick. Hayabusa sang songs from his CD's while Masahiko played the guitar and the background of clips of Hayabusa's match were played on the big screen behind him. GOEMON was in charge of auctioning off the items that were scheduled for the Christmas shows, including pictures of Hayabusa from his FMW days and Hayabusa cigarette lighters. The show was overall was said to be as good as usual and a lot of the fans getting to talk with Hayabusa before and after the show.
Mr. Gannosuke was taken to the hospital after his match against Mammoth Sasaki on February 20th. Both Gannosuke and Mammoth were extremely stiff against each other, and Mammoth delivered a chair shot right before the end of the match that basically knocked Gannosuke out cold. He was checked, and was shortly released but will most likely need the entire month that he will be getting before returning to the ring.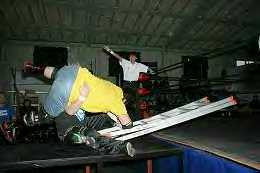 Added: 2/22
After over 3 months, the WMF Round Robin Tournament was finally settled on February 20th. Mammoth Sasaki, Soldier, and Garuda were able to tie to force a 4 man playoff on February 19th after Soldier defeated Mineo Fujita, Garuda eliminated GOEMON from the tournament by defeating him, and Mammoth Sasaki eliminated Seiji Ikeda from the tournament in the main event with the 29 Years Old to win and advance. Mr. Gannosuke was unable to avoid being entered in a 4 man playoff the next day after losing in a upset to the already eliminated Onryo when Onryo got the Onryo Clutch on Gannosuke.
That lost setup the 4 man one day elimination tournament that Gannosuke tried to avoid. Mr. Gannosuke was put up against Mammoth Sasaki, and Garuda was put up against FMW Dojo friend Soldier with the winners of their matches advancing to the finals of the tournament. Soldier was able to control Garuda's highflying arsenal and ended up rolling up Garuda for the victory at 9 minutes, 18 seconds to be able to advance to the finals. Next was the match of the show, as Mr. Gannosuke went up against Mammoth Sasaki once again, and just like their match in December that went into the Street, this match ended up with both going into the crowd and brawling all throughout the stands. The spot of the show was Mr. Gannosuke was bringing a ladder into play in the match and then setting up a table right next to the ring. Gannosuke then grabbed Mammoth and pulled him up to the table and delivered a Fire Thunder on the table head first on the ladder. Mammoth was able to get up from the move, and despite being dazed for the rest of the match was able to put away Gannosuke with the 29 Years Old for the victory at 18 minutes, 21 seconds to advance into the finals to meet Soldier.
Mammoth Sasaki and Soldier who both had trained and lived in the FMW Dojo together for years were now meeting in the finals of the WMF Round Robin Tournament. Mammoth was still obviously in pain from the Fire Thunder on the ladder and Soldier took advantage of that weakness by bringing the ladder back in their match and placing it over Mammoth's head and then swinging a chair repeatedly at Mammoth. Mammoth was able to fight back with the ladder by swinging it around his neck and nailing Soldier with it. But the damage that Gannosuke, Soldier, and a ladder had done in one day was too much for Mammoth's neck and when Soldier was able to gain control of the match again and delivered a Neck Breaker to Mammoth, it was too much for Mammoth to overcome and Soldier would end up scoring the victory at 16 minutes and winning the WMF Round Robin Tournament.
The tournament win puts Soldier right there as a top guy for WMF as he will be headlining the next two shows as be bringing IWC friends Balls Mahoney and Shirley Doe to the shows. Soldier will be teaming with Balls Mahoney in main event on April 1st to face off against Mr. Gannosuke and Gosaku Goshogawara who will be pinned in order to set up the big show for the promotion on April 3, 2005 at the Saitama Pepe Hall Atlas as Soldier and Balls Mahoney will team up once again to face Mr. Gannosuke and Kensuke Sasaki who faced off against each other last year at WMF's last Korakuen Hall show. Shirley Doe will be defending the IWC Heavyweight Title against Seiji Ikeda on April 1st, and Kensuke Sasaki's protégé 17 year old Katsuhiko Nakajima will be facing Mineo Fujita on April 3rd.
Straight off of his tournament victory, Soldier will be returning to America in Pittsburgh, Pennsylvania for IWC and will be defending his IWC International Championship against Christopher Daniels on Saturday, February 26th at the Uniontown VFW and then Sunday, February 27th against Chris Hamrick at the McKeesport Palisades. Mr. Gannosuke was scheduled to attend the IWC shows, but announced that he will be going to in May or June instead.
Ricky Fuji announced what will be the 1st Year Anniversary of his promoted shows that will be at the Tokyo Takenotsuka Battle Sphere. Ricky Fuji will once again face off against Koji "The Hitman" Nakagawa in the main event, but this time it will be a Canadian Last Man Standing matches. No other matches have been announced, but a bunch of Ricky's friends have agreed to do the show.
Final WMF tournament standings.
*Mr. Gannosuke - 8 points
*Mammoth Sasaki - 8 points
*Garuda - 8 points
*Soldier - 8 points
Seiji Ikeda - 7 points
Onryo - 7 points
GOEMON - 6 points
Mineo Fujita - 4 points
* - advanced into a playoff match
| | | | | | | | | |
| --- | --- | --- | --- | --- | --- | --- | --- | --- |
| - | Mr. Gannosuke | Mammoth Sasaki | GOEMON | Onryo | Garuda | Soldier | Seiji Ikeda | Mineo Fujita |
| Mr. Gannosuke | - | O | O | X | O | X | X | O |
| Mammoth Sasaki | X | - | X | O | X | O | O | O |
| GOEMON | X | O | - | X | X | X | O | O |
| Onryo | O | X | O | - | X | O | X | # |
| Garuda | X | O | O | O | - | O | X | X |
| Soldier | O | X | O | X | X | - | O | O |
| Seiji Ikeda | O | X | X | O | O | X | - | # |
| Mineo Fujita | X | X | X | # | O | X | # | - |
O = Win, X = Lost, # = Draw
WMF Playoff Tournament Match: Soldier d. Garuda (9:18)
WMF Playoff Tournament Match: Mammoth Sasaki d. Mr. Gannosuke (18:21)
WMF Round Robin Tournament Finals Match: Soldier d. Mammoth Sasaki (16:00) to win the WMF Round Robin Tournament.
Added: 2/12
The Hustle promotion continued on February 11, 2005 for Hustle-7 at the Nagoya Aichi Prefectural Gym. Kintaro Kanemura teamed with his new buddies Riki Choshu and Tomohiro Ishii to face Masato Tanaka, Tetsuhiro Kuroda, and Tatsuhito Takaiwa in a Hardcore Match. Kanemura would start off the match right away by giving his long time rival a hurricanrana to the outside and brawling between the six wrestlers would take place outside the ring. Most of the match would consist the use of several tables with Tanaka delivering a top rope superplex on Kanemura through the table. Takaiwa followed by delivering a Death Valley Driver on Choshu through the table, but when a guitar came into play during the match, it would be Choshu who would pick it up and smash it over Kuroda's head and then follow up with the Choshu Lariat and score the pin over Kuroda at 8 minutes, 56 seconds.
Next week will be the final two shows for the WMF Tournament, with Mr. Gannosuke in the lead going into the final match before the playoffs. Seiji Ikeda is in second place, and Mammoth Sasaki, Garuda, Soldier, and GOEMON are all tied on the outside at third. The first and second place wrestlers fight in the finals of the tournament.
After the tournament, the next shows will be in early April. It was announced that the promotion will be running at the Saitama Pepe Hall Atlas which which is a considerably small arena, but Kensuke Sasaki and Katsuhiko Nakajima have been booked for the show. IWC's Shirley Doe and most likely Balls Mahoney will also be on the show. There is a show expected to take place on April 2nd as well, although no building has yet been booked for that date.
Added: 2/8
Hayabusa and GOEMON both attended the Giant Baba 6 Years of Giant Baba's Death on February 5, 2005 at Budokan Hall. The show drew an announced 14,500 but legitimately was in the 8,000 to 10,000 range. GOEMON teamed with Yuto Aijima in the opening match to lose to Nobukazu Hirai & Ryuji Hijikata when Hirai pinned Aijima. Hayabusa sang a song dedicated to his late friend Giant Baba during a break of show with Masahiko.
Also on the show was former FMW wrestler Tarzan Goto teaming with Abdullah the Butcher defeating the team of Jinsei Shinzaki & Tomoaki Honma when Butcher pinned Honma in a bloody match. All four wrestlers had wrestled for FMW at one point of their career.
Hayabusa has scheduled his next concert for February 15th at Sapporo KRAPS Hall, which is a makeup for the postponed Christmas show that was originally scheduled in December. Hayabusa will be performing more as he, GOEMON, and Masahiko have been booked for March 17th and April 4th to perform.
The Apache Army as a group seems to be over after Choshu beat Kanemura on 1/5. Kanemura was force to let Riki Choshu take over, and now Kanemura is with Choshu, but all the other Apache Army members have rebelled and stayed clear of Choshu.
No Apache Army shows are booked at the moment, as Kanemura and Hido have been working for Big Japan mostly as of late. No WMF shows have been booked passed February 20th for the finals of the WMF tournament yet, although April 3rd is expected to be booked as a big show for the promotion. Soldier will be returning to America after the February 20th show to wrestle again for IWC, but also expected to come along is Mr. Gannosuke later this month who will be wrestling in America for only the second time and first time since 2000 in California for Tokyo Pop.
Another Atsushi Onita Retirement show has been booked once again, as Onita had came back for two shows since his lost to The Great Sasuke on September 23, 2003. Onita came back for two Onita Pro shows booked for Shoji Nakamaki's Retirement and then a Memorial show for his friend the late Sambo Asako. The show booked for March 26, 2005 at Korakuen Hall will be Onita's 4th Retirement.
Added: 1/24
The WMF tournament is finishing up. There will be one more show with tournament matches, and then the next day will have the top two seeds will meet to win the tournament. Mr. Gannosuke has taken over the top spot despite being in last place in November and will face Onryo in his last match. If Gannosuke loses, then he will have to most likely have to be in a playoff to be able to move on to the finals on 2/20. Seiji Ikeda is one point away and in second place, but will have to go through Mammoth Sasaki to be able to advance to the finals. Onryo & Mineo Fujita has officially been eliminated.
Added: 1/5
Despite already losing to Riki Choshu at his own promoted show on December 27th, Kintaro Kanemura would go up against legend Riki Choshu. Before the match, Kanemura told Choshu that he would allow Choshu to take over the Apache Army if he were to lose in the match. Although Kanemura did get some offense in using with use a chair, it was mostly all Choshu during the match. Kanemura bladed early, and then was taken out with Choshu's offense before finally being pinned at 6 minutes, 29 seconds after almost having his head taken off by a Choshu Lariat. Afterwards, Choshu was not done and continue to pummel on the beaten and bloody Kanemura before the entire Apache Army came out to help out Kanemura. Kanemura agreed to keep his word and allow Riki Choshu as the boss of the Apache Army. After the show, Kanemura revealed that the reason he has had a grudge against Choshu was that 12 years ago, when Kanemura worked for W*ING and Choshu was working for New Japan, that Choshu criticized the Japanese independent scene. Kanemura's hatred for Choshu for those comments had built up over the years, and why Kanemura so badly wanted his Apache Army to go to war against Choshu and his group. The Apache Army and Riki Pro groups will continue to work with each other, as it looks like Riki Pro will be taking over a February Korakuen Hall date that the Apache Army had originally booked.
WMF & Fuyuki/Apache Army News 2004 (January - December 2004)
WMF & Fuyuki Army News 2003 (July 2003 - December 2003)
Kodo Fuyuki's Ceremonial Wake & Funeral Pictures (3/22/03 - 3/23/03)
WMF & WEW News 2003 (January 2003 - July 2003)
Post FMW News (February 2002 - December 2002)
Last months of FMW News (May 2001 - February 2002)