FREEDOMS 4/15/21
Tokyo Shin-Kiba 1st Ring
Toru Sugiura & Jun Kasai & Mammoth Sasaki & Daisuke Masaoka vs. Masashi Takeda & Violento Jack & Toshiyuki Sakuda & Takayuki Ueki *Single Elimination Match*
Minoru Fujita & Rina Yamashita vs. Takashi Sasaki & Tomoya Hirata
Kamui & Dragon Libre vs. GENTARO & Tatsuhito Takaiwa
Kenji Fukimoto vs. Brahman Kei
Yuya Susumu & Kengo vs. Dragon Libre & Alejandro
Big Japan 4/26/21
Tokyo Korakuen Hall

Ryuji Ito vs. Masashi Takeda *Fluorescent Light Tube Wall Glass Board Death Match*
Isami Kodaka vs. Akira Hyodo *G Shock Death Match*
Takumi Tsukamoto & Shunma Katsumata & Yuki Ishikawa vs. Masay Takahashi & Hideyoshi Kamitani & Drew Parker *Death Match*
Blasting Koshien 5/2/21
Yokohama Tsurumi Fruit Market

FREEDOMS 5/2/21
Tokyo Korakuen Hall

FREEDOMS 5/5/21
Yokohama Radiant Hall
FREEDOMS 5/16/21
Sendai Miyagi PIT
Big Japan 5/16/21
Tokyo Korakuen Hall

Violento Jack vs. Drew Parker *Death Match Survivor Tournament Semi-Finals Match*
Takuya Nomura & Shigehiro Irie vs. Yuji Okabayashi & Shigehiro Irie *BJW Tag Team Titles Match*

FREEDOMS 5/27/21
Tokyo Shin-Kiba 1st Ring
FREEDOMS 6/18/21
Tokyo Shin-Kiba 1st Ring
FREEDOMS 6/27/21
Chiba 2AW Square
Jun Kasai Productions 7/5/21
Tokyo Korakuen Hall
Jun Kasai Productions 7/25/21
Tokyo Shin-Kiba 1st Ring
FREEDOMS 8/8/21
Chiba 2AW Square

FREEDOMS 8/11/21
Tokyo Shin-Kiba 1st Ring

Jun Kasai Productions 8/30/21
Tokyo Korakuen Hall
I have gathered all the results of shows from Big Japan/ZERO1/666 shows in 2021 as well as matches from FREEDOMS/former FMW wrestlers working on shows and will continue to update it for the rest of the year. It can be found at http://fmwwrestling.us/MiscResults21.html (Last updated: 4/12)
Added: 3/20
Atsushi Onita was made an offer to appear in the United States for the third time in the last three and a half years. It would have been to attend AEW's Revolution Pay-Per-View on March 7th in Jacksonville, Florida where he would "witness" the No Ropes Exploding Barbed wire Exploding Ring Death Match between Kenny Omega and Jon Moxley in the main event.

Onita told reporters "AEW has just been created, but it is an organization that is trying to compete with the worlds largest organization WWE, and it can be considered a major promotion. I would have been honored to do it. Originally, I wanted to go to it and see it with my own eyes, but I turned down in honor of Mr. Pogo's in-laws as this year is the 30th anniversary of our Landmine Death Match. What kind of explosion will AEW show? I am looking forward to it. I would like to pay tribute to AEW for having a explosion match in the United States as by it being there then it is recognized by the whole world. Once the corona virus calms down, I would like to go to AEW and do an explosion match or maybe AEW wrestlers can come to Japan and have an explosion match against me."

Onita was force to turn down the offer because of the corona virus resulting in a two week quarantine period once he got back to Japan which the earliest would have been March 9th in Japan. That would have resulted in him having to miss his next two upcoming appearances. The first being with Miss Mongol at Toudoukan in Tokyo on March 20th where he will discuss the true story of FMW to the fans attending which he could have just easily rescheduled the next time he is in Tokyo, but he also has been booked for the next WWS show on March 21st in Gunma which he felt he could not no show due to loyalty to Mr. Pogo.

Onita did end up getting paid to appear on a video package made by AEW where Onita talks about the explosions as well as the barbed wire cutting your skin. They ended up showing video of the first no ropes exploding barbed wire death match between Atsushi Onita and Tarzan Goto on August 4, 1990 in Shiodome. This match had the weakest explosions ever put on by FMW, but because it was the first time people did not have anything to compare it to and it helped FMW become a successful enough promotion that it could continue on after the first year as well as helped Onita become a celebrity in Japan. They followed it up on the next show against Mr. Pogo on May 6, 1991 in Osaka with much more powerful explosions for a Landmine Death Match and never looked back after that.

I had figured they had done some research as I have posted numerous times about who owns the FMW library through out the years on many different sites to where they would have known that it would be pretty much impossible to get clearance on video of FMW other than the first year of the promotion which is owned by Mickey Ibaragi of W*ING as he is someone that is easy enough to get a hold of, at least easier than the other options and that is why they chose to use the Onita vs. Goto footage. This was a discussion in my History of FMW Facebook group which lead to member Paul of the group to ask Ibaragi about it which he stated he did not know anything about it, and that they must have just aired the footage without getting his permission first. This would make it seem that they used this specific match in the video package to hype the match knowing that the explosions they were going to use were not going to be anywhere near as powerful as FMW used for any of their matches besides the Goto match from 1990.

The Exploding Barbed wire that AEW used for the Kenny Omega vs. Jon Moxley ended up being that of the Onita vs. Goto Shiodome match. There were people that were critical of the lack of explosions during it, but overall it did not cause too much critique by the fans watching at the time. The match itself was good although Britt Baker vs. Thunder Rose would end up capturing the magic of a Japanese Death Match from the 1990's better than Omega and Moxley did but although there had been rumors the day of the show they announced that they would also be having an exploding ring death match as well. Kenny Omega ended up defeating Jon Moxley with interference and then laid him out and handcuffed him before leaving for the ring to explode.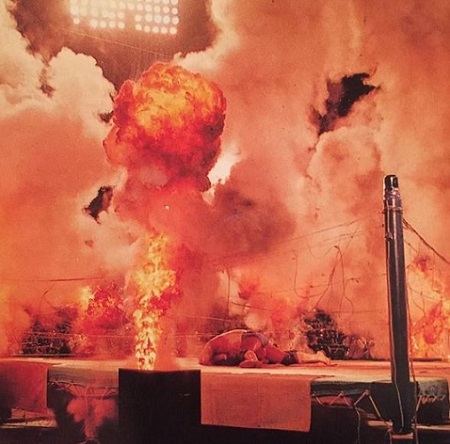 This was a call back to the Atsushi Onita vs. Terry Funk match on May 5, 1993 where Funk was still laying in the ring was the count down for the first ever ring explosion would take place with Onita covering Funk's body as the ring would explode. FMW had the benefit of this being taped as the ring explosion was actually not that impressive as it was just fire going up in the air and actually resulted in some fans laughing while in attendance. The pictures that came out were much more impressive and FMW were to able to edit it and slow it down and put music to it right afterwards to make up for the lack of explosion. Eddie Kingston who is a huge FMW fan himself ended up being the one to play Onita for this as he rushed to the ring and covered his body over Moxley. I would have to imagine that spot was what Onita originally was going to be brought in for. The explosion then took place and it was the least impressive exploding ring to take place. Sparklers came out of the ring which reminded me of the Mitsuhiro Matsunaga vs. Mr. Pogo Fire Death Match from August 2, 1992 where sparklers were used and then a small smoke bottom would burst to everybody's disappointment. Everyone that saw it including those in AEW have admitted the explosion was a total failure. So much so that AEW on their Wednesday Night Dynamite show would try to make it seem like Kenny Omega had made the bomb himself so poorly on purpose to make Moxley and Kingston look bad by selling it at all as they tried to make it seem the bomb was a dud on purpose. The sports podcast I listen to which barely ever talks about wrestling even talked about how bad it looked and that they have seen better pyro at the club than that.
It's disappointing as it probably eliminates any chance of there ever being another Exploding Ring Death Match as to bring it back would mean they would have relive the first one again from the public as I would have to imagine this officially killed exploding ring gimmick in U.S. which it had been dead since 2001 in Japan anyway as it has not been done since FMW closed down. It does leave to wonder why AEW who never even really promoted it as being an exploding ring match until the day of ended up even having it done knowing it was going to look like that. I can not imagine money would be the issue as IWA Japan ended up spending $20,000 dollars on their exploding ring for their King of the Death Match Tournament on August 20, 1995 between Cactus Jack and Terry Funk and although it is considered one of the worst exploding rings I would still consider it better than the AEW one by a little bit. FMW for their 2001 Kawasaki Stadium show when they had just gone through the worst 6 month financial stretch in the history of the company which was the beginning of their death still ended up putting together an impressive exploding ring using lots of gun powder and it is considered one of the better exploding rings.
Onita commented on the lack of the explosion afterwards stating that "it was a shame for Kenny but if the corona virus calms down, I would come to AEW and deliver a real explosion match in the United States in memory of Mr. Pogo."
This would be my list of the best actual explosions to take place in an exploding ring match between 1993 and 2021 in the United States and Japan. Obviously this does not have to do with the matches themselves as Onita vs. Kanemura was by far not the best match, but they put the most explosives into it. You can watch the YouTube links I have included by their names. 1 and 2 are pretty clear for me. 3-6 was a little difficult ranking them with one another as they are all good explosions and are close with one another. 7-8 done by XPW are right on that line as I would consider the 2002 one good but the 2001 not so good. 9-11 are the disappointing ones although number 11 was put on by the small SPWF promotion so I would not consider it a disappointment based off expectations. 12-13 are obviously the worst ones that are considered total failures by all involved.
1) Atsushi Onita vs. W*ING Kanemura 9/28/97
2) Atsushi Onita vs. Hayabusa 5/5/95
3) Atsushi Onita vs. The Great Sasuke 10/30/94
4) Hayabusa & The Great Sasuke vs. Mr. Gannosuke & Tetsuhiro Kuroda 5/5/01
5) Atsushi Onita vs. Mr. Pogo 8/22/93
6) Hayabusa & Masato Tanaka vs. Terry Funk & Mr. Pogo 5/5/96
7) Angel vs. Supreme 7/20/02
8) Vic Grimes vs. Supreme 10/13/01
9) Atsushi Onita vs. Terry Funk 5/5/93
10) Great Nita vs. Great Muta 8/28/99
11) Tarzan Goto & Ichiro Yaguchi vs. Yoshiaki Yatsu & Masahiko Kochi 5/30/99
12) Cactus Jack vs. Terry Funk 8/20/95
13) Kenny Omega vs. Jon Moxley 3/7/21
Atsushi Onita and Miss Mongol held their FMW Truth talk event on March 20, 2021 at Toudoukan. The event was based on Onita telling the true story about the creation of FMW although multiple people that attended brought up that they barely talked brought up during that FMW was barely mentioned. The only real story about FMW's creation that Onita mentioned was that he had no money when it started, but he was happy at the beginning and chasing his dream is all that mattered to him back then. Onita did tell a story about how once Giant Baba called the FMW office (I am guessing 1997 in regards to Hayabusa working for All Japan) and Shoichi Arai picked up the phone and thought someone was pranking him pretending to be Baba. Mongol talked about going to Puerto Rico by herself with her own money as the FMW women division was pretty much finished and she was looking to get booked through Victor Quinones in IWA Puerto Rico. Onita told a story about one time someone got into an argument at a bar with The Gladiator and they got into an altercation which ended up with The Gladiator throwing him out of the bar into a bicycle parking lot outside. Onita also talked about the AEW explosion match earlier in the month and how he was invited by AEW to attend but he would have to miss this event and he said he chose Toudoukan over AEW to get a pop from the crowd. He stated he got 20,000 messages on Twitter from fans stating they wanted to see Onita in an explosion match in AEW. Onita then stated he would like to have an explosion death match for the whole world to be able to see it on the internet and that he has already secured a site in the Fukuoka Prefecture for this summer. They ended up taking pictures with all the fans while wearing masks and Onita touching elbows instead of shaking anyone's hand because of the virus.
Following the WWS show the next show Onita will take part in will be for Pro-Wrestling Gold on April 4th at the Sendai Miyagi PIT and then he will return back to the DDT sub-promotion Blasting Koshien on May 2nd at the Yokohama Tsurumi Fruit Market which will be the first show for the group since November.
FREEDOMS would hold their first Korakuen Hall show of the year on February 9, 2021 and an announce a crowd of 447 fans for the show. The main event would be Toru Sugiura defending his King of Freedom World Championship against Toshiyuki Sakuda in a Fluorescent Light Tubes Glass Board Death Match. Sugiura would early on break the first glass board with a running dive into the corner smashing it over Sakuda's body, but Sakuda would come back and hit his Sakauchi followed by setting up Sugiura in the corner and hitting a Canadian Destroyer off the turnbuckle sending Sugiura into the other glass board. Sakuda would then hit another Sakauchi on a stack of light tubes but Sugiura's head would end up getting busted open bouncing off the glass causing a huge gash in Sugiura's head which would lead to them having to go home early. Sakuda would charge at Sugiura with light tubes, but Sugiura would break them across Sakuda with an elbow and then hit a running elbow with another stack of light tubes and cover Sakuda to get the win at 11 minutes, 18 seconds for the win to defend the King of Freedom World Championship for the 8th time. They had to finish the match a faster about 6 minutes faster than expected because of the fear of the match needing to be stopped because of how much Sugiura's head was bleeding due to the cut, but they would follow that up after bandaging Sugiura by making him stay in the ring as Ueki would come to the ring to challenge him for the title at the next Korakuen Hall show on March 23rd with Sugiura accepting. Masashi Takeda would end up hitting the ring and attacking Sugiura before getting on the mic and proclaiming his new heel group of himself, Sakuda, and Ueki will be called ERE which stands for "Empire Ruler Ends". This ended with Unchain and FREEDOMS becoming an alliance once again to do battle against ERE. This is the second time that they have agreed to team up to do battle against another group as they aligned on June 30, 2013 to do battle against Atsushi Onita's Jado Army after Mammoth Sasaki had turned on FREEDOMS that night. Following the match, Sugiura's night end up getting worse as he was taken to the hospital to get stitched up and ended up dropping and breaking his cell phone in the process.
The semi-main event would Jun Kasai and Kenji Fukimoto taking on Masashi Takeda and Takayuki Ueki in a Razor Cross Board Death Match. Kasai and Fukimoto would enter the ring and Takeda would toss light tubes at him with Takeda drop kicking them and breaking the light tubes across Kasai. Kasai early on would end up going through the razor cross board causing a huge gash in his back early on. Takeda would then place pigeon spikes over Kasai's front and deliver a running knee into them in the corner. Ueki would then try for a diving headbutt but Kasai would move out of the way and hit Takeda with a lariat before hitting a Pearl Harbor Splash followed by Fukimoto delivering a Package Piledriver on Ueki and cover him but Takeda would make the save and Ueki would get up and dive at Fukimoto with a headbutt and then place concrete blocks over Fukimoto and begin hammering them breaking them over Fukimoto. Takeda would then come over and lay Kasai out out with a punch followed by Ueki hitting a diving headbutt while holding a concrete block while laying a broken barbed wire board on Fukimoto at 13 minutes, 28 seconds to pick up the win and setup Ueki as the next challenger.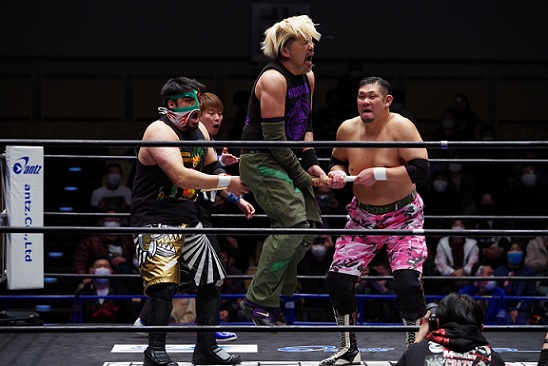 Mammoth Sasaki and Violento Jack would defend their King of Freedom Tag Team Titles against Minoru Fujita and Rina Yamashita in a Tornado Tag Team Match. Mammoth and Jack would end up bringing in ladder but Yamashita would manage to suplex Jack off of it, but he would immediately get up and kick Yamashita in the head and pick her up and drop her on his knees. Mammoth and Jack would then begin chopping Yamashita before charging at her with Yamashita moving out of the way and Mammoth and Jack would end clotheslining each other. Mammoth would then go for a chokeslam on Yamashita but she would manage to send fling Mammoth across the ring and then punch him down low which by Fujita rolling him up with a Samson Clutch for the win at 10 minutes, 12 seconds to win the King of Freedom Tag Team Titles ending Mammoth and Jack's reign at two years and one month in their twelfth defense of the titles which was a tied record with Mammoth and Sugiura's run that lasted 14 months. Click here for highlights of FREEDOMS 2/9/21 Korakuen Hall show.
Other matches on the show saw Takashi Sasaki and Daisuke Masaoka defeat Yuya Susumu and Kengo when Masaoka would put Kengo away at 10 minutes, 22 seconds with a Tornado Clutch. Kamui would defeat Tomoya Hirata at 10 minutes, 59 seconds with a Yurikamome. The opening match saw GENTARO and Dragon Libre defeat Brahman Ryu and Brahman Kei when GENTARO would pin Kei at 7 minutes, 57 seconds with a German Suplex.
FREEDOMS and 2AW have agreed to have a working relationship with one another that will see them work joint shows together at 2AW's home building 2AW Square. The first show of this series took place on February 21, 2021 drawing 62 fans. The main event was Toru Sugiura, Daisuke Masaoka, and Tomoya Hirata picking up the win over the 2AW team of Kengo Mashimo, Tatsuya Hanami, and Kunio Toshima when Hirata picked up the win over Hanami at 13 minutes, 50 seconds with a German Suplex. 2AW would get their big win on the show although not cleanly as Ayato Yoshida and Tank Nagai would defeat Jun Kasai and Kenji Fukimoto when at 11 minutes, 1 seconds the referee would end up disqualifying Fukimoto. Kamui would successfully defend his UWA Jr. Heavyweight Title against Kaji Tomato after pinning him at 12 minutes, 6 seconds with a Kamui Clutch. Violento Jack would easily put away Daiju Wakamatsu at 10 minutes, 23 seconds after making him tap out to the Mexican Stretch. Takashi Sasaki would win a singles match against Ayumu Honda at 9 minutes, 1 second after making him tap out to the Scorpion Death Match. The opening match would see 2AW get its only pin on the show as Ricky Fuji, Shu Asakawa, and Chicharito Shoki would defeat GENTARO, Yuya Susumu, and Dragon Libre with Ricky getting the win at 9 minutes, 55 seconds after pinning GENTARO with the 9999 DDT.
FREEDOMS returned to the Yokohama Radiant Hall for their annual February show in Yokohama on February 27, 2021 as they would announce a crowd of 125 fans for the show. The main event would be Unchain's Jun Kasai, Minoru Fujita, and Rina Yamashita taking on ERE's Masashi Takeda, Toshiyuki Sakuda, and Takayuki Ueki in a non death match. Takeda would grab a hold of Yamashita, but she would move out of way while Ueki was charging with a lariat and would up accidentally hitting Takeda instead. Takeda would get upset by this and begin fighting with Ueki while Sakuda would grab Yamashita causing Takeda and Ueki to try for a clothesline but again Yamashita would move out of the way and they would both end up hitting accidentally hitting Sakuda. Yamashita would then lay Ueki out and Kasai would climb up to the top and hit a Pearl Harbor Splash on him followed by a Yamashita coming off the top rope on him. Sakuda though would jump off the top and hit a hurricanrana on Fujita which would then be followed by Ueki hitting a Death Valley Bomb on Yamashita before getting the win at 18 minutes, 21 seconds to get the win with his Saluting Headbutt off the top rope to pick up the win over Yamashita for the ERE victory. Click here for highlights of FREEDOMS 2/27/21 Yokohama Radiant Hall show.
Other matches on the show would be Yuya Susumu and Kengo defeating Toru Sugiura and Daisuke Masaoka after Kengo would get the upset win over Masaoka at 14 minutes, 12 seconds with a Brainbuster as Masaoka's decline booking wise would continue. Takashi Sasaki and Tomoya Hirata would defeat Kamui and Kenji Fukimoto when Sasaki would finish off Fukimoto at 12 minutes, 45 seconds with a D-Geist. The Brahmans of Brahman GEN, Brahman Ryu, and Brahman Kei would defeat Mammoth Sasaki, Violento Jack, and Dragon Libre would get the win after Jack would accidentally end up hitting Libre with a lariat followed by GENTARO pinning Libre at 10 minutes, 47 seconds to get the win. The opening match would be Alejandro defeating Rekka at 8 minutes, 57 seconds with a La Magistral.
FREEDOMS would return to Shin-Kiba on March 4, 2021 drawing an announced crowd of 134 fans for the show. The main event would be ERE's Masashi Takeda, Toshiyuki Sakuda, and Takayuki Ueki taking on Toru Sugiura, Jun Kasai, and Daisuke Masaoka in a Fluorescent Light Tubes Death Match. Sugiura would go for a running elbow to a light tube on Ueki but he would move out of the way and then just smash that light tube over Sugiura's head followed by Sakuda hitting an Asai DDT on Sugiura. Ueki would then climb up to the top and Sugiura would get up and go up as well when Violento Jack would appear and attack Sugiura and laying him out with a uranage on a light tube followed by Ueki hitting a diving head butt and then finish Sugiura off with a Death Valley Bomb on a chair to get the win at 16 minutes, 5 seconds as Jack would officially join Takeda's ERE heel group.
The semi-main event would Brahman Gen, Brahman Ryu, and Brahman Kei defeating Minoru Fujita, Rina Yamashita, and Kamui with Kei throwing powder in Kamui's eyes resulting in GENTARO rolling up him with a Front Cradle to get the pin at 12 minutes, 30 seconds with GENTARO afterwards nominating Brahman Kei for a UWA Jr. Heavyweight Title shot against Kamui at the next Korakuen Hall show as well as nominating himself and Takaiwa to challenge Fujita and Yamashita for the tag titles at Korakuen Hall.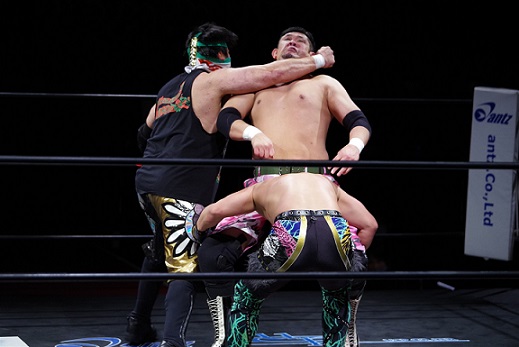 Mammoth Sasaki and Violento Jack would take on Yuya Susumu and Kengo as Mammoth and Jack would tease once again accidentally running into each other with a lariat but this time stop just short of each other. Mammoth would then go over and Susumu while Jack would chop Kengo but when Mammoth would go for an Awesome Bomb he would get a lariat from Jack who would turn on Mammoth and begin attacking him as the referee would call for the bell at 9 minutes, 34 seconds and disqualify Jack with Jack just walking away and ending his two year tag team with him. Takashi Sasaki defeated Rekka at 8 minutes, 56 seconds with a D-Geist as Rekka will be starting up his own promotion called Grace Pro so this was a FREEDOMS vs. Grace match. The opening match had Kenji Fukimoto and Alejandro defeating Dragon Libre and Tomoya Hirata with Fukimoto putting Libre away at 9 minutes, 56 seconds with a Package Piledriver. Click here for highlights of FREEDOMS 3/4/21 Shin-Kiba show.
FREEDOMS will return to Korakuen Hall on March 23rd with the main event of Toru Sugiura taking on Takayuki Ueki in a Fluorescent Light Tubes Death Match for the King of Freedom World Champion. Mammoth Sasaki will have his first death match in nearly 8 years as he teams up with Jun Kasai and Takashi Sasaki to take on ERE's Masashi Takeda, Violento Jack, and Toshiyuki Sakuda in a TLC Death Match. Minoru Fujita and Rina Yamashita will defend their King of Freedom Tag Team Titles for the first time against Brahman Ryu and Gen which are Tatsuhito Takaiwa and GENTARO doing the Brahman Brothers gimmick. Kamui will defend the UWA Jr. Heavyweight Title against Brahman Kei as he looks to go singles while his brother is out with cervical neck damage. Daisuke Masaoka looks to get revenge as he teams up with Kenji Fukimoto to go up against Yuya Susumu and Kengo. The opening match will be Tomoya Hirata and Dragon Libre taking on Alejandro and Rekka. Last update I mentioned I felt Toshiyuki Sakuda had a chance to win the title just because Sugiura was running out of challengers. I would be shocked though if Ueki were to win the title on this show, although if this leads to Violento Jack challenging Sugiura for the May 2nd Korakuen Hall show I would suspect Jack would end up being the one to end Sugiura's long title run.
The whole beginning purpose of the promotion FREEDOMS after Takashi Sasaki had disbanded his Apache Army was for there to be a home for certain wrestlers like Mammoth Sasaki and Hi69 to have a home to when they came back from injury but it would allow all wrestlers to get whatever bookings they wanted to take to make as much money as they could knowing that FREEDOMS was going to start off as a very small promotion. FREEDOMS began to grow through out the years the only restriction they ended up making was not having be booked for Big Japan to allow them to be seen as a seperate promotion from Big Japan due to it being similar and FREEDOMS feeling that fans were not going to attend a FREEDOMS show if they could just go to a Big Japan show and see the FREEDOMS wrestlers. FREEDOMS and Big Japan continued to have a good relationship and eventually begin allowing talent exchanges again as Fukimoto would begin working for Big Japan and Kasai would begin working their big show of the year every year and now Violento Jack has began working for their Death Match Survivor Tournament. The only tricky thing about FREEDOMS now allowing their talent to work elsewhere is they are more protective of their guys when it comes to jobbing. Jun Kasai has taken advantage of the freedom that FREEDOMS has and is willing to wrestle wherever they allow him with the only exception is that he is not going to job unless it's for him to drop a title. He has made regular appearances for Wrestle-1, DDT, 666, and a handful joshi promotions with only taking one pinfall loss and that was to drop the DDT Extreme Title to Daisuke Sasaki at the Saitama Super Arena for DDT's 20th Anniversary meaning he got paid very well for that show. Jun Kasai has began appearing for All Japan at the start of this year and won their GAORA TV Title right away by beating Yoshitatsu on January 3rd at Korakuen Hall although in a Ladder Match so that Yoshitatsu would not actually be pinned by Kasai either. Kasai defended the title later in the month on January 24th at Korakuen Hall by defeating Black Menso~re.
This would setup Jun Kasai defending the title on March 18th at Shin-Kiba in what would be a one match show in Shin-Kiba but still draw an announced 150 fans for Kasai to defend the title against Shuji Ishikawa in the very first death match in All Japan. Ishikawa who is one of the bookers in All Japan so it was his call to bring Kasai in and do this match was also a former Big Japan Death Match Heavyweight Champion as well as having previously defeated Kasai in a great death match back on December 25, 2011 in FREEDOMS. The match would be a Glass Board Razor Cross Board Barbed wire Board TLC Death Match as Kasai early on would dive off the top rope to the outside sending Ishikawa through a table. Kasai would then begin smashing the razor cross board over Ishikawa's head and then try to Reverse Tiger Driver Ishikawa on the razor cross board but Ishikawa would pick him up and slam Kasai on the razors instead. Ishikawa would then place a glass board on a stack of chairs and take Kasai on the ramp and deliver a running powerbomb sending Kasai into the glass board. Ishikawa would then swing a stack of light tubes at Kasai but Kasai would duck it and clothesline the light tubes into Ishikawa. Kasai would then take the other glass board and place it under Ishikawa and look to deliver a Pearl Harbor Splash off a ladder but Ishikawa would get up and climb the ladder only for Kasai to knock him down sending him into the glass board. Kasai would then hit that Pearl Harbor Splash off the ladder only for Ishikawa to get up and hit Kasai with a Fire Thunder and then knee a stack of light tubes into Kasai and deliver a Giant Slam to get the pin at 28 minutes, 41 seconds to win the GAORA TV Title ending Kasai's two and a half month reign in a great match. Click here for highlights of Jun Kasai vs. Shuji Ishikawa 3/18/21.
Nanjyo Hayato's Phenix Pro ran its first show on February 13, 2021 at the Tokyo Kame Dojo Arena with no fans attending. The idea behind the show was to broadcast the show live on Twitch for 3,000 yen (30 dollars) to make up for the fact there would be no gate. The promotion was based around FMW nostalgia much like when he started up FFF back in 2011 where he mixed FMW along with Osaka Pro. The first FFF show was very FMW heavy but after it was a financial failure by the third show the promotion was almost entirely made up of Osaka based wrestlers instead of FMW wrestlers. Ten years later there's even fewer FMW wrestlers still working so he was able to only book a FMW main event and have Ricky Fuji in the undercard. No results were ever posted due to wanting fans to still be able to buy the Twitch stream for several days after the show had happened in a way of getting some purchases afterwards. The only result that ended up coming out was the main event of Masato Tanaka and Koji Nakagawa defeating Tetsuhiro Kuroda and Nanjyo Hayato when Tanaka would end up pinning Nanjyo with a Sliding D. After the main event, all four wrestlers along with Ricky Fuji took FMW questions while still in the ring from fans watching the event live. They have announced that the DVD of the show will be released in April. Nothing about another show taking place.
The A-Team held their first show of 2021 at the Tokyo Kitasenju Theater drawing their standard 50 fans for the show. The main event would see Super Tiger defend his WEW Heavyweight Title for the first time defeating Daisaku Shimoda at 12 minutes, 22 seconds after finishing him off with an Atomic Tiger Bomb for the win. Nobutaka Moribe would defend his WEW Jr. Heavyweight against CHANGO and defeat him with the Maromita at 20 minutes, 8 seconds to defend the title for the third time. MIKAMI and HASEGAWA would also defend their WEW Tag Team Titles after defeating MIKAMI's former partner Rion Mizuki as well as Iori Sugawara with HASEGAWA picking up the win over Sugawara at 18 minutes, 18 seconds with a Seaside Boyz for their second title defense. Tomohiko Hashimoto and Joji Otani would end up defeating Takumi Sakurai and Bryan Ishizaka with Otani picking up the win over Sakurai at 15 minutes, 59 seconds with a Sliding D. Gajo and Chikara would defeat Daisuke Ikeda and Raito Shimizu when Gajo would hit Shimizu with a lariat to get the win at 14 minutes, 4 seconds to set him up as the next contender for the WEW Heavyweight Title. Hashinosuke would open the show defeating Kosaku Tonosaki at 7 minutes, 6 seconds with a Swanton Bomb.
The A-Team would then return on March 14, 2021 to the Tokyo Kitasenju White Studio announcing a crowd of 50 fans for the show. The main event would see Super Tiger once again defend the WEW Heavyweight Title by defeating former champion Gajo at 8 minutes, 41 seconds with a Shiden to defend the title for the second time. MIKAMI and HASEGAWA would defend their WEW Tag Team Titles in the semi-main event against Daisuke Ikeda and Keiichi Sato when MIKAMI would roll up Sato at 18 minutes, 37 seconds with a School Boy to defend their titles for the third time. Tatsuhito Takaiwa would end the nearly 15 month reign of Nobutaka Moribe as WEW Jr. Heavyweight after pinning him at 13 minutes, 22 seconds to become the new WEW Jr. Heavyweight Champion. Takumi Sakurai would defeat disgraced former Guts World wrestler Joji Otani at 14 minutes, 52 seconds with a Moonsault. Kosaku Tonosaki and Hitachi Pro's Kento DiCaprio would defeat Bryan Ishizaka and Hashinosuke when Tonosaki would get the win at 13 minutes, 19 seconds with a Brainbuster on Hashinosuke. The opening match would see Tomohiko Hashimoto, Daisaku Shimoda, and Masahiro Sase defeat Hayato Mashita, Iori Sugawara, and Raito Shimizu when Shimoda would pick up the win at 12 minutes, 42 seconds with a Piledriver over Shimizu to open up the show.
ZERO1 will be returning to the Yasukuni Shrine in Tokyo on March 27th and held a press conference announcing the lineup. LLPW-X's Shinobu Kandori will be appearing on the show as she will team up with Kyoko Inoue to take on Jaguar Yokota and Dump Matsumoto. Megumi Kudo attended the press conference and Kudo and Kandori ended up meeting face to face in public for the first time since their last match against one another in FMW. Kudo stated as a former female professional wrestler she has a special feeling for the women wrestlers especially for all the legends in this match gathered. Megumi Kudo and Shinobu Kandori had one of the better rivalries towards the end of Kudo's career at the end of 1996 to March 1997.
Their feud would start when Shark Tsuchiya who was Kudo's long time rival started bringing LLPW's Eagle Sawai with her and joined up with her. Kudo would have issues that the LLPW wrestler was now appearing in FMW and Kandori who was feuding with Sawai in LLPW was upset that Tsuchiya was now appearing for her promotion with Kandori being the aggressive one at a press conference talking down to Kudo about the FMW women with Kudo talking right back to her with Arai having to make sure that Kudo would no go after her. They would end up having their first match on December 11, 1996 with Kandori getting the win after choking Kudo out and then spitting water in Kudo's face as disrespect. Kudo would not appreciate that and end up jumping Kandori in the locker room afterwards. This would setup their next match on January 5, 1997 at Korakuen Hall for LLPW in a Street Fight in one of Kudo's craziest matches as they would brawl all over the building before fighting in the balcony with Kandori trying to throw Kudo off with the referee having to stop the match and reward the win to Kandori once again in fear of Kudo falling from the balcony. Their third match would take place at the Sapporo Nakajima Sports Center on March 14, 1997 for FMW in a No Ropes Barbed wire Death Match with Kudo dripping blood all over her face during the match before finally putting Kandori away with the Kudo Driver ending their feud with Kudo and Kandori shaking hands out of respect. They would end up teaming one time on April 7, 1997 for LLPW at Korakuen Hall as they along with Michiko Omukai and Kaori Nakayama would defeat the source of their original problems with one another in Shark Tsuchiya, Eagle Sawai, Sayori Okino, and Miss Mongol with Omukai pinning Nakayama and Kudo and Kandori celebrating with one another.
Last time I showed off the Hayabusa collection I wanted to show some more stuff I have been able to collect through out the years. I was recently able to pick up the purple plush Hayabusa although a little faded to go with the blue and green plush Hayabusa dolls that I picked up from Toudoukan back in 2010 back when Hayabusa merchandise did not instantly sell out after being posted on the website in seconds. I still am looking for the red and white ones as they are very rarely available. Through the years I have also been able to pick up the 2001 FMW figure line which consisted of Kodo Fuyuki, Tetsuhiro Kuroda, and Kintaro Kanemura. All are considered pretty rare especially the Kanemura which usually goes for over $100 dollars whenever put up for sale online. Those were the only three FMW figures created by Shotgun Toys at the time as it sometimes confused that an Onryo FMW one was made by them when it was actually before Onryo joined FMW in 2000 as that figure was made back in 1999 when Onryo was still with Wrestle Yume Factory. I also have been able to collect an Onita figure based off his New Japan and then I also recently added a Jun Kasai figure that the company Grape Brian made for FREEDOMS as Kasai becomes the first wrestler in FREEDOMS to have a figure made for him while in the company. Kasai had previously had a figure made of him back in 2001 when he was in Big Japan which includes him apart of a rare 2 pack figure with John Zandig during the Big Japan vs. CZW feud that was going on at the time. Next update I will post what I have been able to add to my VHS collection over the last couple of months.
Added: 2/8
Atsushi Onita who now lives in Kanizaki, Saga will come into Tokyo every month or so for wrestling business. He skipped January but came in the first week of February to wrestle at the Giant Baba Memorial show at Korakuen Hall, participate in a talk event with Masa Fuchi, and he stopped by Mitsuhiro Matsunaga's Mr. Danger Steakhouse in Sumida, Tokyo on February 4, 2021. Onita stated that he has been going to Matsunaga's steak house for 24 years meaning he first went to the restaurant when it opened in 1997.
Onita and Matsunaga have a unique relationship as they know each other going back to 1989 when they competed in the first ever Barbed wire Death Match in Japan back on December 10, 1989 at Korakuen Hall. Matsunaga was a karate student of Masashi Aoyagi at the time. Aoyagi's group ended up pulling out of FMW soon afterwards and worked for New Japan before Matsunaga would break away from Aoyagi and join Mickey Ibaragi's W*ING promotion. Matsunaga noticed there was an opening to be the top face of the promotion since Mr. Pogo the big name of the promotion was a heel. Matsunaga was willing to do anything to get recognized became the first person to jump off the balcony at Korakuen Hall and then let Mr. Pogo blow fire at his head and Matsunaga became Mr. Danger the number one face of the promotion.
Onita's FMW and W*ING with Pogo and Matsunaga were in direct competition until Onita offered Mr. Pogo and Matsunaga $120,000 dollars each to leave W*ING and join FMW. Pogo and Matsunaga formed the Pogo Army in what suppose to look like an invasion angle without them using the name W*ING since the promotion was still active despite struggling with the loss of their two biggest stars. Onita and Matsunaga headlined the Tokyo International Harumi Dome on December 8, 1993 and drew a sell out of 12,522 fans in a No Ropes Exploding Barbed wire Explosive Corners Death Match with Onita winning. Matsunaga would turn face and team with Onita through the first half of 1994 but Matsunaga would turn heel after FMW would bring in Yukihiro Kanemura and with W*ING no longer being active they would re-start up the heel invasion angle this time using the W*ING name to go up against Onita.

Onita would end up retiring on May 5, 1995 and Hayabusa would be made the new face of the group. The W*ING group would turn face after Onita's retirement and even Matsunaga would end up teaming with Hayabusa until it was decided to turn the W*ING group back heel and feud with the New FMW under Hayabusa until Matsunaga would decide to leave FMW following the May 5, 1996 Kawasaki Stadium show. Matsunaga would cite that he did not like how Hayabusa and Masato Tanaka treated him and although he did not mention him by name as a reason fellow W*ING partner Kanemura was also having issues with Matsunaga and not sad to see Matsunaga leave FMW to join Big Japan in the Summer of 1996.
Atsushi Onita would out of retirement on December 11, 1996 and their paths would not cross again until 2002 when Onita would start up a nostalgia Onita FMW promotion where he would first face off against the W*ING team of Mr. Pogo and Mitsuhiro Matsunaga on the opposite side before teaming up with Matsunaga once again on the final Onita FMW show on August 11, 2002. Onita and Matsunaga would not meet again at a wrestling show until January 5, 2017 at a Super Battle FMW with Onita and Matsunaga doing a talk segment with them hinting that Matsunaga would come out of retirement to face Onita for his retirement later that year which was more of just a tease than anything. They both sadly would end up getting once again later that year after Mr. Pogo who was both their number one rival through out their careers would pass away on June 23, 2017. Onita and Matsunaga would attend the Mr. Pogo Farewell Ceremony on July 27, 2017 where they would both pray to a shrine of Mr. Pogo.
Onita and Matsunaga will always be linked together because of FMW and W*ING and it is nice to see despite being rivals for separate death match promotions that they have formed some what of a friendship over the years which includes Onita getting to have some delicious steak as well.
The 23rd Memorial for Giant Baba's passing took place on February 4, 2021 at Korakuen Hall. Atsushi Onita would appear as apart of the early 1980's team which would consist of him, Masa Fuchi, Great Kojika, and Shiro Koshinaka as they would face off against the late 1980's/early 1990's team of Tiger Mask II, Takao Omori, Arashi, and Tsuyoshi Kikuchi. Obviously Tiger Mask II was not the original Mitsuharu Misawa as it pretty certain that it was Kotaro Suzuki under the mask as Suzuki was originally booked for the opening match and then never ended up appearing on the show with Tiger Mask having a very similar build to Suzuki. Both teams would come out in their All Japan jackets with Arashi wearing his through out the match and The Great Kabuki would accompany the Onita early 80's team to the ring. Onita would square off against Tiger Mask II first and shake hands before Onita would end up taking him to the outside and throwing him into the guard rail and then bring him back in the ring and deliver a DDT before tagging Kojika. Onita would eventually end up just being tossed out of the ring by Tiger Mask II towards the ending but Fuchi would end up rolling Kikuchi up at 8 minutes, 55 seconds to get the win with an inside cradle in a match that did not have much of a chance to be good when the two youngest guys in the match were Tiger Mask II at 42 and Omori at 51, but then you add in the crowd not making any noise and it was a match better on paper than actually happening. Click here to watch Onita/Fuchi/Koshinaka/Kojika vs. Tiger Mask II, Omori, Arashi, and Kikuchi from 2/4/21
Backstage Omori and Kikuchi would be conducting a interview when Omori would state how he takes pride in being a disciple of Baba when Onita would overhear this and shout at Omori. Onita would state he was a real disciple of Baba as he was the first Baba student and took care of Baba the first ten years of his career which is only true if you don't count excursions that Onita had to take without Baba. Onita would walk away as Omori would state that he spent the first ten years of his career being a disciple of Baba with Onita overhearing that and shouting "that's not true!" which it probably isn't true unless Omori did it for four years before making his debut as he started wrestling in October 1992 and Baba died in January 1999. Omori and Kikuchi would finish the promo stating that Onita was not there in All Japan when they were, but he is still their senior so they will not make any negative comments about him.
Atsushi Onita and Masa Fuchi participated in a Talk Event on February 5, 2021 in Shinbashi, Minato-ku Tokyo at the Giant Baba Bar which is ran by a relative of the late Motoko Baba named Kimitoshi Ogata. They told old stories together including talking about becoming AWA Southern Tag Team Champions, Onita defeating Chavo Guerrero in Charlotte, North Carolina in March 1982 for the NWA International Jr. Heavyweight Title as well as going to Mexico together. Onita and Fuchi ended up becoming the 100th All Asian Tag Team Champions back on November 27, 2006 before losing the titles to Atsushi Aoki and Hikaru Sato on June 20, 2017. The All Asian Tag Titles were eventually sealed in August 2019 and replaced with newer belts. The old belts were given to Ogata the owner of the Giant Baba bar so he brought out the title belts out for Onita and Fuchi to hold while talking. Onita claims during the event that the belts started talking to him telling him "please bring me to the ring again" with Onita listening to them. Onita would end up walking out of the event with the title belts without permission. Onita apologized for stealing the title belts that night but did state he called Ogata the next day to let them know he had the belts and that they negotiated a lease for Onita to have the title belts for the time being. Onita stated that he will make these belts active once again as they will defended as the "True All Asian Tag Team Titles". No word on when they will be defended as Onita has not announced any future matches for the time being, but I would imagine it would be for All Japan's Korakuen Hall show on March 14th with Masa Fuchi as his partner possibly against Takao Omori and Tsuyoshi Kikuchi.
FREEDOMS held their first show of the year on January 2, 2021 at Shin-Kiba drawing an announced crowd of 157 fans for the show which is pretty much the standard max number with the spaced out seating restrictions in the building. The main non tournament match on the show was a New Years Special Champion Match as all the champions of the promotion in the King of Freedom Tag Team Champions Mammoth Sasaki and Violento Jack taking on King of Freedom World Champion Toru Sugiura and UWA Jr. Heavyweight Champion Kamui with Mammoth rolling Kamui up with a La Magistral at 13 minutes, 21 seconds for the win with all the wrestlers posing with the belts afterwards.
Other non-tournament matches were Takashi Sasaki, GENTARO, and Dragon Libre defeating Unchain's Jun Kasai, Masashi Takeda, and Rina Yamashita with Sasaki picking up the win at 12 minutes, 58 seconds with a Backslide on Yamashita. The Jr. Heavyweight team of Yuya Susumu, Kengo, and Alejandro defeating Brahman Shu, Brahman Kei, and the newest Brahman Tatsuhito Takaiwa with Alejandro getting the win over Kei at 7 minutes 59 seconds as afterwards it would be announced that Brahman Shu would be out for an extended period of time with a cervical spine injury with Takaiwa replacing Shu in the team for the time being.
The first round tournament matches would open the show with Toshiyuki Sakuda taking on Tomoya Hirata with Sakuda throwing Hirata at the referee and then using a stable gun while the ref was down before rolling him up a Samson Clutch and then wait forever as the referee would finally count three at 6 minutes, 47 seconds for Masaoka to advance. The next tournament match would be Daisuke Masaoka going up against Kenji Fukimoto with Masaoka getting the win at 1 minutes, 23 seconds after rolling up Fukimoto up out of nowhere with a Tornado Clutch.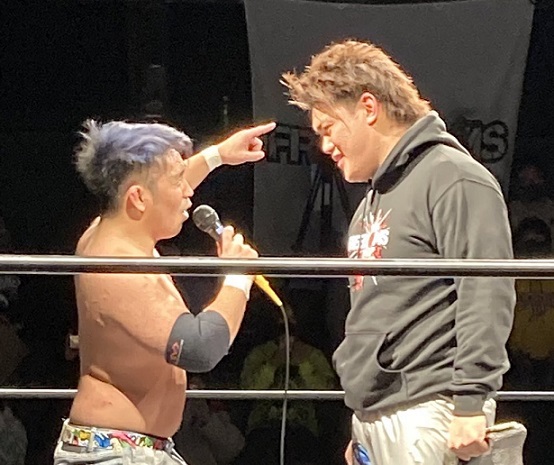 The main event of the show and the finals of the tournament would be Daisuke Masaoka taking on Toshiyuki Sakuda as Masaoka would nailing Sakuda with a flying drop kick and then go back up to the top and try for the Rokkua Kai but Sakuda would move out of the way and hit Masaoka with the Sakauchi to get the win at 14 minutes, 37 seconds and become the number contender for the King of Freedom World Championship. Sugiura would come to the ring and hold the title in Sakuda's face showing off how much taller he is than Sakuda and acting like Sakuda will be no match for Sugiura. Click here to watch highlights of FREEDOMS 1/2/21.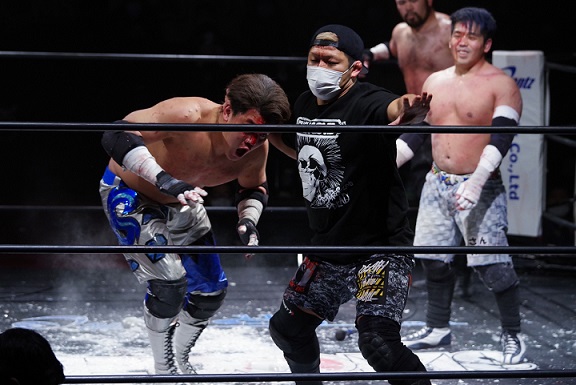 The next FREEDOMS show would take place on January 21, 2021 at the Shin-Kiba 1st Ring and draw 154 fans for this show as the card would have to be alternated due to Kamui and Dragon Libre coming in contact with someone with COVID as Kamui made mention that it was a student in his son's class that had and he would be pulling himself off the show as a result. The main event would be Toru Sugiura and Takashi Sasaki against Toshiyuki Sakuda and Takayuki Ueki in a Fluorescent Light Tubes Death Match with Sakuda getting the win at 16 minutes, 22 seconds with a Sakauchi on Sasaki to build him up as a serious contender. After the match, Masashi Takeda would hit the ring and toss Sugiura out and state he was joining up with Sakuda and Ueki which means he was officially leaving the Unchain group after being a founder member with Kasai and Fukimoto nearly 9 years ago. Kasai and Fukimoto would hit the ring upset about Takeda joining the rival group but Takeda, Sakuda, and Ueki would leave the ring before they could do anything about it as they are now the top heel group although currently without a name.
Before leaving Unchain, Takeda would team up with Jun Kasai on last time in the semi-main event to take on fellow Unchain members in a Scramble Tornado Death Match as Kasai and Takeda would end up hitting Yamashita with a double uranage on broken pots and then Kasai with hit her with a One Winged Angel but Yamashita would manage to kick out. Kasai would then go for a Reverse Tiger Driver but Yamashita would manage to escape and then kick Kasai low as Fujita would come over and roll Kasai up with a Samson Clutch at 15 minutes, 6 seconds to get the win to setup Fujita and Yamashita as the number one contenders for the King of Freedom Tag Team Team Titles.
Other matches on the show would be Mammoth Sasaki, Violento Jack, and GENTARO teaming up to defeat Yuya Susumu, Kengo, and Tomoya Hirata when GENTARO would use a Flying Headscissors to get the win at 14 minutes, 1 seconds over Hirata and the opening match would be Kenji Fukimoto and Alejandro teaming up to take on Brahman Ryu who is Tatsuhito Takaiwa doing the Brahman gimmick along with Brahman Kei as Fukimoto would pick up the win at 9 minutes, 34 seconds after Fukimoto would end up putting Kei away with a Package Piledriver. Click here to watch highlights of the FREEDOMS 1/21/21 show.
FREEDOMS announced the lineup for their February 9, 2021 Korakuen Hall show which Samurai TV will be airing the show as it will be the first time in the promotions history that Samurai will be broadcasting a FREEDOMS Korakuen Hall show the first half of the year since the very first Korakuen Hall show put on by FREEDOMS on June 21, 2010. The main event will be Toru Sugiura defending the King of Freedom World Championship against Toshiyuki Sakuda in a Fluorescent Light Tubes Glass Board Death Match. I would think this is where Sugiura will be losing the title. I thought even before the Christmas Death Match that once Sugiura finally put away Takeda that he would lose to whoever he faced off against in February just because of the running out of challengers aspect. Adding in Takeda to his group and the show airing on Samurai TV makes me feel more confident that Sakuda will end up walking away as champion as part of an incentive to get him to leave Big Japan full time, but we will see.
The semi-main event will be Jun Kasai and Kenji Fukimoto taking on the new heel team of Masashi Takeda and Takayuki Ueki in a Razor Cross Board Death Match as the winning team of this match will probably tell the story of who will actually end up winning the main event later on. Mammoth Sasaki and Violento Jack will defend the King of Freedom Tag Team Championship against Minoru Fujita and Rina Yamashita in a Scramble Tornado Match. This seems like another title change happening as Mammoth and Jack have held the titles now for over two years and tied the record for title defenses at 11 set by Mammoth Sasaki and Toru Sugiura. There has not been a time where someone else not Mammoth Sasaki or Violento Jack have been a tag team champion since March 23, 2017. The reason that I would give Fujita and Yamashita the odds of winning the titles are because of not only just Yamashita getting quite over with her performances but also because Fujita and Yamashita already challenged for the titles back on August 31, 2020 and lost and rarely do you see a two successful title defenses against the same person/same team in the same title reign. Takashi Sasaki and Daisuke Masaoka will take on Yuya Susumu and Kengo who look to be a full time time tag team now, Kamui returns to action against Tomoya Hirata in a Hardcore Match, and the opening match will be GENTARO and Dragon Libre taking on Tatsuhito Takaiwa and Brahman Kei.
ZERO1 suffered some bad luck as their scheduled 20th Anniversary show at the Ryogoku Sumo Hall scheduled for March 14, 2021 has been postponed until next year. The issue was that due to the coronvirus the annual Sumo Tournament that was suppose to begin in Osaka this year was moved to Tokyo at Sumo Hall instead with the first day of the tournament being scheduled for March 14th which was the date ZERO1 had booked. This was also a decision made by the OSU Premium company who is sponsoring the show as ZERO1 at this point can not afford to run Sumo Hall by themselves and OSU Premium was looking to bring in some big name retired wrestlers for the show to put on "performances" like how they had Megumi Kudo and Shark Tsuchiya back on December 26, 2020 at the Shinjuku FACE.
Many did not think ZERO1 would be able to survive to March 2021 after their sponsor iFD who were the sponsors last year when they announced that they were going to do a Sumo Hall show ended up pulling out just under 5 months after buying the promotion due to the coronavirus but an IT company Daiki Holdings Group took over as the main sponsor to keep the promotion going with OSU Premium agreeing to help sponsor the Sumo Hall show. The switch over to Daiki Holdings has not been a smooth one as they do not have the money that ZERO1 has been use to under other sponsorship and as a result they have lost Kohei Sato, SUGI, Tatsuhito Takaiwa, Towa Iwasaki, RAICHO, and Ikuto Hidaka. The original plan for the main event of Ryogoku Sumo Hall 20th Anniversary was to have Masato Tanaka defend the World Heavyweight Championship against CIMA as Tanaka and CIMA were big names from 20 years and the people in charge interest in wrestling pretty much stops at around 20 years ago thus why they were chosen for the main event by them. CIMA will instead challenge for the title against Tanaka on May 30, 2021 at Korakuen Hall instead.
Nanjyo Hayato has announced that he will be starting up another promotion. This will be his third after starting up FFF which was originally supposed to be based around FMW nostalgia until the shows were financial losers and the promotion became more of a standard Osaka independent promotion. Nanjyo also runs Osaka Style Pro-Wrestling which is a promotion that includes Osaka independent wrestling that mirrors the old Osaka Pro promotion but will run in other cities like Tokyo.
This third promotion that he is starting up will be called Phenix Pro and the debut show will take place on February 13, 2021 at the Pure J Dojo which is also known as the Tokyo Kame Dojo Arena although I do not believe fans will be in attendance and the show instead will be broadcasted on Twitch with a charge fee to be able to watch it. The main event will be a FMW nostalgia match with Masato Tanaka teaming up with Koji Nakagawa as they will take on Tetsuhiro Kuroda and Nanjyo Hayato in a match that is straight out of a July 1995 FMW Korakuen Hall show. Ricky Fuji will also appear on the show although not in a FMW based match as he will team up with Shin Suzuki and they will go up against Hideo Toba and Shirasu Kid. After the main event, the old FMW wrestlers including Tanaka, Nakagawa, Kuroda, Nanjyo, and Ricky will all have a talk event and talk about their memories of FMW and tell stories to the twitch fans paying for the show. Both Tanaka and Ricky have tried to correct Nanjyo that the promotion should be called "Phoenix Pro" instead of "Phenix Pro" with Nanjyo responding they both mean the same thing, so it does not matter which just means to me that he misspelled the word and he's already too far in to go back and change the spelling.
Leon Spinks passed away on February 5, 2021 in Henderson, Nevada due to advanced prostate cancer at the age of 67.

Leon Spinks is one of two people along with Primo Carnera to hold both a boxing title and a wrestling title. That wrestling title at the time was FMW's WWA Martial Arts Heavyweight Title which was the top FMW heavyweight belt that would soon be replaced by the FMW Brass Knuckles Heavyweight Title.
Spinks started off boxing while in the marines which eventually lead to him winning the light heavyweight gold medal in the 1976 Summer Olympics in Montreal. Spinks would go on to become a professional boxer and in just his 8th fight he would end up winning World Heavyweight Title on February 15, 1978 after defeating Muhammad Ali in a 15 round split decision in Las Vegas, Nevada. Spinks became the first person to beat Ali for the heavyweight title although only earned close to $300,000 for the fight. The Spinks vs. Ali rematch took place on September 15, 1978 in New Orleans, Louisiana at the Super Dome with Ali winning back the title in a 15 round decision with Spinks getting $3.5 million for that fight although never getting a rematch for the title again.

Spinks who was known to spend money on weed, cocaine, and nice cars although Spinks himself states that his lawyers are the ones that stole his money was in need of pay days in anyway he could get them. New Japan was willing to pay him to bring him due to him beating Ali and he would face off against Antonio Inoki at Ryogoku Sumo Hall on October 9, 1986 with Inoki getting the win. Spinks was still in need of money though as he went from 1988 to 1991 without having a boxing fight
Atsushi Onita's FMW promotion called in 1991 looking to bring in a boxer for Onita to face. FMW was based around Onita facing off against boxers and fighters of different styles against the Onita the wrestler to see who would win. Onita had already defeated karate fighter Masashi Aoyagi on October 10, 1989 and 1988 Olympic Judo Bronze Medalist Grigori Verichev on May 29, 1991. Onita's dream was to bring in a boxer and defeat him. Onita first wanted Mike Tyson but that was going to be impossible for multiple different reasons and never even made it to a phone call being made. Onita who had wanted to become the next Antonio Inoki in Japanese Wrestling then asked to bring in Spinks since Spinks had shown he was willing to be brought in to face Inoki five years earlier.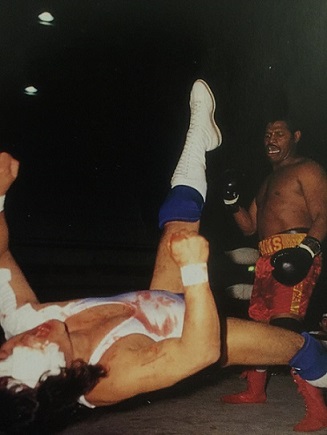 Spinks made his FMW debut in the World Strongest Tag Team Tournament making his debut on November 27, 1991 where he teamed with fellow American Rufus Blackborn to defeat the team of Atsushi Onita and Tarzan Goto with Spinks KO'ing Onita to setup a big show match between the two down the line. The Spinks team would come up short making the finals due to Spinks' partner Blackborn taking a couple of losses in their tournament matches to keep Spinks protected for the future match. Also, making their FMW debuts in that same tag team tournament would be The Sheik and Sabu as Onita also wanted to take turns between feuding with Spinks and The Sheik so that they could rotate being brought in on different tours.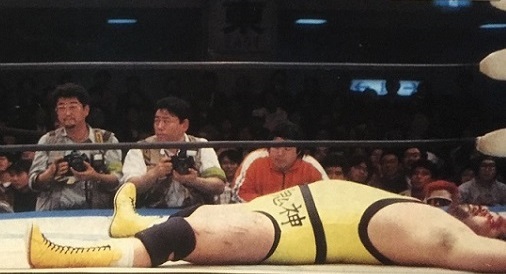 Although whenever The Sheik and Spinks would be on the same tour together, they would sit with each other on the FMW heel bus together as they would end up connecting a friendship with one another on the long bus rides to shows. FMW would wait to bring back Spinks again until March 1992 where Spinks would end up getting his big FMW win by defeating Tarzan Goto on March 25, 1992 at Korakuen Hall after KO'ing him for the for the WWA Martial Arts Heavyweight Title. This was also probably the best FMW match of Spinks' career and that was because he was protected and only asked to go six minutes. Spinks winning the title setup for the big show match against Onita on May 24, 1992 at the Tokyo Ariake Coliseum in a cage match.
The show though would end up being the first unsuccessful big FMW stand alone show. FMW would announce 7,000 people in the 12,000 building, but only around 5,000 people would actually attend the show. Spinks just was not the draw that FMW was hoping. It did not help that it was the first inside big show for the promotion and thus they could not do any explosions like FMW had done for all their other big shows that were a success.
The match between Onita vs. Spinks would be in a regular cage match and the match would be horrible as Onita was not the type of wrestler who could carry Spinks to anything decent for over 8 minutes and they did not have the electricity of the crowd that Spinks vs. Goto had at Korakuen Hall two months earlier. Onita would end up defeating Spinks for the WWA Martial Arts Title and Spinks was pretty much done as far as a main event wrestler after the disappointing crowd and match.

Spinks still wanted to continue to work for FMW though as the pay was better than anything he was getting at the time, and money was something he was in need for. FMW's last ditch effort to keep Spinks in the main event picture was to ask his brother Michael Spinks to work for FMW and team with his brother but Michael refused. Spinks for the next year would only be brought in for big stadium shows to work midcard or semi-main event matches including working the Yokohama Stadium show on September 19, 1992 where he teamed with Brian Sayodill losing to Tarzan Goto and Grigori Verichev and then Kawasaki Stadium on May 5, 1993 losing to former Olympian Grigori Verichev on May 5, 1993 in a Judo vs. Boxer match on the show.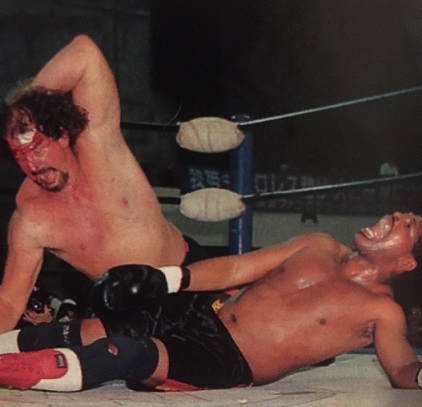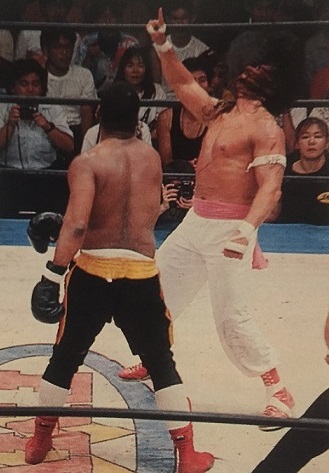 Spinks would come back for one more stadium show on August 22, 1993 losing to Katsuji Ueda another boxer in a sign that the company was done with Spinks. Spinks would be used the rest of the August 1993 tour including facing off against Terry Funk on August 26, 1993 with Spinks getting DQ'd then KO'ing Sabu for the win on August 28, 1993 at Korakuen Hall before facing off against beating younger wrestlers like Mr. Gannosuke and Onita Jr. the rest of the tour before defeating Sambo Asako on September 1, 1993 at the Sapporo Nakajima Sports Center in Spinks' final pro-wrestling match.

It was very apparent that Spinks was already suffering the beginning stages of dementia due to over 20 years of boxing and he was incapable of being able to remember much when it came to putting together a match. Mr. Gannosuke stated that it was known in the locker room that Spinks was struggling to work through matches because he would forget what he was suppose to do even though they were just 5 minute matches that were mostly just him punching. The FMW office were aware of Spinks' issues and decided to stop bringing him in after the August 1993 tour as his value was just not there anymore and it just was not worth paying to fly him in when all he was capable of was having 5 minute squashes with younger wrestlers that he was still having issues doing that.
Spinks would end up retiring from boxing in December 1995 at the age of 42 and would have one more wrestler vs. boxer match for All World Wrestling on February 27, 2000 in Kenosha, Wisconsin where he faced off against Rick Shaw going by his Bastion Booger gimmick who had wanted to get into FMW in 1991 himself. Spinks' money would continue to drain and he would find himself living in a homeless shelter after losing all his money. Spinks would get re-married in 2011 and would go on tour at conventions to try and help him get out of the huge debt he had accumulated. Spinks ended up suffering intestinal damage in 2014 after swallowing a piece of chicken bone which led to multiple surgeries before finding out in 2019 about his prostate cancer that ultimately took his life after spread to his bones. Atsushi Onita upon hearing about Spinks' passing stated he would pray for the soul of his long time rival and other FMW wrestlers commented that they will never forget his powerful punches that he gave to them.
I have continued to try to grow my Hayabusa figure collection through out the years. I have been able to collect every professionally released figure including all 4 Project Hayabusa's that were released in 2004, all 4 FMW released figures in 1998, the two HAO figures released by Project Hayabusa, two mini figures, and the two 12 inch INSPIRE figures that were released in 1999. I have also been lucky enough to get several custom made ones including a Funko Pop version, a blue and purple version of the HAO set, a custom Hasbro figure, and multiple different colored mini figures and FMW released figures. I would have never thought even just a couple of years that I would see this collection grow the way it has, but it just gives me so much joy each time to be able to add to it when I can. I also have been able to pick up a new purple plush doll although it is somewhat faded along with the green and blue ones I was able to pick up ten years ago. These are really rare as I very rarely have came across any, I will post them as well as some other stuff I have been able to pick up for my next update.
FREEDOMS/A-Team/FMW Misc./Production Shows News 2020 (January - December 2020)
FREEDOMS/A-Team/FMW Misc./Production Shows News 2019 (January - December 2019)
FREEDOMS/A-Team/FMW Misc./Production Shows News 2018 (January - December 2018)
FREEDOMS/Super Battle FMW/Onita & Production Shows News 2017 (January - December 2017)
Apache Army/FREEDOMS/Super Battle FMW & Production Shows News 2016 (January - December 2016)
Apache Army/FREEDOMS/Super Battle FMW & Production Shows News 2015 (January - December 2015)
Apache Army/FREEDOMS/Onita & Production Shows News 2014 (January - December 2014)
Apache Army/FREEDOMS & Production Shows News 2013 (January - December 2013)
Apache Army/FREEDOMS & Production Shows News 2012 (January - December 2012)
Apache Army/FREEDOMS & Production Shows News 2011 (January - December 2011)
FREEDOMS& Production Shows News 2010 (January - December 2010)
Apache Army/FREEDOMS & Production Show News 2009 (January - December 2009)
WMF& Apache Army News 2008 (January - December 2008)
WMF& Apache Army News 2007 (January - December 2007)
WMF& Apache Army News 2006 (January - December 2006)
WMF& Apache Army News 2005 (January - December 2005)
WMF& Fuyuki/Apache Army News 2004 (January - December 2004)
WMF& Fuyuki Army News 2003 (July 2003 - December 2003)
Kodo Fuyuki's Ceremonial Wake & Funeral Pictures (3/22/03 - 3/23/03)
WMF& WEW News 2003 (January 2003 - July 2003)
Post FMW News (February 2002 - December 2002)
Last months of FMW News (May 2001 - February 2002)
FMW News (August 1999 - May 2001)