FREEDOMS 2/27/21
Yokohama Radiant Hall
Jun Kasai & Minoru Fujita & Rina Yamashita vs. Masashi Takeda & Toshiyuki Sakuda & Takayuki Ueki
Toru Sugiura & Daisuke Masaoka vs. Yuya Susumu & Kengo
Takashi Sasaki & Tomoya Hirata vs. Kamui & Kenji Fukimoto
Mammoth Sasaki & Violento Jack & Dragon Libre vs. GENTARO & Tatsuhito Takaiwa & Brahman Kei
Alejandro vs. Rekka

FREEDOMS 3/4/21
Tokyo Shin-Kiba 1st Ring

Toru Sugiura & Jun Kasai & Daisuke Masaoka vs. Masashi Takeda & Toshiyuki Sakuda & Takayuki Ueki *Death Match*
GENTARO & Tatsuhito Takaiwa & Brahman Kei vs. Minoru Fujita & Rina Yamashita & Kamui
Mammoth Sasaki & Violento Jack vs. Yuya Susumu & Kengo
Takashi Sasaki vs. Rekka
Kenji Fukimoto & Alejandro vs. Tomoya Hirata & Dragon Libre
Big Japan 3/8/21
Tokyo Korakuen Hall

Violento Jack vs. Abdullah Kobayashi
Takumi Tsukamoto vs. Yuko Miyamoto

FREEDOMS 3/23/21
Tokyo Korakuen Hall
Toru Sugiura vs. Takayuki Ueki *King of Freedom World Championship Death Match*
Big Japan 3/31/21
Tokyo Korakuen Hall

Violento Jack vs. Masaya Takahashi
Takumi Tsukamoto vs. Drew Parker
FREEDOMS 4/4/21
Osaka Active Square Daito
A-Team 4/4/21
Nara Tenri Station Ekimae Square Station
Tomohiko Hashimoto & HASEGAWA & Raiden vs. Tatsumi Fujinami & Koji Kanemoto & Minoru Tanaka
Daisuke Ikeda & Gajo vs. Yoshiaki Fujiwara & Super Tiger
Nobutaka Moribe & MIKAMI vs. LEONA & UTAMARO
Masashi Sase vs. Magic Killer # 1 *Death Match*
Takumi Sakurai & Bryan Ishizaka vs. brother YASSHI & Shoichi Uchifa
Daisaku Shimoda & Iori Sugawara & Joji Otani vs. Keiichi Sato & Gamerasu & Dazzling
Bambi vs. Makoto
FREEDOMS 4/15/21
Tokyo Shin-Kiba 1st Ring
Big Japan 4/12/21
Tokyo Korakuen Hall

Ryuji Ito vs. Minoru Fujita
Isami Kodaka vs. Hideyoshi Kamitani
Big Japan 4/26/21
Tokyo Korakuen Hall

Ryuji Ito vs. Masashi Takeda
Isami Kodaka vs. Akira Hyodo

FREEDOMS 5/2/21
Tokyo Korakuen Hall

FREEDOMS 5/5/21
Yokohama Radiant Hall
FREEDOMS 5/16/21
Sendai Miyagi PIT

FREEDOMS 5/27/21
Tokyo Shin-Kiba 1st Ring
FREEDOMS 6/18/21
Tokyo Shin-Kiba 1st Ring
FREEDOMS 6/27/21
Chiba 2AW Square
Jun Kasai Productions 7/5/21
Tokyo Korakuen Hall
FREEDOMS 8/8/21
Chiba 2AW Square

FREEDOMS 8/11/21
Tokyo Shin-Kiba 1st Ring

Jun Kasai Productions 8/30/21
Tokyo Korakuen Hall
I have gathered all the results of shows from Big Japan/ZERO1/666 shows in 2021 as well as matches from FREEDOMS/former FMW wrestlers working on shows and will continue to update it for the rest of the year. It can be found at http://fmwwrestling.us/MiscResults21.html (Last updated: 2/23)
Added: 2/8
Atsushi Onita who now lives in Kanizaki, Saga will come into Tokyo every month or so for wrestling business. He skipped January but came in the first week of February to wrestle at the Giant Baba Memorial show at Korakuen Hall, participate in a talk event with Masa Fuchi, and he stopped by Mitsuhiro Matsunaga's Mr. Danger Steakhouse in Sumida, Tokyo on February 4, 2021. Onita stated that he has been going to Matsunaga's steak house for 24 years meaning he first went to the restaurant when it opened in 1997.
Onita and Matsunaga have a unique relationship as they know each other going back to 1989 when they competed in the first ever Barbed wire Death Match in Japan back on December 10, 1989 at Korakuen Hall. Matsunaga was a karate student of Masashi Aoyagi at the time. Aoyagi's group ended up pulling out of FMW soon afterwards and worked for New Japan before Matsunaga would break away from Aoyagi and join Mickey Ibaragi's W*ING promotion. Matsunaga noticed there was an opening to be the top face of the promotion since Mr. Pogo the big name of the promotion was a heel. Matsunaga was willing to do anything to get recognized became the first person to jump off the balcony at Korakuen Hall and then let Mr. Pogo blow fire at his head and Matsunaga became Mr. Danger the number one face of the promotion.
Onita's FMW and W*ING with Pogo and Matsunaga were in direct competition until Onita offered Mr. Pogo and Matsunaga $120,000 dollars each to leave W*ING and join FMW. Pogo and Matsunaga formed the Pogo Army in what suppose to look like an invasion angle without them using the name W*ING since the promotion was still active despite struggling with the loss of their two biggest stars. Onita and Matsunaga headlined the Tokyo International Harumi Dome on December 8, 1993 and drew a sell out of 12,522 fans in a No Ropes Exploding Barbed wire Explosive Corners Death Match with Onita winning. Matsunaga would turn face and team with Onita through the first half of 1994 but Matsunaga would turn heel after FMW would bring in Yukihiro Kanemura and with W*ING no longer being active they would re-start up the heel invasion angle this time using the W*ING name to go up against Onita.

Onita would end up retiring on May 5, 1995 and Hayabusa would be made the new face of the group. The W*ING group would turn face after Onita's retirement and even Matsunaga would end up teaming with Hayabusa until it was decided to turn the W*ING group back heel and feud with the New FMW under Hayabusa until Matsunaga would decide to leave FMW following the May 5, 1996 Kawasaki Stadium show. Matsunaga would cite that he did not like how Hayabusa and Masato Tanaka treated him and although he did not mention him by name as a reason fellow W*ING partner Kanemura was also having issues with Matsunaga and not sad to see Matsunaga leave FMW to join Big Japan in the Summer of 1996.
Atsushi Onita would out of retirement on December 11, 1996 and their paths would not cross again until 2002 when Onita would start up a nostalgia Onita FMW promotion where he would first face off against the W*ING team of Mr. Pogo and Mitsuhiro Matsunaga on the opposite side before teaming up with Matsunaga once again on the final Onita FMW show on August 11, 2002. Onita and Matsunaga would not meet again at a wrestling show until January 5, 2017 at a Super Battle FMW with Onita and Matsunaga doing a talk segment with them hinting that Matsunaga would come out of retirement to face Onita for his retirement later that year which was more of just a tease than anything. They both sadly would end up getting once again later that year after Mr. Pogo who was both their number one rival through out their careers would pass away on June 23, 2017. Onita and Matsunaga would attend the Mr. Pogo Farewell Ceremony on July 27, 2017 where they would both pray to a shrine of Mr. Pogo.
Onita and Matsunaga will always be linked together because of FMW and W*ING and it is nice to see despite being rivals for separate death match promotions that they have formed some what of a friendship over the years which includes Onita getting to have some delicious steak as well.
The 23rd Memorial for Giant Baba's passing took place on February 4, 2021 at Korakuen Hall. Atsushi Onita would appear as apart of the early 1980's team which would consist of him, Masa Fuchi, Great Kojika, and Shiro Koshinaka as they would face off against the late 1980's/early 1990's team of Tiger Mask II, Takao Omori, Arashi, and Tsuyoshi Kikuchi. Obviously Tiger Mask II was not the original Mitsuharu Misawa as it pretty certain that it was Kotaro Suzuki under the mask as Suzuki was originally booked for the opening match and then never ended up appearing on the show with Tiger Mask having a very similar build to Suzuki. Both teams would come out in their All Japan jackets with Arashi wearing his through out the match and The Great Kabuki would accompany the Onita early 80's team to the ring. Onita would square off against Tiger Mask II first and shake hands before Onita would end up taking him to the outside and throwing him into the guard rail and then bring him back in the ring and deliver a DDT before tagging Kojika. Onita would eventually end up just being tossed out of the ring by Tiger Mask II towards the ending but Fuchi would end up rolling Kikuchi up at 8 minutes, 55 seconds to get the win with an inside cradle in a match that did not have much of a chance to be good when the two youngest guys in the match were Tiger Mask II at 42 and Omori at 51, but then you add in the crowd not making any noise and it was a match better on paper than actually happening. Click here to watch Onita/Fuchi/Koshinaka/Kojika vs. Tiger Mask II, Omori, Arashi, and Kikuchi from 2/4/21
Backstage Omori and Kikuchi would be conducting a interview when Omori would state how he takes pride in being a disciple of Baba when Onita would overhear this and shout at Omori. Onita would state he was a real disciple of Baba as he was the first Baba student and took care of Baba the first ten years of his career which is only true if you don't count excursions that Onita had to take without Baba. Onita would walk away as Omori would state that he spent the first ten years of his career being a disciple of Baba with Onita overhearing that and shouting "that's not true!" which it probably isn't true unless Omori did it for four years before making his debut as he started wrestling in October 1992 and Baba died in January 1999. Omori and Kikuchi would finish the promo stating that Onita was not there in All Japan when they were, but he is still their senior so they will not make any negative comments about him.
Atsushi Onita and Masa Fuchi participated in a Talk Event on February 5, 2021 in Shinbashi, Minato-ku Tokyo at the Giant Baba Bar which is ran by a relative of the late Motoko Baba named Kimitoshi Ogata. They told old stories together including talking about becoming AWA Southern Tag Team Champions, Onita defeating Chavo Guerrero in Charlotte, North Carolina in March 1982 for the NWA International Jr. Heavyweight Title as well as going to Mexico together. Onita and Fuchi ended up becoming the 100th All Asian Tag Team Champions back on November 27, 2006 before losing the titles to Atsushi Aoki and Hikaru Sato on June 20, 2017. The All Asian Tag Titles were eventually sealed in August 2019 and replaced with newer belts. The old belts were given to Ogata the owner of the Giant Baba bar so he brought out the title belts out for Onita and Fuchi to hold while talking. Onita claims during the event that the belts started talking to him telling him "please bring me to the ring again" with Onita listening to them. Onita would end up walking out of the event with the title belts without permission. Onita apologized for stealing the title belts that night but did state he called Ogata the next day to let them know he had the belts and that they negotiated a lease for Onita to have the title belts for the time being. Onita stated that he will make these belts active once again as they will defended as the "True All Asian Tag Team Titles". No word on when they will be defended as Onita has not announced any future matches for the time being, but I would imagine it would be for All Japan's Korakuen Hall show on March 14th with Masa Fuchi as his partner possibly against Takao Omori and Tsuyoshi Kikuchi.
FREEDOMS held their first show of the year on January 2, 2021 at Shin-Kiba drawing an announced crowd of 157 fans for the show which is pretty much the standard max number with the spaced out seating restrictions in the building. The main non tournament match on the show was a New Years Special Champion Match as all the champions of the promotion in the King of Freedom Tag Team Champions Mammoth Sasaki and Violento Jack taking on King of Freedom World Champion Toru Sugiura and UWA Jr. Heavyweight Champion Kamui with Mammoth rolling Kamui up with a La Magistral at 13 minutes, 21 seconds for the win with all the wrestlers posing with the belts afterwards.
Other non-tournament matches were Takashi Sasaki, GENTARO, and Dragon Libre defeating Unchain's Jun Kasai, Masashi Takeda, and Rina Yamashita with Sasaki picking up the win at 12 minutes, 58 seconds with a Backslide on Yamashita. The Jr. Heavyweight team of Yuya Susumu, Kengo, and Alejandro defeating Brahman Shu, Brahman Kei, and the newest Brahman Tatsuhito Takaiwa with Alejandro getting the win over Kei at 7 minutes 59 seconds as afterwards it would be announced that Brahman Shu would be out for an extended period of time with a cervical spine injury with Takaiwa replacing Shu in the team for the time being.
The first round tournament matches would open the show with Toshiyuki Sakuda taking on Tomoya Hirata with Sakuda throwing Hirata at the referee and then using a stable gun while the ref was down before rolling him up a Samson Clutch and then wait forever as the referee would finally count three at 6 minutes, 47 seconds for Masaoka to advance. The next tournament match would be Daisuke Masaoka going up against Kenji Fukimoto with Masaoka getting the win at 1 minutes, 23 seconds after rolling up Fukimoto up out of nowhere with a Tornado Clutch.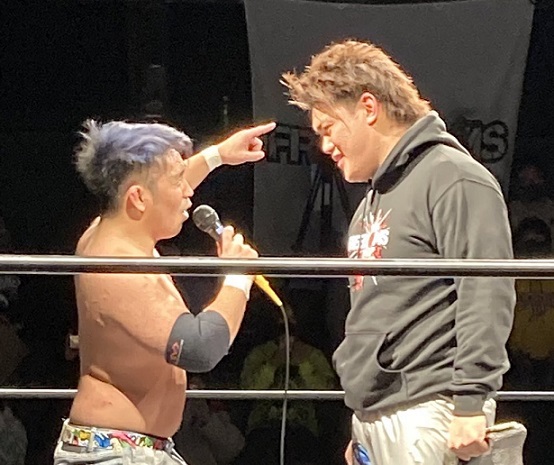 The main event of the show and the finals of the tournament would be Daisuke Masaoka taking on Toshiyuki Sakuda as Masaoka would nailing Sakuda with a flying drop kick and then go back up to the top and try for the Rokkua Kai but Sakuda would move out of the way and hit Masaoka with the Sakauchi to get the win at 14 minutes, 37 seconds and become the number contender for the King of Freedom World Championship. Sugiura would come to the ring and hold the title in Sakuda's face showing off how much taller he is than Sakuda and acting like Sakuda will be no match for Sugiura. Click here to watch highlights of FREEDOMS 1/2/21.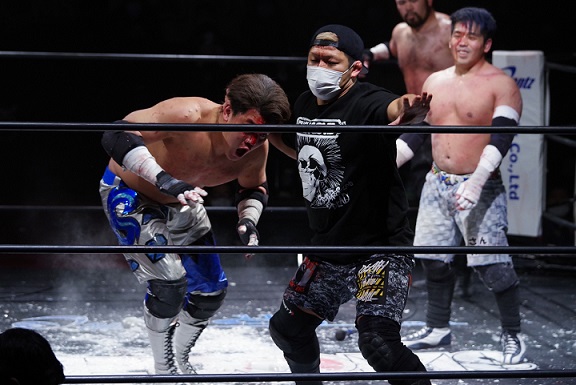 The next FREEDOMS show would take place on January 21, 2021 at the Shin-Kiba 1st Ring and draw 154 fans for this show as the card would have to be alternated due to Kamui and Dragon Libre coming in contact with someone with COVID as Kamui made mention that it was a student in his son's class that had and he would be pulling himself off the show as a result. The main event would be Toru Sugiura and Takashi Sasaki against Toshiyuki Sakuda and Takayuki Ueki in a Fluorescent Light Tubes Death Match with Sakuda getting the win at 16 minutes, 22 seconds with a Sakauchi on Sasaki to build him up as a serious contender. After the match, Masashi Takeda would hit the ring and toss Sugiura out and state he was joining up with Sakuda and Ueki which means he was officially leaving the Unchain group after being a founder member with Kasai and Fukimoto nearly 9 years ago. Kasai and Fukimoto would hit the ring upset about Takeda joining the rival group but Takeda, Sakuda, and Ueki would leave the ring before they could do anything about it as they are now the top heel group although currently without a name.
Before leaving Unchain, Takeda would team up with Jun Kasai on last time in the semi-main event to take on fellow Unchain members in a Scramble Tornado Death Match as Kasai and Takeda would end up hitting Yamashita with a double uranage on broken pots and then Kasai with hit her with a One Winged Angel but Yamashita would manage to kick out. Kasai would then go for a Reverse Tiger Driver but Yamashita would manage to escape and then kick Kasai low as Fujita would come over and roll Kasai up with a Samson Clutch at 15 minutes, 6 seconds to get the win to setup Fujita and Yamashita as the number one contenders for the King of Freedom Tag Team Team Titles.
Other matches on the show would be Mammoth Sasaki, Violento Jack, and GENTARO teaming up to defeat Yuya Susumu, Kengo, and Tomoya Hirata when GENTARO would use a Flying Headscissors to get the win at 14 minutes, 1 seconds over Hirata and the opening match would be Kenji Fukimoto and Alejandro teaming up to take on Brahman Ryu who is Tatsuhito Takaiwa doing the Brahman gimmick along with Brahman Kei as Fukimoto would pick up the win at 9 minutes, 34 seconds after Fukimoto would end up putting Kei away with a Package Piledriver. Click here to watch highlights of the FREEDOMS 1/21/21 show.
FREEDOMS announced the lineup for their February 9, 2021 Korakuen Hall show which Samurai TV will be airing the show as it will be the first time in the promotions history that Samurai will be broadcasting a FREEDOMS Korakuen Hall show the first half of the year since the very first Korakuen Hall show put on by FREEDOMS on June 21, 2010. The main event will be Toru Sugiura defending the King of Freedom World Championship against Toshiyuki Sakuda in a Fluorescent Light Tubes Glass Board Death Match. I would think this is where Sugiura will be losing the title. I thought even before the Christmas Death Match that once Sugiura finally put away Takeda that he would lose to whoever he faced off against in February just because of the running out of challengers aspect. Adding in Takeda to his group and the show airing on Samurai TV makes me feel more confident that Sakuda will end up walking away as champion as part of an incentive to get him to leave Big Japan full time, but we will see.
The semi-main event will be Jun Kasai and Kenji Fukimoto taking on the new heel team of Masashi Takeda and Takayuki Ueki in a Razor Cross Board Death Match as the winning team of this match will probably tell the story of who will actually end up winning the main event later on. Mammoth Sasaki and Violento Jack will defend the King of Freedom Tag Team Championship against Minoru Fujita and Rina Yamashita in a Scramble Tornado Match. This seems like another title change happening as Mammoth and Jack have held the titles now for over two years and tied the record for title defenses at 11 set by Mammoth Sasaki and Toru Sugiura. There has not been a time where someone else not Mammoth Sasaki or Violento Jack have been a tag team champion since March 23, 2017. The reason that I would give Fujita and Yamashita the odds of winning the titles are because of not only just Yamashita getting quite over with her performances but also because Fujita and Yamashita already challenged for the titles back on August 31, 2020 and lost and rarely do you see a two successful title defenses against the same person/same team in the same title reign. Takashi Sasaki and Daisuke Masaoka will take on Yuya Susumu and Kengo who look to be a full time time tag team now, Kamui returns to action against Tomoya Hirata in a Hardcore Match, and the opening match will be GENTARO and Dragon Libre taking on Tatsuhito Takaiwa and Brahman Kei.
ZERO1 suffered some bad luck as their scheduled 20th Anniversary show at the Ryogoku Sumo Hall scheduled for March 14, 2021 has been postponed until next year. The issue was that due to the coronvirus the annual Sumo Tournament that was suppose to begin in Osaka this year was moved to Tokyo at Sumo Hall instead with the first day of the tournament being scheduled for March 14th which was the date ZERO1 had booked. This was also a decision made by the OSU Premium company who is sponsoring the show as ZERO1 at this point can not afford to run Sumo Hall by themselves and OSU Premium was looking to bring in some big name retired wrestlers for the show to put on "performances" like how they had Megumi Kudo and Shark Tsuchiya back on December 26, 2020 at the Shinjuku FACE.
Many did not think ZERO1 would be able to survive to March 2021 after their sponsor iFD who were the sponsors last year when they announced that they were going to do a Sumo Hall show ended up pulling out just under 5 months after buying the promotion due to the coronavirus but an IT company Daiki Holdings Group took over as the main sponsor to keep the promotion going with OSU Premium agreeing to help sponsor the Sumo Hall show. The switch over to Daiki Holdings has not been a smooth one as they do not have the money that ZERO1 has been use to under other sponsorship and as a result they have lost Kohei Sato, SUGI, Tatsuhito Takaiwa, Towa Iwasaki, RAICHO, and Ikuto Hidaka. The original plan for the main event of Ryogoku Sumo Hall 20th Anniversary was to have Masato Tanaka defend the World Heavyweight Championship against CIMA as Tanaka and CIMA were big names from 20 years and the people in charge interest in wrestling pretty much stops at around 20 years ago thus why they were chosen for the main event by them. CIMA will instead challenge for the title against Tanaka on May 30, 2021 at Korakuen Hall instead.
Nanjyo Hayato has announced that he will be starting up another promotion. This will be his third after starting up FFF which was originally supposed to be based around FMW nostalgia until the shows were financial losers and the promotion became more of a standard Osaka independent promotion. Nanjyo also runs Osaka Style Pro-Wrestling which is a promotion that includes Osaka independent wrestling that mirrors the old Osaka Pro promotion but will run in other cities like Tokyo.
This third promotion that he is starting up will be called Phenix Pro and the debut show will take place on February 13, 2021 at the Pure J Dojo which is also known as the Tokyo Kame Dojo Arena although I do not believe fans will be in attendance and the show instead will be brodcasted on Twitch with a charge fee to be able to watch it. The main event will be a FMW nostalgia match with Masato Tanaka teaming up with Koji Nakagawa as they will take on Tetsuhiro Kuroda and Nanjyo Hayato in a match that is straight out of a July 1995 FMW Korakuen Hall show. Ricky Fuji will also appear on the show although not in a FMW based match as he will team up with Shin Suzuki and they will go up against Hideo Toba and Shirasu Kid. After the main event, the old FMW wrestlers including Tanaka, Nakagawa, Kuroda, Nanjyo, and Ricky will all have a talk event and talk about their memories of FMW and tell stories to the twitch fans paying for the show. Both Tanaka and Ricky have tried to correct Nanjyo that the promotion should be called "Phoenix Pro" instead of "Phenix Pro" with Nanjyo responding they both mean the same thing, so it does not matter which just means to me that he misspelled the word and he's already too far in to go back and change the spelling.
Leon Spinks passed away on February 5, 2021 in Henderson, Nevada due to advanced prostate cancer at the age of 67.

Leon Spinks is one of two people along with Primo Carnera to hold both a boxing title and a wrestling title. That wrestling title at the time was FMW's WWA Martial Arts Heavyweight Title which was the top FMW heavyweight belt that would soon be replaced by the FMW Brass Knuckles Heavyweight Title.
Spinks started off boxing while in the marines which eventually lead to him winning the light heavyweight gold medal in the 1976 Summer Olympics in Montreal. Spinks would go on to become a professional boxer and in just his 8th fight he would end up winning World Heavyweight Title on February 15, 1978 after defeating Muhammad Ali in a 15 round split decision in Las Vegas, Nevada. Spinks became the first person to beat Ali for the heavyweight title although only earned close to $300,000 for the fight. The Spinks vs. Ali rematch took place on September 15, 1978 in New Orleans, Louisiana at the Super Dome with Ali winning back the title in a 15 round decision with Spinks getting $3.5 million for that fight although never getting a rematch for the title again.

Spinks who was known to spend money on weed, cocaine, and nice cars although Spinks himself states that his lawyers are the ones that stole his money was in need of pay days in anyway he could get them. New Japan was willing to pay him to bring him due to him beating Ali and he would face off against Antonio Inoki at Ryogoku Sumo Hall on October 9, 1986 with Inoki getting the win. Spinks was still in need of money though as he went from 1988 to 1991 without having a boxing fight
Atsushi Onita's FMW promotion called in 1991 looking to bring in a boxer for Onita to face. FMW was based around Onita facing off against boxers and fighters of different styles against the Onita the wrestler to see who would win. Onita had already defeated karate fighter Masashi Aoyagi on October 10, 1989 and 1988 Olympic Judo Bronze Medalist Grigori Verichev on May 29, 1991. Onita's dream was to bring in a boxer and defeat him. Onita first wanted Mike Tyson but that was going to be impossible for multiple different reasons and never even made it to a phone call being made. Onita who had wanted to become the next Antonio Inoki in Japanese Wrestling then asked to bring in Spinks since Spinks had shown he was willing to be brought in to face Inoki five years earlier.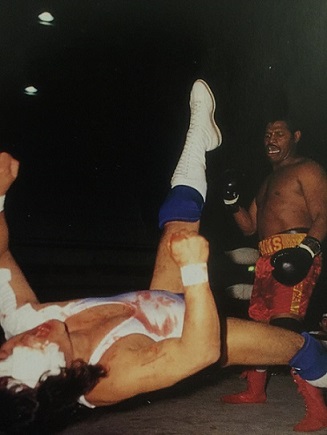 Spinks made his FMW debut in the World Strongest Tag Team Tournament making his debut on November 27, 1991 where he teamed with fellow American Rufus Blackborn to defeat the team of Atsushi Onita and Tarzan Goto with Spinks KO'ing Onita to setup a big show match between the two down the line. The Spinks team would come up short making the finals due to Spinks' partner Blackborn taking a couple of losses in their tournament matches to keep Spinks protected for the future match. Also, making their FMW debuts in that same tag team tournament would be The Sheik and Sabu as Onita also wanted to take turns between feuding with Spinks and The Sheik so that they could rotate being brought in on different tours.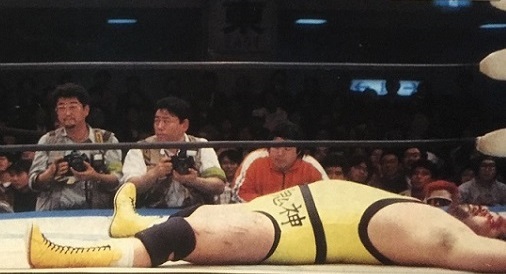 Although whenever The Sheik and Spinks would be on the same tour together, they would sit with each other on the FMW heel bus together as they would end up connecting a friendship with one another on the long bus rides to shows. FMW would wait to bring back Spinks again until March 1992 where Spinks would end up getting his big FMW win by defeating Tarzan Goto on March 25, 1992 at Korakuen Hall after KO'ing him for the for the WWA Martial Arts Heavyweight Title. This was also probably the best FMW match of Spinks' career and that was because he was protected and only asked to go six minutes. Spinks winning the title setup for the big show match against Onita on May 24, 1992 at the Tokyo Ariake Coliseum in a cage match.
The show though would end up being the first unsuccessful big FMW stand alone show. FMW would announce 7,000 people in the 12,000 building, but only around 5,000 people would actually attend the show. Spinks just was not the draw that FMW was hoping. It did not help that it was the first inside big show for the promotion and thus they could not do any explosions like FMW had done for all their other big shows that were a success.
The match between Onita vs. Spinks would be in a regular cage match and the match would be horrible as Onita was not the type of wrestler who could carry Spinks to anything decent for over 8 minutes and they did not have the electricity of the crowd that Spinks vs. Goto had at Korakuen Hall two months earlier. Onita would end up defeating Spinks for the WWA Martial Arts Title and Spinks was pretty much done as far as a main event wrestler after the disappointing crowd and match.

Spinks still wanted to continue to work for FMW though as the pay was better than anything he was getting at the time, and money was something he was in need for. FMW's last ditch effort to keep Spinks in the main event picture was to ask his brother Michael Spinks to work for FMW and team with his brother but Michael refused. Spinks for the next year would only be brought in for big stadium shows to work midcard or semi-main event matches including working the Yokohama Stadium show on September 19, 1992 where he teamed with Brian Sayodill losing to Tarzan Goto and Grigori Verichev and then Kawasaki Stadium on May 5, 1993 losing to former Olympian Grigori Verichev on May 5, 1993 in a Judo vs. Boxer match on the show.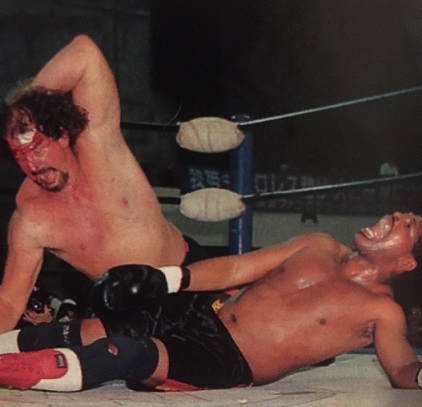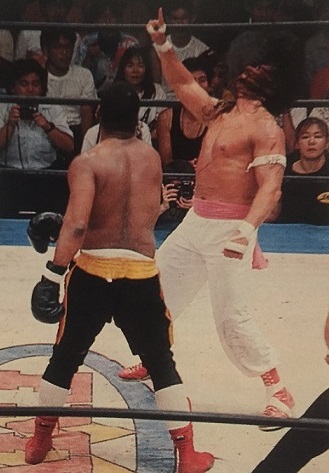 Spinks would come back for one more stadium show on August 22, 1993 losing to Katsuji Ueda another boxer in a sign that the company was done with Spinks. Spinks would be used the rest of the August 1993 tour including facing off against Terry Funk on August 26, 1993 with Spinks getting DQ'd then KO'ing Sabu for the win on August 28, 1993 at Korakuen Hall before facing off against beating younger wrestlers like Mr. Gannosuke and Onita Jr. the rest of the tour before defeating Sambo Asako on September 1, 1993 at the Sapporo Nakajima Sports Center in Spinks' final pro-wrestling match.

It was very apparent that Spinks was already suffering the beginning stages of dementia due to over 20 years of boxing and he was incapable of being able to remember much when it came to putting together a match. Mr. Gannosuke stated that it was known in the locker room that Spinks was struggling to work through matches because he would forget what he was suppose to do even though they were just 5 minute matches that were mostly just him punching. The FMW office were aware of Spinks' issues and decided to stop bringing him in after the August 1993 tour as his value was just not there anymore and it just was not worth paying to fly him in when all he was capable of was having 5 minute squashes with younger wrestlers that he was still having issues doing that.
Spinks would end up retiring from boxing in December 1995 at the age of 42 and would have one more wrestler vs. boxer match for All World Wrestling on February 27, 2000 in Kenosha, Wisconsin where he faced off against Rick Shaw going by his Bastion Booger gimmick who had wanted to get into FMW in 1991 himself. Spinks' money would continue to drain and he would find himself living in a homeless shelter after losing all his money. Spinks would get re-married in 2011 and would go on tour at conventions to try and help him get out of the huge debt he had accumulated. Spinks ended up suffering intestinal damage in 2014 after swallowing a piece of chicken bone which led to multiple surgeries before finding out in 2019 about his prostate cancer that ultimately took his life after spread to his bones. Atsushi Onita upon hearing about Spinks' passing stated he would pray for the soul of his long time rival and other FMW wrestlers commented that they will never forget his powerful punches that he gave to them.
I have continued to try to grow my Hayabusa figure collection through out the years. I have been able to collect every professionally released figure including all 4 Project Hayabusa's that were released in 2004, all 4 FMW released figures in 1998, the two HAO figures released by Project Hayabusa, two mini figures, and the two 12 inch INSPIRE figures that were released in 1999. I have also been lucky enough to get several custom made ones including a Funko Pop version, a blue and purple version of the HAO set, a custom Hasbro figure, and multiple different colored mini figures and FMW released figures. I would have never thought even just a couple of years that I would see this collection grow the way it has, but it just gives me so much joy each time to be able to add to it when I can. I also have been able to pick up a new purple plush doll although it is somewhat faded along with the green and blue ones I was able to pick up ten years ago. These are really rare as I very rarely have came across any, I will post them as well as some other stuff I have been able to pick up for my next update.
FREEDOMS/A-Team/FMW Misc./Production Shows News 2020 (January - December 2020)
FREEDOMS/A-Team/FMW Misc./Production Shows News 2019 (January - December 2019)
FREEDOMS/A-Team/FMW Misc./Production Shows News 2018 (January - December 2018)
FREEDOMS/Super Battle FMW/Onita & Production Shows News 2017 (January - December 2017)
Apache Army/FREEDOMS/Super Battle FMW & Production Shows News 2016 (January - December 2016)
Apache Army/FREEDOMS/Super Battle FMW & Production Shows News 2015 (January - December 2015)
Apache Army/FREEDOMS/Onita & Production Shows News 2014 (January - December 2014)
Apache Army/FREEDOMS & Production Shows News 2013 (January - December 2013)
Apache Army/FREEDOMS & Production Shows News 2012 (January - December 2012)
Apache Army/FREEDOMS & Production Shows News 2011 (January - December 2011)
FREEDOMS& Production Shows News 2010 (January - December 2010)
Apache Army/FREEDOMS & Production Show News 2009 (January - December 2009)
WMF& Apache Army News 2008 (January - December 2008)
WMF& Apache Army News 2007 (January - December 2007)
WMF& Apache Army News 2006 (January - December 2006)
WMF& Apache Army News 2005 (January - December 2005)
WMF& Fuyuki/Apache Army News 2004 (January - December 2004)
WMF& Fuyuki Army News 2003 (July 2003 - December 2003)
Kodo Fuyuki's Ceremonial Wake & Funeral Pictures (3/22/03 - 3/23/03)
WMF& WEW News 2003 (January 2003 - July 2003)
Post FMW News (February 2002 - December 2002)
Last months of FMW News (May 2001 - February 2002)
FMW News (August 1999 - May 2001)