Super Battle FMW 2/24/17
Tokyo Shin-Kiba 1st Ring
Atsushi Onita vs. The Great Sasuke *Lumberjack Death Match*
Hideki Hosaka & Black Tiger # 7 vs. Raijin Yaguchi & Tomohiko Hashimoto
Tetsuhiro Kuroda & HASEGAWA & Takumi Sakurai vs. Ricky Fuji & Gosaku Goshogawara & The Shooter
Miss Mongol & Sachiko Yokozuna vs. Kagetsu & Miss Koharu
Wild Bear & Wild Seven & Wild Dragon vs. Tomoryu & Raiden & Pandita
Naoshi Sano vs. Toshiaki Terao
Super Fireworks 2/26/17
Tokyo Hachioji Esfurta Arena

Masakatsu Funaki vs. Atsushi Onita *Super Fireworks Title Match*
FREEDOMS 3/2/17
Tokyo Shin-Kiba 1st Ring
Daisuke Masaoka & Takashi Sasaki & Yuko Miyamoto vs. Jun Kasai & Masashi Takeda & Kenji Fukimoto *Death Match*
Chikara vs. Karate Brahman # 2
Yuya Susumu & HAYATA vs. Mammoth Sasaki & Toru Sugiura
Brahman Shu & Brahman Kei vs. Kazma Sakamoto & Hi69 *King of Freedom Tag Team Titles Match*
Mr. Gannosuke Productions 3/7/16
Tokyo Shin-Kiba 1st Ring
Mr. Gannosuke vs. Isami Kodaka
Yuko Miyamoto vs. Buffalo
Jun Kasai vs. Magnitude Kishiwada
KAI vs. Atsushi Maruyama
Yasu Urano vs. Konaka Pale One
Mineo Fujita vs. Tatsuhiko Yoshino
Hikaru Igano & Micro vs. Papillon Akemi & Koharu Hinata
Super Battle FMW 3/22/17
Tokyo Shin-Kiba 1st Ring
FREEDOMS 3/23/17
Tokyo Korakuen Hall
Daisuke Masaoka vs. Masashi Takeda *King of Freedom World Title Match*
GENTARO vs. Yuko Miyamoto *UWA Jr. Heavyweight Title Match*
Hayabusa Memorial Anniversary 3/31/17
Kumamoto Circulation Information Hall
Mr. Gannosuke & Jinsei Shinzaki & Hayabucha vs. Masato Tanaka & Mammoth Sasaki & Yuko Miyamoto
Tetsuhiro Kuroda & Ricky Fuji vs. GOEMON & Onryo
Ichiro Yaguchi & Gosaku Goshogawara vs. Mt. Aso & Fugofugo Yumeji
FREEDOMS 4/2/17
Osaka Hirano Kumin Hall
FREEDOMS 4/8/17
Yokohama Nigiwaiza
Super Battle FMW 4/13/17
Aomori Hirosaki City Kawanishi Sports Center

Super Battle FMW 4/14/17
Aomori Hamanasu Hall
FREEDOMS 4/16/17
Tokyo Shin-Kiba 1st Ring
A-Team 4/16/17
Tokyo Kitasenju Theater 1010
Super Battle FMW 4/27/17
Tokyo Shin-Kiba 1st Ring
Fire Pro-Wrestling 4/30/17
Hiroshima Marina Hop
FREEDOMS 5/2/17
Tokyo Korakuen Hall
FREEDOMS 5/4/17
Yokohama Radiant Hall
FREEDOMS 5/20/17
Kumamoto Shintoshin Central Hall

FREEDOMS 5/21/17
Fukuoka Kitakyushu Moji Red Brick Place

FREEDOMS 5/24/17
Tokyo Shin-Kiba 1st Ring
Fire Pro-Wrestling 5/27/17
Gifu Graduate Plaza
FREEDOMS 6/4/17
Kyoto Nagaokakyo Central Lifelong Learning Center
FREEDOMS 6/22/17
Tokyo Shin-Kiba 1st Ring
FREEDOMS 6/25/17
Iwate Ichinoseki Central Gym

FREEDOMS 7/5/17
Tokyo Korakuen Hall
Jun Kasai Productions 7/17/17
Hiroshima Industry Center East Hall
FREEDOMS 8/11/17
Tokyo Shin-Kiba 1st Ring
FREEDOMS 8/27/17
Tokyo Korakuen Hall
I have gathered all the results of matches from shows in 2017 that have had FREEDOMS as well as former FMW/WMF/Apache Army wrestlers working in them and will continue to update it for the rest of the year. It can be found at http://fmwwrestling.us/MiscResults17.html (Last updated: 2/21)
Added: 1/26
Super Battle FMW ran their first show of 2017 on January 5, 2017 at the Tokyo Shin-Kiba 1st Ring drawing an announced 350 fans for the show. The main event. The main event was changed at the last moment to Atsushi Onita and Hideki Hosaka teaming up with Ricky Fuji to take on Masato Tanaka and Tetsuhiro Kuroda who would now be teaming up with NOSAWA Rongai. The match would also be changed from a Scramble Bunkhouse Death Match to a Barbed wire Board Death Match due to Onita's pelvic injury there was no way he was going to be running to the ring to try and grab a barbed wire baseball first so this was changed to suit his injury better. Onita who has been doing much better was able to piledrive NOSAWA through a table and was able to be thrown into the barbed wire board by Tanaka. Tanaka would grab a cain and begin using it on Ricky which would be followed by Kuroda and NOSAWA suplexing Ricky into the barbed wire board and Tanaka coming off the top rope with a Super Fly Splash. Tanaka would then hit the Sliding D on Onita with Onita kicking out and then spitting red mist in Tanaka's face followed by a chair shot to NOSAWA and then he would hit NOSAWA with two Thunder Fire Powerbombs to get the pinfall at 11 minutes, 23 seconds for the win. Onita and Tanaka would embrace afterwards as Onita has chosen Tanaka to lead Super Battle FMW after he retires in October.

Madoka made his debut for the promotion teaming up with Hi69 as they took on the team of Raijin Yaguchi and Tomohiko Hashimoto. Hi69 and Madoka would have the early advantage as they would deliver a double superkick to Hashimoto but Hashimoto would grab Hi69 and deliver a choke slam with Madoka having to make the save. Hashimoto would grab Hi69 and deliver another choke but this time would turn it into a Crossface which he would end up getting the win at 11 minutes, 37 seconds with it for the submission victory.
Atsushi Onita had a special sit down talk segment with Mitsuhiro Matsunaga during the show. Onita and Matsunaga talked about their Exploding Barbed wire Death Match that they had on December 8, 1993 following Matsunaga leaving W*ING for FMW. Onita then announced officially that his Retirement show will be held in October 2017 with Onita asking Matsunaga if he wanted to be his opponent with Matsunaga just leaving it by not answering and just smiling as a response.
The women's match on the show saw Miss Mongol and Miss Koharu defeat the team of Aoi Ishibashi and Konami when Koharu would pick up the win at 12 minutes, 40 seconds with a Backslide. The team of Raiden, Naoshi Sano, and Tomoryu defeated the Wild team of Wild Seven, Wild Bear, and Wild Dragon when the referee would end the match at 13 minutes, 11 seconds after Bear would get DQ'd. The opening match had Katsunari Toi and Toshiaki Terao defeat Keiichi Sato and Shocker # 1 when Toi got the win at 13 minutes, 28 seconds with a Fisherman Buster on Shocker.
Atsushi Onita and Pandita held a press conference at Toudoukan in Suidobashi, Tokyo on January 26, 2017 announcing the main event of the next Super Battle FMW show on February 24, 2017 at Shin-Kiba 1st Ring. Onita had a mask covering his face so he had Pandita read at the press release stating that Onita had caught a cold two days earlier after throwing water all over the ring and the fans after the show in Osaka. Pandita would read that Onita was challenging The Great Sasuke to One Last Fight at Shin-Kiba 1st Ring on February 24, 2017 in a Lumberjack Death Match. Onita would have three Jado Army wrestlers around ringside and The Great Sasuke would have three Michinoku Pro wrestlers at ringside for him. This will be the 4th and final match between Onita and Sasuke as they had an Exploding Ring Exploding Barbed wire Death Match back on October 30, 1994 with Onita winning. The Great Sasuke would then defeat Onita on September 23, 2003 in a Exploding Barbed wire Death Match. Onita would win the third battle back on May 15, 2016 in a Exploding Barbed wire Baseball Bat Death Match. This match will be the first to not have any explosives. Onita wrote that they are comrades that have had similar paths in wrestling and that he wanted to face Sasuke one last time in a decisive battle.
Other matches on the show will be Hideki Hosaka teaming with Black Tiger # 7 who is most likely NOSAWA Rongai against the team of Raijin Yaguchi and Tomohiko Hashimoto in the semi-main event on the show. There will be an FMW vs. Former Apache Army match as Tetsuhiro Kuroda teams up with HASEGAWA and Takumi Sakura against the FMW team of Ricky Fuji, Gosaku Goshogawara, and The Shooter. The women's match will be Miss Mongol and Sachiko Yokozuna against Kagetsu and Miss Koharu. The Wild Army of Wild Bear, Wild Seven, and Wild Dragon will go up against Tomoryu, Raiden, and Pandita. The opening match will have Naoshi Sano against former Apache Army wrestler Toshiaki Terao.
Naoshi Sano promoted his New Years Eve show on December 31, 2016 at the Tokyo Shin-Kiba 1st Ring with a start time of 11:00 PM with the show drawing a crowd of 150 fans for the show. Originally the main event was suppose to be a rematch of Atsushi Onita vs. Naoshi Sano which took place over 8 years ago but Sano upon hearing the news that his friend Shota would need knee surgery in January 2017 decided to not only change the main event to Onita vs. Shota but the show would be a Shota AID show with the proceeds going to Shota's knee ligament surgery. That match would end up getting changed around again following Onita's pelvic injury on December 23rd with Onita unable to work a singles match. The match would be changed to Atsushi Onita, KAI, Hideki Hosaka, and Ricky Fuji against Shota, Kenichiro Arai, NOSAWA Rongai, and Trans-Am Hiroshi in a Street Fight. Onita would be limited but would be able to spit red mist and smash Shota over the head with a chair but it would be KAI that would end up picking up the win at 11 minutes, 43 seconds after KAI would hit him with a Thunder Fire Powerbomb which Onita was physically unable to do himself. Onita afterwards would apologize to Shota about having to make the match a tag team match due to his injury but stated once Shota comes back from his surgery he wants to have an Explosive Match with him. Onita and the other wrestlers then began pouring water all over Shota to end the show. Other matches saw the Guts World team of Mr. Gannosuke, Guts Ishijima, Masked Mystery, and Daisuke defeat Naoshi Sano, Leatherface, Wild Seven, and Kisarazu Clown after Daisuke would pin Sano at 14 minutes, 21 seconds after hitting him with a Frog Slash. Onryo and Masamune would also go to a twenty minute time limit draw during the show. Shota would have successful knee ligament surgery on January 24th and is currently recovering at the hospital.
Atsushi Onita and Masa Fuchi defended their All Japan All Asian Tag Team Titles on January 2, 2017 at Korakuen Hall against the team of Jun Akiyama and Masao Inoue in a Barbed wire Board Death Match. Onita was able to piledrive Inoue through a table and ended up getting thrown into the barbed wire board by Inoue before Inoue would hold Onita as Akiyama would smash him over the head with a guitar. Despite the abuse that Onita would take they would end up in victory as Fuchi would pick up the win over Inoue at 11 minutes, 36 seconds using a Backslide to get the win to successfully defend their titles for the first time. There is no official return date for Onita in All Japan but All Japan has given permission to allow the Exploding Barbed wire Baseball Bat the next time Onita appears.
Atsushi Onita has wanted a Exploding Death Match to take place in America since 1997 when he got FMW to form a talent relationship with ECW with the hopes of it being able to take place. It never came close. Onita as one of his last things he does before retiring in October this year is for an Exploding Match to finally happen in America. Onita had been in contact with Tommy Dreamer's House of Hardcore promotion about getting it done but that fell through. Onita looked to see if it was possible for it to take place in Europe instead but the licensing and the costs were too high. Onita then reached out to CZW's Matt Tremont who grew up as a huge FMW and Onita fan. Tremont has been working on getting a match with Onita since doing a promo back in September 2016 following a match in West Virginia stating Onita was scared of him. That promo got back to Onita through Twitter. Onita would respond back to Tremont on January 12, 2017 stating that he liked Tremont's passion and that he would give Tremont his match if he could get the Explosive Match to take place before Onita retires in October. Negotiations are now taking place between Onita's manager and the promoter for CZW with talks of Tremont getting to go to Japan for a match against Onita and Onita as well as his Jado Army being brought in to the United States for a show at CZW with an Explosive Match taking place on the show. There is no time right now for the match if it were to take place.
Super Fireworks held a show on January 22, 2017 at the what was originally named Osaka Prefectural Gym # 2 as the main event held the first ever Exploding Barbed wire Baseball Bat Royal Rumble between Atsushi Onita, Masakatsu Funaki, Masato Tanaka, Chigusa Nagayo, and TARU. Funaki would end up being the first one eliminated at 10 minutes, 21 seconds after Tanaka would toss him over the top rope. Tanaka would then get tossed over the top rope himself at 11 minutes, 12 seconds by Chigusa Nagayo. Onita would then eliminate his tag partner Nagayo at 14 minutes, 2 seconds after hitting her with the Exploding Barbed wire Baseball Bat. This would leave just Onita and TARU with Onita hitting him with the exploding barbed wire baseball at 17 minutes, 9 seconds to get the win. TARU would not take the loss well as he would then attack Marvelous' Takumi Iroha who had wrestled earlier on the show and lay her out in a bloody mess. This will setup for the next show on January 29th at the Fukuoka Hakata Star Lanes where the main event will be Onita, Nagayo, and Takumi Iroha against TARU, Kamikaze, and Hartley Jackson in a Exploding Barbed wire Baseball Bat Death Match. Also, on the show Masakatsu Funaki will defend his Super Fireworks Title for the first time since winning it back on July 24th as he will take on Masato Tanaka with no announcement if the match will be a Death Match or not.
Kintaro Kanemura's retirement could not have came at a better time as just days following his retirement match he began to feel numbness in his left knee to a point where the pain became severe. He visited a doctor and had an MRI done where it was discovered he had suffered lumbar vertebrae damage which is the spinal area around by rib cage and the pelvis. The injury was resulting in nerve damage and the pain in the knee that made it too difficult for Kanemura to walk on his own. This is the second time that Kanemura has suffered nerve damage as back in 2012 he one day just lost the feelings in his hands and feet. Kanemura is now walking with cane which he showed off in public for the first time as he along with Masato Tanaka met up with Steve Corino and Kevin Kelly on January 6, 2017 at the Tokyo Dome Hotel where they went and got dinner together before taking pictures with one another.
FREEDOMS ran their first show of the year on January 3, 2017 at the Tokyo Shin-Kiba 1st Ring drawing a very good crowd of 294 fans for the show for the 3rd Annual One Day Tournament with this tournament consisting of all singles matches. The 1st Round Matches had time limits of 5 minutes and after there would be a time limit the winner would be decided by rock, paper, scissors. The opening matches saw Takashi Sasaki and Dragon Libre go 5 minutes and be decided by Sasaki winning Rock, Paper, Scissors followed by Yuya Susumu eliminating Jun Kasai the same way after their 5 minute time limit. Daisuke Masaoka managed to defeat Kenji Fukimoto in just 3 minutes, 43 seconds after rolling him up for the pinfall. Chikara would last 5 minutes against Masashi Takeda and then manage to eliminate him by Rock, Paper, Scissor in the final 1st Round Match. The second round matches would go to 10 minute time limit draws. GENTARO and Yuko Miyamoto would have byes in to the second round with GENTARO getting the in over Miyamoto at 9 minutes, 20 seconds with a small package to advance. Mammoth Sasaki and Toru Sugiura would also get byes to the 2nd Round with their match going to a 10 minute time limit with Sugiura winning at the Rock, Paper, Scissor contest. Yuya Susumu would advance by defeating Takashi Sasaki at 7 minutes, 40 seconds after making him submit to the Crossface. Daisuke Masaoka would make the final 4 by eliminating Chikara at 5 minutes, 33 seconds after rolling him up.
The semi-final matches of the Tournament would consist of Yuya Susumu and GENTARO in a very mat based match with Susumu hooking on the Cross Armbreaker to get GENTARO to get the win at 10 minutes, 24 seconds with the submission. Daisuke Masaoka would quickly defeat Toru Sugiura at 1 minutes, 28 seconds after Sugiura would go for a Rolling Elbow with Masaoka avoiding it and delivering a hurricanrana and then finishim him off at 1 minute, 28 seconds with a knee to the head. MIKAMI and Tanomusaku Toba defeated the Brahman Brothers in the only non tournament match of the show after Toba would knock out Kei and get the pin at 11 minutes, 30 seconds with a swinging punch to the face. The finals of the One Day Tournament would see Daisuke Masaoka against Yuya Susumu with Masaoka managing to get out of the Cross Armbreaker and deliver a Dragon Screw to Susumu followed by a Thunder Fire and then finishing Susumu off at 11 minutes, 40 seconds with the Rokura for the pinfall victory and to win the One Day Tournament and winning a New Years Present for the win.
FREEDOMS returned to the Shin-Kiba 1st Ring on January 26, 2017 drawing a normal size crowd of 184 fans for the show. The main event would have Takashi Sasaki, Jun Kasai, and Masashi Takeda defeat Daisuke Masaoka, Yuya Susumu, and HAYATA when Takeda would get the win over Masaoka at 18 minutes, 23 seconds after hitting him with a Reverse U Crash. Takeda would then challenge Masaoka for the King of Freedom World Title match which will most likely take place at Korakuen Hall on March 23, 2017 which back in March 2015 was the main event of the show and the first big Masaoka push into the main event picture for the promotion. GENTARO defended his UWA Jr. Heavyweight Title for the second time after defeating Tanomusaku Toba at 11 minutes, 46 seconds after delivering a Lou Thesz Press for the win. Chikara defeated Karate Brahman at 10 minutes, 14 seconds after the referee would be force to stop the match after Chikara placed a Body Stenosis Sleeper on Karate for the win. Mammoth Sasaki and Toru Sugiura defeated Kazma Sakamoto and Hi69 after Sakamoto would be DQ'd for attacking the referee at 12 minutes, 13 seconds in what would look to be a setup for a singles match between Mammoth and Kazma. Tatsuhito Takaiwa and Kenji Fukimoto would defeat Yuko Miyamoto and Kenichiro Arai after Fukimoto would score the upset pin at 13 minutes, 11 seconds after hitting Arai with the Package Piledriver. The opening match would have Isami Kodaka replacing MIKAMI who is out with a neck injury as he would defeat Dragon Libre at 9 minutes, 29 seconds after getting him to submit to the Hiza juji-gatame.
FREEDOMS will return to Osaka at the Moriguchi Citizen Gym on January 29, 2017 with the main event of Jun Kasai and Daisuke Masaoka taking on Mammoth Sasaki and Toru Sugiura in a Hardcore Match. Masashi Takeda and Kenji Fukimoto will team up with AK to take on the Osaka team of MIYAWAKI, Masamune, and Hide Kubota. Kamui will make his long awaited return after fracturing his arm back in April 2016 as his opponent will be a Mystery Opponent. Yuya Susumu and HAYATA defend their King of Freedom Tag Team Titles against Takashi Sasaki and Dyna Mido. An Osaka Mixed match will take place between Drake Morimatsu and Kuishinbo Kamen against Takoyakida and Midori Idea. Yuko Miyamoto and Konaka Pale One will team up against the Brahman Brothers and the opening match will have GENTARO and Yuki Tanaka going up against Fuminori Abe and Dragon Libre.
Mr. Gannosuke returned to the Guts World promotion show on January 24, 2017 at the Tokyo Shin-Kiba 1st Ring. His group which called themselves the Demon Devil Michio CHAN which consisted of Gannosuke, Guts Ishijima, Michio Kageyama, and CHANGO as they took on the Tompachi Machine Guns along with the Far East Connection team of Dick Togo, Masao Orihara, Amigo Suzuki, and Ryan Upin in a Single Elimination Match. Gannosuke would end up being a surprised early elimination as he would be the first person in the match eliminated after getting tossed over the top rope at 8 minutes, 48 seconds by Amigo Suzuki for the elimination. The match would end up coming down to CHANGO who would go up against Dick Togo, Amigo Suzuki, and Ryan Upin. CHANGO would end up eliminating Togo by throwing him over the top rope and then he would eliminate Upin with a Jack Knife Roll up. This would leave CHANGO against Amigo Suzuki who he would eliminate at 21 minutes, 55 seconds with a Diving Senton for the Demon Devil Michio CHAN group. Tetsuhiro Kuroda would also debut for the promotion as a freelancer as he would defeat Fuminori Abe at 10 minutes, 9 seconds with his Technan Buster.
Mr. Gannosuke's next match will be on February 5, 2017 for Yuiga's Batoscafe promotion at the Itabashi Green Hall in a WMF vs. FREEDOMS match with the WMF team consisting of Gannosuke, Onryo, and Mineo Fujita as they go up against the FREEDOMS team with the alternative gimmicks of Takashi Sasaki wrestling as NANGO, GENTARO as BENTEN, and Toru Sugiura as DAEMON.
Mr. Gannosuke announced that he would hold a Kishindo Returns 21 show prior to his Hayabusa Memorial show on March 31, 2017 in Kumamoto. The main event will be Mr. Gannosuke taking on Isami Kodaka as Kodaka got one of his first breaks by appearing in Gannosuke's WMF promotion back in 2005 before he began working with Big Japan and teaming with Yuko Miyamoto and making a name for himself in 2009. The other matches on the show will have Yuko Miyamoto go up against Buffalo in the semi-main event of the show as there is some of what of a Tokyo vs. Osaka vibe going on for this show as Jun Kasai will take on Magnitude Kishiwada and KAI will go up against Atsushi Maruyama. Yasu Urano will take on Konaka Pale One and Mineo Fujita will face Big Japan's new acquisition Tatsuhiko Yoshino with the opening match being a women's match of Hikaru Igano and Micro against Papillon Akemi and Koharu Hinata.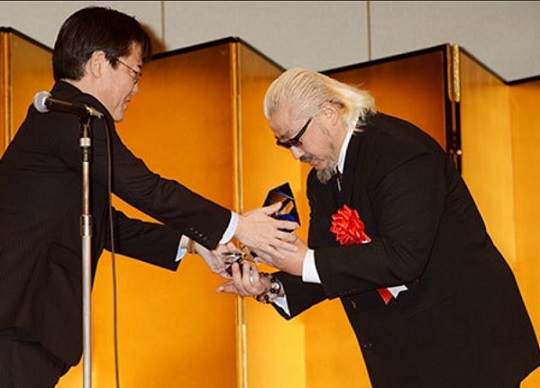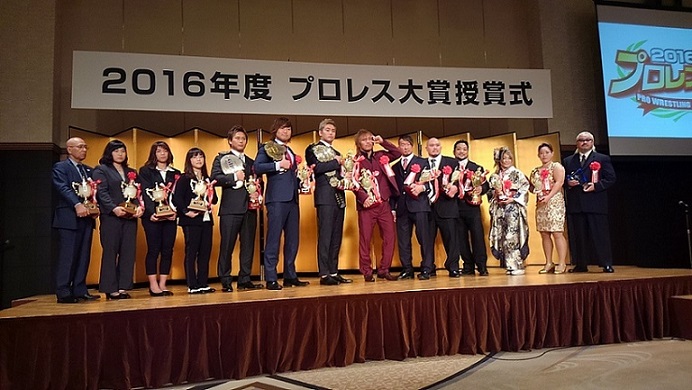 Mr. Gannosuke attended the Tokyo Sports Awards on January 19, 2017 at the Tokyo Prince Hotel Takanawa as a substitute for Hayabusa who won the Pro-Wrestling Grand Prize Lifetime Achievement award. Gannosuke would deliver it to Hayabusa's mother on January 21, 2017 at Hayabusa's mothers home in Kumamoto where it can be displayed apart of the shrine that she has created in memory of her son.
I have added a new Music Video section to the front page as I recently have finished a Mr. Gannosuke Career Music Video to go along with my Hayabusa Career Music Video as well as a video of Hayabusa singing in English video that I filmed back in 2012. I will be working on creating more music videos of former FMW wrestlers through out the months whenever I find the time.
BAHU's Japanese Trip Diary 2016
BAHU's Japanese Trip Diary 2013
BAHU's Japanese Trip Diary 2012
BAHU's Japanese Trip Diary 2011
BAHU's Japanese Trip Diary 2010
BAHU's Japanese Trip Diary 2009
BAHU's Japanese Trip Diary 2008
Apache Army/FREEDOMS/Super Battle FMW & Production Shows News 2016 (January - December 2016)
Apache Army/FREEDOMS/Super Battle FMW & Production Shows News 2015 (January - December 2015)
Apache Army/FREEDOMS/Onita & Production Shows News 2014 (January - December 2014)
Apache Army/FREEDOMS & Production Shows News 2013 (January - December 2013)
Apache Army/FREEDOMS & Production Shows News 2012 (January - December 2012)
Apache Army/FREEDOMS & Production Shows News 2011 (January - December 2011)
FREEDOMS& Production Shows News 2010 (January - December 2010)
Apache Army/FREEDOMS & Production Show News 2009 (January - December 2009)
WMF& Apache Army News 2008 (January - December 2008)
WMF& Apache Army News 2007 (January - December 2007)
WMF& Apache Army News 2006 (January - December 2006)
WMF& Apache Army News 2005 (January - December 2005)
WMF& Fuyuki/Apache Army News 2004 (January - December 2004)
WMF& Fuyuki Army News 2003 (July 2003 - December 2003)
Kodo Fuyuki's Ceremonial Wake & Funeral Pictures (3/22/03 - 3/23/03)
WMF& WEW News 2003 (January 2003 - July 2003)
Post FMW News (February 2002 - December 2002)
Last months of FMW News (May 2001 - February 2002)
FMW News (August 1999 - May 2001)